Compare home insurance in the UK
Get a quote in less than 5 minutes from home insurance providers in the UK and start saving on your premiums today.
£50 credit on contents insurance

Monthly subscription insurance
Manage your cover by mobile
Tailor your cover at any time
Get deal
Compare home insurance quotes
What does home insurance cover?
The situations covered by your home insurance will vary depending on the insurer you choose and the level of cover you opt for. However, the best policies generally provide cover against the following:
Fire. If your home and/or contents are lost or damaged due to fire.
Storm. Loss or damage caused by a storm, including violent winds, hail, snow, rain, thunderstorms, fallen trees or branches.
Lightning. Loss or damage caused by lightning, or by a power surge caused by lightning.
Flood. Protects you against loss or damage caused by water that has escaped the normal confines of a lake, river, or a number of other bodies of water. Some home insurance policies only offer flood cover as an option, not as an automatic inclusion, so make sure you check your policy documents.
Earthquakes. This benefit ensures that you are covered against loss or damage caused by an earthquake.
Water and oil leaks. When water or oil escapes from gutters, pipes, baths, toilets, appliances or a range of other household items, home insurance covers you for the resulting loss or damage.
Theft or burglary. Covers you against loss or damage caused by theft, attempted theft or burglary.
Malicious acts and vandalism. If your home or contents are damaged due to vandalism or a malicious act, your policy will cover you.
Riots or civil commotion. Financial protection in the event that a riot, civil commotion, or industrial or political disturbance results in loss or damage to your home.
Explosion. Loss or damage caused by an explosion, as well as a landslide or subsidence that occurs as an immediate result of an explosion.
Impact damage. This benefit covers you against impact from objects such as falling trees, power poles, TV antennas, motor vehicles and meteorites.
What doesn't it cover?
It is important to be aware of what you won't be covered for under home insurance. Generally any damages caused by the following instances would not result in a home insurance payout:
War. You would not be covered if damages were a result of war, invasion, rebellion or similar event.
Radioactive contamination. You won't be covered for damages resulting from ionising radiation or radioactive contamination from any nuclear fuel or from any nuclear waste.
Sonic bangs You would not be covered if damages were a result of loss or damage caused by an aircraft travelling at or above the speed of sound.
Pollution. You wouldn't be covered by home insurance if damage or loss was the result of pollution or contamination.
Terrorism. Each insurer will have their own definition of terrorism, but as a general rule any damage caused in relation to terrorist acts would not be covered by home insurance.
Failure of computers & electrical equipment. Damage or loss due to any computer or other electrical equipment failing to correctly recognise the true calendar date or computer viruses.
Deliberate acts. Any loss or damage caused by you or anyone lawfully in your home will not be covered.
Existing damage. You wouldn't be able to claim for any loss or damage that happened before cover started. Some policies also have a delayed start time too so be aware of the exact date you will be covered from with your policy.
How can I find the right cover for my home?
Know your cover needs. Before you start shopping for a policy, think about the risks you want to cover and the level of protection you need. Once you're clear on the type of home insurance you're after, you can start looking for the right policy.
Read the policy docs. Don't wait until it's time to make a claim to check your policy documents, read them before you buy the policy. This will allow you to determine exactly what the policy includes, how much protection it offers, and under what circumstances cover would not be provided.
Ask for recommendations. Check out online reviews and ask friends and family for their home insurance recommendations. Hearing from people who have actually had to make a claim on their policy is a great way to sort the strong policies and insurers from the weaker ones.
Compare. Last but definitely not least, don't settle for the first policy you find. Instead you should compare the benefits, cost, features and exclusions of a wide range of policies to work out which option provides the best value for money.
How much does home insurance cost?
The cost of home insurance depends on a number of different factors, including the type of policy you want to take out. However, the price of your policy is a crucial factor when comparing and choosing home insurance policies. When calculating the price of your home insurance, an insurer will consider the following factors:
The sum insured. This is the maximum amount that your insurance company will pay in the event your home is totally destroyed. So the higher the level of cover you select, the more your premium will be. For example, if you want to cover your home to the tune of £1 million, don't be surprised if your premiums are much higher than they are for someone who selects a sum insured of £300,000.
The options you select. If you choose to tailor your policy to suit your needs by adding extra-cost options, your premiums will also be more expensive.
Amount of excess. Many insurers offer a flexible excess on their home insurance policies, allowing you to choose a higher excess in return for lower premiums.
Your home. Insurers will consider the age and construction of your home when calculating your premiums. This will help them determine how likely it is to withstand damage and how much it will cost to repair or rebuild.
Where your home is located. If you live in an area prone to crime or floods, you may find that the increased risk of damage will push up your premiums.
Security features. Insurance underwriters also consider how well your home is protected against theft and burglary. Installing a back-to-base security alarm is one way to reduce the cost of your premiums.
Your claims history. If you've previously made multiple claims on a home insurance policy, you can also expect higher premiums when you take out a new policy.
When you pay your premiums. Paying your premium as an annual lump sum is typically cheaper than if you pay in monthly instalments.
Find out how you can cut costs on your home insurance.
What can I do to bring down my premiums?
It is important to remember that the cheapest home insurance isn't necessarily the best home insurance. If you're looking for the cheapest insurance cover for your home, the single most important thing you can do is compare. Shop around for the best deal on the right kind of policy for you. This will help you make sure you are getting true value for money.
Choose a higher excess. If you are given the option, you might want to consider opting for a higher excess, in return for lower premiums.
Don't add options you don't need. Adding optional extras to your policy allows you to tailor home insurance protection to your requirements. Unfortunately, it also increases the premium, so make sure anything you add is absolutely essential.
Build up a no-claims-bonus. Sometimes making a claim is unavoidable, but if your insurer offers a no-claim bonus, the cost of cover will be greatly reduced if you don't submit any claims.
Take advantage of discounts. Home insurers offer a variety of discounts to customers. These include discounts for having multiple policies with the insurer or for purchasing online.
Review cover regularly. Just because a particular insurance policy was right for you a few years ago doesn't necessarily mean it's the right fit for you now. Cover needs change all the time; maybe you've just invested in a top-of-the-line home entertainment system and want to upgrade your contents cover. In addition, insurers are constantly updating their policies and premiums. Don't be afraid to compare your options and see if you can find a better deal.
Improve your home's security. Simple things like installing a burglar alarm or extra door locks could help reduce your premiums. It reduces your risk for the insurer and so they are likely to reward you with lower premiums.
Pay annually. Insurers tend to charge more if you pay your premiums monthly rather than in one annual sum.
Common home insurance traps to avoid
It is important to watch out for these common traps when comparing home insurance cover:
Underinsurance. Don't be tempted to skimp on cover just so you can slightly lower your premiums. Make sure any policy you select provides adequate cover for you to completely rebuild your home and replace all your belongings.
Paying for cover you don't need. Before adding any extra-cost options to your policy, make sure you actually need them. Ask yourself is it something you could survive without?
Renewing without reviewing. Don't simply pay your annual home insurance renewal when it arrives each year. Insurers are always competing for more business and offering attractive savings to new customers. It's worth shopping around to see if you can find the same or better cover at a more affordable price.
Cover limits. Make sure you check the maximum limit to which an insurer is willing to cover any single item. For example, while your engagement ring may be worth £15,000, your insurer may only provide up to £3,000 cover for jewellery.
What are the different types of home insurance?
There are a few different types of home insurance policies out there, so you will need to decide which one is the right one for you. Below are examples of some of the types of home insurance you can find cover for:
Our 2021 home insurance customer satisfaction league table
We asked policyholders to rate their satisfaction with their insurance company, and whether they'd recommend it to a friend. We've shown both for each brand in the table below. Our independent survey of 1,173 insurance customers was carried out in December 2020.
| Overall satisfaction | Customers who'd recommend | Issuer | Review | |
| --- | --- | --- | --- | --- |
| ★★★★★ | 84% | | Aviva is the largest general insurer in the UK. There are three levels of cover to choose from and its customers find it to be reliable and trustworthy. | View deals |
| ★★★★★ | 81% | | With two levels of cover to choose from, Home and Home Plus, and a flexible approach to contents insurance, LV= is a strong option for home insurance. LV= customers raved that it was good value and easy to set up and that they felt that the company was trustworthy. | View deals |
| ★★★★★ | 79% | | Saga is a specialist insurer catering to the over-50s market, offering two levels of home insurance cover. The policy can be tailored to your needs and customers praised it for its competitive prices and helpful advisors. | View deals |
| ★★★★★ | 77% | | Direct Line has three levels of home insurance cover to choose from, including its Select Premier policy, which features unlimited contents and building cover. Customers in our survey commended its quick payouts and excellent service. | View deals |
| ★★★★★ | 76% | | Who'd have thought that major supermarket Tesco Bank offers home insurance as well as your local shop? Customer find that it's great value for money and really easy to renew. | View deals |
| ★★★★★ | 75% | | Churchill's home insurance comes with a wide range of features. Policies can also be upgraded with optional extras such as legal expenses cover and home emergency cover. Its customers find that it is reliable and that there's an easy claim process. | View deals |
| ★★★★★ | 73% | | Admiral has three levels of home insurance available, with the Basic one being pretty limited, but the Platinum policy offering very comprehensive cover. Customers surveyed said that it has great customer service, its policies are easy to understand and that it's cost effective. | View deals |
| ★★★★★ | 75% | | Swinton lets you build a home insurance plan that suits you and exactly what you're looking for. You can also add optional extras to your policy whenever you like. Its customers like that its well priced and reliable and that its staff is helpful. | View deals |
| ★★★★★ | 73% | | Getsafe has several different types of cover depending on what you're looking for, including accidental damage, personal possessions and home emergency. Its customers say that it's got good customer service and that it's reasonably priced. | View deals |
| ★★★★★ | 73% | | AXA has three levels of home insurance cover – HomeSmart, HomeSure and HomeSafe. The benefits offered differ with each level, but customers in our survey reported that it's good value, easy to deal with and competitively priced. | View deals |
| ★★★★★ | 70% | | Popular high-street bank Halifax offers two levels of cover – Limit and Ultimate Limit. It also offers renters insurance with a good range of benefits. Customers find Halifax to be reliable and supportive and the policies competitively priced. | View deals |
| ★★★★★ | 68% | | More Than has several options when it comes to home insurance. Its standard buildings and contents insurance are standalone policies, but you can combine these if needed. Its customers think that it has good prices and that it deals with claims efficiently. | View deals |
| ★★★★★ | 62% | | Home Protect's specialist home insurance is available to homeowners, holiday homeowners, landlords, tenants and students. Basic home emergency and legal expenses cover are included as standard in the broker's policy and its customers think it offers a helpful and friendly service. | View deals |
| ★★★★★ | 66% | | Policy Expert offers two levels of home insurance cover and a range of optional extras. It also compares a range of home insurance policies from other providers. It's got Defaqto ratings between 3 and 5 stars. | View deals |
| ★★★★★ | 62% | | Age Co (formerly Age UK) is an over-50s specialist, but offers cover to customers of all ages. It only has one level of home insurance cover, but it's a decent one. The policy comes with the extra benefit of access to 24/7 legal advice and a free identity theft advice line. Customers found it to be reliable. | View deals |
| ★★★★★ | 61% | | A newcomer to the home insurance market, Urban Jungle is a modern take on insurance aimed at a younger audience, and particularly renters. Urban Jungle's customers liked that it has personalised cover and low prices. | View deals |
Frequently asked questions
Purchasing your policy
Choosing the right option
Adjusting your policy
Making a claim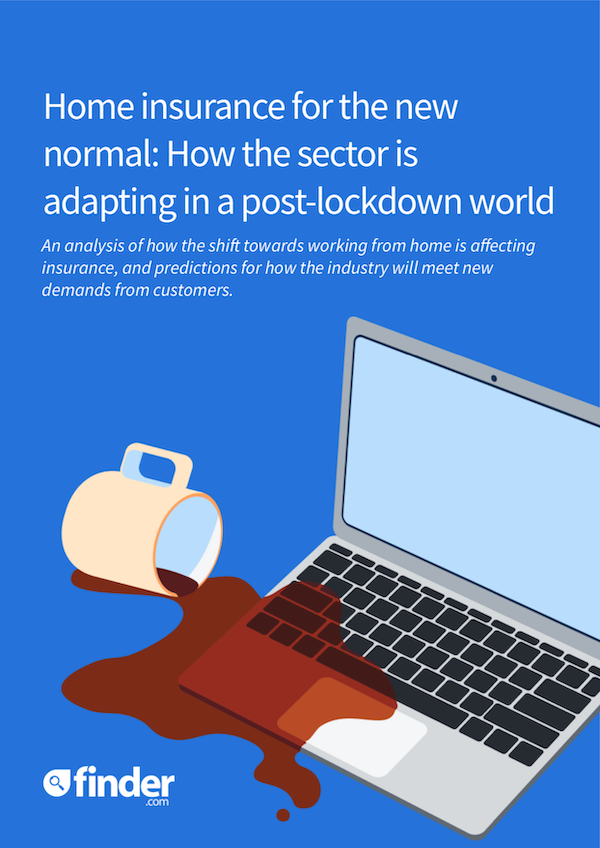 Home insurance for the new normal
Finder published a paper in July 2020 on how the coronavirus pandemic, and subsequent rise in home working, are affecting the home insurance industry. Our paper includes original research and predictions from experts including Jimmy Williams, CEO of Urban Jungle; Amy Brettell, head of customer for UK claims at Zurich; Mark Eastham, CEO of Avantia; Yasha Kuruvilla, analyst at consultancy GlobalData; and Laura Hughes, property insurance policy manager at the ABI.
Join Finder now to get this report immediately and many other free benefits, including exclusive tips and deals. It takes just a few seconds!
Finder home insurance ratings
Our customer satisfaction scores ("Customers say") are based on a survey of 1,173 customers carried out in December 2020.
The offers compared on this page are chosen from a range of products we can track; we don't cover every product on the market...yet. Unless we've indicated otherwise, products are shown in no particular order or ranking. The terms "best", "top", "cheap" (and variations), aren't product ratings, although we always explain what's great about a product when we highlight it; this is
subject to our terms of use
. When making a big financial decision, it's wise to consider getting independent financial advice, and always consider your own financial circumstances when comparing products so you get what's right for you.
*Based on independent online research by Consumer Intelligence (January'20). 51% of home insurance customers could save £103.86 on a combined policy.
Read more on this topic