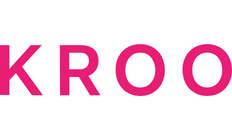 Kroo review: A UK-based social banking app
Kroo is a newly minted bank. It says its aim is to make paying bills with friends easier and offers an interest rate of 4.34% AER.
Finder rating
★★★★★
Expert analysis
Innovative sharing functions
No cash or cheque deposit facility available
London-based Kroo was established in 2016 with the aim of removing awkwardness from financial interactions with friends and family – splitting a restaurant bill, for example. Previously known as B-Social, Kroo announced it had become a fully licensed bank in June 2022.
Kroo's current account
What is Kroo?
Kroo offers a free, digital-only FSCS-protected current account and debit card, to help manage personal and social spending. Its current account has a monthly interest rate and a single rate overdraft subject to eligibility.
The app offers detailed spending insights and the card won't charge foreign exchange fees or cash withdrawal fees when used overseas.
How does it work?
Kroo is a digital-only bank which has one main product, its free current account which can be opened through the app.
The current account has simple features to help you manage your money.
Fee free. It is free to open a Kroo current account and there are no ongoing account management fees.
Monthly interest. You can earn interest on your balance, up to £85,000.
Arranged overdraft. Kroo offers a single rate on overdrafts which are subject to eligibility and by invitation only.
Spending abroad. There are no fees for purchases made abroad when you use your Kroo card.
ATM withdrawals abroad. As a summer promotion, Kroo won't charge you for using ATMs overseas from 1 April to 31 October 2023. Just bear in mind that many ATM providers may charge a separate fee for using their ATM.
Shared expenses. You can create different groups with friends (or family) to manage shared spending such as bills or splitting the cost of a holiday.
Kroo offers fingerprint and Face ID security features, as well as the option of freezing and unfreezing the card if you lose it. Plus, when you open a Kroo current account, Kroo promises to plant 2 trees, and you get to choose where they are planted.
Is Kroo safe?
Kroo is now a licensed bank, meaning that up to £85,000 deposited in its current account will be protected by the Financial Services Compensation Scheme (FSCS) if Kroo were to go bust. It also means you could complain to the Financial Ombudsman about its bank services.
PayrNet Limited, which issues the Kroo card, is authorised by the Financial Conduct Authority (FCA). Under the Electronic Money Regulations 2011, PayrNet must hold your money in a segregated account which is protected by safeguarding requirements. This means that should PayrNet Limited become insolvent, your funds will be protected against claims made by creditors.
Pros and cons of Kroo
Pros
Free to use
Monthly interest
No fees for using existing card abroad
Easy to set up and manage
Help the environment every time you refer a friend
Easy to split money with friends
Cons
Can only be access through the app
There aren't any bank branches to make deposits and you won't get face-to-face communication with a Kroo staff member.
Card can't be used in certain countries (view the full list here)
Our verdict
Having a current account which gives you monthly interest is a plus as it means that your money is always working for you. We also like the concept of allowing you to easily split bills and pay friends, as well as do your bit for the environment. As long as you are happy to conduct all your banking through an app, with fee-free spending abroad included, Kroo has a lot to offer.
Frequently asked questions
We show offers we can track - that's not every product on the market...yet. Unless we've said otherwise, products are in no particular order. The terms "best", "top", "cheap" (and variations of these) aren't ratings, though we always explain what's great about a product when we highlight it. This is subject to our
terms of use
. When you make major financial decisions, consider getting independent financial advice. Always consider your own circumstances when you compare products so you get what's right for you.