Compare the best business loans and financing of 2020
Launch or grow your small business by comparing finance options from UK lenders.
Compare
up to 4

providers
How to get the best business loan
More often than not, you need money in order to make money. A business loan can give a company the capital it needs to get off the ground or to get to the next stage of its evolution. That might require just a few thousand pounds or hundreds of thousands, for a couple of months or a couple of decades. There's a range of lenders out there to cater to the full spectrum of what you need.
This means that finding the best business loan is a matter of first understanding your business' financial circumstances and needs, and then finding the loan or finance option that best meets those needs.
Best fast business loan: Nucleus Finance
If you need quick funds for your business, Nucleus Finance can approve your loan application within 24 hours, and your money will be issued the same day. You'll also pay no setup or application fees, and can borrow up to a maximum of £150,000.
Best business line of credit: Capital on Tap
If your business needs ongoing access to funds, Capital on Tap offers flexible line of credit loans for small and medium-sized businesses up to £50,000. Your loan funds can be accessed via your card or bank account, and can also earn business cashback and rewards via the Capital on Tap premium account.
Best business loan broker: Funding Xchange
If you'd like to get access to a range of loans to find the one that's best suited to your business, then you might want to consider a business loan broker like Funding Xchange. Unlike most brokers, Funding Xchange is an online lending marketplace that lets businesses access funding from a range of international investors to help secure the best rate.
Which bank has the best business loans in the UK?
This will depend on a number of factors such as the size of your business and the type and size of the loan you need. Some businesses may want to get a loan with the bank that they already have their business current account with, while others may prefer to get a loan through a specialist business lenders.
Some of the banks that offer business loans in the UK include:
How do business loans work?
There are different types of business loan that work in different ways. What type you opt for can depend, among other things, on what stage your business is at.
Much like an individual, a company has a credit record and credit score. The healthier these are, the easier it will be to secure finance. A new business is obviously not going to have much in the way of credit history, so a lender will either want to start small, or will need some form of security. Loans for launching a new business or for a business which has just launched are often referred to as "start up" loans. These are typically available over terms of one to five years, and can be government-backed.
More mature businesses have a variety of loan options, thanks to a credit history, a few years of accounts and an established turnover. These are in addition to other types of credit available such as business credit cards or factoring. Let's take a look at some of the main loan options available in a little more detail.
What types of business loans are available?
Here are some of the main sorts of loans that are available to SMEs in the UK:
Catering to companies that have been trading for less than two years, these loans are typically available for smaller sums and shorter terms (typically one to five years). With little or no accounts to go on, lenders may want to use a personal asset (generally a property) as security for the loan. Government-backed start-up loans are available, offering a fixed, low rate of interest and free mentoring for a set period, in addition to extra security for lenders.

Unlike a start-up loan, small business loan eligibility doesn't necessarily depend on how long a company has been trading. The company does have to be "small" however, and exactly how small varies from lender to lender. Many require a minimum annual turnover. Small business loans can be secured or unsecured, and more often than not charge interest at a fixed rate over terms up to around 60 months (5 years).

If your industry is prone to seasonal variations, this is one scenario that could lead you to consider a short-term business loan. As you might imagine, these loans come with higher rates than, say, a five-year loan, as lenders will need to make the process worth their while. Alternatives to short-term business loans include a revolving line of credit such as a 0% purchase business credit card, or a decent overdraft facility on a business account, although these options typically come with lower credit limits.

Normally covering terms above five years, and potentially for larger sums, these loans can be used to fund larger projects for company growth. Expect close scrutiny of your business plan, loan security requirements and a longer, more thorough application process.

Peer-to-peer (P2P) loans aim to connect investors with SMEs looking for finance. By cutting out the overheads normally associated with high-street banks, these companies are often able to offer more competitive rates.

If you or your business has limited or poor credit history, it may be hard to find a lender willing to offer you finance. However, there are a number of lenders that provide bad credit business loans, as well as a number of other finance options.

A commercial mortgage is one that is taken out on a property that will be used for business or commercial purposes, and not as a residence. Commercial mortgages can be more complicated than personal mortgages, and you're likely to need a bigger deposit.

There are two main types of invoice finance: factoring and discounting. Both offer support to businesses with fluctuating turnover due to relying on client invoices for turnover. Invoice finance lets you borrow funds against the value of your unpaid invoices, minus a small fee.

If your business needs to purchase an expensive piece of equipment, such as a vehicle, machinery or computer system, you may want to consider asset finance. Instead of having to cover the cost upfront, you can pay it off in smaller instalments. Unlike a regular business loan, asset finance is secured against the cost of the asset itself. If you fail to repay the loan, the lender has the ability to take ownership of the asset.

Business cash advances can be useful for small businesses that have inconsistent sales or process most of their sales through card transactions. You can effectively get funds upfront that are then paid off using a percentage of future sales.

Regular cash flow can be a big concern for many businesses, and that is one of the advantages of a business line of credit. Instead of receiving a lump sum upfront like you would on a normal business loan, a line of credit gives you ongoing access to funds to use as you wish. You only pay interest on the amount of credit you use, but will need to repay what you've used in order to access the full limit again.

With a business credit card you can borrow what you want (subject to a credit limit), when you want, so you'll only pay interest for the days on which you borrow. Subject to a monthly minimum repayment, you can also pay back funds on terms that suit you. Unlike a fixed-term loan, that closes when all the money has been repaid, a credit card is a "revolving line of credit", which means that the facility is effectively always open (which can be a mixed blessing).
There will be heightened competition and innovation as lenders – in particular non-banks whose traditional markets have been disrupted by the pandemic – look to carve out new customer niches in order to remain viable. Competition will be the most fierce for the highest quality businesses, so those customers can expect to have a wider choice of products."
What are my other business finance options?
So what happens if your business is too young or small to qualify for a loan with decent terms? Or maybe it's just a bad time to take on debt? You still have financing options.
Get funding from investors. Small or young businesses could stand to benefit the most from selling a share of their enterprise in exchange for financing.
Start a crowdfunding campaign. Set a fundraising goal, invest a little in marketing and collect small donations from family, friends, your community, fans or just random interested individuals!
Apply to a government scheme. Various government schemes exist to encourage small businesses (often called "the backbone of the UK economy"). Learn more about government support for businesses.
Take out a personal loan. Another option would be to consider a personal loan for business use, but there are some important implications to consider, and many lenders simply prohibit this use.
Does your business depend on invoices?
Invoice discounting. You might want to consider invoice discounting if your business sometimes has gaps in revenue due to outstanding accounts. Invoice financing lets you borrow against your outstanding invoices and repay the lender once the client pays you. It is an ongoing service with loans that you can pay back in an agreed period.
Invoice factoring. Alternatively, look into invoice factoring. Here, you sell your invoices to a third-party for a percentage of the invoiced amount. You don't get the full value of your invoices – this is the more expensive of the two options explained here – but you won't have to worry about credit control (chasing-up repayments). Don't forget that with this option, the factoring company will have contact with your clients, so you'll need to be OK with that.
How can I find the best business loan for my company?
Here are some of the key features to consider when comparing business loans:
Amounts available. Having set out your business plan, you should know how much you need to borrow, and one of the first things to look at when evaluating a loan is whether or not it can offer you the sum that you need.
Terms available. You may have a fairly clear idea of the length of time want or need to borrow for, or this factor may be dictated by the size of the monthly instalments.
Eligibility. Never apply for a loan without checking that the business is eligible for it. It's a waste of time and demoralising – and the rejection could be visible to future prospective lenders.
Security required. It's not unusual for lenders to ask for a personal guarantee – meaning an individual will be personally responsible for the loan. Security can also take the form of a company's realisable assets, such as a property, vehicles or equipment. Where no assets are available, it may be necessary to secure the loan on a director's own property.
Total costs. It can be easy to obsess over APRs (rates), but perhaps more importantly, how much is this loan going to cost overall? When you're trying to identify the best business loan, the loans that are cheapest overall are naturally a good place to start.
Interest rates. Is the rate offered variable or fixed? Is it competitive?
Fees. Look out for "product" or "set-up" fees as well as any annual/monthly account charges. Lenders sometimes offset an attention-grabbing low rate with product fees, so it's crucial to also keep an eye on the total amount payable.
Repayment holidays. Repayment holidays are set periods when you don't have to make any repayments. This might be, say, the first three months of a loan. This can give your company an opportunity to get back on its feet financially, but will usually extend the term of the loan by the same number of months, pushing up the overall cost of the loan.
Early repayment terms. It's hard to predict what's around the corner, let alone three or four years down the line. If the option to repay early is important to you, you'll need to check the early repayment (or overpayment) terms of the specific product or products you're considering. It's important to note that "No early repayment fees!" does not necessarily mean that repaying early will save you money on interest.
How else can we help?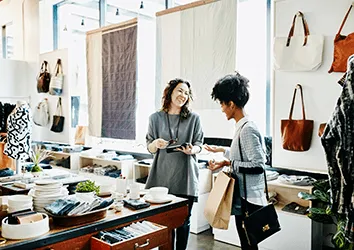 Compare loan rates
Get live, personalised quotes on unsecured or secured loans from a large panel of lenders through our partner Funding Xchange.
Get quotes
Business loans glossary
APR. The Annual Percentage Rate (APR) represents an annual summary of the cost of a loan. As well as the interest, the APR also takes into account any compulsory charges – like an "admin" or "set-up" fee (if there is one). However, crucially, lenders only have to award the advertised APR to 51% of those who take out the loan – the other 49% could be offered a different (higher) rate, at the lender's discretion. That's why it's often referred to as the representative APR.
Asset financing. A form of business finance where you borrow money to buy a piece of equipment, and secure the loan against it.
Broker. Brokers don't lend money, but assess your business' circumstances to help you find a suitable lender. They can help you find a good deal, but you need to be aware that they won't check the whole market for you – usually they will only introduce you to providers they have a partnership with.
Cashflow. Also referred to as "working capital" or "operating liquidity", this is the portion of revenue a business can afford to spend once all the current expenses have been taken into account.
Credit check. This is when the lender checks your business credit record to assess whether it can offer you a loan or not, and at which rate. There are two types of checks: "soft" checks are generally carried out when preliminarily assessing a borrower's eligibility and won't show on your credit report, whereas "hard" checks will, and are usually carried out when the actual application takes place.
Credit reference agency (CRA). Credit reference agencies are the companies who hold your credit history. Lenders report borrowing activity to these agencies, and request information from them (a credit search) when considering applications for credit. The three main CRAs in the UK are Experian, Equifax and TransUnion (formerly CallCredit).
Debenture. A debenture (or "floating charge debenture") is a form of loan security. It gives the lender a charge over all a business's assets, which it can use to recoup any losses in the event that you fail to repay a loan.
Default. Defaulting on a loan means failing to make a pre-agreed repayment at the specified time. This will typically result in the borrower being charged a penalty plus damage to the borrower's credit record.
Direct lender. The term "direct lender" is used by lenders to distinguish themselves from brokers. A direct lender issues loans, while a broker refers you to a direct lender to get your loan.
Eligibility criteria. A list of conditions that a borrower must meet in order to be considered for a loan. These vary from lender to lender, but for a business loan may concern the type of business, its revenue, how long it's been trading and a bunch of other factors.
Fixed rate. A fixed rate will not change for an agreed amount of time, even if market conditions mean that bank interest rates generally are increasing or decreasing. A fixed rate can be a popular option for some borrowers, and it allows them to budget with more certainty – knowing in advance the exact cost of a loan and the exact figure for each instalment.
Instalment. A repayment towards an outstanding loan. This will normally consist partly of interest accrued so far, and partly of a proportion of the original sum borrowed.
Interest rate. The interest rate is a charge for borrowing, and is a percentage of the amount of credit.
Invoice finance. A business loan that's secured against your business' unpaid invoices. Invoice discounting, factoring and trading are all types of invoice finance.
Loan term. The amount of time over which a loan is to be repaid.
Merchant cash advance. An unsecured business loan that you pay back as a percentage of your business's card sales.
Personal guarantee. It's technically a promise to accept legal responsibility for someone else's debt. If you sign a personal guarantee to get a loan for your business, you'll be personally responsible for its debt.
Principal. Also referred to as the "capital" or "loan amount", this is the original amount borrowed.
Selective invoice discounting. This is when you select specific invoices that you'd like to borrow against, rather than using your whole sales ledger.
Unsecured.Unlike a secured one, an unsecured loan does not use an asset, such as a property or vehicle, as collateral for the loan.
Variable rate. A variable rate is the opposite of a fixed rate, and can increase or decrease over time at the lender's discretion. Typically, variations occur as market conditions generally shift – for example in increase or decrease in the Bank of England base rate.
Frequently asked questions about business loans
We show offers we can track - that's not every product on the market...yet. Unless we've said otherwise, products are in no particular order. The terms "best", "top", "cheap" (and variations of these) aren't ratings, though we always explain what's great about a product when we highlight it. This is subject to our terms of use. When you make major financial decisions, consider getting independent financial advice. Always consider your own circumstances when you compare products so you get what's right for you.
More guides on Finder