Compare credit cards
Feast your eyes on these fantastic plastic balance transfer rates, cashback offers, travel perks and rewards.
Compare
up to 4

providers
Approval for any credit card will depend on your status. The APR shown represents the interest rate offered to most successful applicants. Depending on your personal circumstances the APR you're offered may be higher, or you may not be offered credit at all. Fees and rates are subject to change without notice. It's always wise to check the terms of any deal before you borrow.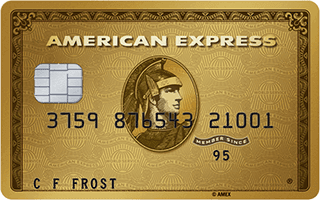 American Express Preferred Rewards Gold Credit Card
20,000 Membership Rewards point welcome bonus
2 complimentary airport lounge visits per year
No annual fee in year 1
Representative example: When you spend £1,200 at a purchase rate of 22.2% (variable) p.a. with an annual fee of £140 (£0 in first year), your representative APR is 56.6% APR (variable).
How do credit cards work?
A credit card allows you to charge purchases to your card which you'll then pay for later. Each month you'll get a statement showing what you spent over the previous month, and you can either pay off your balance in full, or you can just pay the minimum monthly payment (typically 2-3% of your outstanding balance).
Unlike a loan with a rigid repayment schedule and a fixed end-date, credit cards give you lots of flexibility and are open-ended. The credit's there when you need it, and you can pay off your debt as fast or as slowly (within reason) as you like.
High-street banks and building societies tend to be the first place people consider for a credit card, but they're also available from supermarkets (including Tesco and Sainsbury's) airlines (like British Airways and Virgin Atlantic) and dedicated credit card issuers (like aqua or mbna.
Why should I get a credit card?
There are plenty of situations when a credit card could be a smart choice. For starters, used carefully, they can be a cheap – or even free – way to borrow. But even if you don't need to borrow money, there are other benefits you may want to consider.
Crucially, card issuers are jointly liable with the retailer if you don't get what you paid for – so if your purchase (up to the tune of £30,000) isn't as described, or if the retailer goes bust and takes your money with it, you may be able to get a refund through your card issuer.
If you're young or new to credit, then you probably won't have much of a credit record. If you're planning to get a mortgage or perhaps car finance sometime in the future, then to get a decent rate, you'll need to show that you're capable of borrowing money and repaying it on time. A credit card is one way to demonstrate this.
But even if you have excellent credit and you don't need to borrow, a credit card could still work for you. Plenty of cards come with perks or rewards – from loyalty points or cashback through to airport lounge access or travel insurance.
Who can get a credit card?
There are credit cards to suit almost anybody, but you'll need to be 18 or older and a UK resident.
Credit cards are offered at the issuer's discretion – in other words, when you apply for one, the card issuer will weigh up your application, and if it thinks you're a safe bet, it'll offer you a card. Card issuers normally state their minimum criteria (which could include a minimum income or being an existing customer) but meeting these criteria isn't a guarantee of approval.
For really premium cards, you're likely to need a decent income and a good track record of borrowing responsibly (a high credit score), but credit builder credit cards and student credit cards are much easier to get approved for.
How much will I be able to spend on a credit card?
If you apply for a card and your application is approved, your specific circumstances will determine what credit limit (that's the maximum debt you can build up on the card) the issuer will offer you. Your personalised limit will depend on factors like your credit score, and your income and outgoings.
Once you've held a credit card for a few months or years, you might want to request a credit limit increase. Any increase will be at the card issuer's discretion, but if you've been using your card sensibly (making repayments on time and not going over your credit limit) and your circumstances haven't changed for the worse, there's a reasonable chance your request will be approved. Some card issuers will even pro-actively suggest a credit limit increase after a while.
What type of credit card should I get?
Here are some of the main types of credit card available in the UK, along with the key benefits they offer.
What will a credit card cost me?
One of the downsides of credit cards is that the fee structure can be a bit fiddly. But do your homework and use them correctly, and credit cards can be the cheapest form of borrowing going (or can even earn you benefits while not costing you a penny).
Monthly repayments. You're free to repay as much as you like as often as you like, subject to a small monthly minimum that'll be outlined when your statement is issued – usually about 2% of your outstanding balance. You'll pay a late payment fee (and damage your credit score) if you don't make the minimum repayment by the statement due date. If you clear your full balance each month, your purchases generally won't incur any interest – it's when you carry a balance from month to month that the interest kicks in.
Annual/monthly account fee. Most cards don't come with an account fee attached, but more premium options (generally high-paying rewards cards) can do. The credit card annual fee is deducted from your available credit and accrues interest at the purchase rate if it isn't paid in the first statement period.
Interest rates. Interest is the price you pay to borrow money, but confusingly with credit cards, different parts of your balance can incur different interest rates. Most commonly, non-sterling transactions and cash advances (withdrawing cash using the card) may have a designated interest rate that's higher than your card's standard purchases rate.
Cash advance fees. Withdrawing cash on a credit card is usually a bad idea. There's normally a one-off fee and a higher rate of interest. These extra fees can also apply to "cash-like" transactions – for example any spending at a casino, or buying foreign currency.
Non-sterling transaction fees. Any spending in currencies other than Sterling will usually involve a currency conversion fee (unless you've opted for a designated overseas-spending card). Plus, this part of your balance could be charged interest at a different (higher) rate.
Other fees. There are a few other fees that issuers can charge – for example, additional card fees (when you request an additional card for a partner or family member), balance transfer fees (when you move existing debt across to your new card), money transfer fees (when you transfer money from your card to your current account) or fees for misuse, like going over your credit limit or failing to make a repayment by the scheduled date.
MUST READ: Credit card grace periods
Almost all credit cards come with up to 55 or 56 interest-free days each billing period. In order to take advantage of this facility though, you'll need to clear your balance in full each month. It's only applicable on new purchases and, in most cases, not available on cash advances or balance transfers.
Here's how it works: Let's say you make a £100 purchase on the first day of the month, then at the end of the month you're sent a bill and asked to pay by the 25th of the next month. Provided you clear your full balance, you could have enjoyed 55 or 56 days of interest-free credit on that purchase. However, if you only pay the minimum required payment, you'll be charged interest on the purchase from the day you made it.
If you set up a direct debit to clear your full balance each month (yep, this is possible – and very normal) then you can relax in the knowledge that you should avoid interest altogether. Just make sure you have the necessary funds in your nominated account to cover the direct debit.
Our 2020 customer satisfaction league table
We asked cardholders to rate their satisfaction with their card issues and whether or not they would recommend it to a friend. The recommendation scores below show the percentage of each brand's customers who would. Our survey was carried out in December 2019.
| Overall satisfaction | Customers who'd recommend | Issuer | Review | |
| --- | --- | --- | --- | --- |
| ★★★★★ | 85% | | Credit where credit's due – it's probably fair to say the Americans do customer service better than us Brits. Amex is fighting hard to win new customers at the moment, so it's no surprise that it's investing in leaving a decent impression. | View deals |
| ★★★★★ | 85% | | Santander has some of the stronger 0% deals on the market, but it also offers a couple of fairly luxurious rewards/perks cards. Customers in our 2020 survey loved the cashback deals on offer. | View deals |
| ★★★★★ | 85% | | The oldest bank in UK has managed to keep its customer service standards high for centuries and offers a super-comprehensive range of cards. Customers in our survey praised Barclaycard's good interest deals. | View deals |
| ★★★★★ | 84% | | Tesco Bank credit cards all earn Clubcard points. Despite being competitive cards in their own right, as you'd expect, they're most popular with Tesco shoppers. | View deals |
| ★★★★★ | 79% | | Virgin Money has a wide range of cards on offer, including a few with some of the longest 0% deals. Customers with a Virgin Money credit card can also sign up to a range of reward schemes, like cashback and money-off offers for family days out. | View deals |
| ★★★★★ | 77% | | One of the world's largest banks, HSBC has several cards on offer, including good 0% balance transfers deals, and a credit card designed especially for students. | View deals |
| ★★★★★ | 77% | | The UK's second largest supermarket chain, Sainsbury's Bank offers some of the longest 0% deals around. You can also earn extra Nectar points whenever you use your card. | View deals |
| ★★★★★ | 76% | | NatWest offers a small but diverse range of cards, including a student card and a couple of strong premium reward cards. Customers surveyed appreciated the bank's rewards programme but not its interest rates. | View deals |
| ★★★★★ | 69% | | Halifax offers a good selection of balance transfer cards, with a range of 0% deals. There's also a low interest flexicard and card with zero fees for spending abroad, which customers in our survey were particularly pleased with. | View deals |
| ★★★★★ | 69% | | Part of the Lloyds Bank Group, MBNA offers several highly competitive 0% and low interest deals. Customers in our survey praised the bank's online account management tools and customer service, but reported sudden interest rate increases. | View deals |
| ★★★★★ | 68% | | M&S Bank keep things simple with only a handful of cards on offer. These will particularly appeal to M&S customer, as you can earn points to spend in store. Customers surveyed were impressed with the rewards on offer, but not the online banking system. | View deals |
| ★★★★★ | 67% | | Capital One has built itself on providing a fair and straightforward approach to credit, making it particularly good for those with lower credit scores. The interest rates for Capital One cards are high, so not paying off charges in full can lead to financial difficulties. | View deals |
| ★★★★★ | 66% | | One of the biggest banking groups in the UK, Llyods Bank has a range of cards with great 0% deals and generally relatively low interest rates. Customers in our survey praised the bank's efficient and reliable customer service and easy application process. | View deals |
| ★★★★★ | 64% | | Another good option for people with low credit scores, Aqua prides itself on helping customers move on to stronger financial products. The interest rates for Aqua cards are high, but there are no annual fees and customers in our survey praised the company's transparency and good service. | View deals |
What do I need to know before I apply?
Once you've established what type of card you need, you can use Finder comparison tables to see the deals available.
The representative APR can be a helpful figure to use when comparing cards from different issuers – it's a standardised figure that's designed to illustrate the annual cost of using a card. However, the vast majority of card issuers tailor rates to the individual. They have to give their advertised "representative APR" to at least 51% of their customers, but the other 49% could be offered a higher rate. Typically, it's the applicants that the issuer deems to be the safest bets that'll be awarded the representative APR – based on factors like credit scores and affordability.
You can get a better idea of the rates that you'd be offered by using a soft-search facility. These involve a short form that banks or brokers use in order to be able to check your credit file without affecting your score. In return you get a more accurate idea of whether or not you'll get approved for a card plus the rate that you could be offered.
Learn more about specific card features
We show offers we can track - that's not every product on the market...yet. Unless we've said otherwise, products are in no particular order. The terms "best", "top", "cheap" (and variations of these) aren't ratings, though we always explain what's great about a product when we highlight it. This is subject to our terms of use. When you make major financial decisions, consider getting independent financial advice. Always consider your own circumstances when you compare products so you get what's right for you.
More guides on Finder