7 best crypto exchanges in the UK for 2023
Find the best crypto trading platform or app for low fees, beginners, trading features and more.
Don't invest unless you're prepared to lose all the money you invest. This is a high-risk investment and you should not expect to be protected if something goes wrong. Take 2 mins to

learn more

.
Estimated reading time: 2 min
Due to the potential for losses, the Financial Conduct Authority (FCA) considers this investment to be high risk.
What are the key risks?
1. You could lose all the money you invest
The performance of most cryptoassets can be highly volatile, with their value dropping as quickly as it can rise. You should be prepared to lose all the money you invest in cryptoassets.
The cryptoasset market is largely unregulated. There is a risk of losing money or any cryptoassets you purchase due to risks such as cyber-attacks, financial crime and firm failure.
2. You should not expect to be protected if something goes wrong
The Financial Services Compensation Scheme (FSCS) doesn't protect this type of investment because it's not a 'specified investment' under the UK regulatory regime – in other words, this type of investment isn't recognised as the sort of investment that the FSCS can protect. Learn more by using the FSCS investment protection checker.
The Financial Ombudsman Service (FOS) will not be able to consider complaints related to this firm or Protection from the Financial Ombudsman Service (FOS) does not cover poor investment performance. If you have a complaint against an FCA regulated firm, FOS may be able to consider it. Learn more about FOS protection here.
3. You may not be able to sell your investment when you want to
There is no guarantee that investments in cryptoassets can be easily sold at any given time. The ability to sell a cryptoasset depends on various factors, including the supply and demand in the market at that time.
Operational failings such as technology outages, cyber-attacks and comingling of funds could cause unwanted delay and you may be unable to sell your cryptoassets at the time you want.
4. Cryptoasset investments can be complex
Investments in cryptoassets can be complex, making it difficult to understand the risks associated with the investment.
You should do your own research before investing. If something sounds too good to be true, it probably is.
5. Don't put all your eggs in one basket
Putting all your money into a single type of investment is risky. Spreading your money across different investments makes you less dependent on any one to do well.
A good rule of thumb is not to invest more than 10% of your money in high-risk investments.
If you are interested in learning more about how to protect yourself, visit the FCA's website here.
For further information about cryptoassets, visit the FCA's website here.
Each year, we extensively review crypto exchanges and trading platforms who are registered with the UK's financial watchdog, the Financial Conduct Authority (FCA) to decide our top picks. We've compared more than 10 platforms on aspects such as user experience, fees, payment methods and selection of coins.
The right crypto platform for you will depend on what you want to use it for. Some people use several to benefit from their different areas of specialty – one could be best for its range of coins and another for its low fees.
Here are our best picks to give you a head start. If you click on the link, you'll scroll to a summary on this article which our reasons why we think the exhange is the best for its chosen feature.
Finder Award
Capital at risk. T&Cs apply.
---
Large selection of cryptocurrencies
Low fees for active traders
Pleasant UI for new traders
Finder's best crypto exchanges and trading platforms in the UK for 2023
1. eToro: Best for beginners
eToro UK Cryptoasset Investing
eToro uses its experience as an investing platform to make things easy for crypto newbies. Its beginner-friendly interface makes buying and selling crypto quick and simple for someone just starting out.
eToro pioneered the concept of copy trading back in 2010. This feature allows you to view and mirror trades made by experienced investors. Getting started is easy – simply choose a trader you want to copy and then set your account to follow their trading moves.
With a minimum of US$200, you can automatically repeat trades from some of eToro's top-performing crypto traders. There is no additional fee charged for this service.
Meanwhile, if you want to try before you buy, you can practice with $100,000 using eToro's virtual portfolio. This allows you to learn about the market and hone your trading skills before doing it for real.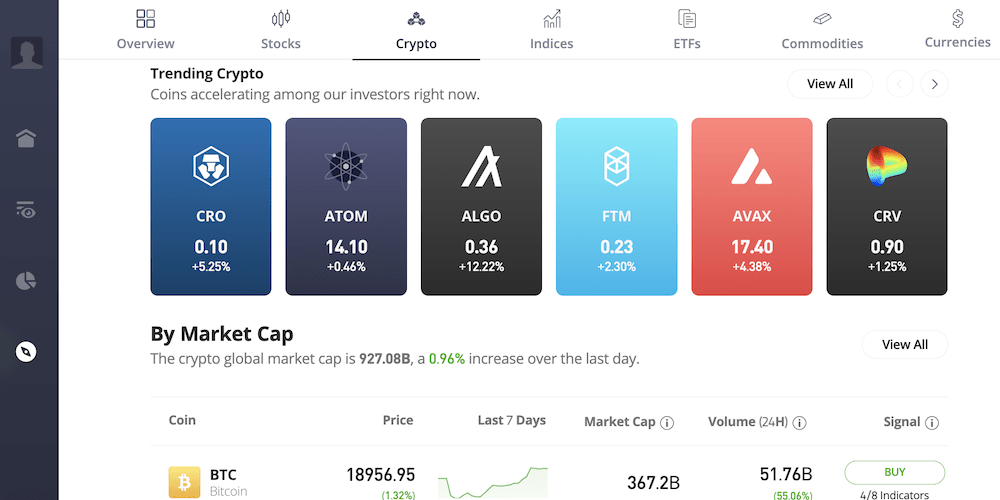 Pros
Unique copy trading feature
Trades UK and international stocks
Tiered membership options for advanced traders
Cons
Picking the right trader to copy can be difficult
Foreign exchange fees on GBP deposits
Higher spreads than other exchanges
| | |
| --- | --- |
| Fees and deposit methods | Bank transfer,Debit card,eToro Money |
| Deposit fees | None |
| Withdrawal fees | $5 (min. withdrawal $30) |
| Trading fees | 1% plus spread |
2. CoinJar: Best exchange for instant buy
CoinJar Cryptocurrency Exchange
CoinJar makes it easy and simple to get started on your crypto journey. It's one of the few exchanges that lets you instantly buy crypto using your debit card. There is a fee attached to this, but it's comparatively low.
If you're not in a rush, then UK users can make GBP deposits and withdrawals without incurring any sort of charge. Trading on CoinJar comes with a small percentage fee, but it has low spreads - a fee often hidden by crypto exchanges.
You can also take advantage of CoinJar Bundles. These are themed baskets of crypto which help you get started if you're unsure which crypto to buy first. You can also set up dollar cost averaging, which is an automated weekly, fortnightly or monthly purchase at your chosen rate.
Pros
No deposit or withdrawal fees
Simple and easy-to-use platform
Instant card payments
Crypto debit card
Cons
Limited services for active trading
Wait time for withdrawals
Fees and deposit methods

Bank transfer,Credit card,Cryptocurrency,Debit card,SEPA,Faster Payments (FPS),Apple Pay,Google Pay

Deposit fees

Cryptocurrency: No fee
FPS: No fee
Visa / Mastercard purchase (Instant Buy): 2%
Apple Pay / Google Pay purchase (Instant Buy): 2%

Withdrawal fees

Bank transfer: No fee
Cryptocurrency: No fee

Trading fees

Maker: 0.02-0.10%
Taker: 0.06-0.10%
3. Kraken: Best for pro trading
Kraken Cryptocurrency Exchange
Kraken is one of the longest-running platforms in the industry and has maintained its legacy by constantly improving its services.
You can start building a cryptocurrency portfolio today from 200+ supported coins. Kraken is popular with over 9 million users, which makes it one of the world's largest exchanges. But for overall features and trading tools, Kraken blows everyone out of the water. It is clearly made for traders but it doesn't leave novices behind either.
Kraken Pro, which is free, has a broad range of advanced trading features. It prides itself on offering low spreads and providing deep liquidity across markets so you don't need to worry as much about slippage. Its interface is also fully customisable, so you can include as many data-displaying tabs and panels as you'd like.
While new traders may feel daunted by the exchange at first, the large variety of guides can help anyone become knowledgeable about cryptocurrency, its underlying technology and the different forms of trading. Meanwhile, more experienced traders will appreciate Kraken's high-quality system and easy-to-use user interface (UI). They will be pleasantly surprised by how straightforward it is to trade, move crypto and manage assets.
Pros
200+ supported coins
Launches in 2013, one of the longest-running crypto exchanges
Low fees for active traders
High quality educational guides and tools
Cons
Some trading features unavailable to UK users
High fees for credit and debit card purchases
No crypto debit card available for spending, unlike some alternatives
Fees and deposit methods

Bank transfer,Credit card,Cryptocurrency,Debit card,Apple Pay,Google Pay,SWIFT

Deposit fees

Cash: £0–£21 depending on method of deposit
Cryptocurrency: Mostly free but requires a minimum balance to deposit

Withdrawal fees

Cash: £1.95 - £35 depending on method of withdrawal (min. withdrawal £5)
Cryptocurrency: Minimum withdrawal requirement and flat-rate withdrawal fee that varies for each cryptocurrency

Trading fees

1.5% plus spread

Advanced Trading Features

Yes
4. Uphold: Best for a debit card
Uphold - Digital Asset Platform
Uphold offers a seamless user experience and a straightforward fee structure. On top of that, it has several exciting features like it's debit card.
The card lets you spend crypto, national currencies and commodities wherever Mastercard is accepted. On top of this, you can benefit from 0% foreign transaction fees and low exchange rates. Making the Uphold card the perfect travel companion.
The ability to use crypto or national currencies gives you flexibility and freedom. You can also track your spending with real-time analytics. And if for some reason your card is misplaced, you can freeze your card using the app.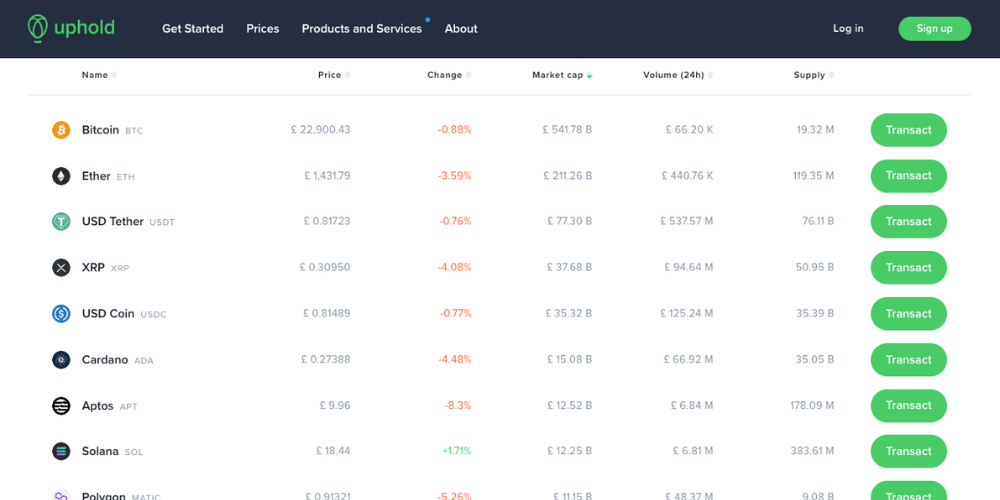 Pros
Access the value of your assets easily
Switching funding sources as often as you like
No fiat deposit/withdrawal fees
No foreign transaction fees
Cons
Likely to pay a spread if funding source is not the same
Crypto withdrawal fees unclear
Prices not locked in pre-trade
Cash withdrawals at ATMs incur a fee
Fees and deposit methods

Bank transfer (ACH),Debit card,Apple Pay,Google Pay

Deposit fees

£0

Withdrawal fees

Crypto: $2.99 + coin fees
Fiat: £0
Google Pay: £0

Trading fees

US$1 flat fee on trades
Spreads also apply
5. Revolut: Best all-in-one finance app
Revolut Cryptocurrency App
Revolut is steadily becoming a one-stop shop for all things crypto. Since it was accepted into the FCA's full register of crypto asset firms, we've seen a series of new features.
The user-friendly digital app marries its e-money account services with its cryptocurrency features to create a seamless user experience. Customers can buy, hold and exchange 90+ cryptocurrencies in-app within seconds. Using funds from your Revolut account, you can start investing almost immediately.
From the app, you will be able to choose which cryptocurrencies to invest in, set up recurring buys, send crypto to other Revolut users and take advantage of performance analytics to help you understand how your portfolio is performing. You can add a crypto spending mode to your existing Revolut prepaid card, which allows you to pay for purchases with instantly converted tokens. Revolut also offers you a discount on your tax report from Koinly, making your self assessment that much easier.
Pros
Educational resources
Earn free crypto
Swap multiple fiat currencies for crypto and vice versa
Cons
Higher transaction fees than dedicated crypto exchanges
Limited number of supported coins
| | |
| --- | --- |
| Fees and deposit methods | Bank transfer,Debit card,Apple Pay,Google Pay |
| Deposit fees | None |
| Withdrawal fees | Fees vary |
| Trading fees | 0.99% (Premium or Metal plans) or 1.49% (Standard or Plus plans) plus spread |
6. Crypto.com: Best exchange for altcoins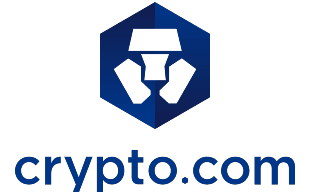 Read review
Capital at risk
Crypto.com App
Crypto.com has one of the largest lists of cryptocurrencies available to Brits. It has over 250 cryptocurrencies on offer and is constantly looking to expand its offering with new coins.
If you're looking for something a little more obscure, Crypto.com will have you covered. It has an extensive range of novel coins and tokens and keeps you updated on the coins launching in the market. Head to its Coin Launches page and you'll be able to find out about the latest offerings.
Crypto.com is more than just the variety of coins it has on offer. It also offers useful services to its 80 million customers worldwide. For example, you can get a crypto card, explore its NFT marketplace or set up your own DeFi wallet.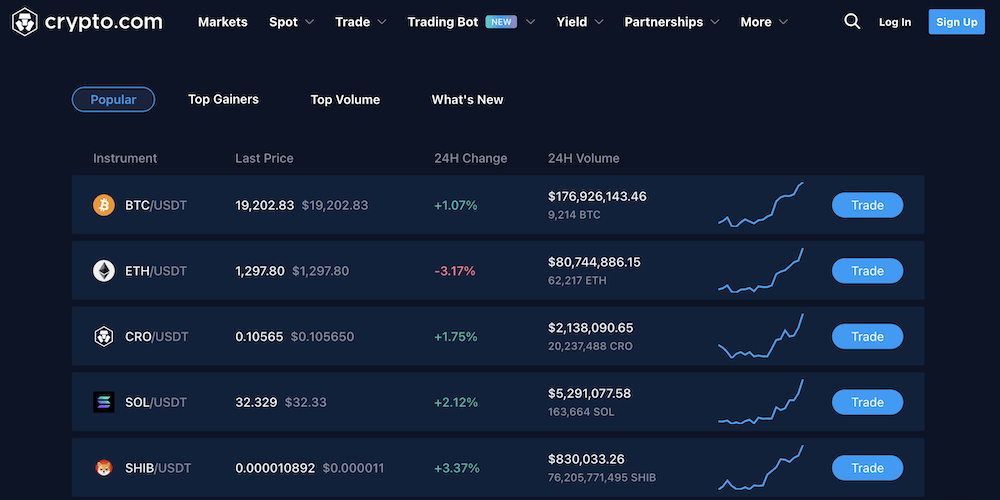 Pros
Buy and sell 200+ cryptocurrencies
Clean, user-friendly mobile app
Supports recurring purchases
Earn passive income on your cryptocurrency
Cons
Staking CRO is required for the highest-yield rewards
Poorly rated customer service on Trustpilot
Fees and deposit methods

Credit card,Cryptocurrency,Debit card,SEPA,Faster Payments (FPS),Apple Pay,Google Pay

Deposit fees

None

Withdrawal fees

Cryptocurrency: Fees vary

Trading fees

Maker: 0.00-0.75%
Taker: 0.05-0.75%
7. Gemini: Best overall exchange

Read review
Capital at risk
Gemini Cryptocurrency Exchange
Gemini has everything you need from a crypto exchange. Low fees, a good number of coins and fiat currencies, pro trading options with ActiveTrader and learning modules.
It's easy to see why it's one of the world's most popular crypto exchanges with its full suite of products, including everything from its exchange through to its custody solution.
Gemini also prides itself on its industry-leading security, being the first SOC 1 Type 2 and SOC 2 Type 2 certified crypto exchange and custodian. It's transparent with its financial statements and how much crypto it has on the platform. You can find all this information in its Trust Center.
Meanwhile, if you're new to crypto, you can delve into the established exchange's "Cryptodpedia". This is a platform designed to provide free, high-quality crypto education.
Pros
Wide range of currencies to exchange
Welcoming UI
Highly liquid order books
Full suite of products
Developing industry-leading security
Cons
Not many staking options
No linked debit cards available
Fees and deposit methods

Debit card,Apple Pay,Google Pay,SWIFT

Deposit fees

Crypto: None
Wire transfer: determined by your bank
Debit card: 3.49%


Withdrawal fees

None (for 10 withdrawals and below per month)

Trading fees

ActiveTrader:
Taker fee - 0.03-0.4%
Maker fee - 0-0.2%
Why you can trust Finder's crypto experts
We're free
Our comparison tables are completely free to use. We link you directly to the platform's secure sign-up page and we'll never ask you for personal details. Better still, we regularly have exclusive offers that you won't find anywhere else.
We're experts
We've researched and rated dozens of exchanges as part of our
Finder Crypto Trading Platform Awards
. We've published hundreds of guides and our in-house experts are regularly called upon for commentary in Nasdaq and The Street.
We're independent
Unlike other crypto media, we're not owned by an exchange or investment firm. Our opinions are our own and we put our readers first to help you find the crypto trading product that's right for you.
We're here to help
We're a team of crypto nerds with extensive experience in investing, trading and decentralised finance but we also remember how it feels to be a beginner. We give you first-hand reviews of what it's like to use these products – without jargon.
How to choose the best crypto exchange in the UK
It's important to research a wide range of crypto platforms and compare the pros and cons of each option. The best crypto exchange for you depends on what you're looking for, so consider the following:
Using FCA-registered exchanges to buy cryptocurrency
There are plenty of places to buy crypto, including platforms founded here in the UK or based in locations all around the world. Exchanges headquartered locally are required to register with the FCA and comply with requirements that don't apply to global platforms. Depending on your goals, this may have some benefits or drawbacks.
Pros
UK-based exchanges must comply with the FCA's Anti-money Laundering (AML) and Counter-terrorism Financing (CTF) reporting obligations.
You can usually buy crypto with GBP.
Exchanges in the UK typically support local payment methods.
You may be able to access local customer support.
Subject to local laws.
Cons
You'll need to provide your personal details and proof of ID – a disadvantage if you want to trade anonymously.
Overseas trading platforms may provide better liquidity.
GBP-to-crypto prices are sometimes slightly higher than USD-to-crypto prices, meaning you sometimes pay a premium for buying directly with pounds.
Some features are simply not available on FCA-registered exchanges. For example, margin trading, DeFi features and some altcoins.
Compare more crypto trading platforms and apps in the UK
Use the table to compare crypto exchanges and platforms on fees, range of cryptos, deposit methods and more. Once you've found the right fit, select
Go to site
to get started.
How to use a cryptocurrency exchange
For the sake of our example, let's assume that you have £500 that you want to use to buy Bitcoin (BTC).
Compare cryptocurrency exchanges to find one that offers the right service for you.
Register for an account on the platform and provide any personal details and proof of ID required.
Navigate your way to the "Buy" screen.
Select BTC as the cryptocurrency you want to buy.
Select your payment currency, which in this case is GBP, and specify the amount you want to spend as £500.
Select your payment method, such as a credit card payment or bank transfer.
Enter your payment details, such as your account number if sending a bank transfer or your card number and CVV if paying by credit card.
Review the full details of your transaction, including the fees that will apply and the amount of BTC you are purchasing.
If you're happy to proceed, click "Buy BTC".
Once the transaction has been processed, the BTC will be deposited into your exchange wallet. However, please note that some brokers will automatically send your purchased BTC to an external wallet address that you nominate.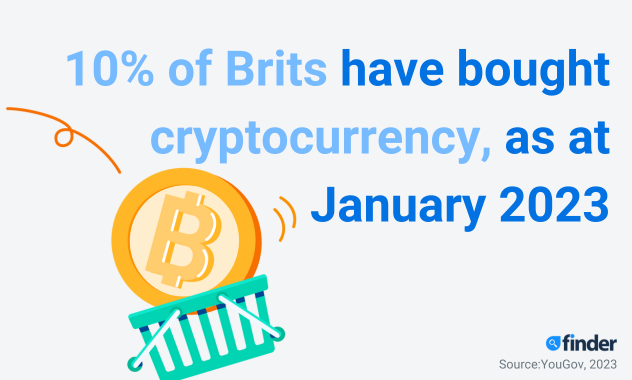 How to pay for your cryptocurrency in the UK
Crypto exchanges in the UK support a range of deposit methods, including the following:
Bank and wire transfers
PayPal and other payment apps
Cryptocurrency transfers
Peer-to-peer (P2P) payments
Neteller, Skrill and other online payment services
SEPA
SOFORT
Accepted payment methods vary between exchanges. Prior to signing up, it's worth checking that your preferred payment method is supported.
The different types of cryptocurrency exchanges
The term "exchange" may refer to a variety of cryptocurrency brokers, trading platforms and other services. Different types of exchange are often more geared toward beginners or experienced users.
Cryptocurrency brokers (suited to beginners). Buy directly from cryptocurrency dealers for simple and quick purchases. Many beginners use brokers for their first purchase. A broker will facilitate an instant purchase of the digital asset of your choosing and will not offer spot trading.
Cryptocurrency trading platforms (suited to beginner/intermediate users). Buy and sell cryptocurrency on an open market for competitive fees, a wide selection of cryptocurrencies and optional features like margin trading. Many exchanges now offer brokerage services to be more beginner-friendly.
Cryptocurrency derivatives platforms (suited to advanced users). These trading platforms don't sell cryptocurrency outright. Instead, they let certain users trade cryptocurrency derivatives in regions where this restricted-access feature is available. They're for advanced traders who want high speed, high leverage and deeply liquid platforms with a full range of features.
It's difficult to find one exchange with all the coins and features you want. I spread my trading around several exchanges to make sure I'm getting exactly what I need, while also diversifying my risk should the exchange get hacked or shut down. To further reduce risk I use one registered locally so it's subject to local laws and regulations.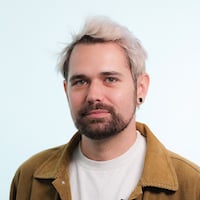 Risks of using a crypto exchange
Cybersecurity breaches. Hacks and scams are, unfortunately, commonplace in the crypto space. Exchange-related security breaches and targeted phishing scams remain a major concern for exchanges and their customers.
Not your keys. "Not your keys, not your crypto" is a common industry saying and refers to holding your digital assets in a wallet that another person or company controls, such as on an exchange. By storing cryptos on an exchange rather than in a non-custodial wallet, you're relinquishing full ownership of those assets and putting trust in a third party – which some may see as contradictory to the decentralised philosophy of crypto.
Lack of consumer protection. While crypto exchanges are increasingly regulated in the UK and may be registered with the FCA, they are still lacking a lot of consumer protections such as mandatory insurance or strict rules about how user assets are managed.
Proof of reserves. Since the widely publicised collapse of FTX, many traders and investors have demanded centralised exchanges provide proof of reserves and user deposits. This may be done by a third-party auditor or through the use of on-chain data. Proof of reserves is still an evolving concept, and it's not clear yet what the best practices are or how reliable it will prove to be.
Transaction limits. Most crypto trading platforms have daily deposit and withdrawal limits. This means that even though you may have, for example, 10,000 GBP available, you may not be able to access and withdraw the total balance. Transaction limits depend on the exchange and the FCA stipulations and typically increase as you provide additional KYC information.
Frozen accounts. Crypto exchanges freezing deposits and withdrawals can happen without warning. If your account is frozen, you will not be allowed to remove your funds until the exchange approves or denies your request. Precautionary measures such as only holding a trading balance on an exchange are recommended.
Asset delistings. Centralised exchanges can opt to delist a cryptocurrency at any time. This can happen for numerous reasons, including poor asset performance, security concerns or anti-money laundering (AML) breaches. If delisting is taking place, you will be notified by the exchange and forced to sell your assets or remove them from the platform.
Is it safe to store your cryptocurrency on an exchange?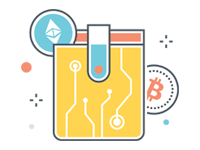 Securely store your crypto:
Cryptocurrency is held in digital wallets. Some exchanges will give you your own wallet that lets you hold cryptocurrency in your exchange account and then transfer it anywhere as desired.
However, once you have purchased what you consider to be a sizable amount of digital assets, you may want to consider transferring the private keys to those assets to a self-custodial wallet.
This is because the exchange controls the private key to your wallet, which means you don't have total control of your funds. And with exchanges sometimes falling victim to hackers, there is some degree of risk involved with leaving the private keys to your crypto in the hands of a centralised exchange.
Learn more about cryptocurrency wallets
2023 crypto exchange industry predictions report
We polled 56 specialists in the fintech industry to get their opinion on what the future looks like for centralised crypto exchanges and what the demise of FTX means for the crypto industry.
The vast majority of our panellists (83.93%) don't think the collapse of FTX was the beginning of the end for crypto, while 8.93% think it was and 7.14% are unsure.
However, because of the FTX collapse, more than half of our panellists (58.49%) believe that crypto exchanges should be regulated just as much as other financial trading platforms.
22.64% believe that crypto exchanges should be regulated, but less so than other financial trading platforms. 15.09% don't believe that crypto exchanges should be regulated to the same degree.
Over one-third of our panellists (35.19%) believe all crypto exchanges will be regulated as traditional financial institutions by 2030. A further 22.22% believe this will happen by 2025 and another 14.81% think it will happen by 2024.
In the future, the majority of our panellists (86.79%) feel that crypto exchanges should be required to disclose both their proof of reserves (PoR) and records of their liabilities.
42.31% think that more crypto exchanges will face bankruptcy as a result of a reduction in their customer base. 15.38% believe this will play out over the next 5 years while a quarter (26.92%) think it'll happen within the year.
Bottom line
Not all crypto exchanges are created equal and not all crypto buyers and sellers have the same trading needs. The best exchange or platform for one person might not necessarily be the right choice for someone else, so it's essential to do your own research.
Read our reviews of some of the most popular cryptocurrency exchanges in the UK and around the world before you decide which to use. Compare the features, fees and pros and cons of each platform and consider whether they align with your investment goals and budget.
FAQs
Methodology
To evaluate our 2023 picks for the best crypto exchanges in the UK, we compared trading platforms on a range of criteria, including the following:
Supported assets. Does the platform offer a good breadth of coins, tokens and NFTs?
Payment methods. What account funding options are available? Does the exchange accept bank transfers, credit and debit cards or crypto-only transfers?
Fees. What trading fees, withdrawal fees and other miscellaneous charges are levied by the exchange, and are these rates comparable with competitor exchanges?
User experience. Is the platform simple to use for both beginners and advanced crypto traders?
Platform features. What tools, charts and functionalities are available on the exchange? Is there support for advanced trading features such as derivatives or hedging?
Security. What measures are taken by the exchange to protect its customers' assets and prevent theft or loss? Are additional security features in place, including 2-factor authentication (2FA), cold storage of assets, regular audits and insurance coverage?
Regulator registration. Is the platform registered with the Financial Conduct Authority?
Customer support. How do existing users rate the exchange's customer support? Does the exchange offer various methods of contact, such as email, instant chat, phone or social media?
Read our full trading platform rating methodology
Finder's crypto exchange reviews
Crypto platform news & launches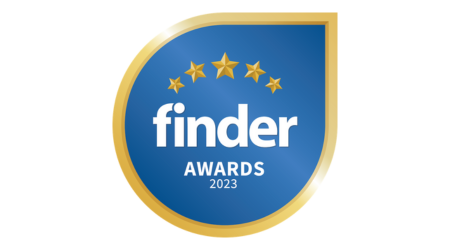 These awards recognise the crypto providers displaying the best innovations in their field.
Read more…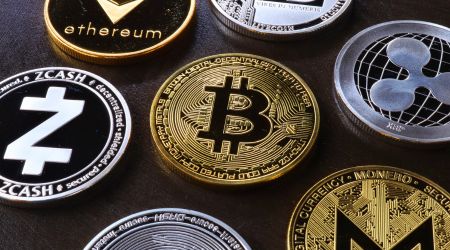 The new crypto Travel Rule came into force on 1 September 2023 – find out what it is and what it could mean for you.
Read more…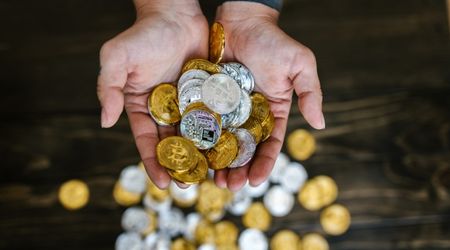 Binance has suspended pound sterling deposits and withdrawals – find out what this means for its UK customers.
Read more…
*Cryptocurrencies aren't regulated in the UK and there's no protection from the Financial Ombudsman or the Financial Services Compensation Scheme. Your capital is at risk. Capital gains tax on profits may apply.
Cryptocurrencies are speculative and investing in them involves significant risks - they're highly volatile, vulnerable to hacking and sensitive to secondary activity. The value of investments can fall as well as rise and you may get back less than you invested. Past performance is no guarantee of future results. This content shouldn't be interpreted as a recommendation to invest. Before you invest, you should get advice and decide whether the potential return outweighs the risks. Finder, or the author, may have holdings in the cryptocurrencies discussed.