What is buy now, pay later (BNPL)?
Buy now, pay later is a payment service that allows consumers to shop online and place orders right now but pay for them later. Most of the services split the final shopping total into 3 or 4 more manageable amounts. The first payment is usually due at the time of order, and then each additional payment is due a month apart.
Several BNPL services are available in the UK, and each has different terms and conditions and handles the idea of "paying later" differently. Most BNPL services offer 0% interest, but some charge interest or late fees if you miss a payment.
Before you sign up for any buy now, pay later service, be sure you have fully read and understood the terms and conditions (T&Cs) of your chosen service.
BNPL services available in the UK
What are the benefits of using buy now, pay later services?
Finder conducted a survey in July 2020, asking 2,000 Brits why they chose to buy now, pay later. Ease and convenience was the number one factor, with the ability to spread the cost of purchases over a longer period coming in second.
Why are more brands offering buy now pay later services at checkout?
To stand out in an increasingly saturated market, retailers need other avenues besides price to incentivise consumers.
Offering interest-free buy now, pay later (BNPL) services is an increasingly popular benefit rolled out to attract shoppers, especially during the pandemic. This is because consumers have come to expect BNPL: Nearly 9.5 million Brits said they avoided stores that didn't offer BNPL in a study from February 2020 by market research agency Harris Interactive.
Which service is the most popular?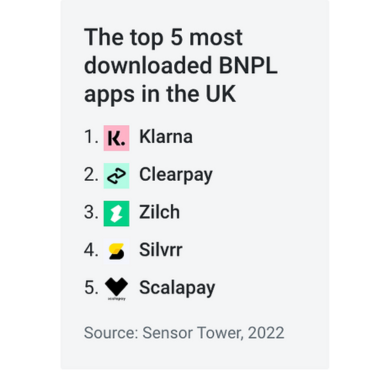 Does using a BNPL service affect my credit score?
This can depend on a few factors. Each BNPL service deals with credit checks in a different way, so be sure to read the T&Cs of your chosen provider. Generally, if you can repay your loan as agreed and don't miss any payments, your credit score shouldn't be negatively impacted and, in fact, could improve. If, on the other hand, you fail to pay on time or miss 3 monthly payments, your credit score is likely to deteriorate. As of Spring 2022, all 3 CRAs (Experian, Equifax and TransUnion) show BNPL data on credit reports.
Warning: Late repayments can cause you serious money problems. For help, contact the MoneyHelper.
Where can I shop when using BNPL?
Thousands of retailers now offer BNPL options at the checkout. The biggest UK BNPL providers Klarna and Clearpay have +2,000 partner stores between them.
Although some retailers work exclusively with one particular BNPL provider, in December 2020, PayPal launched its Pay in 3 service, which can be used at most retailers that provide PayPal at checkout. Digital bank Monzo also offers its own BNPL service, Monzo Flex, which can be used pretty much anywhere that accepts Mastercard.
Buy now, pay later: Is it a good idea?
Rachel Wait
BNPL services have become unbelievably popular over the past few years, and on the face of it, they look like a great way to help you spread the cost of your purchases. However, it can be easy to forget that they are a form of borrowing, and ultimately, they could affect your credit record.
If you are tempted to use a BNPL service, the key is to use it sensibly. BNPL can be ideal if you want to try before you buy, but only if you actually send back the items you don't want to keep. Don't be tempted to spend more than you can afford to repay, and always be sure you've read and understood the small print. Make sure you know how much you could be charged if you miss a repayment, and remember that it's likely this will be recorded on your credit report. Even if this does not directly affect your credit score right now, it could affect your ability to get accepted for credit in the future.
Finally, keep in mind that, unlike a credit card, your purchases will not be protected by Section 75 of the Consumer Credit Act. This protects purchases of more than £100 and up to £30,000 in the event something goes wrong. The exception is Monzo Flex.
Bottom line
Buy now, pay later services have a number of benefits, but if you're thinking about using one, you need to be absolutely sure what you're signing up for. You also need to be sure that you can make your repayments on time and in full to avoid any unnecessary fees and a possible drop in your credit score.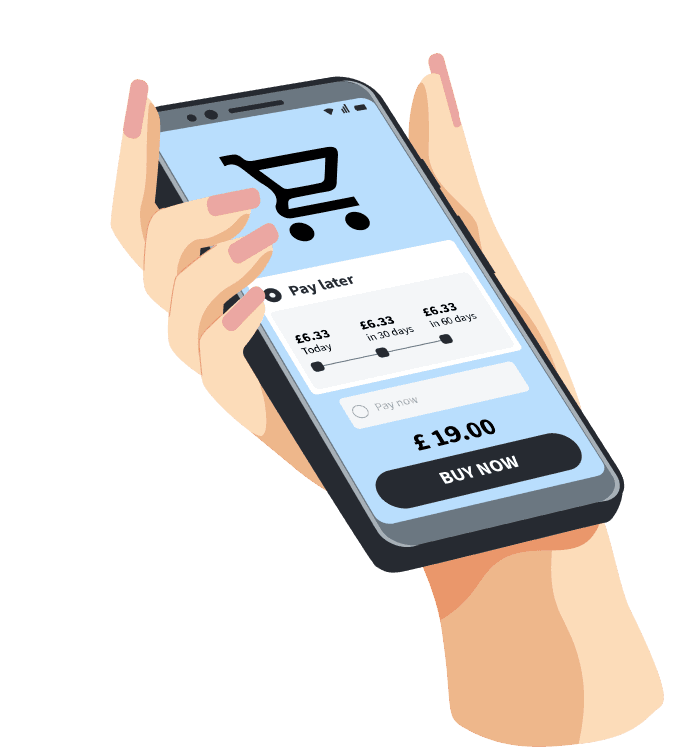 Almost 4 in 10 Brits say they have used a buy now pay later service, with 44% of shoppers naming ease and convenience as the main reason.
Discover more interesting statistics about buy now pay later, online shopping and more in our report.
Buy now, pay later compared