What is buy now, pay later (BNPL)?
Buy now, pay later is a payment service that allows consumers to shop online and place orders right now, but pay for them later. Most of the services split the final shopping total into 3 or 4 more manageable amounts; the first payment is usually due at the time of order and then each additional payment is due a month apart.
There are several BNPL services available in the UK and each has different terms and conditions and handles the idea of "paying later" differently. The majority of BNPL services offer 0% interest but some do charge interest or late payment fees if payments are missed.
Before you sign up for any buy now, pay later service, be sure you have fully read and understood the terms and conditions of your chosen service.
BNPL services available in the UK
What are the benefits of using buy now, pay later services?
Finder conducted a survey in July 2020, asking 2,000 Brits why they chose to buy now, pay later. Ease and convenience was the number one factor, with the ability to spread the cost of purchases over a longer time period coming in at second.
Why are more brands beginning to offer buy now pay later services at checkout?
In order to stand out in an increasingly saturated market, retailers are having to look to other avenues, besides price, to incentivise consumers.
Offering interest-free buy now, pay later (BNPL) services is an increasingly popular benefit that has been rolled out more recently, especially during the pandemic, to attract shoppers. This is because consumers have come to expect BNPL: nearly 9.5 million Brits said they avoided stores that didn't offer BNPL, in a study from February 2020 by market research agency Harris Interactive.
Which service is the most popular?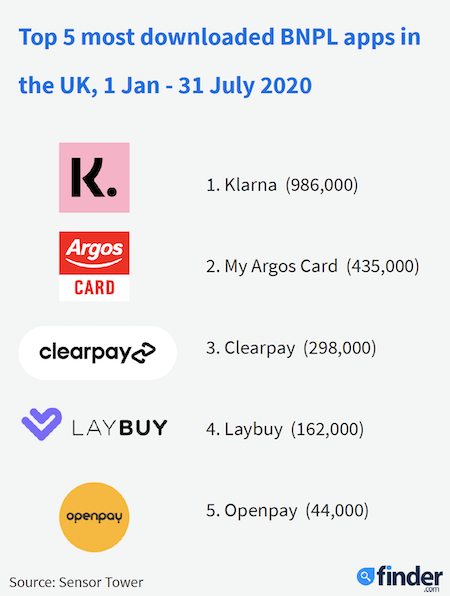 Does using a BNPL service affect my credit score?
This can depend on a few factors. Each BNPL service deals with credit checks in a different way, so be sure to read the T&Cs of your chosen provider. Generally, if you're able to repay your loan as agreed and don't miss any payments, your credit score shouldn't be negatively impacted and in fact could improve. If, on the other hand, you fail to pay on time or miss three monthly payments, your credit score is likely to deteriorate. Recently it was announced that all 3 CRAs (Experian, Equifax and TransUnion) will be showing BNPL data on credit reports as of Spring 2022.
Warning: Late repayments can cause you serious money problems. For help, contact the MoneyHelper.
Where can I shop when using BNPL?
Thousands of retailers now offer BNPL options at the checkout. The biggest UK BNPL providers Klarna and Clearpay have +2,000 partner stores between them.
Buy now, pay later: Is it a good idea?
Finder's shopping expert Georgia-Rose Johnson answers
There's no way around it: buying now and paying later (BNPL) can tempt you into busting your budget. BNPL companies promise to encourage "responsible spending" but the attraction of the service is that it allows people to spend money they don't yet have, without using traditional forms of credit, like credit cards.But there are ways in which BNPL schemes can make your online shopping easier and more flexible, without too much risk.
The first way is to use BNPL to try before you buy, and then pay only for the items you actually keep.
Scenario: You're attending a wedding in just a few days and you've only just found the perfect pair of shoes online. You're usually a shoe size 4 but sometimes in heels you find a size 5 is more comfortable. You don't have time to buy one and return it to order a second pair if it's the wrong size.
Enter buy now, pay later.
With this service you can order both the size 4 and the size 5 and, once they arrive, you can try both and return the pair that doesn't fit. Then you can immediately pay for the pair you keep. This removes the stress of paying twice and then chasing up the refund.
Another way in which BNPL can be valuable to consumers is for large but necessary purchases.
Scenario: You want to start your own graphic design freelancing business. This requires expensive equipment that eventually will pay for itself but that right now you just don't have the money for.
Enter buy now, pay later.
With BNPL you can split the cost of this equipment into four smaller chunks and pay off one chunk per month until the full amount is paid. In four months' time you will have income from the business that can cover the smaller payments.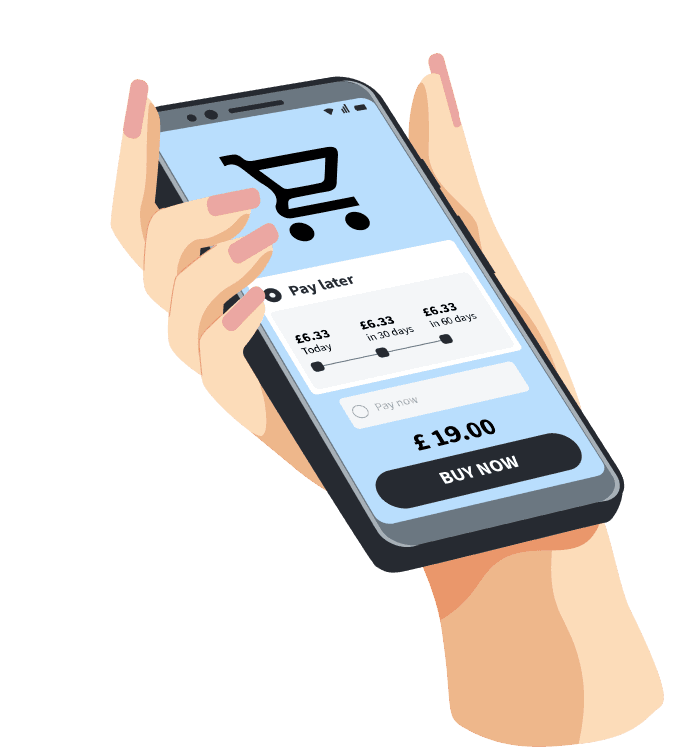 Almost 4 in 10 Brits say they have used a buy now pay later service, with 44% of shoppers naming ease and convenience as the main reason.
Discover more interesting statistics about buy now pay later, online shopping and more in our report.
Buy now, pay later compared