When getting ready to head to Indonesia, you might've not thought about how you'll be spending money. Where you go in Indonesia will determine the which option of travel money is best. You shouldn't have a problem using a credit card in tourist hot spots, like Bali, but plastic is virtually useless in remote areas like Maluku and Papua.
Among your options, travel credit cards and debit cards will allow you to access and spend your funds conveniently in Indonesia.
What should I budget for my trip to Indonesia?
Budget (Cheap)
Midrange
Luxury (High-end)
Simple room
$15
Room with air-condition and Wi-Fi
$30–$70
Ayana Bali resort
$815–$1225
Cheap street meals
$1
Average full meal
$2–$3
Western food
$10
Bromo-Tengger-Semeru National Park
$7
Mt. Batur hike
$30–$60
2-day all-inclusive orangutan trek in Bukit Lawang
$80
*Prices are approximate and are subject to change.
Travel card, credit card or debit cards?
Whether you're on a business trip or taking a holiday, it's good to at least have a couple of ways to access money. Choose a versatile mix like a debit card for regular spending and a credit card for emergencies. Whatever you decide on, you want to have enough Indonesian currency in your pockets when traveling through Indonesia — even if it's enough for the first couple of days.
Must read:
You're going to need to pay for a visa when you arrive in Indonesia. In places such as Denpasar airport, you have to pay cash, so make sure you have sufficient funds.
A quick summary of travel money options for Indonesia
Travel money option
Pros
Considerations
Debit cards for travel

Access to ATMs
Make over the counter purchases
Budget is easily managed

Currency conversion and international ATM fees
No emergency cash
No backup cards

Prepaid travel money cards

Protected by PIN & chip
Pre-load and secure your exchange rate
Accepted worldwide
Emergency card replacement and backup cards

Local ATM fee
Reloading time

Credit cards for travel

Protected by PIN & chip
Access to funds up to your credit limit
Rewards points on spending, 0% purchases, frequent flyer perks
Emergency card replacement

High withdrawal and cash advance fees
International ATM fees and currency conversion fees

Traveler's checks

Secure and can be easily replaced if lost or stolen
Photo ID needed to cash checks

Can be costly with initial purchase charges
Limited acceptance

Cash

Flexibility with payments
Convenience

Difficult to manage expenses
Higher risk of theft
This table is a general summary of the travel money products in the market. Features and benefits can vary between cards.
Back to top
How the different travel money products work in Indonesia
Using debit cards
A debit card is a great travel companion if you can get your hands on one with no international ATM fees. You'll have easy access to cash and only have to pay the ATM operator fee. When making purchase overseas, most debit cards will charge a 2% to 3% foreign transaction fee.
Using prepaid travel cards
There are no travel money cards that allow you to load and spend in Indonesian rupiah. These cards should only really be considered if Indonesia is the first leg of your international holiday. However, due to the lack of support for Indonesian rupiah, the fee structure and exchange rate margin when you load the card with funds makes this an expensive option.
Using credit cards
A credit card can be useful when traveling overseas if you plan on making a large purchase that you'll want to pay off over a couple of months, or for a hotel check-in where a deposit normally is required. Credit cards also give you access to emergency cash and can provide you with benefits like complimentary travel insurance when you charge the cost of your travel ticket to your account.
However, credit cards can be expensive, especially when it comes withdrawing cash at an ATM. Interest is charged straight away and you'll pay a cash advance fee.
Using traveler's checks
Traveler's checks have a some nice security touches to them, but unfortunately they're dated. Traveler's checks need ID to be cashed and they can be replaced in a few days if lost or stolen. But, there are fees for purchasing and cashing a check.
Using cash
Having cash in Indonesia will prove to be useful as there won't always be stores and shops that are going to accept credit card payments. In addition to that, many street stands or local vendors will likely be operating a cash-only business. Don't let yourself get stuck in a rut because you didn't want to stop at an ATM machine.
Compare travel credit cards
Back to top
Case study: Stephanie's experience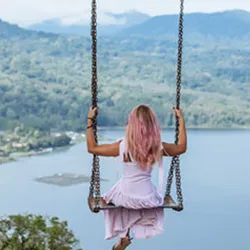 Stephanie
Stephanie's Bali Beach Holiday
What cards did you take with you?
Capital One 360 debit card
Why did you take these cards with you?
She used the Capital One 360 debit card to get money from ATMs, without paying a currency conversion fees. The other great thing about her Capital One is that it doesn't charge for withdrawals at international ATMs.
Stephanie had her Simmons Visa® as a backup and only used it a couple of times on her trip — she paid the remaining balance of her hotel bill and bought her friends dinner one night. She paid it off before the interest free period was up and didn't incur any interest charges.
Did you withdraw from ATMs?
Stephanie says she withdrew from Indonesian ATMs around the Kuta area. Most ATMs charged a small fee for withdrawing, so she tried to withdraw the maximum each time.
Were there any places where you had trouble using any of your cards?
Stephanie said she mainly used cash in Bali. The only times she used her card were at a fancy dinner and major hotel chains.
What's your recommendation for the best form of travel money to take to Indonesia?
Stephanie says that a debit card that waives the international ATM fee and currency conversion fee would be ideal, especially if there are no monthly charge to keep the account open.
What are your travel money tips for Bali?
She says do your shopping in the morning. The people who sell things at the markets in Bali will give you a better price in the morning compared to in the afternoon.
Back to top
A guide to Indonesian banknotes and coins
Indonesian currency is in denominations of 1,000, 2,000, 5,000, 10,000, 20,000, 50,000, 100,000 denominations — each a different color. Familiarize yourself with the notes before heading there: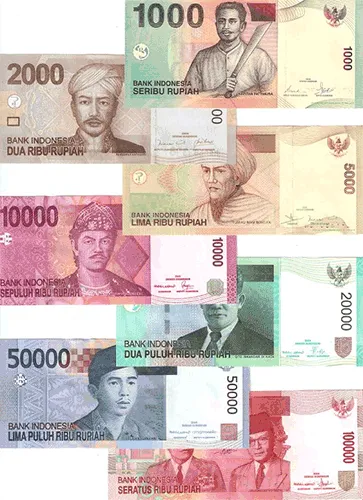 Card acceptance
You'll see stores and shops with Mastercard and Visa logos throughout Bali and you should be able to use your ATM card there with no problem.
Tip: Citibank customers can make free ATM withdrawals using Citibank ATMs in Indonesia.
Cash pickup services in Indonesia
Disclaimer: Exchange rates change often. Confirm the total cost with the provider before transferring money.

Back to top
Get travel insurance quotes for your holiday in Indonesia
Indonesia has proved to be a dangerous destination, from the dreaded Bali belly to contaminated alcohol, there are many risks lurking just below the surface. This is why travel insurance is so important. Travel insurance can cover:
Cancellations
Trip interruption
Lost deposits
Additional accommodation
Personal liability
Emergency dental and medical
Don't let a hospital stay ruin your holiday. Compare travel insurance for Bali and find the right policy for you.
Find and compare travel insurance policies for Bali
Back to top
You might also like:
Indonesia is a hotspot when it comes to vacation destinations, so do your research and save on those unnecessary fees to your bank.