Travel money guide: Spain
Spend with convenience and avoid unnecessary fees on your vacation to Spain.
Hola, amigos! Are you planning a trip to the land of bullfights, tapas and flamenco? One of the things that makes Spain so travel-friendly is the use of euros as the national currency. Credit cards, debit cards and cash are all accepted.
Credit cards that waive international fees, like the Capital One Venture Rewards Credit Card, are your best bet for dodging some extra expenses to your wallet. Here's a look at your money options before making the trip to Spain.
Our picks for traveling to Spain
Travel card, debit card or credit card?
The national currency for Spain is the euro. As one of the major global currencies, all travel cards let you load and spend euros. But is a travel card the best travel money product for your trip?
Visa and Mastercard have wide acceptance at shops and ATMs throughout Spain. Use your debit card or credit card like you would in the US, but look for cards that waive the currency conversion fee when you spend.
You'll need to take a variety of spending options on your trip to the Iberian Peninsula. Use a debit card or a travel card to withdraw cash from ATMs and for over-the-counter purchases, and save your credit card for emergencies and big-ticket purchases.
Credit cards can offer up to 30 days interest-free on purchases if you pay your account by the statement due date. And there are cards that provide travel insurance and travel perks.
Spread your travel money across a couple of accounts so you won't be caught without cash if a card goes missing. Travelers to Spain may be surprised at how easy it is to get by without spending a fortune. With a few travel money tricks up your sleeve, it's easy to sample all of the joys of Spain, from the Royal Alcázar to Dali.
These are your options for spending money in Spain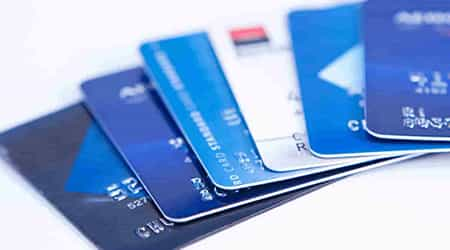 Compare credit cards for travel
Using a credit card
There are a number of competitive credit card products designed for travelers, and the best for travel to Spain won't charge foreign transaction or international ATM fees. The Capital One Venture Rewards Credit Card is a good example, waiving such fees while also offering the opportunity to earn miles on purchases. Carrying a credit card may also give you the added benefit of travel insurance and discounts, depending on your provider.
Travel credit cards come in all shapes and sizes when it comes to features, with some offering big luxury perks at a high cost. It pays to compare your travel card options before applying to make sure you get the card that best fits your travel needs.
Pros
Protected by PIN and chip
Accepted worldwide
May come with benefits like travel insurance
Interest-free days when you pay your account in full
Emergency card replacement
Cons
You'll pay a lot for a cash advance
Which credit card issuers are accepted in Spain?
Visa and Mastercard are most popular in Spain, with American Express closely behind. But if you have a Discover card, you may find it hard to pay with it.
| | Merchant acceptance | ATM acceptance |
| --- | --- | --- |
| Visa | High | High |
| Mastercard | High | High |
| American Express | Medium | High |
| Discover | Low | Low |
Compare travel credit cards
Select Compare for each card that interests you for a side-by-side study on features, rewards and fees to help you decide which card best suits your needs.
Best international debit cards
Using a debit card
Though rarer than travel credit cards, travel-friendly debit cards can give you the best of both worlds: spending money you have and withdrawing it without paying international service fees. Providers like Betterment Checking are a good choice as they reimburse international ATM and foreign transaction fees. There are plenty of ATMs in Spain, and should have no problem accessing money when you need it.
Tip: Make sure your debit card has a chip to avoid situations where you card won't be accepted.
Pros
Use at stores and hotels, online and ATMs
Protected by PIN and chip
Spending your own money means avoiding interest charges
Cons
No backup card if you lose it on your trip
Some charge currency conversion and ATM fees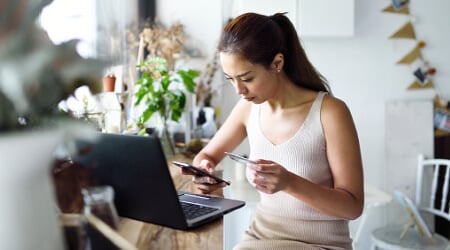 Prepaid travel money cards
Using a prepaid travel card
Travel cards can lock in conversion rates once you load USD. Use it for purchases without worrying about rates each time you spend — debit and credit cards often charge 3% for each transaction.
Where you save in the conversion rates you may pay in fees. You'll pay fees each time you load the card, ATM withdrawals and sometimes even an inactivity fee.
Tip: Banks that provide travel cards make money by applying a higher margin to the exchange rate. Get a better rate using a debit card or credit card.
Tip: When you get a travel card, you'll get two for the same account. This can come in handy if your first card is lost or stolen, so make sure to keep the second card in a safe place.
Pros
Lock in exchange rate when you convert USD to EUR
Protected by PIN and chip
Emergency card replacement and backup cards.
Reloadable online
Cons
Pay a currency conversion fee to use USD
Often charge ATM fees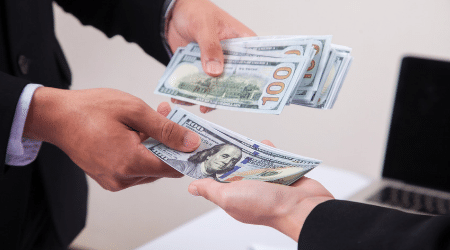 Compare cash pickup services in Spain
Paying with cash in Spain
It's advisable to always have some cash with you when you travel. Expect to need cash for things like coffee and tapas, and anytime you need to make a purchase for anything between €10 and €20.
When you're visiting the larger cities of Madrid, Barcelona and Seville, you should be able to live on your credit and debit cards. Keep in mind that you're going to need cash for purchases under €10 at most shops.
One option is to send your money to Spain ahead of time with a money transfer service and have it waiting for pickup when you arrive.
Pros
Greater payment flexibility
Convenience
Cons
More difficult to manage expenses
Higher risk of theft
Back to top
Spain currency
The main banks in Spain are:
Banco Santander
Banco Bilbao Vizcaya Argentaria, S.A.
CaixaBank
Banco de Sabadell
Bankia
Banco Popular Español
Bankinter
KutxaBank
Caja Rural Group
Unicaja Banco
Buying currency in the US
There's no limit to the amount of cash you can bring with you to Spain. However, you'll need to make a declaration at customs if you're traveling with more than €10,000 cash, including traveler's checks.
Your bank will sell you euros at a competitive rate, though you'll pay a commission fee. You can use a money transfer company like Western Union or Travelex to order euros and pick them up once you arrive at the Spanish airport. They don't charge a commission and that can offer a slightly better rate than most banks.
Live Rate
Refreshing in: 60s | Sat, Oct 01, 06:29PM GMT
Exchanging cash
If you wait to exchange your money in Spain you'll have lots of choices in Barcelona and Madrid. You'll find better rates if you venture away from tourist attractions. Avoid exchanging your money at the airport if you want the most competitive rates.
Exchange rate history
The euro, though a young currency, has historically stood up to the USD. If you watch forex markets and find a favorable rate, lock it in with a travel money card or traveler's checks.
ATMS in Spain
You'll be able to find ATMs in all Spanish towns and cities, gas stations, shopping centers and bus and train stations. Bank affiliated ATMs generally won't charge you for usage except for Catalunya Caixa Bank, which will charge a couple of euros. However some banks like Betterment Checking offer debit cards that reimburse for foreign transaction fees or international ATM charges. Most ATMs will have an English option.
Tip: Bank of America cardholders can avoid the international ATM fee by making withdrawals from Deutsche Bank in Spain.
Keep your travel money (physically) safe
Remain alert to street crime, especially where two or more people operate together to distract victims before taking their valuables. Instances of theft at airports are frequent, so stay vigilant while arriving and departing. Numerous reports come up about theft from rental cars so never leave your wallet or purse in a parked car.
In some cases, thieves pose as cops and ask to see wallets for identification purposes. In this case, make sure you're speaking with genuine police officers. It's highly unlikely that a real cop will want to sift through your wallet.
What should I budget for my trip to Spain?
Spain is a bit smaller than the size of Texas, and prices throughout the country vary. Cities like Barcelona and Madrid tend to charge more for accommodations and food. On average you can expect to spend between $50 to $350 a day.
Madrid
Budget
Midrange
Luxury
Meals
Street food and tapas
$10
Seafood paella and wine
$15
Seafood dinner with wine
$50 per person
Accommodation
Hostel
$15–$125 per night
4-star hotel in the city center
$85
5-star hotel with a view
$150
Activities
Explore Plaza Mayor and Madrid's Royal Palace for free
Entry to the Reina Sofia National Museum
$10
Private guided 1/2 day tour of Madrid
$150
*Prices are indicative and subject to change
Case study: Interview with Michael about travel money on his trip to Spain
What tips do you have about travel in Spain?
He was offered the Madrid tourist card providing entry to museums, free guide books and access to guided tours. He turned it down because he found it pricey at €50 for a one-day pass. He thought that it could be worth it if he was interested in seeing lots of museums while he was in Madrid.
Michael also says watch out for the Value Added Tax (IVA) tax, which isn't included in some bills and can be as high as 20%.
Back to top