In Australia, you can pay for almost anything with plastic — including taxis, souvenirs and incidentals. Using a credit card without foreign transaction fees that also earns rewards on purchases is a great way to save money abroad.
Though cards are widely accepted, it's always a good idea to have some cash in your pocket, too.
Our picks for traveling to Australia
Should I use a travel card, debit card or credit card?
You shouldn't have any problem using a Visa, Mastercard or American Express card in Australia. Just watch out for transaction fees that come with using a card.
Debit cards are typically the preferred option for making ATM cash withdrawals. If you don't want to link your bank account to your card, however, consider a prepaid travel card — just watch out for its additional fees.
These are your options for spending money in Australia
Learn more about using a credit card in Australia
Using a credit card
Since credit cards are a common payment method in Australia, you may want to consider a travel credit card. You could earn rewards on your purchases and get travel insurance, luggage insurance or car rental insurance. With some cards, you could even get a concierge service, which can be helpful when traveling abroad.
Another option could be an airline cobranded card. This type of card helps you save money on flights, checked bags, lounge access and more. Some cards also come with complimentary travel insurance and similar perks.
Tips:
ATM cash withdrawals using a credit card comes with cash advance fees and cash advance APR. Consider using a debit card instead.
Notify your bank you will be traveling to Australia.
Pros
Credit line access
Rewards
May come with travel insurance and coverage
May come with concierge service
Cons
Cash advance fees on ATMs
Cash advance APR on ATMs
Best international debit cards
Using a debit card
A debit card comes in handy for cash withdrawals. You won't pay any cash advance fees or a cash advance APR.
Tips:
Use a debit card for ATM withdrawals and a credit card for purchases.
Notify your bank you will be traveling to Australia.
Pros
No cash advance fee
No cash advance APR
No overdraft
Cons
Weak or no rewards
No access to a credit line
Potential foreign transaction fees up to 3%.
Potential ATM withdrawal fees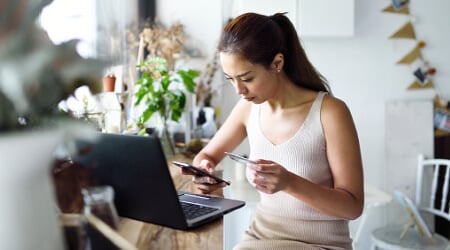 Prepaid travel money cards
Using a prepaid travel card
When it comes to staying protected against theft, using a prepaid travel card is your best option as it's not linked to your bank account. However, travel cards can have expensive fees.
To avoid foreign transaction fees, try loading your prepaid travel cards with Australian dollars.
Pros
Can load Australian dollar
No cash advance APR
No link to your bank account
Cons
Many fees
May take time to load
No rewards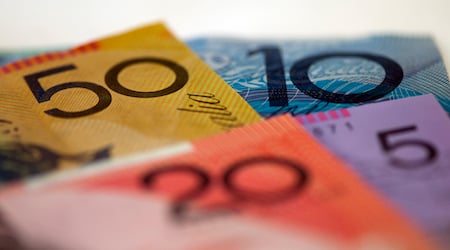 Compare cash pickup services in Australia
Paying with cash in Australia
In general, most establishments in Australia accept cards. However, carrying some cash is a good idea in case you stumble across a place that doesn't.
You can either exchange US dollars at a bank or make an ATM cash withdrawal. If you go for the latter, consider using a debit card and preferably one without foreign transaction fees or ATM fees.
Pros
Payment flexibility
Convenience
No need for ATMs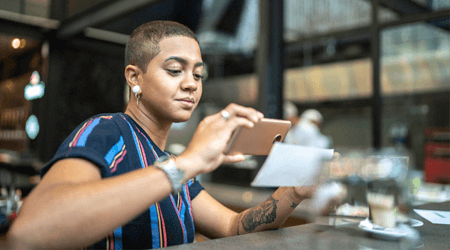 Traveler's checks guide
Using traveler's checks
Traveler's checks aren't widely accepted in Australia. This could make purchasing and cashing your checks a nuisance. Considering checks come with foreign transaction fees and purchasing fees, they could become more expensive than they're worth. In Australia, the other payment options could be better alternatives.
Cons
Not accepted everywhere
Fees for purchasing and cashing checks
Compare travel cards for Australia
Back to top
What's the Australian currency and where can I get the best exchange rate?
Australia uses the Australian dollar with a symbol $ and a currency code AUD.
You could exchange US dollars upon arrival, but the conversion rates at the airport usually aren't favorable. An ATM cash withdrawal could give you a better rate.
Live Rate
Refreshing in: 60s | Tue, Jul 05, 08:51AM GMT
Common Australian dollar banknotes:
The main banks in Australia are:
Commonwealth Bank of Australia (CBA)
Westpac Banking Corporation (Wespac)
Australia and New Zealand Banking Group (ANZ)
National Australia Bank (NAB)
Bank of Queensland
Macquarie Bank
Bendigo Bank
AMP Bank Ltd
Suncorp Bank
Bankwest
Find ATMs in Australia
Using money transfers to safely travel with cash
With WorldRemit you can send money to Australia before you depart. Once you arrive, you can pick it up from a local WorldRemit agent.
To make the transfer, you need to submit an Australian phone number and an address. If you don't have one, WorldRemit recommends submitting the phone and the address of the place you'll be staying at. This is in case the local agent needs to contact you. But you can still pick up the money with only your passport.
Cash pickup services in Australia
Disclaimer: Exchange rates change often. Confirm the total cost with the provider before transferring money.
Verdict
Plastic is widely accepted throughout Australia. For best value, consider using a travel or an airline cobranded credit card for purchases, and a debit card for ATM cash withdrawals. But make sure your cards have no foreign transaction fees.
If you would like to know more about which payment method would work best overseas, check out our travel money guide page.Back to top
Read more on this topic:
Top things to do in Sydney
Our latest travel deals to Australia