If you're traveling to Peru you'll likely visit Machu Picchu and navigate the Inca trail, but there's so much more to Peru to see. From the superb surfing and the bustling city of Lima, Peru is a must-see destination for anyone seeking adventure.
Cheaper than it's neighbors, Ecuador and Colombia, your USD will go far in Peru with 1USD = 3.25PEN. And like its neighbors, cash is king, so be sure to exchange your dollar for sols at the airport in Lima. Though you'll find places where you can use your Visa or Mastercard, don't rely on using plastic outside of major shops and hotels. Most restaurants, hostels, ticket offices and tourist attractions are cash only, and you definitely can't use your card in Machu Picchu.
Fake money in Peru
Counterfeit sols and dollars are a problem in Peru, mostly in the major cities. And spotting a counterfeit note can be hard, so become familiar with the local currency before you arrive. Scams are also common — short changing and pickpockets — so always be on alert.
How many sols do I need to bring?
As a major tourist attraction throughout the world, there are plenty of opportunities for you to spend a lot in Peru. But the good news is there are less expensive options for budget travelers who can budget as little as $15 dollars a day staying in hospedajes — cheap family owned hotels. Midrange travelers can budget for $50 a day, and a traveler that wants to live it up can plan for $150 a day.
Lima
Budget
Midrange
Expensive
Hostel dorm bed

$8 per night

2 star hotel

$20 per night

5 star hotel

$100 per night

Ceviche

$1.50

Plate of the day

$4

Main dish at world class restaurant

$30

Watch the changing of the guards at the Palacio de Gobierno

Free

Lima bar crawl (plus drinks)

$35 per person

8 day tour of the Amazon and Machu Picchu from Lima

$1,600 per person
*Prices are approximate and subject to change
Exchange rate history
As one of the fastest-growing economies in Latin America, Peru has seen a sharp decline in poverty in recent years. It has one of the most stable currencies and has held steady agains the USD for the past 10 years.
Travel card, debit card or credit card?
Plan to use your debit card to cover most of your day-to-day expenses while traveling in Peru. Visa and Mastercard are accepted by merchants that are set up to handle card payments, though fewer accept American Express. You'll see those more at luxury hotels and restaurants.
You'll find ATMs in most cities. Banco de Credito del Peru (BCP) has ATMs throughout the country, while Citi has a small presence in the larger cities of Lima and Cusco. Beware that in Ollantaytambo, home of the great Inca fortress, the ATMs can be unreliable, and there are no ATMs near Macho Picchu — so get cash before you leave.
Wait until you arrive in Peru to exchange you USD. Exchange companies in the US charge high commission, taking a cut of what could go a long way in Peru. You'll find exchanges at the airport and in the cities or in banks — all offering about the same rate.
There are no travel cards that support Peruvian sols. If you can load another currency, find another card that waives the currency conversion fee so you can use it in Peru.
Travel money options for Peru at a glance
Travel money options
Pros
Considerations
Prepaid travel cards

Emergency card replacement and backup cards
Reloadable online

Cannot load sols
Comes with lots of fees for loading and reloading, inactivity and ATM withdrawals
Exchange rates are lower than credit cards and debit cards

Debit cards

Can be used at all ATM and merchants in Peru
Charge less or $0 fee for ATM withdrawals
No currency conversion fee

ATM operator fees
No access to cash advance

Credit cards

Rewards program and travel insurance
Waived international ATM and conversion fees
Interest-free days on purchases

Up to 3% currency conversion fee may apply
Cash advance fee

Travelers checks

Accepted at most banks
Security

A commission fee applies
It can take a couple of hours to cash them at banks

Cash

Accepted anywhere
Convenient

More difficult to manage expenses
High risk of theft
How each travel money option works
Prepaid travel cards
No travel cards support Peruvian sols, so look for a card which waives the currency conversion fee, such as Travelex if you're set on taking a travel card when you visit Peru. These products won't apply the additional charge for currency conversion when you spend in sols, which can be higher than what you'd pay if you use your regular debit or credit card. The compromise is these cards will charge you to use an international ATM withdrawal in Peru, which is a couple of dollars for each withdrawal. You can load these cards with another currency to use at some merchants— but don't count on it. And you won't get the best exchange rate.
Tip: When you get a travel card, you'll get two for the same account. This can come in handy if your first card is lost or stolen, so make sure to keep the second card in a safe place.
Debit cards
ATMs are the best ways to get cash in Peru. You'll find them in most towns and cities, though not on every street corner. You can withdraw both sols and dollars.
A Visa or Mastercard debit card can be used at all ATMs and some merchants throughout Peru. You'll find that there are fewer places where you can use your card for over-the-counter purchases. Consider debit cards that charge less, or even nothing, for international ATM withdrawals and try to avoid cards with currency conversion fees.
Charles Schwab bank card doesn't charge for currency conversion, waives the fee for international ATM withdrawals and has no annual fee. It's good to note that most third-party banks will charge a fee to use their ATMs.
Credit cards
Credit cards are a must for any travel overseas. Besides providing emergency access to a line of credit, use a credit card for deposits and online reservations. Credit cards even have some handy travel features such as complimentary insurance and airport lounge access. But be careful, many credit cards charge a fee of about 3% of the transaction value for currency conversion.
Our comparison of credit cards includes a handful of cards suited for an overseas trip. Among these products is the Chase Sapphire Preferred® Card.
Travelers checks
Once upon a time travelers checks were a popular way to take foreign currency overseas. Today, this type of travel money has been replaced by plastic. travel cards, debit cards and credit cards offer the same security features and are more convenient. In Peru, traveler's checks can be cashed at most banks, but be aware that you may wait in long lines and pay a commission.
Cash
Cash is king in Peru. Make ATM withdrawals at the many machines in the cities, and some in the smaller towns and villages. In general, Peruvians like small denominations — equal to $20 USD or less so they can make change. If you do pay with larger bills, be sure that you count your change to be sure you're getting the correct amount.
When you pay by cash, especially in US dollars, be ready for the merchant to scrutinize the condition of your bills. Many merchants will reject torn or overly worn bills.
Exchanging money
You have four ways to exchange your money in Peru — banks, street moneychangers, casas de cambio (change houses) and hotels. Banks often have incredibly long lines, but you'll find street changers in colored smocks with the $ symbol. They offer legitimate money exchange, a fair rate and don't charge a commission on currency exchange. But changing money in the street comes with its own problems. Be on guard for any shady deals after the exchange and counterfeit bills. Your best bet are the casas de cambio with good exchange rates, short lines and a secure environment. And like with merchants, be sure you have good, clean US dollar bills for all exchanges — licensed money changers won't take torn or damaged notes.
Tip: ATMs dispense $100 notes and it can be hard to find a place to make change. Pay for your big ticket purchases using your $100 notes.
Compare travel credit cards
Case study: Amy's experience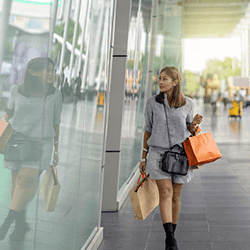 Amy
Amy shopped like a local in Peru
Amy spent six months in South America, she started her trip in Colombia and finished in Peru after seeing Machu Picchu and walking the Inca trail. In Peru she visited Chimbote, Lima, Cusco and Agua Calientes. We interviewed Amy about her experiences with travel money in Peru.
What cards did you take with you to Peru?
Amy took her Charles Schwab bank card and Barclaycard Arrival® Plus World Elite Mastercard®. She says she took the Citibank Plus card because it doesn't charge an international transaction fee and has no monthly account fee. Most importantly, there's no international ATM charge from Citi when she made ATM withdrawals. She bought her plane tickets and tour tickets with her Barclaycard Arrival® Plus World Elite Mastercard® because of the bonus miles for spending on travel, along with the interest-free days when she paid her balance in full.
Where were you able to use your cards?
Amy didn't use her cards for over the counter purchases at all; she used cash the entire time she was in Peru, and almost the entire time she was in South America. She found that high-end retailers, expensive restaurants and hotels were the only places where she could use her cards.
What about ATM withdrawals?
Amy made withdrawals every 10 days or so. She was able to get 700 sols from the machine at a time and she paid seven sols for each withdrawal. The Charles Schwab card doesn't charge for international ATM withdrawals so the local ATM operator fee was the only charge.
Do you have any travel money tips?
Always try and get lower denominations from ATMs as it can be hard to break large notes. Also, in Agua Calientes, make sure you have enough cash for your trip to Machu Picchu because banks and ATMs are hard to find.
She also said not to be afraid to haggle over prices, especially in traditional markets. Prices start high, with the expectation that you'll settle on a price that's acceptable for both of you. It doesn't hurt to try negotiating prices for hotel and hostel rooms, especially if you plan on straying there for four or five days.
When it comes to cab rides or another kind of service where the price isn't plainly displayed, be sure you agree on a price before accepting the service. Taxis don't have meters to measure the mile per dollar, so negotiating a fair price before your ride will save you money in the end. If you think the fare is too high, find another taxi — it's easier than arguing a high price at the end of your trip.
Buying sols in the US
Sols are an exotic currency and you may find it difficult to find a bank or exchange office that can sell you PEN. You will get a far better deal if you wait till you arrive in Peru to purchase sols.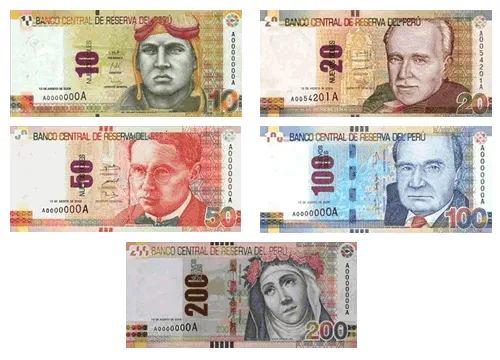 Why you'll need a combination of travel money options
You will be using cash in Peru. Take a travel card, debit card or credit card that lets you withdraw your money for less from an ATM. Spread your travel budget across a couple of cards so you have access to money in the event of the unexpected.
Cash pickup services in Peru
Disclaimer: Exchange rates change often. Confirm the total cost with the provider before transferring money.
Find cheap travel insurance options for your next trip to Peru
You might also be interested in