With so much to see and enjoy in the United Arab Emirates, this ultra-modern oasis is full of opportunities to spend your money. From the F1, Dubai Gold Cup and the Ferrari Island, you won't have a problem using your Mastercard or Visa credit cards, and ATMs are easy to find around the seven Emerites. We'll help you save money on fees and get the most from your currency exchange.
Our picks for traveling to UAE
Travel card, debit card or credit card?
There are no US prepaid travel cards that will hold Emirati dirhams. Visa or Mastercards are widely accepted, and find a credit card that offers rewards for spending to get the most value.
While many smaller businesses and taxis now take cards, it's always important to have some cash on you while you're traveling. You'll see familiar banks with ATMs Citi and HSBC.
The travel money products on this page work best when they're used together. Depending on the card, take advantage of interest-free days, complimentary insurance and an emergency line of credit with a credit card.
However, you can't use credit cards for ATM withdrawals, so you'll need to consider a travel friendly debit card. Fees aside, spread your travel budget across a couple of different travel money types, this way, a lost or stolen card won't derail your trip.
These are your options for spending money in UAE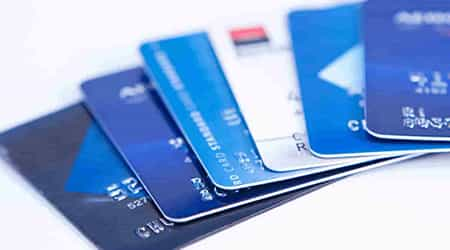 Learn more about using a credit card in UAE
Using a credit card
You'll have no problems using Visa and Mastercard almost everywhere in the UAE. Some hotels in Abu Dhabi and Dubai require a credit card for deposits, so it's a good idea to have one with you.
Credit card that waives foreign transaction fees are the best for traveling to UAE, and will save you on each purchase you make. You can find credit cards with the added benefit of travel insurance and rewards. To save even more, take advantage of the interest-free period by paying your balance in full each month.
Cards that offer travel perks and waive fees often charge an annual fee, so make sure the fee is worth it before you bring it along on your travels. If you're ever in a jam, credit cards also offer cash advances, though we don't recommend it. You'll pay high fees and interest rates apply the moment you get your money.
Pros
Features such as complimentary travel insurance and reward points earning
Accepted worldwide
Security with chip and PIN
Contactless payment terminals are common
Cons
Cash advance fees
Higher spending limit
Best international debit cards
Using a debit card
A debit card could be a good travel money choice to take to UAE. You'll have access to cash each time you come across an ATM, without carrying lots of cash on you all at once. Because you're spending your own money, you avoid interest charges. Find a bank that waives the fee for international ATM withdrawals and doesn't charge a monthly account keeping fee.
Tip: A debit card can be used to shop over the counter, online and for ATM withdrawals in UAE.
Pros
No currency conversion, ATM withdrawals, account keeping fees
Widely accepted at UAE merchants and ATMs
Free withdrawals on Citi ATMs
Cons
International ATM and currency conversion fees
No access to cash advances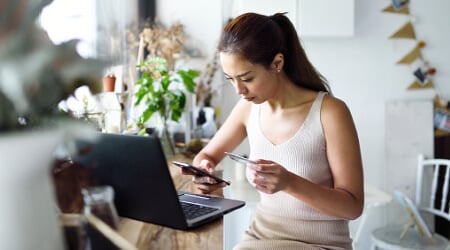 Prepaid travel money cards
Using a prepaid travel card
Travel cards can lock in conversion rates once you load USD. Use it for purchases without worrying about rates each time you spend — debit and credit cards often charge 3% for each transaction.
Where you save in the conversion rates you may pay in fees. You'll pay fees each time you load the card, ATM withdrawals and sometimes even an inactivity fee.
No travel cards support UAE dirhams, so look for a card that waives currency conversion fee, such as Travelex. It won't charge for currency conversion when you spend in dirhams, which can be higher than what you'd pay if you use your regular debit or credit card. The downside is these cards charge a couple of dollars for international ATM withdrawal in UAE.
Tip: Order a travel card online so it has your name printed on the front.
Pros
Allow you to load and spend in Dirham
No currency conversion fees for some cards
Let you make over the counter purchases and ATM withdrawals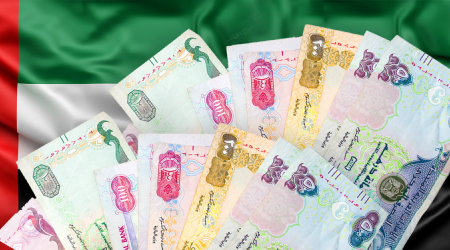 Compare cash pickup services in UAE
Paying with cash in UAE
You can use your credit card, debit card or travel card in many places throughout the UAE. Smaller businesses such as cafeterias and cafes, some public transportation, street vendors and souks are all cash only. ATMs are widespread in the cities, so you'll have many chances to withdraw cash if you need it.
Tip: If you have American dollars you want to change when you arrive, avoid exchanging cash at your hotel or at the airport. You'll get a better rate if you wait until you get into the city. Have a look in shopping centers for exchange offices.
Pros
Greater payment flexibility
Convenience
Cons
More difficult to manage expenses
Higher risk of theft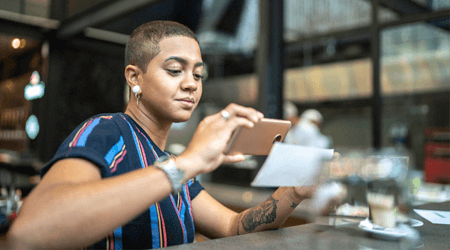 Traveler's checks guide
Using traveler's checks
Security is the main advantage of using traveler's checks. Each check has a unique serial number and can only be cashed with photo identification. But the fees and difficulty you'll have cashing them make them not worth the trouble. You're better off using a debit card which lets you make cheap or free ATM withdrawals.
Tip: Traveler's checks are good for locking in a good exchange rate. So if you watch the forex market, get them while the getting's good.
Cons
Can be costly with initial purchase charges
Not all merchants accept traveler's checks
Compare travel credit cards
Back to top
UAE currency
The main banks in UAE are:
Emirates NBD
National Bank of Abu Dhabi
Abu Dhabi Commercial Bank
First Gulf Bank
Dubai Islamic Bank
Mashreq Bank
Abu Dhabi Islamic Bank
Union National Bank
Commercial Bank of Dubai
RAKBank
Buying currency in the US
You can get a better rate of exchange if you withdraw cash from an ATM in the UAE using a low fee travel account. You can always send your money to teh UAE ahead of time with a money transfer service and have it waiting to be picked up when you arrive.
Tip: Travelex has locations at major US airports, you can order currency online and pick up dirhams before you get on the plane.
If you have any questions about using travel money in the UAE, get in touch with us using the form below.
Live Rate
Refreshing in: 60s | Mon, Jan 24, 07:46PM GMT
ATMs in UAE
Some of the banks you'll recognize in the UAE include Citi, HSBC and Barclays Bank. International banks will give you a higher ATM withdrawal limit than local banks. Try to select a withdrawal amount that gives you notes in a smaller denominations. Large bills can be hard to cash outside your hotel. You'll find ATMs in the international airports, so get money once you go through customs and before you get in a taxi.
Find ATMs in UAE
Cash pickup services in UAE
Disclaimer: Exchange rates change often. Confirm the total cost with the provider before transferring money.
How much should I budget to travel in UAE?
Accommodation, food and sight seeing can be expensive in the UAE. You'll find very few hostels, though you'll find budget two and three star hotels in Abu Dhabi and Dubai. You'll find a variety of nationalities in UAE, so be ready to try food from all over the world — some for cheap. If you're used to traveling on a backpacker's budget, you'll need to budget $100 a day, almost $300 for am mid-range vacation, and almost $800 for high end travels. All prices are in US dollars.
Budget
Midrange
Expensive
Accommodation
Hostel dorm bed
$50 per night
3 star hotel
$70–$200 per night
5 star hotel
$200–$600 per night
Meals
Chicken biryani at a cheap restaurant
$5
Shawarma platter at mid priced restaurant
$15
Dine at Hakkasan Abu Dhabi. Signature Peking duck
$350
Activities
Visit the Sheikh Zayed Grand Mosque
Relax on Corniche Beachfree
Visit the ferrari island theme park
$100
Dubai sightseeing trip from Abu Dhabi
$115
*Prices are indicative and subject to change
Case study: Dean's experience
Dean
Dean's trip to Abu Dhabi
Dean visited Abu Dhabi so he could attend the F1 Grand Prix. He spent about four nights in Abu Dhabi and two nights in Dubai before flying back home. He was at the Yas Marina circuit to watch the practice and qualifying laps and the race. Dean says at the end of each day there were performances from major artists like Florence and the Machine.
Do you have any tips?
Dean says there's a service charge of 10% at places like hotels and restaurants included in the bill for tips. He says it can't hurt to round taxis up to the nearest five dirhams.
Back to top
Read more on this topic:
Our latest travel deals to UAE