New corporate card Ramp aims to reduce wasteful business spending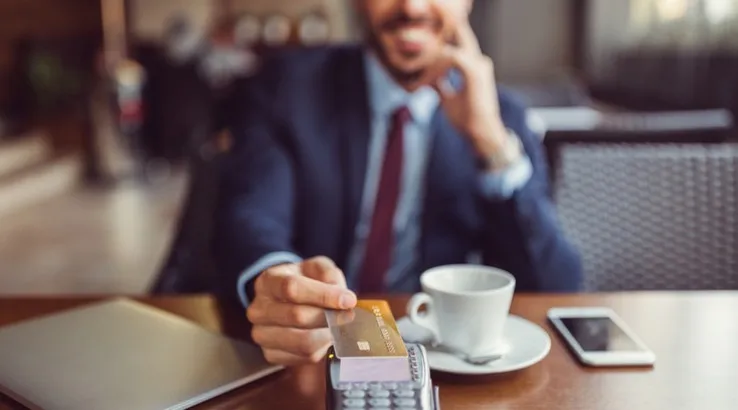 Rather than rewarding spending, Ramp focuses on analyzing and saving.
A new corporate credit card has entered the market, jockeying for position alongside other competition such as the Amex Business Gold and Brex. Ramp, a tech company based out of New York, opened its card to the public Wednesday, backed by $25 million in funding according to the announcement. Rather than focus on rewards, the titular Ramp card aims to help businesses save money by identifying areas of wasteful spending within a company.
Ramp card features
The Ramp card offers a few common features you'd expect from a corporate card:
Cash back. You'll earn a flat 1.5 percent cash back on all purchases.
Signup bonuses. The Ramp card features not just one, but 18 signup bonuses for cardholders.
Additional employee cards. Ramp is offering unlimited cards at no additional cost.
Visa benefits, including fraud protection.
Spending controls and accounting integration tools.
Credit limit. A larger than average leash to borrow.
What sets the Ramp card apart
Ramp takes an unusual approach to "reward" credit cards by not rewarding businesses for spending necessarily, but by helping them not spend needlessly:
Ramp Savings
The Ramp card's main selling point is its ability to identify wasteful spending within a company, a feature it calls "Ramp Savings." This is achieved through a dashboard accessible to cardholders. Administrators of the account can access a section that illustrates the company's long-term spending over time.
Ramp claims the dashboard can then identify redundant business subscriptions, better SaaS pricing options and other savings tailored to the company, leading to up to 2 percent in savings.
No fees
Despite offering cash back and a variety of signup bonuses, the Ramp card has no fees whatsoever. This is quite the rarity among rewards cards.
No founder liability
Like the Brex card, the Ramp card doesn't enforce founder liability. That means if a company becomes insolvent, the cardholder isn't personally liable for the remaining debt on the credit card. This isn't a feature you'll find on many business cards and is one of the primary selling points of the Brex card.
A variety of signup bonus offers
Rather than a single type of welcome offer, Ramp has partnered with a number of companies and services centered around business needs. The requirements for each offer depend on the individual provider and can be viewed through the Ramp dashboard. The current offers include:
| Company | Offer |
| --- | --- |
| Amazon Web Services | Preferred access to AWS credits |
| Google Ads | 150 in Google Ads credits |
| Segment | $50,000 in Segment Credits |
| Amplitude | $40,000 in Amplitude credits |
| Datadog | $30,000 in Datadog credits towards Pro tier |
| Plaid | $21,000 in Plaid credits for the first six months |
| Triplebyte | Up to $15,000 in Triplebyte credits |
| Travelbank | $1,000 in TravelBank credits |
| Carta | 20% first year discount with waived implementation fees |
| DocSend | 90% off DocSend Advanced plan for one year |
| Notion | $1,000 in credits off the Notion Team Plan |
| Twilio | $500 in Twilio credits |
| Sendgrid | $5,400 in Sendgrid credits |
| Lattice | One month free with an additional 10% off subscription |
| Pilot | 20% off Pilot for six months |
| Eden | 7.5% off first two months of janitorial services |
| Fast 409A | 25% off your first 409A valuation |
| Captable | Three months free on the Diligence plan with concierge setup |
How the Ramp card compares to other business cards on the market
As a corporate card, the Ramp card enters the ring standing against other big business cards on the market, including offerings from Chase and Amex. But in spirit, the Ramp card is closest in nature to the Brex card: both seek to give growing businesses a leg up by providing financial tools to help scale, without fees or a personal guarantee looming overhead.
When comparing these two corporate cards, the most noticeable difference is in the rewards structure. Where the Brex focuses on a traditional rewards structure on eligible categories, the Ramp offers flat cash back.
| Card | Earning rate | Fees | Signup bonus |
| --- | --- | --- | --- |
| Brex | 7x points on rideshare, 4x points on Brex travel, 3x points on restaurants, 2x points on recurring software subscriptions, 1x points on everything else | None | Various (up to $50,000 in value) |
| Ramp | 1.5% cash back on all purchases | None | Various (up to $175,000 in value) |
On its website, Ramp claims that the welcome offers provided through the card are worth up to $175,000 in value — a fairly large increase over Brex's claim of $50,000 in welcome offers. While this might be true on paper, this does assume you use every single eligible service within Ramp's program. As such, the value of Ramp's welcome offer ultimately depends on your business.
Likewise, much of Ramp's projected value is in the form of wasteful spending elimination. Again, it's hard to quantify just how much a company stands to save through Ramp's monitoring — a company already on top of their accounting might not see the same level of savings suggested on the Ramp site.
Picture: Getty Images