Finder is committed to editorial independence. While we receive compensation when you click links to partners, they do not influence our opinions or reviews. Learn how we make money.
How to finance a Smart car
Compare offers to buy one of its final models before it leaves the US market.
If you've been thinking about investing in an electric car, now may be one of your last chances to buy from Smart. The eco-friendly manufacturer has plans to stop importing its cars into the US at the end of 2019. Fortunately, you have quite a few financing options to consider if you're looking to buy one of its final models. While financing directly through Smart might be the fastest way to go, you can likely find better rates by shopping around at third-party lenders yourself.
How can I finance a Smart car?
Looking for the most competitive rates? Consider financing your Smart car with a traditional car loan from a bank, credit union or online lender. Filling out preapproval forms with a few different lenders can help you find the best deal available to you. Another option is to take out a personal loan — especially if you don't want to use your Smart car as collateral. However, these tend to come with higher rates since they pose more risk to the lender.
Looking to get behind the wheel of your Smart car as fast as possible? You might want to opt for financing directly through an authorized dealership. Smart has its own financing division that offers both auto loans and lease deals. Here's how it breaks down:
Smart Financing auto loans. While it doesn't list financing deals available for its 2019 models on its website, it offers rates as low as 1.9% APR for up to five years on any 2013 through 2016 certified preowned (CPO) models.*
Smart Financing leasing. If you like to switch up your car every few years, you might want to lease instead buy. Current offers include leasing the 2019 EQ Fortwo Coupe for $139 a month for three years or the 2019 EQ Fortwo Cabrio for $199 a month for three years.*
As with all types of financing, the exact rates and terms you qualify for will depend on your credit score, debt-to-income ratio and other aspects of your personal finances.
*Rates as of November 2019.
Read our review of Smart Financing auto loans and leases
When will Smart stop selling cars in the US?
Smart will stop importing its electric vehicles into the US after the 2019 model year. However, there's currently no information on whether it will stop selling and leasing previous models at the end of the year.
Compare car loans to finance a Smart car
What will a new Smart car cost me?
The Smart Fortwo comes in two builds that range from around $24,000 to $28,000. Each have different trim selections and add-ons available, so prices will vary based on the features you select.
Choose a type of vehicle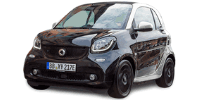 2019 Smart EQ Fortwo Coupe
MSRP: $23,900
Range: 58 miles
Charge time: 3 hours
City/highway MPGe: 124/94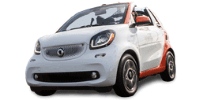 2019 Smart EQ Fortwo Cabrio
MSRP: $28,100
Range: 57 miles
Charge time: 3 hours
City/highway MPGe: 112/81
Car insurance costs that come with driving a Smart car
Does a new Smart car come with a warranty?
Yes, Smart cars all come with one standard warranty that lasts for four years or 50,000 miles — whichever comes first. Your electric battery also comes with an eight-year warranty.
Bottom line
Smart may be leaving the US market, but you still have time to get your hands on one. If you're looking for the fastest financing option available, you might want to consider taking out a loan or lease directly through an authorized dealership. But if you have some time, compare car loans from a few different lenders can help you find the most competitive rate.
Frequently asked questions
Picture: Getty Images