Finder is committed to editorial independence. While we receive compensation when you click links to partners, they do not influence our opinions or reviews. Learn how we make money.
car.Loan.com car loans review
Bad-credit, no-credit and bankruptcy car loans — but watch out for high rates.
Rather than spending hours looking for a lender works with bad credit, car.Loan.com can connect you directly to a buy here, pay here dealership. But like with most bad- or no-credit loans, interest rates can often reach the top of the legal limit if you're approved.
Varies by network lender
APR
Details
| | |
| --- | --- |
| Product Name | car.Loan.com Car Loans |
| APR | Varies by network lender |
| Interest Rate Type | Fixed |
| Requirements | Must be a US citizen with a current US address and employed full-time or have guaranteed fixed income. |
First, do I qualify?
car.Loan.com isn't a lender, which means that eligibility requirements will vary by the lenders you're ultimately connected with. In general, you'll likely to need to be:
A full-time employee or have a guaranteed fixed income
A US citizen with a current US address
At least 18 years old
What makes car.Loan.com unique?
As a free online service that connects borrowers to car lenders, car.Loan.com focuses on borrowers with bad credit, no credit or those who have gone through bankruptcy. You won't get a loan directly through it, but you could save time spent combing through subprime lenders. And you may even find options you didn't know you had.
Free for you doesn't mean that car.Loan.com doesn't turn a profit. Dealers and lenders pay a fee to be included in its network — meaning that you won't necessarily get the best deal out there, just the best deal that its network offers. Rates can run from 0% to 25% APR.
What types of car loans can I get?
Buy here, pay here loans. This service helps customers get financing directly from a car dealer you're connected with. Everything is drawn up and signed right there on the lot.
Bad credit car loans. car.Loan.com also works with dealerships that offer financing through lenders that might check your credit but are willing to work with low credit scores.
No credit car loans. Similar to a buy here, pay here loan, these types of car loans don't even consider your credit score when you apply.
Bankruptcy car loans.This connection service can also help you financing for your next vehicle from a lender that will offer financing even if you went bankrupt.
How do buy here, pay here loans work?
Buy here, pay here loans work by financing your vehicle on the lot, usually with no credit check. You'll typically meet with the dealer to go over your finances before looking at cars in your price range. It's an option if you have bad credit, no credit or even recently went bankrupt.
While it sounds ideal, you may risk ending up with high interest rates and short repayment terms that could get you caught up in a cycle of debt if you miss any payments. As with all bad-credit loans, be prepared to check reviews on the dealer and go over the terms of your car loan carefully before agreeing.
What are the benefits of using car.Loan.com?
No credit is OK. You don't need a credit score or any credit history at all to get a loan through car.Loan.com. And if you have bad credit, that's okay, too.
Free connection service. The only fees you'll pay are those your lender charges.
No mileage restrictions. Most lenders and connection services don't let you buy a car with more than a certain amount of miles on it, but the lenders in car.Loans.com's network don't have mileage restrictions.
What are the drawbacks to consider?
Limited information online. Details about its loan types, eligibility requirements and other elements you'll likely want to know are difficult to find on car.Loan.com.
Limited customer support. Your only means of contacting car.Loan.com before you apply is a brief online customer service contact form. And you're out of luck if your inquiry is more than 250 characters — which is likely, given the barebones nature of its website.
High interest rates and fees. Expensive loans aren't unique to car.Loan.com, but it's a risk you take when you apply for a bad credit lender. It claims you'll only get an APR of up to 25%, but your exact rate isn't guaranteed until you're approved.
Compare more auto loan providers
What do borrowers sayabout car.Loan.com?
Almost nothing as of July 2019, and that's not a good sign. car.Loans.com doesn't have a Better Business Bureau (BBB) page, but its parent company Internet Brands Inc. does. It's not BBB-accredited gets a B- rating. The page has three reviews, all of which are negative and four customer complaints filed against it.
One customer said that the cost of services they agreed to pay for increased without being allowed to opt out. Another accused Internet Brands of trying to pressure other companies into setting up an account.
Neither car.Loans.com nor Internet Brands Inc. has a Trustpilot page. It also has no mentions on Reddit as of this date.
Is it safe to use car.Loan.com?
Relatively. As a connection site, it shares your personal information with its affiliates — that's how these businesses work — but only with your consent. You don't have much control over which companies get your information, however, which might make some people uncomfortable.
Information you enter on the site is protected by standard SSL encryption, which scrambles data and makes it difficult to intercept.
How do I apply?
Once you've confirmed you meet the eligibility criteria above, you can follow these simple steps to apply:
Click the Go to site button on this page to be directed to car.Loan.com's website and then click Get Started.
Enter your personal, residential and employment information on the application form.
Click Submit to complete your no obligation application.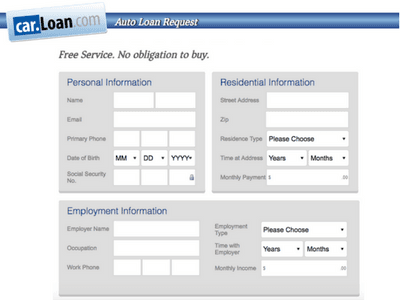 After you submit your application, you should hear back from a customer service representative within 24 hours. Depending on your application details, you may be contacted by up to five direct lenders as well.
You'll meet with the finance manager to choose a car dealership near you that offers buy here, pay here loans, where you'll discuss loan terms and pick out a car.
Carefully read the fine print and accept your contract to be on your way.
Applying with a coapplicant
With car.Loan.com, you can add a cobuyer when submitting your information. If your income is less than $1,500 per month, applying with a coapplicant could help your chances of approval or give you more purchase options.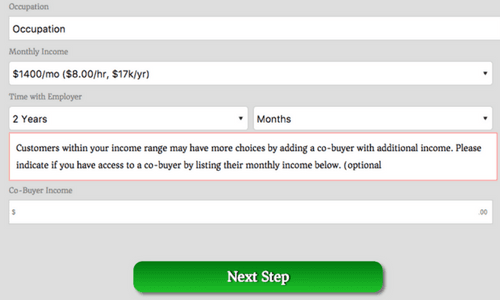 What documents do I need to apply?
The documents you need depend on the lender you ultimately go with, though you'll generally submit your:
Government-issued ID. You'll need to prove you're a US citizen with your passport, driver's license or other accepted ID.
Proof or residence. Lenders typically ask for a working phone number or recent utility bill addressed to you at your current residence.
Proof of employment. You won't be able to get a loan if you don't appear to have the means to pay it back. Lenders often ask for pay stubs or W2 forms.
I got an auto loan from car.Loan.com. Now what?
To set yourself up for success after receiving your loan, start up automatic payments. Just make sure to select an account that won't be short on funds when your loan is due.
When needed, contact your lender. If you're concerned about making your payment on time, you should contact your lender immediately. They may be willing to work with you on adjustments for repayment.
I didn't get connected to a lender. What do I do?
If you didn't get connected to a lender, it doesn't mean that there are no lenders in your area that you qualify for. It means that you don't qualify for any of car.Loan.com's affiliates. Try applying on other car loan connection sites or check out direct lenders to see if you can find one that works better for you.
It also won't hurt to make your application more appealing. This includes taking steps to improve you credit score or debt-to-income ratio by paying off some debts. You might also want to start by checking your credit report to make sure there are no mistakes that could be affecting your score.
More about car.Loan.com
car.Loan.com is run by Internet Brands, Inc. which has been around since 1994. Internet Brands, Inc. is also behind CarsDirect, which offers car leasing and refinancing, in addition to bar credit car loans. It also runs Auto Credit Express, another bad credit connection service that has special offers for military personnel.
Bottom line
If you have poor credit, car.Loan.com could save you valuable time — and the headache of researching lenders on your own. But keep in mind that the rates and terms you're ultimately offered depend greatly on the lenders in car.Loan.com's network.
Consider comparing other options you may be eligible for before settling on a loan.
Frequently asked questions