Finder may earn compensation from partners, but editorial opinions are our own. Advertiser Disclosure
How hydrogen fuel-cell cars work
The future of green driving is here — but should you buy into it?
Hydrogen fuel-cell cars, also known as fuel-cell electric vehicles (HCEVs), are one of the cleanest, greenest ways to get around. But unless you're a resident of California, you won't be able to get behind the wheel of one.
What is a hydrogen fuel-cell car?
A hydrogen fuel-cell car runs on electricity produced by compressed hydrogen. Unlike other types of electric vehicles, hydrogen fuel-cell cars don't need to be charged. Instead, they're fueled at a pump like gas cars — but with none of the greenhouse gas emissions.
They're as safe to drive as any other car, and the three options on the market today have a range of about 300 miles per tank of fuel. While the ability to buy a hydrogen fuel-cell car is limited now, the Department of Energy has plans to help build a cross-country infrastructure to bring hydrogen power to everyone in the US.
Who is a hydrogen fuel-cell car best for?
Unfortunately, hydrogen fuel-cell cars are only good for a very specific group of people: residents of California. But in the future, hydrogen fuel-cell cars will be a great alternative to battery electric vehicles (BEVs) because of their long range and quick fueling time.
Where can I fuel a hydrogen fuel-cell car?
Currently, there are around 40 fueling stations located throughout Central and Southern California. And while there are plans to open fueling stations in Massachusetts, Rhode Island, Connecticut and New York, it may take a few years before the infrastructure spreads across the country.
California residents can view the California Fuel Cell Partnership map to find fueling stations throughout the state.
HCEVs currently on the market
While hydrogen is a promising fuel for the future, there are currently only three models available on the market:
2019 Honda Clarity
MSRP: $

58,490

Combined MPGe

:

68

Range

:

360 miles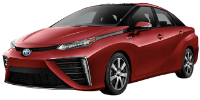 2019 Toyota Mirai
MSRP: $

58,500

Combined MPGe

:

67

Range

:

312 miles
2020 Hyundai Nexo
MSRP: $

58,300

Combined MPGe

: 61

Range

:

380 miles
How does a hydrogen fuel-cell car work?
With HCEVs, multiple fuel cells convert compressed hydrogen into electricity by separating out the electrons. After the electricity has been produced, the hydrogen returns to the fuel cell and is combined with ambient oxygen to produce water. The water then cools the engine and is released as distilled water and steam.
The fuel cells work like a battery. Energy is released in a constant stream, and excess energy is stored in a smaller auxiliary battery. When the car needs an extra push, the electricity from the excess energy source — and from the regenerative braking system — provides the car with a boost.
Want to know more? The US Department of Energy has a breakdown on how fuel cells work so you can explore the technology and compare it to other cars on the road.
Why hydrogen?
Hydrogen is the most common element out there — making it highly renewable. However, it rarely exists as free hydrogen. That is, it's typically found bonded with other atoms.
While there's plenty of hydrogen produced in the US, it won't quite fill the bill for those interested in a fully renewable energy source. That's because the majority of hydrogen is a byproduct of natural gas production. However, some fuel stations are able to create it through on-site electrolysis.
Beyond its status as a renewable resource, hydrogen is also twice as efficient as gasoline and provides a much greater range than a battery. And it's actually faster to fuel than both. As far as sustainability goes, hydrogen may be the way of the future.
What are the environmental impacts of an HCEV?
While hydrogen fuel-cell cars are good for the environment, most hydrogen is made in large processing plants and shipped to fueling stations. This makes its production much less green than it would outwardly appear, but it's still more eco-friendly than other fuels.
But beyond its sometimes dubious fuel origin, hydrogen fuel-cell cars have no emissions besides water. So on the whole, it's one of the cleanest options out there.
Compare financing options for your hydrogen fuel-cell car
Bottom line
If you're a resident of California, check out our guide to car loans to find the best financing for your next fuel-cell Honda, Toyota or Hyundai. If not, our green car buying guide can help you explore other eco-friendly options available throughout the US.
Frequently asked questions