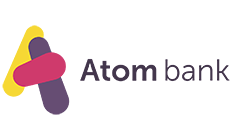 Atom Bank savings accounts review
Atom Bank offers a broad range of savings accounts with interest rates up to 5.1%.
Atom Bank was founded in 2014 as the UK's first app-based bank. It was also the UK's first digital-only bank to be granted a regulatory licence.
As well as offering mortgages and business loans, Atom Bank also offers a range of savings accounts. See our analysis of these savings accounts below.
Easy access savings accounts
Table: sorted by interest rate
Atom Bank's best easy access rate of 3.2% is significantly lower than today's
market-best rate of 6.95%
.
Compare more instant and easy access accounts up to 6.95%
Fixed-rate bonds
Table: sorted by interest rate
Atom Bank's best fixed-rate bond rate of 5.1% is very slightly lower than today's
market-best rate of 5.45%
.
Compare more fixed-rate bonds up to 5.45%
Overview of Atom Bank savings
| | |
| --- | --- |
| Savings account types include | Easy access, fixed-rate bonds |
| Best easy access rate | 3.2% |
| Best fixed-rate bond rate | 5.1% |
| Fixed bond terms | 6 months - 5 years |
| Opening options | Mobile app |
| FSCS protection | |
How to open an account
To open a savings account with Atom Bank, you will need to be at least 18 years old and a UK resident. To open an instant access account, you will also need to have a UK current account so that your savings and current accounts can be connected.
To apply for an account, you will first need to download the Atom Bank app (if you're a new customer). Once you have downloaded the app, tap on "New customer, get started", select the account you want and then tap "Apply".
Completing your application via the app should only take a few minutes. You'll need to provide a few personal details, such as your name, address and date of birth and set up your security. As part of the security set-up, you will need to provide a 6-digit passcode, a scan of your face and a recording of your voice.
Atom Bank will also run an identity search with a credit reference agency but for savings accounts, this will only leave a "soft footprint" on your credit file so it won't affect your credit history.
Documents needed to open an account
When you apply for a savings account, you don't need to provide any paper documents. Atom Bank will instead verify your identity electronically through the app.
Is Atom Bank safe?
Yes, Atom Bank is authorised by the Prudential Regulation Authority (PRA) and regulated by the Financial Conduct Authority and PRA. This means all eligible deposits are protected up to a total of £85,000 by the Financial Services Compensation Scheme (FSCS).
Pros and cons
Pros
Easy to open an account. Quick to open via the app and no paper documents required.
Flexibility. Range of accounts available, whether you want to lock your money away or easily access your funds.
FSCS protection. Money in accounts will be protected up to £85,000 per person.
Cons
App access only. You can only open and manage your account via the app.
Limited account balances. You can only save up to a maximum of £100,000 across all Atom Bank fixed rate accounts, and £200,000 across all Atom Bank savings accounts.
Our verdict: Is a savings account from Atom Bank worth it?
If you're happy to manage your account via an app, the savings accounts on offer from Atom Bank are well worth a look. Both the easy access and fixed rate options pay competitive rates of interest and the application process is quick and easy.
However, if you're looking for an alternative way to bank or an alternative type of account such as a cash ISA or regular saver, you'll need to look elsewhere.
Frequently asked questions
Savings ratings
Our customer satisfaction scores ("Customers say") are based on a survey of 2,224 customers carried out in December 2022.
We show offers we can track - that's not every product on the market...yet. Unless we've said otherwise, products are in no particular order. The terms "best", "top", "cheap" (and variations of these) aren't ratings, though we always explain what's great about a product when we highlight it. This is subject to our
terms of use
. When you make major financial decisions, consider getting independent financial advice. Always consider your own circumstances when you compare products so you get what's right for you.