Bank of Scotland savings accounts
Should you be saving with this historic Scottish bank?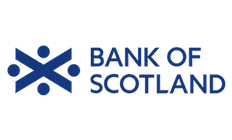 Not to be confused with the Royal Bank of Scotland, the Bank of Scotland is Scotland's first and oldest bank – having been founded over 300 years ago.
Today, the bank is part of the Lloyds banking group but still retains its Scottish heritage. It's one of three banks that are allowed to print Scottish banknotes.
In terms of savings accounts, it offers a range of options for various types of savers. Read our guide to find out more about rates, limits and other important information you might need to know before saving with Bank of Scotland.
What type of savings accounts does it offer?
Easy access
Fixed term
ISAs
Junior
What is a cash ISA?
A cash ISA is a savings account where you don't pay tax on the interest you earn. There's a limit on the amount you can deposit into ISAs each year, which is set by the government.
Bank of Scotland instant access savings accounts
Table: sorted by interest rate, promoted deals first
Cash ISAs
Table: sorted by interest rate, promoted deals first
Fixed-rate bonds
Table: sorted by interest rate, promoted deals first
Compare other savings accounts
Table: sorted by interest rate, promoted deals first
The saving accounts explained
Easy access
Take money out whenever you like.
Two different options: the Access Saver or the Monthly Saver.
With the Access Saver, start saving with as little as £1.
With the Monthly Saver, put in between £25-£250 a month.
Either variable or fixed interest rates.
Open and manage these accounts online, in a branch or over the phone.
Fixed term
Put your money away for two years to mature.
Minimum starting deposit of £2,000.
No instant access but you can close your account early – you will be charged though.
Fixed interest rate, so you know exactly how much you will make in interest.
Tax free (ISAs)
There are 3 different adult ISA options: Help to Buy, the Access ISA and the 2 year Fixed cash ISA.
Open the Access ISA with as little as £1.
Get fixed rates with the Help to Buy and 2 year Fixed ISA.
Get a government bonus with the Help to Buy ISA. Open this account with between £1 and £1,000, then put away between £1 and £200 a month with this option.
Manage your ISAs online, in a branch or over the phone.
Junior savings
Two options: the Children's Saver and the Junior Cash ISA.
Open either account with as little as £1.
Get unlimited withdrawals with the Children's Saver.
Can't withdraw money from the Junior ISA until child is 18.
The adult opening the account must have a current account with the bank already.
These are the best interest rates Bank of Scotland offers.
Does Bank of Scotland offer online or mobile banking?
You can open and manage your accounts online with Bank of Scotland. You can see how much interest your savings are earning in its mobile app too.
It does have a physical high street presence but not really outside of Scotland. It doesn't have branches in London, Manchester, Leeds or Liverpool for instance.
Is it easy to switch to Bank of Scotland?
The Bank of Scotland offers the Current Account Switch Service, so you should be able to completely move your current account within seven working days.
This includes transferring your salary, direct debits and standing orders. It even closes your old account.
How do I decide which account is for me?
Firstly, you need to decide what you're looking for in a savings account. How often are you planning to draw out money? How much money can you afford to save each month?
You need to work out what you need before comparing the different offers available for certain types of savings accounts. Once you have done that, it's useful to look at:
Interest rates
Fees (If there are any.)
Access to cash (If you need quick access, for instance.)
Rewards and loyalty schemes (If you're into add-ons or switching bonuses.)
What are the pros and cons of banking with Bank of Scotland?
Pros
Online banking. Your Bank of Scotland savings account can be accessed from anywhere. Even though there's no dedicated mobile app, the website is optimised to perform on any device type.
Flexibility. Bank of Scotland offers options for all types of savers. Instant access for smaller, rainy day savings. Fixed term for those looking to fatten a lump sum. Junior options for youngsters too.
Cons
Better rates elsewhere? Customers can get better interest rates elsewhere. If you're happy to move your money, you might even look at other banks' current account options. These sometimes offer really high rates for 12 months.
Not a widespread high street presence. It doesn't really have a high street presence in England, so anyone who prefers banking face-to-face might prefer a different bank.
Frequently asked questions
More guides on Finder