New challenger bank N26 current accounts are available to everyone in the UK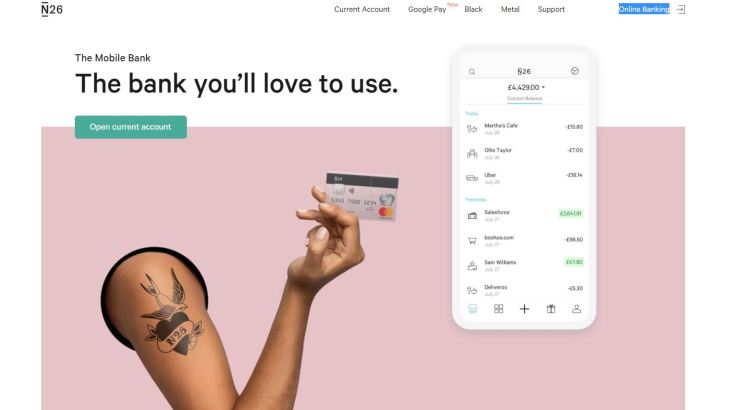 Digital bank N26 has officially launched in the UK and aims to lure thousands of British bank customers away from its competitors.
The Berlin-based startup launched in its home country of Germany in 2015 and has attracted more than 1.5 million customers from across Europe.
The bank has been testing the UK market with pre-registered subscribers since early October. But now it's open to all UK customers, it has just announced, and everyone can have a free current account.
Here's our review of the N26 account and digital banking app.
N26's Alex Weber, who heads the challenger's international markets division, says that the UK has been targeted because although it is one of the most advanced markets for digital banking, 85% of the population still uses traditional big banks. If the UK launch is popular, then N26 plans to expand further to the US in the first half of 2019.
Like its UK digital banking competitors, including Monzo, Revolut and Starling, N26 doesn't have any bank branches so its costs are lower. To see how N26 compares with its rivals, see our review of N26 vs Revolut vs Monzo.
At present, N26 is offering current account services, but the plan is to increase its reach by eventually expanding to include overdrafts, as well as paid-for membership packages.
N26 markets itself as a "bank account for every day". It justifies this by providing a fee-free "deposit account" that can be opened in less than eight minutes from a smartphone or a computer. Because it is completely digital, the account gives customers instant access to their finances all day every day.
Using their smartphones, N26 customers can control their finances with a variety of personalised features. They can send, receive and ask for money, but the app also enables people to keep track of their spending with live updates and use their own personal tags to organise transactions. And N26 charges no fees on foreign currency transactions.
As well as offering international transfers, N26 also allows Apple Pay to be used in stores. One feature, N26 Spaces, gives customers customisable sub-accounts to help them reach their savings goals or simply to organise their finances. Spaces allows users to drag and drop when moving money from their main account into a new "space".
The in-app security enables cards to be locked if they are ever lost or stolen. It also allows PIN number reset.
The N26 app's security features include log in only by password or fingerprint. All online and offline transactions have to be verified with a unique PIN.
To open a UK account with sterling, you need to be a legal resident of the UK with ID to verify your identity – but you don't need to provide proof of UK citizenship.
N26 has also built in a safeguard – the Bug Bounty programme – that offers cash and rewards for experts who can identify any potential glitches or bugs in the system.
There is no doubt that N26 has dived into a burgeoning market and faces stiff competition. Monzo reached the milestone of a million customers earlier this year, and its rival Revolut claims to have nearly three times that number of users.
The UK challengers benefit from the growing desire – particularly among millennials – to manage their money on phones rather than visiting a bank or calling customer call centres. N26, along with its competitors, faces the challenge of persuading more customers to make the switch to use it as their main bank.
Tom Blomfield, Monzo's chief executive, has admitted that just one in five of its users are depositing their salary in the new bank, which is a clear indicator that many people still prefer traditional banks for the bulk of their cash.
Picture: N26