Mobile banking puts your finances at your fingertips 24/7. There's a host of challenger banks, digital-only banks and personal finance apps available, designed to give you better, faster control of your money.
We've rounded up everything you need to know from reviews and product comparisons to news and video interviews with the key players.
Compare challenger banks and apps
Digital banking deals for April 2021
Read digital banking reviews
We review every digital bank, app and challenger. Our reviews are regularly updated to cover new features and releases.
Latest digital banking news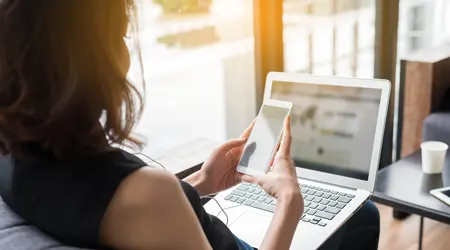 New digital bank Chase is set to open its virtual doors in the UK in 2021. Here's what we know about it so far.
Read more…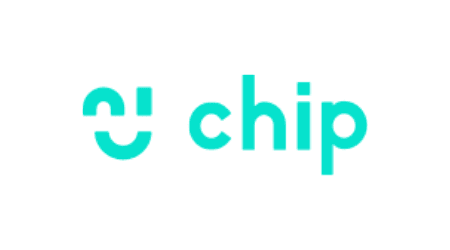 New to Chip? See if you can keep some more money in your pocket with our promo codes and special offers.
Read more…
What is digital banking?
Digital banking is a way to control your money, usually through a smartphone app or web app. It allows you to log into your account anywhere with Internet access, giving you constant visibility of your money and helping you understand the best way to manage it.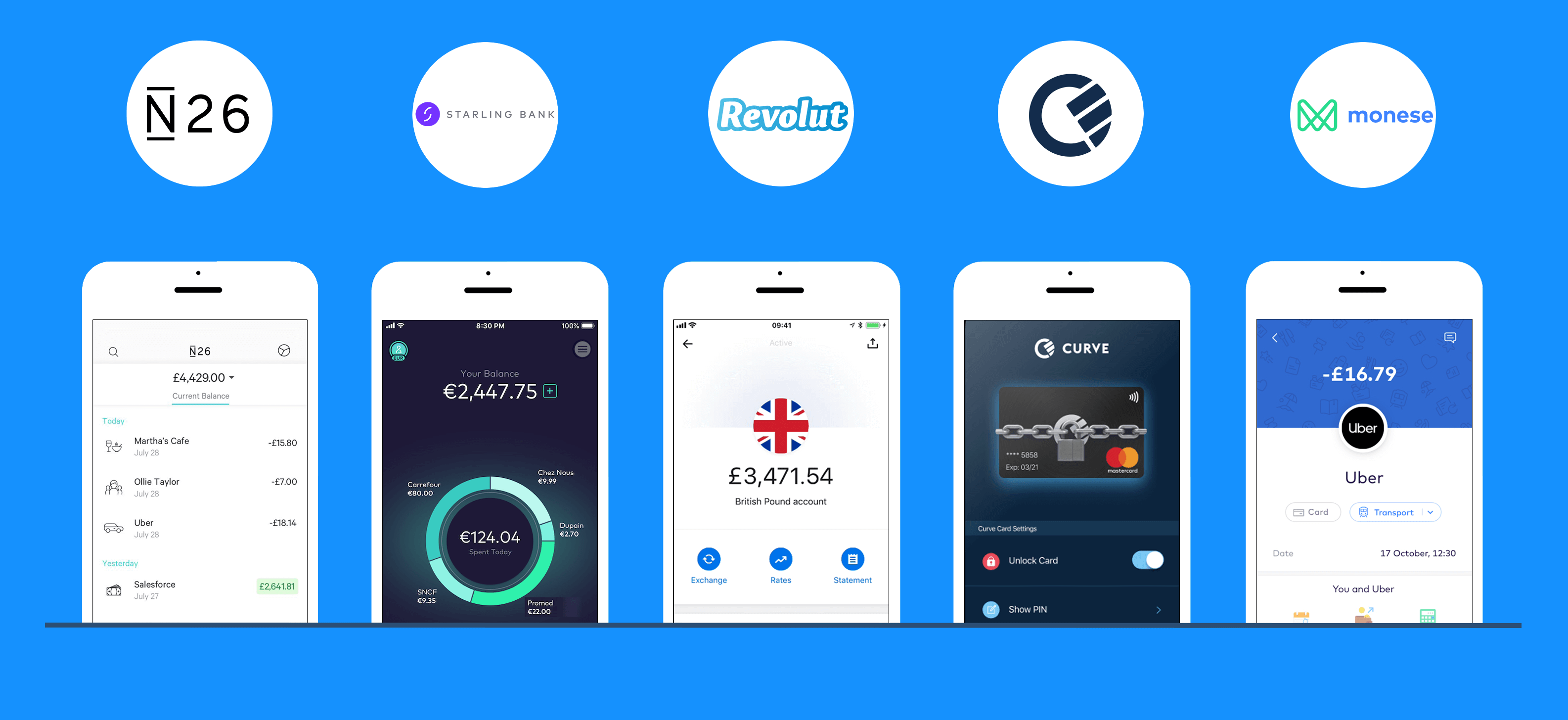 Why should I use app-based banking?
There are several advantages to app-based banking:
Banking access in your pocket
Many companies offer 24/7 access to banking support
Instant spending notifications
Many banking apps offer ways to automatically save money
Another major benefit of app-based banking is the degree to which it has opened up the competition. The new Open Banking rules have enabled third-party apps to innovate, drawing on the infrastructure of traditional banks.
Things to know about app-based banking
Here are a few things that you may not know about using your mobile as your main point of contact with your bank:
If you want to share your information, your bank has to agree
Many banking apps are designed to help their customers save. These apps access your current bank accounts and use clever computer programs to analyse your spending and look for ways that you could save money.
Previously, you could ask your bank to give these apps permission to view your banking data and the bank could refuse. Now, as long as the app is properly licensed, your bank must grant access if you agree to it.
Different types of app-based banking
App-based banking is different to traditional banking in many ways. Unlike traditional banking, app-based banking covers a much wider definition of "banking".
Current account apps

As part of the app-based banking innovations, a clear class of banking app has emerged: the challenger bank. Challenger banks are new, fledgling banks that are aiming to take on the big, traditional high street banks and change the way we save and spend money. Challenger banks such as Starling, Tandem and Monzo are similar to traditional banks in that they offer the full current account experience but with all the added benefits of an app-based bank.

Apps that help you save

One of the most common reasons for people heading away from traditional banks and towards app-based banking is how easy app-based banking makes it for people to save money. Several providers such as Plum and Chip offer automatic savings for customers. Plum's clever computer program looks at your spending habits and income and identifies how much you can reasonably save each month and then helps you set up a direct debit to your Plum savings account for this same amount.

Prepaid card apps

Another way to use app-based banking to help you save is through the use of prepaid cards. Cards with banking companies such as Pockit, Cashplus and Tuxedo allow you to load specific amounts of money on to your card and even further segregate this money into "pots" to spend on different things. This way you don't have access to too much money all at once and are less likely to fall for those expensive "impulse buys".

Investment apps

Another popular way to use app-based banking is saving through investment. Apps such as Moneybox allow you to make weekly or one-off deposits to three risk-assessed categories of investments. Several of the app-based banks also allow you to sign up to a "round-up" where your account rounds up your purchases to the nearest pound and uses the change you would have received as an investment.

Traditional banking apps

App-based banking doesn't only apply to challenger banks or money-saving banking apps, it's also becoming increasingly possible to bank on your smartphone with traditional banks such as Barclays and Natwest, both of whom have highly-rated mobile apps where you can control your money.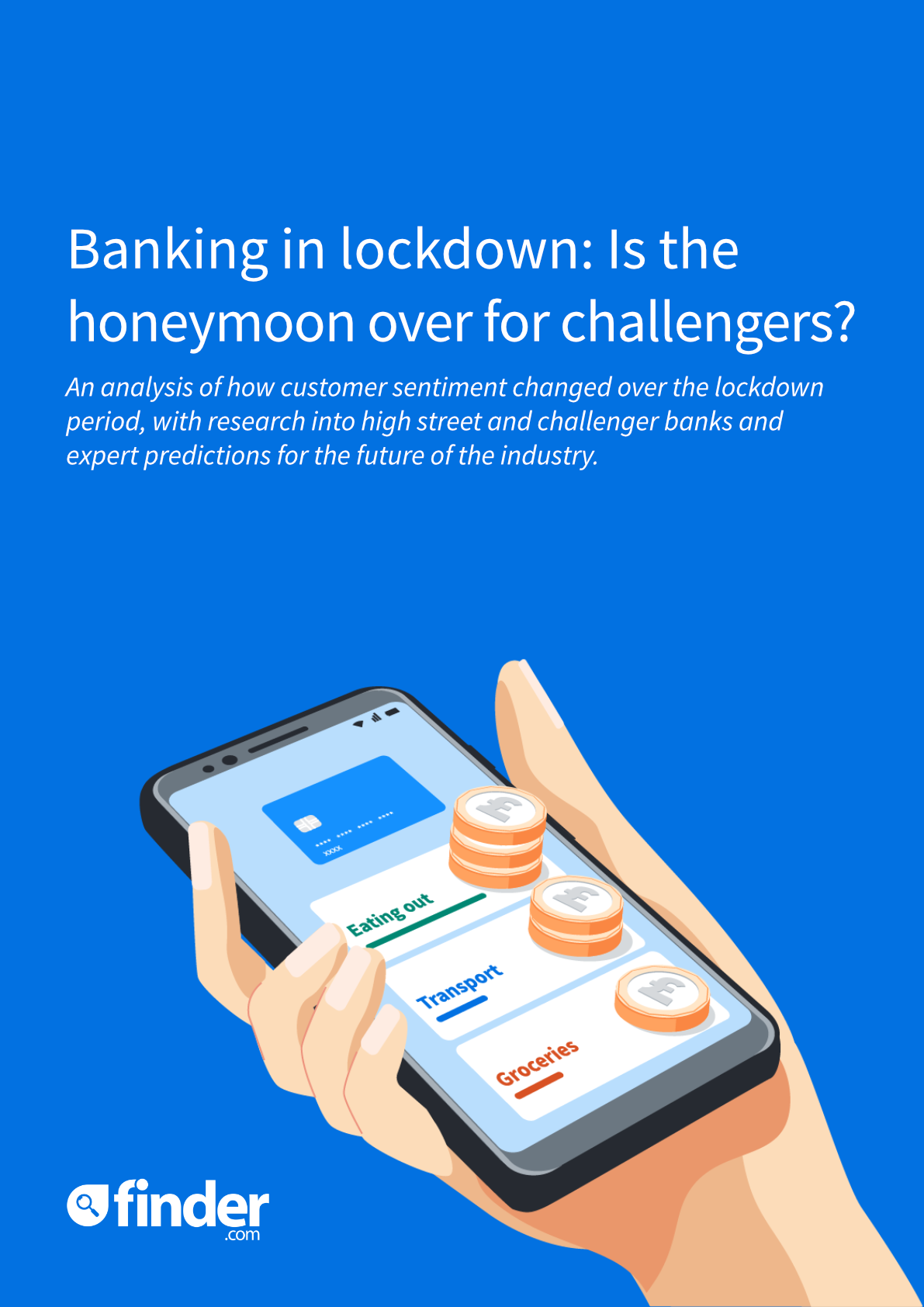 Banking in lockdown: Is the honeymoon over for challengers?
Finder published a paper in September 2020 on how the coronavirus pandemic has changed banking and how the banking industry is adapting. Our paper includes original research from social analytics specialist BrandsEye and predictions from experts including Helene Panzarino, associate director of The London Institute of Banking & Finance, Jamie Broadbent, head of digital & innovation at RBS International, Nigel Verdon, CEO at Open Banking platform Railsbank and Jon Ostler, CEO of Finder UK.
Join Finder now to get this report immediately and many other free benefits, including exclusive tips and deals. It takes just a few seconds!
Read more on this topic