Get the cheapest car insurance in Oregon
Best cheap car insurance in Oregon for 2022
Compare and save on car insurance
Enter your ZIP code to see insurers near you.
Your information is secure.
---
Oregon drivers pay an average of $1,077.22 per year for car insurance according to the National Association of Insurance Commissioners (NAIC), that's about $89.77 per month. Oregon drivers pay about 9% less than the countrywide national average of $1,189.64.
The NAIC takes into account all car insurance policies within the state such as drivers who select only state minimum coverage, as well as policies that include various levels of comprehensive and collision coverage. Because car insurance rates are influenced by personal factors, you could find yourself paying significantly less.
Oregon car insurance quick facts
Minimum liability requirements
25/50/20
Average annual car insurance cost according to the NAIC
$1,077.22
At-fault state
In at-fault states, the driver who caused the accident pays for damages.
Oregon state minimum car insurance requirements
Drivers in Oregon are required to carry a minimum amount of liability coverage to legally drive. You may see it written as 25/50/20, but we'll break down what that means.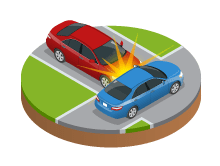 Oregon bodily injury liability
$25,000 bodily injury liability per person
$50,000 bodily injury per accident
Oregon requires $25,000 in bodily injury liability per person and $50,000 of bodily injury per accident to legally drive. That's right in line with what most states across the US require for this coverage.
This means $25,000 is the most your insurer will pay for a single person injured by you in an at-fault accident. And $50,000 is the maximum amount your insurer will pay if there is more than one person injured by you in an at-fault accident. Any costs outside of your bodily injury limit are required to come out of your pocket.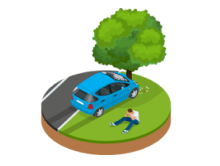 Oregon property damage liability
$20,000 property damage liability
Oregon requires drivers to carry $20,000 of property damage liability to legally drive. This is the highest required property damage limit across the US, with 18 other states requiring this amount.
This means $20,000 is the maximum amount your car insurance company will pay towards damages you cause to another person's car or property, such as repairs to a car, fence or building. You'll have to pay out of pocket for any costs beyond your property damage liability limit.
Oregon uninsured motorist
$25,000 uninsured motorist bodily injury per person
$50,000 uninsured motorist bodily injury per accident
Oregon requires all drivers to carry $25,000 of uninsured motorist bodily injury per person and $50,000 uninsured motorist bodily injury per accident to legally drive. Near half of the states across the US require some sort of uninsured motorist coverage, though some other states let you opt-out.
This coverage protects you if you get hit by an uninsured or underinsured driver. It pays for medical bills for you and your passengers.
Oregon personal injury protection
$15,000 personal injury protection
Oregon drivers are required to carry $15,000 worth of personal injury protection to legally drive.
This coverage helps pay your or your passenger's medical expenses if you're injured in an accident, regardless of fault.
Finder tip: Oregon state minimum coverage isn't enough
These state-mandated requirements are the lowest amount of coverage you need to legally drive in Oregon, but may fall short if you're in a major accident. To avoid high out-of-pocket costs after an accident, consider raising your liability limits by balancing coverage, your budget and what you can afford to pay out of pocket for certain damage.
Cheapest rates by age in Oregon
Drivers under age 25 may find the best deal with Allstate. You can also opt into Allstate's Drivewise or rewards programs to save even further.
However, the cheapest company jumps back and forth between USAA and Progressive for most other ages.
| Age | Allstate | Progressive | Geico | USAA |
| --- | --- | --- | --- | --- |
| 16-24 | $136.22 | $197.00 | $181.83 | $172.47 |
| 25-34 | $153.76 | $135.89 | $136.65 | $118.53 |
| 35-44 | $147.04 | $123.26 | $124.47 | $118.53 |
| 45-54 | $166.46 | $77.11 | $119.72 | $129.00 |
| 55-64 | $117.25 | $132.12 | $108.25 | – |
Cheapest rates by gender in Oregon
You'll pay widely different prices with different companies based on your gender. For example, Progressive brings the lowest rates in this sample for men, while it's USAA for women.
| Company | Allstate | Progressive | Geico | USAA |
| --- | --- | --- | --- | --- |
| Men | $150.57 | $120.81 | $138.65 | $133.89 |
| Women | $141.21 | $143.08 | $135.24 | $126.74 |
Sample rates in Oregon from major car insurance companies
If you qualify, USAA may be a solid choice for its customer service and low insurance rates.
However, you may want to compare quotes from Progressve since its prices stand neck and neck with USAA. Progressive offers plenty of discounts and coverage to bring extra value.
| Company | Allstate | Progressive | Geico | USAA |
| --- | --- | --- | --- | --- |
| Rate | $144.72 | $133.18 | $136.95 | $130.32 |
7 factors that affect your car insurance premium in Oregon
Factors are characteristics specific to you that car insurance companies use to set how much you'll pay for car insurance. The less risky each of your factors is, the less you pay. And the riskier you are, the more you'll pay. We'll break down Oregon's rating factors to keep in mind.
Factor
How it affects your rates

Age

How old you are is a top factor in determining your car insurance rates. With each passing year, you earn more experience on the road. More experience can equal cheaper rates. Teen drivers pay the most, but rates begin to level off around your 20s with drivers over 50 paying the least.

Gender

Insurers in Oregon can use gender as a factor in setting rates, although they must submit documentation justifying how they rate those drivers. On average, men in Oregon pay less for car insurance than women. The average annual premium across all age categories for men is $1,356, while women pay an average of $1,401.

In 2018, the Division of Financial Regulation started requiring all Oregon auto insurers to accommodate drivers who don't designate male or female on their driver's licenses.

Location

Where you live affects your rates, including where you park your car. High theft rates, high traffic and a high number of uninsured drivers could mean higher rates.

When it comes to vehicle theft, Oregon is higher than the national average. For every 100,000 inhabitants, approximately 391 vehicles were stolen, according to Statista. The national average across the US is 246 cars for every 100,000 inhabitants.

As for uninsured drivers, 10.7% of Oregonians on the road are uninsured. That ranks the state 30th out of 50 states for uninsured drivers, according to Insurance Information Institute.

Vehicle and mileage

Your car's make, model and trim directly affect how much you'll pay for car insurance. Things like its cost, safety ratings, the likelihood of theft and sportiness all help insurers determine its cost to insure.

Safer and cheaper vehicles score the lowest rates, with luxury vehicles with higher repair costs resulting in higher premiums.

And, the more you're on the road, the more at-risk you are to get in an accident, which means higher premiums. According to the Bureau of Transportation, Oregonians drive around 30 miles per day, which is under the national average of 36.1 miles per day.

Credit score

Your credit score is included in your credit-based insurance score which insurers use to help calculate rates. According to the Insurance Information Institute, there is a strong correlation between your insurance score and claims filings. A good credit-based insurance score could mean lower rates.

However, Oregon limits the use of credit as an auto insurance rating factor. In the Beaver State, regulations limit how and when insurance companies can use credit as a rating and underwriting factor.

Coverage

The more coverage you get and the higher limits you choose, the more protection you'll have and the more you'll pay in monthly premiums. If you opt for full coverage car insurance that includes comprehensive and collision, the amount of your deductible weighs into your costs too. Higher deductibles mean lower monthly premiums.

Low coverage costs in Oregon average to about $1,139 yearly, whereas high coverage can be anywhere around $1,243 on average.

Driving Record

The better your record, the lower your premium. If you're in an at-fault accident you could see rates increases from 20% to 50%. A DUI in Oregon can increase your rate by an average of 38%. These types of violations typically stay on your record for about five years.

Oregon drivers with a clean driving record pay approximately $1,454 annually while Oregon drivers with one speeding violation pay approximately $$1,725.
What happens if I need an SR-22 in Oregon?
If you're required to file an SR-22, you'll ask your insurance company to send this form to the Oregon Driver and Motor Vehicle Services. The SR-22 form proves that you hold the minimum car insurance coverages required to hit the road. You might need this if you're trying to reinstate your driving privileges after a suspension, if you were caught driving without car insurance or if you're applying for a hardship or probationary permit.
Learn more about filing an SR-22 in Oregon, including the fees and how long you'll need to file one. That way you can clear yourself for driving as quickly as possible.
Coverage that we recommend in Oregon
Roaming through Oregon's rocky ranges, open lands or city highways means that you're faced with different driving challenges along the way. While Oregon's car insurance requirements are a solid starting point, you need extra coverage for different types of damage. We recommend adding these to your policy if it fits in your budget.
More liability coverage steps up for major accidents
If you hit another car, Oregon's required liability insurance should work for most minor damage, but it may not be enough for serious injuries or the legal costs of going to court. You can't control the types of damage that happen during a car accident. Plus, Oregon ranks third for the most expensive hospital inpatient costs in the US, according to the Kaiser Family Foundation.
To take care of potentially high liability expenses, keep the coverage limits that your insurance agent or financial adviser recommends for you.
Collision coverage offers a lot of cost-benefit
You may not drive much more than the average American, but collision coverage has its benefits for every driver. This optional coverage focuses on paying for your damage if you wreck your car and need repairs, and it's usually worth the extra monthly premium.
For example, most Oregonians pay $23 per month for collision coverage, according to the NAIC. Let's say that your car needs $1,000 worth of repairs. It would take over three years of saving your monthly premium to recoup these repair costs if you paid out of pocket. Rather than saving for years on end, opt for collision coverage to pay for these repairs and protect yourself from other incidents too.
Consider this coverage if . . .
You drive a lot and rely on your car.
You have an auto loan, and it requires full coverage.
You don't have the savings to pay for car repairs.
Comprehensive coverage for peace of mind about theft
Since Oregon car owners see theft over 1.5 times more than the US average, you may want comprehensive coverage to help you recover from this untimely event. Yet this coverage also protects you against many damages outside of hitting another car, including theft, vandalism, severe weather, icy roads or rocks cracking your windshield.
Consider this coverage if . . .
Your auto loan requires it.
You can't pay for major car repairs on your own.
You live in an area known for theft or crime.
You live in a rural part of Alaska with large wildlife.
Your area sees harsh weather.
Top 10 auto insurance companies in USA that serve Oregon
We've pulled the top 10 companies by market share that offer coverage in Oregon according to S&P Global. Compare top companies by three major rating agencies along with our overall score.
Better Business Bureau (BBB) rating measures how a business interacts with its customers, with the highest rating being A++.
J.D. Power determines customers' overall satisfaction with their car insurer's price, billing, claims and customer support. The higher the J.D. Power score out of 1,000, the better.
NAIC complaint index shows how a company's number of complaints compares to similar companies of its size. Scores lower than 1.00 show the company receives less than the average number of complaints, and scores above 1.00 show more complaints than average.
Finder's score shows you an overall look at the company by taking into account scores from each of these agencies as well as the coverage and discounts each company offers.
Which city has the cheapest car insurance in Oregon?
Of Oregon's largest cities, Bend has the cheapest rates and Beaverton has the most expensive car insurance rates. Beaverton drivers could face rates 2 times more than Bend drivers.
Car insurance quotes in Beaverton
| Company | Annual car insurance rate |
| --- | --- |
| Allstate | $1545 |
| American Family | $1997 |
| Metromile | $2023 |
| Geico | $2038 |
| StateFarm | $1883 |
Car insurance quotes in Portland
| Company | Annual car insurance rate |
| --- | --- |
| Allstate | $1663 |
| American Family | $1868 |
| Metromile | $2024 |
| Geico | $1824 |
| StateFarm | $1705 |
Car insurance quotes in Bend
| Company | Annual car insurance rate |
| --- | --- |
| Allstate | $1257 |
| American Family | $1251 |
| Metromile | $1512 |
| Geico | $1683 |
| StateFarm | $1263 |
Car insurance quotes in Oregon City
| Company | Annual car insurance rate |
| --- | --- |
| Allstate | $1600 |
| American Family | $1762 |
| Metromile | $2029 |
| Geico | $1976 |
| StateFarm | $1803 |
Car insurance quotes in Eugene
| Company | Annual car insurance rate |
| --- | --- |
| Allstate | $1262 |
| American Family | $1589 |
| Metromile | $1472 |
| Geico | $1673 |
| StateFarm | $1333 |
Compare car insurance providers in Oregon
Car insurance for high-risk drivers in Oregon
If you have trouble finding affordable coverage or if you've been denied coverage because you're considered a high-risk driver, you can find options through the Western Association of Automobile Insurance Plans (WAAIP).
With this option, you'll be assigned an affordable provider. Any additional risk you pose to the insurance provider is spread across the network of insurance companies that participate in the WAAIP.
In Oregon, the driver at fault pays for damage
Oregon is an at-fault state, which means that the driver who caused the car accident pays for the damage. Your insurance company and legal authorities will determine who's at fault, based on the accident details.
However, Oregon also considers whether both drivers are partially at fault under its modified comparative fault law, according to the legal website Nolo. Under this law, both drivers are assigned a percentage of fault. A driver can get reimbursed for damages as long as they don't have a higher percentage of fault than the other driver.
For example, if you're 80% at fault for an accident, your insurance will pay 80% of the other driver's damages. However, since your level of fault is higher than the other driver's, you can't get reimbursed for your damages.
Bottom line
Car insurance is a requirement for motorists in Oregon, so if you plan to drive in this state you'll want to look into your options. By shopping around and using the tips in this article, you should be able to find affordable coverage that takes care of your car insurance needs.