Finder is committed to editorial independence. While we receive compensation when you click links to partners, they do not influence our opinions or reviews. Learn how we make money.
Using a credit card in India
Planning a trip to India? Here's all you need to know
Visa and Mastercard are widely accepted in India — especially in the country's major metropolitan areas, like New Delhi and Mumbai. Large establishments, hotels, restaurants, shops and most online retailers allow you to pay by credit card, and some even accept American Express and Discover.
However, most smaller vendors accept only cash, so it's ideal that you keep local currency handy at all times.
Our pick for use in India
Compare credit cards for use in India
When picking a credit card for your trip to India, make sure that you're looking at travel credit cards. A common feature of travel cards is their lack of foreign transaction fees. These fees are often small, but they'll add up every time you use your card while overseas. Another perk of travel credit cards are their rewards. In fact, you may even be able to get to India with credit card miles.
Potential credit card fees in India
When you use your credit card in India, there's a good chance you'll pay foreign transaction and currency conversion fees.
Foreign transaction fees
Credit cards that come with foreign transaction fees tend to charge 2% to 3% per transaction. Before you use your card outside of the US, find out how much your card will charge you. Most travel credit cards eliminate foreign transaction fees altogether.
Currency conversion fees
The Indian Finance Act allows merchants to levy a service tax on the purchase and sale of foreign currencies, which includes transactions. Banks can fix currency conversion charges depending on their internal cost structures. As a result, if a merchant offers to convert your bill into US dollars, you may want to pass and make your payment in rupees instead.
Which credit card issuers are accepted in India?
You'll find that most vendors accept Visa and Mastercard, while some large establishments may accept American Express and Discover cards as well.
| | Merchant acceptance | ATM acceptance |
| --- | --- | --- |
| Visa | High | High |
| Mastercard | High | High |
| American Express | Medium | High |
| Discover | High | Medium |
Should I use my card to get cash?
No, not unless it's an emergency. While you may be tempted to use your credit card to withdraw cash from an ATM, remember that you'll typically pay a cash advance fee. Interest often begins accruing from the day of the transaction, and APRs for cash advances is typically higher than that for purchases.
This table gives you an indication of much your cash advance in India could cost you.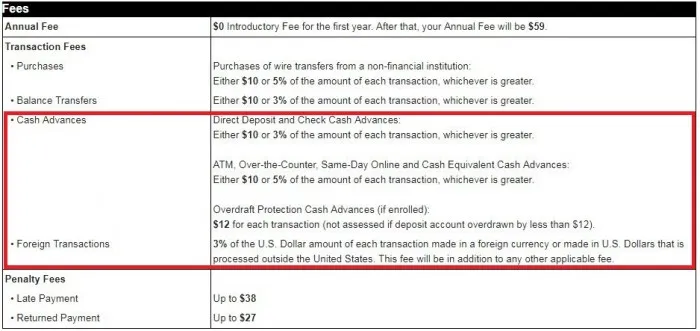 What is a cash advance fee?
A cash advance fee is assessed when you withdraw cash from your credit card. It's usually the greater of a flat fee or a percentage of the transaction. For example, the cash advance fee for the Chase Sapphire Preferred is either $10 or 5% of the amount of each transaction, whichever is greater.
Is it safe to use my credit card in India?
If you exercise caution, you can use your credit card in India without worry. Besides, most American credit cards protect your transaction of $50 more against fraud. Keep your credit card safe with these tips.
Safeguard your PIN. Use your free hand to cover the keypad when you enter your PIN. This keeps it safe from prying eyes and hidden cameras.
Use ATMS with care. If you end up using your credit card to withdraw cash, look for an ATM in a crowded place, preferably attached to a bank. Avoid using ATMs in isolated locations.
Don't use any ATM that doesn't look right. If you notice any obstruction when inserting your card or if the keypad is hard to press, it's best to cancel your transaction. The machine could include a credit card skimmer that can steal your card's information.
Keeping your credit card (physically) safe
Pickpocketing and handbags being stolen are not uncommon in India. Keep your belongings close to you at all times, especially when you're in crowded places. Keep your guard up, even when you think you're in a desolate place.
Don't let your credit card out of your sight when paying bills to avoid your credit card being skimmed, even at restaurants and bars.
Consider using a money belt or a neck pouch to keep your cards and important documents with you at all times.
Using cash in India
You'll find a number of establishments in smaller towns and even popular tourist destinations that don't accept credit or debit cards. This also applies to most restaurants (or dhabas) that dot India's highways. If you're traveling by train, you'll need cash to pay for food and other supplies when on board. And rural India remains largely bereft of ATMs and credit card machines. To the point: Keep cash with you, especially when you're moving out of big cities.
India after demonetization
In November 2016, India's prime minister announced the demonetization of all 500 and 1,000 rupee notes. This essentially rendered some 86% of the paper currency in India useless unless exchanged through banks within a given time frame. One positive result is a considerable increase in credit card machines at retailers. As a result, you can expect most retailers in such big cities as Delhi, Mumbai, Chennai, Kolkata and Bangalore to have credit card machines.
Some merchants discourage credit and debit card payments because they have to pay a transaction fees to their banks for the convenience. Others tend to charge their customers 1% or 2% extra to cover for the fee. However, this practice is considered illegal by the Reserve Bank of India.
Magstripe and chip credit cards
Several American banks have moved toward chip-enabled credit cards, but magstripes are still quite common. The situation is similar in India. But with credit card cloning and skimming on the rise, chip cards are safer to use than magstripe counterparts. Using a chip card with a PIN provides another layer of security.
The Reserve Bank of India is phasing out cards with magnetic stripes by December 31, 2018. From January 2016, all new banking customers in India are receiving chip-enabled cards.
Can I use my chip-and-signature card in India?
If you dip your chip-and-signature card at a point-of-sale terminal in India, you'll need to enter a PIN. To avoid using your PIN, simply get the merchant to swipe your card instead, because terminals that support chip cards also allow swiping. In this case, you'll need to sign for your purchase.
How to prepare before traveling to India
Go Visa or Mastercard. These are most commonly accepted cards in India. While you'll find merchants that accept American Express and Diner's Club, they're few and far between.
Get a card with no foreign transaction fees. Depending on the card you currently use, you might need to pay up to 3% of each transaction in feess. Instead, consider getting a card that comes with no fee for overseas use.
Notify your bank. Credit card issuers are on the alert for fraudulent transactions. If your bank sees an international transaction on your card, it could consider it suspicious and place a hold on your account. Inform your bank before you leave the US to prevent blocked charges.
Keep emergency numbers at hand. You never know when you'll need customer service, so keep relevant numbers handy. These include phone numbers for emergency card replacements. Your bank may even be able to give a local Indian phone number.
Know where to get money from. There's a good chance you'll end up needing cash rather early into your visit. So plan where you'll get cash from ahead of time. Learn whether you can use specific ATMs for free. Most ATMs in India come with a maximum daily withdrawal limit of 15,000 rupees.
Next steps
Before packing your bags for India, ask yourself:
Which cards will I use? Take two or more chip-enabled credit cards that don't come with foreign transaction fees. Visa and Mastercard are the most commonly accepted.
Have I informed my card provider? Let your card provider know of your travel plans to avoid dealing with a blocked or suspended cards or transactions. Keep important card numbers handy.
How much will I pay in fees? Learn about fees in advance, or you could be in for a rude shock when you receive your statement.
How will I get cash? Consider looking into a no-fee debit or ATM card to meet your requirements for cash.
Stick by our guide to avoid trouble when using your credit card in India.
See more guides on using a credit card in other countries.
Bottom line
Visa and Mastercard are widely accepted in India, but some large hotels and merchants may accept American Express and Discover as well. If you need to make cash withdrawals, you'll find ATMs in the large cities. Make sure you get some cash if you're visitng the rural areas where paying with a credit card is not so common.
To fully enjoy your trip to India, consider carrying multiple travel money options.
Frequently asked questions
Images: Shutterstock