Costa Rica is a card-friendly country, so you'll have no problem using your credit card there. You can also pay with US dollars in some places in San José, but paying in local currency will help you avoid conversion fees.
Comparing travel, debit and credit cards
Visa and Mastercard are most widely used in Costa Rica, with American Express cards coming in third. You may find ATMs and places that accept Discover cards, though Discover is overall rarely accepted.
Credit cards without foreign transaction fees are a great option for direct purchases, while debit cards are generally good for ATM cash withdrawals. The Q Costa Rica, a Latin America news portal, reported that some Costa Rican merchants may add an illegal surcharge of up to 8% on credit card purchases. Make sure you ask merchants about fees before using your card.
Pros and Cons of travel money options in Costa Rica
Travel money option
Pros
Cons
Debit cards

No cash advance fee
No cash advance APR
No overdraft

Weak or no rewards
No access to a credit line
Potential foreign transaction fees up to 3%.
Potential hidden fees of up to 8% by some merchants

Prepaid travel money cards

Can load multiple currencies
No cash advance APR
No links to your bank account

Many fees, including currency conversion fees
May take time to load
No rewards
Potential hidden fees of up to 8% by some merchants

Credit cards

Credit line access
Rewards
May come with travel insurance and coverage
May come with concierge service

Cash advance fees on ATMs
Cash advance APR on ATMs
Potential hidden fees of up to 8% by some merchants

Traveler's checks

Not accepted everywhere
Fees for purchasing and cashing checks

Cash

Payment flexibility
Convenience
No need for ATMs
How credit cards, debit cards and travel cards work in Costa Rica
Using a credit card
Many establishments, such as restaurants, hotels, bars and shops, in San José and the other large cities take credit cards. Just be sure to use a card without foreign transaction fees and ask about hidden fees.
If you frequently travel to Costa Rica, consider an airline cobranded credit card to save money on flights, in-flight purchases, checked bags or lounge access. You can also consider a travel credit card to earn rewards on your purchases and to get travel, luggage and car rental insurance.
Using a credit card in Costa Rica
Using a debit card
Debit cards work best for cash withdrawals. Most debit cards come with foreign transaction fees of up to 3% of each transaction, but there are debit cards without foreign transaction fees or ATM withdrawal fees.
What are the best travel debit cards?
Using a prepaid travel card
If you want to take a debit card that's not linked to your bank account, a prepaid travel card could be an alternative. The travel card comes with more fees. but could be worth it for extra security if your card is lost or stolen.
What are prepaid travel cards?
Using traveler's checks
Traveler's checks aren't widely accepted in Costa Rica, but you could exchange them in some of the main banks. This can be an option if you don't want to carry a lot of cash. However, the other money options are generally cheaper and without the hassle.
Traveler's checks explained
Paying with cash
Cash is the most accepted payment method in Costa Rica. Especially if you're traveling in more rural areas where cards are not an option. The US dollars are also accepted in the capital but exchanging them to Costa Rican colones is best.
Compare travel credit cards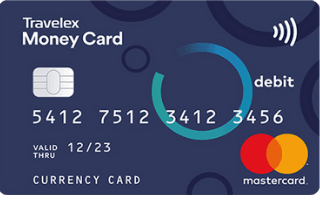 Our pick for a prepaid travel card
Travelex Money Card
Load your card with your choice of 6 available currencies: Euros, British pounds, Australian dollars, Japanese yen, Canadian dollars, and Mexican pesos.
Lock in your exchange rate.
Use your card abroad at millions of locations.
Where can I get the best exchange rate for Costa Rican colones?
You'll find the best exchange rate for Costa Rican colones at your hotel or any bank. You can also easily withdraw colones from ATMs with your debit card and get a strong conversion rate. You'll find the worst exchange rates at airports, so try to stay away from those.
Using money transfers to safely travel with cash
WorldRemit offers the option to send money to your destination before you depart. Once you arrive in Costa Rica, you can get your money from a local branch.
To make the transfer, you need Costa Rican phone number and an address. If you don't have them, WorldRemit recommends using the address and number of the place where you'll stay in. This is only in case the local agent needs to contact you. Otherwise, you can withdraw your money with your passport as identification.
What's the USD to CRC exchange rate?
Cash pickup services in Costa Rica
The symbol for the Costa Rican colón is ₡ and the currency code is CRC. Find the best exchange rates for transferring money to Costa Rica.


Disclaimer: Exchange rates change often. Confirm the total cost with the provider before transferring money.
Bottom line
You can freely use plastic in Costa Rica. Save money by finding a card without foreign transaction fees, and ask merchants for hidden fees.
If you need cash, you can either exchange US dollars or make an ATM cash withdrawal. Debit cards are typically the best option as they don't incur cash advance APR or cash advance fees.
Find out more about paying for your travel abroad, check out our travel money guide.
More guides on Finder