Tide business account review
Tide aims to give business owners their time back, by simplifying expenses.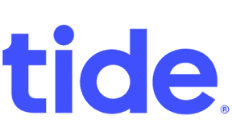 What is Tide?
Tide is a fintech app which offers business accounts to small businesses and freelancers, hoping to relieve them of some of the financial stress that comes with a growing company.
Tide's business accounts come with a number of features that address some of the most stressful aspects of working for yourself and offer all of this for free. Tide has been featured as one of our best business bank accounts.
How does Tide's business account work?
Like many other fintech apps, the majority of Tide's features are found on your smartphone. The card you're sent in the post is the only physical aspect of your Tide account.
The Tide app offers a number of resources to help freelancers nurture their businesses and organises them into a series of easily accessible pages.
The app at its core is simple and streamlined, with some more advanced and decorative features present to help exaggerate its convenience. The pages of features include:
Accounts: The introductory screen for your Tide app. Here your paired accounts are featured, along with their balances, card details and a description of their uses.
Easy accounting: Each card has a record of its transactions. File these transactions under a selection of different categories, e.g. travel, insurance, health, food.
Invoice: Manage invoices, see a description of the job and its pricing, see which invoices are active or paid and create new invoices. Invoices can be issued in minutes.
Pay: With the virtual card you are issued immediately upon registration you can pay using contactless. Once you have a physical card this feature is used to authorise your payments.
Help: Issue enquiries and requests to the Tide team. This page also displays several questions frequently asked by users.
More: Manage your personal and security details and learn about more Tide services including accountancy software, direct debits and customisable invoice templates.
Credit: Tide offers up to £1,500 as a loan, helping you in those moments when your company needs a small injection of cash.
Tide also offers credit cards, allowing you to borrow a bit extra at competitive rates. As mentioned above, Tide also aim to offer savings accounts too.
How can Tide help your business? CEO Oliver Prill answers
Using Tide abroad
Your Tide account has the same fees whether you use it in the UK or abroad. This means that any transactions or withdrawals you make while you're overseas will only be subject to exchange rates, no extra charges. The only international hurdle you will face will come from transfers, which as of yet have not been implemented.
Tide fees and limits
One of Tide's other big selling points is it's competitive, and at points non-existent, fees. The main charges come in the form of:
A 20p charge on all transfers in or out of your Tide account. Tide-to-Tide transfers cost nothing.
ATM withdrawals also cost £1.
Post Office deposits come with a fee of £1. PayPoint deposits are charged for 3% of the transaction value.
Card transactions cost nothing.
International fees are exactly the same but with the currency exchange rate on top.
Is Tide safe?
Unlike some of the other fintech current accounts, Tide doesn't lend, invest or move your money around, meaning its always accessible and always yours. Not only do you have to authenticate your account using a password, you also have to authorise all payments through your phone.
Tide also request a selfie every time you long onto a new device to make sure it's actually you.
Pros and cons of Tide
Pros
Recommended by a number of consumer advice services.
Pair your other bank cards to the app and see their balance, details and a spending record for each one.
Sort your transactions into a number of categories.
Competitive fees and charges.
Connect your account with external accounting technology.
Invoice directly from your Tide app.
Safe and secure.
Registered with the FCA and PRA.
Cons
No international money transfers.
App can be clunky on certain phones.
Lack of face-to-face contact can turn people away from mobile banking.
No personal current accounts.
A traditional bank account is still necessary for many of your financial needs.
The verdict
Tide is specifically built for small businesses, which means you'll get a lot of features to help you manage your finances and keep on top of everything even if you don't have a big accounting team. It's also easy to use and set up.
The fees are pretty reasonable, all things considered (especially if you don't often need to withdraw cash). However, keep in mind that if you use your account a lot and make several transfers and withdrawals a week, you might be better off with an account that only charges a fixed monthly fee. Also, the downside of Tide's expertise in business current accounts is that you don't get any other products such as credit cards or personal current accounts.
All in all, Tide is a sound option for a small business owners. It's comparatively cheap, has plently of useful features, can be used both from the app and from desktop, and it helps you track your spending and manage your business finances, saving you from spending a lifetime studying your current account statement.
Open an account with Tide
Free business Mastercard
No foreign transaction fees
In-app support
Invoice directly from your Tide app
Compare Tide against it competitors
FAQs
Back to top