Tide business account review
Tide bank account aims to give small business owners their time back, by simplifying expenses and invoicing. We look at the features and fees of this business bank account.
Finder rating
★★★★★
Expert analysis
Customer rating
★★★★★
Satisfaction survey
No monthly account fee
Doesn't accept cheque deposits
The Tide business account is designed for SMEs (small and medium sized enterprises), and aims to help businesses manage all their finance admin in the one app. Tide offers 4 different account plans – one of which is free – so you can upgrade your account as your business grows. What's more, if you're planning to set up a limited company, it will even register your company for you when you set up your business account.
Compare Tide's business accounts
What is Tide?
Tide is a fintech app which offers business accounts to small businesses and freelancers, hoping to relieve them of some of the financial stress that comes with a growing company.
Tide's business accounts come with a number of features that address some of the most stressful aspects of working for yourself. Tide has been featured as one of our best business bank accounts for small businesses, sole traders and freelancers.
How does the Tide business account work?
Like many other fintech online-only business apps, the majority of Tide's features are found on your smartphone. The card you're sent in the post is the only physical aspect of your Tide account.
The Tide app offers a number of resources to help freelancers nurture their businesses and organises them into a series of easily accessible pages.
The app at its core is simple and streamlined, with some more advanced and decorative features present to help exaggerate its convenience. The pages of features include:
Accounts: The introductory screen for your Tide app. Here you can see your Tide account plus any other accounts you have linked through Open Banking, along with their balances and transaction records.
Easy accounting: Each Tide card has a record of its transactions. File these transactions under a selection of different categories, e.g. travel, insurance, health, food.
Invoice: Manage invoices, see a description of the job and its pricing, see which invoices are active or paid and create new invoices. Invoices can be issued in minutes.
Pay: You get issued a virtual card immediately upon registration, then you will be posted a physical card with which to make payments.
Help: Issue enquiries and requests to the Tide team. This page also displays several questions frequently asked by users.
More: Manage your personal and security details and learn about more Tide services including accountancy software, direct debits and customisable invoice templates.
What is Tide Pro?
Tide Pro is an account plan which has a host of features designed to help small businesses grow and scale up.
While it's not free – it has an £18.99 + VAT monthly fee – it does include a range of features designed for a growing business:
Unlimited free transfers. Exclusive to the Tide Pro account plan, saving you 20p each time you make or receive a transfer.
Free company cards. You can get 2 free expense cards which include spending limits set by you.
Legal advice. Provided by Tide's partner Irwin Mitchell, you can access a 24/7 legal helpline to help protect your intellectual property and access support for filing trademark applications.
Phone support. You can access phone support 9am to 6pm every weekday.
You will also benefit from most of the features found on the free account plan and Tide Plus plan. The main difference is free unlimited transfers, as these are limited on all of Tide's other account plans.
How can Tide help your business? CEO Oliver Prill answers
Tide CEO Oliver Prill on how the company developed its business account: "The Tide team found that banking itself was not really working well for SMEs, but they also realised that it's not just banking but all the things around it, like accounting, payroll and invoicing. So they set out on a journey to solve all of that for small businesses."
Tide fees and limits
One of Tide's other big selling points is it's competitive fees. The main charges come in the form of:
A 20p charge on all transfers in or out of your Tide account. Tide-to-Tide transfers cost nothing.
Post Office cash deposits incur a 0.5% transaction charge (minimum £2.50). PayPoint cash deposits are charged at 3% of the transaction value.
UK ATM withdrawals cost £1 each.
UK card transactions are free.
International card spending has no additional fees and foreign ATM withdrawals cost £1 each.
| | |
| --- | --- |
| | |
| Product Name | Tide |
| FSCS protected | |
| Account fee | Free |
| UK ATM charge | £1 |
| Account software integration | |
| Accounting integrations | Clear Books, FreeAgent, KashFlow, QuickBooks, Reckon One, Sage, Xero |
| Additional cards | 35 additional cards |
| Additional card fee | Free |
| Requires credit check | |
| Credit check | |
| Credit check details | No - Tide performs an electronic check but no credit check |
| Key benefits | Free Tide Accounting. |
| Overdraft | |
| Freeze card from app or online banking | |
| Instant notifications | |
| Interest rate | 0% |
| Current account switch guarantee | |
Compare the fees of popular business bank accounts
Using Tide abroad
Your Tide card has the same fees whether you use it in the UK or abroad – so there are no charges for making purchases, but a £1 fee per ATM withdrawal. This means that any transactions or withdrawals you make while you're overseas will only be subject to exchange rates, and no additional charges.
Doing business overseas with Tide
| | |
| --- | --- |
| | |
| Product Name | Tide |
| Overseas transaction charge | Mastercard exchange rate applies |
| Overseas ATM charge | £1 |
| International transfer charge | No international transfers |
The company registration service from Tide
Tide also offers a service that allows new customers to register a limited company at the same time as opening a Tide business account. Tide pays the £12 incorporation fee on the customer's behalf, with the certificate of incorporation arriving from Companies House within a matter of hours.
The streamlined process means both applications can be carried out at the same time, with business owners able to choose their limited company's name at the time of sign-up. Tide is only able to process applications from single company shareholders, although it notes that you can add additional shareholders and directors to your limited company at a later date by contacting Companies House directly.
If you take advantage of this perk, you'll also get 6 months of Tide Accounting software for free.
What does the Tide app look like?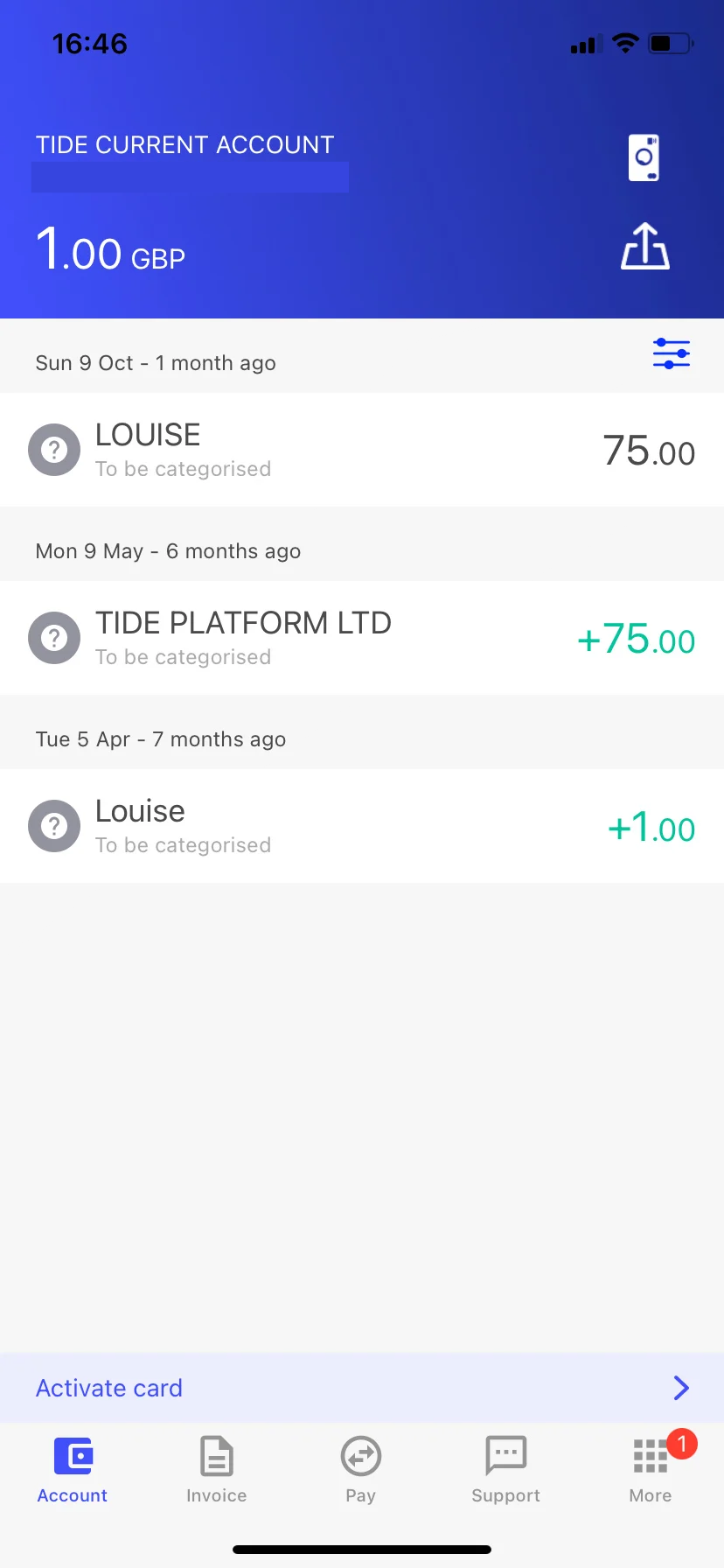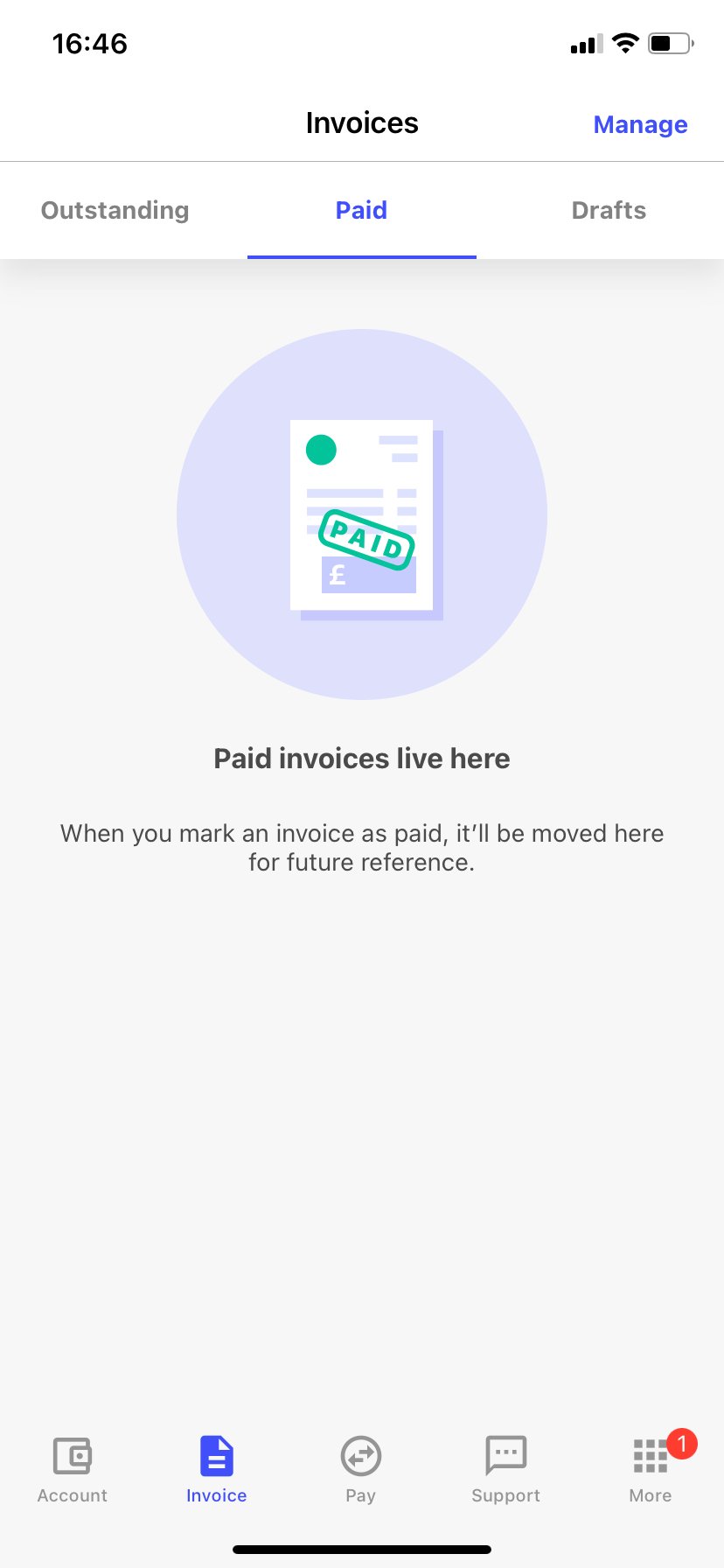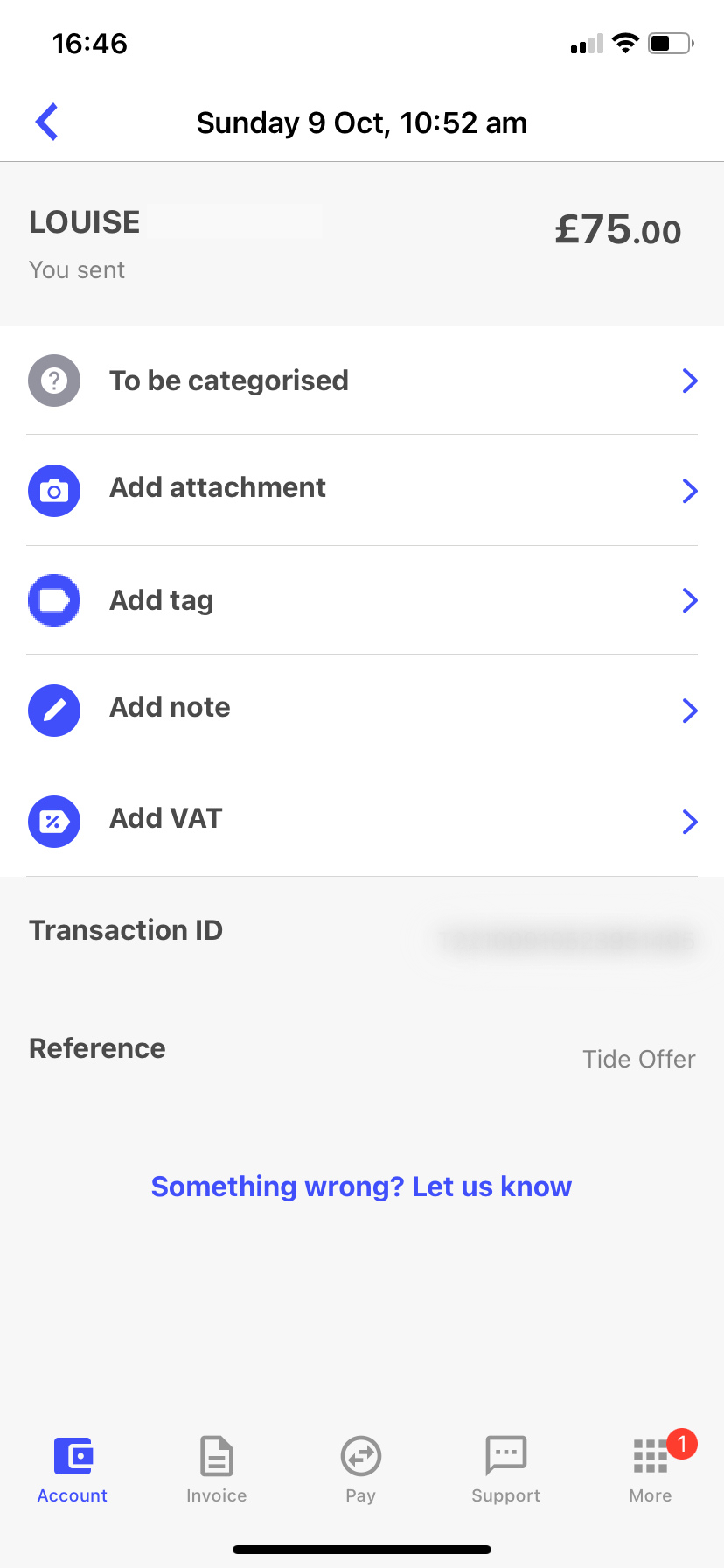 Business loans from Tide
Tide has a platform called Cashflow Insights, which you can connect your Tide business account to. The Cashflow Insights tool can help predict your cash flow, offer tips to help you keep your cash flow in good shape and even show you a range of credit products for which you are already eligible.
It will offer you tailored credit options, such as:
Business loans
Start-up loans
Business cash advances
Invoice finance
These products are offered by Tide's financial partners through the Cashflow Insights platform, and you'll be told how much you need to pay back and when, if you decide to take out one of these credit solutions.
Connect in minutes to see your credit options
Credit solutions tailored to your business
Pre-eligibility checks with no impact on your credit score
Is Tide safe?
Not only do you have to authenticate your account using a password, you also have to authorise all payments through your phone. Tide also requests a selfie every time you log onto a new device to make sure it's actually you.
Tide's bank accounts are provided by ClearBank, which means they are covered by the Financial Services Compensation Scheme (FSCS), which protects deposits of up to £85,000. Tide itself is not a bank, but it is regulated by the Financial Conduct Authority (FCA).
Tide customer reviews
Tide scored 4 out of 5 stars in our 2023 customer satisfaction survey, with 91% of users surveyed saying that they would recommend its services. Its users highlighted the account's user-friendly app, decent features and easy set up. Here's what some of those Tide customers had to say in our survey:
"Easy to set up and use online and on the go."
"Simple to use account."
"It's a good brand and they are very helpful."
On the Apple App Store, Tide scored 4.8 out of 5 stars based on almost 65,000 reviews. On the Google Play Store, the app scored 3.5 out of 5 stars, from a total of 16,000 reviews (last updated September 2023).
Tide vs the competitors
Name
Tide Free
Mettle by NatWest - Mobile business bank account
Business Current Account
Account fee
Free
Free
Free
Bank transfers
£0.20
Free if both accounts are with Tide
Free
Free
Overdraft

Up to £50,000 subject to eligibility and application
Overseas card transaction fees
£0
Not available in some countries
£0, currency conversion charge of £0
FSCS protected
Accounting integrations
Clear Books, FreeAgent, KashFlow, QuickBooks, Reckon One, Sage, Xero
FreeAgent, QuickBooks, Xero
FreeAgent, QuickBooks, Xero
Account management
Online & app
Online & app
Online, app & phone
Pros and cons of Tide
Pros
Free plan option.
Sort your transactions into a number of categories.
Connect your Tide account with external accounting technology.
Invoice directly from your Tide app.
Link your other bank cards to the app to see the balance and a spending record for each one.
Can help you set up a limited company.
Cons
No international money transfers.
Can't deposit cheques.
No overdrafts or business credit cards available.
Digital-only banking, so maybe not for you if your prefer face-to-face contact.
Our verdict
Tide is specifically built for small businesses, which means you'll get a lot of features to help you manage your finances and keep on top of everything even if you don't have a big accounting team. It's also easy to use and set up. What's more, you have the benefit of being able to choose from 4 different pricing plans, depending on what suits your business best. It's also a pretty great option if you want to set up a limited company, as it'll register your company for you.
The fees are pretty reasonable, all things considered (especially if you don't often need to withdraw cash). However, keep in mind that if you use your account a lot and make several transfers and withdrawals a week, you might be better off with one its competittors, such as Mettle or Starling, which don't charge transaction fees. Also, the downside of Tide's expertise in business current accounts is that you don't get any other products such as credit cards or personal current accounts.
Get started by visiting Tide's website and sign up for an account. If you have read this review and decided that Tide's account is not for you, you can also compare other business bank accounts on the market.
All in all, Tide is a sound option for a small business owners. It's comparatively cheap, has plenty of useful features, can be used both from the app and from desktop, and it helps you track your spending and manage your business finances, saving you from spending an age studying your account statements.
FAQs
Business banking ratings
Our customer satisfaction scores ("Customers say") are based on a survey of 623 customers carried out in December 2022.
We show offers we can track - that's not every product on the market...yet. Unless we've said otherwise, products are in no particular order. The terms "best", "top", "cheap" (and variations of these) aren't ratings, though we always explain what's great about a product when we highlight it. This is subject to our
terms of use
. When you make major financial decisions, consider getting independent financial advice. Always consider your own circumstances when you compare products so you get what's right for you.