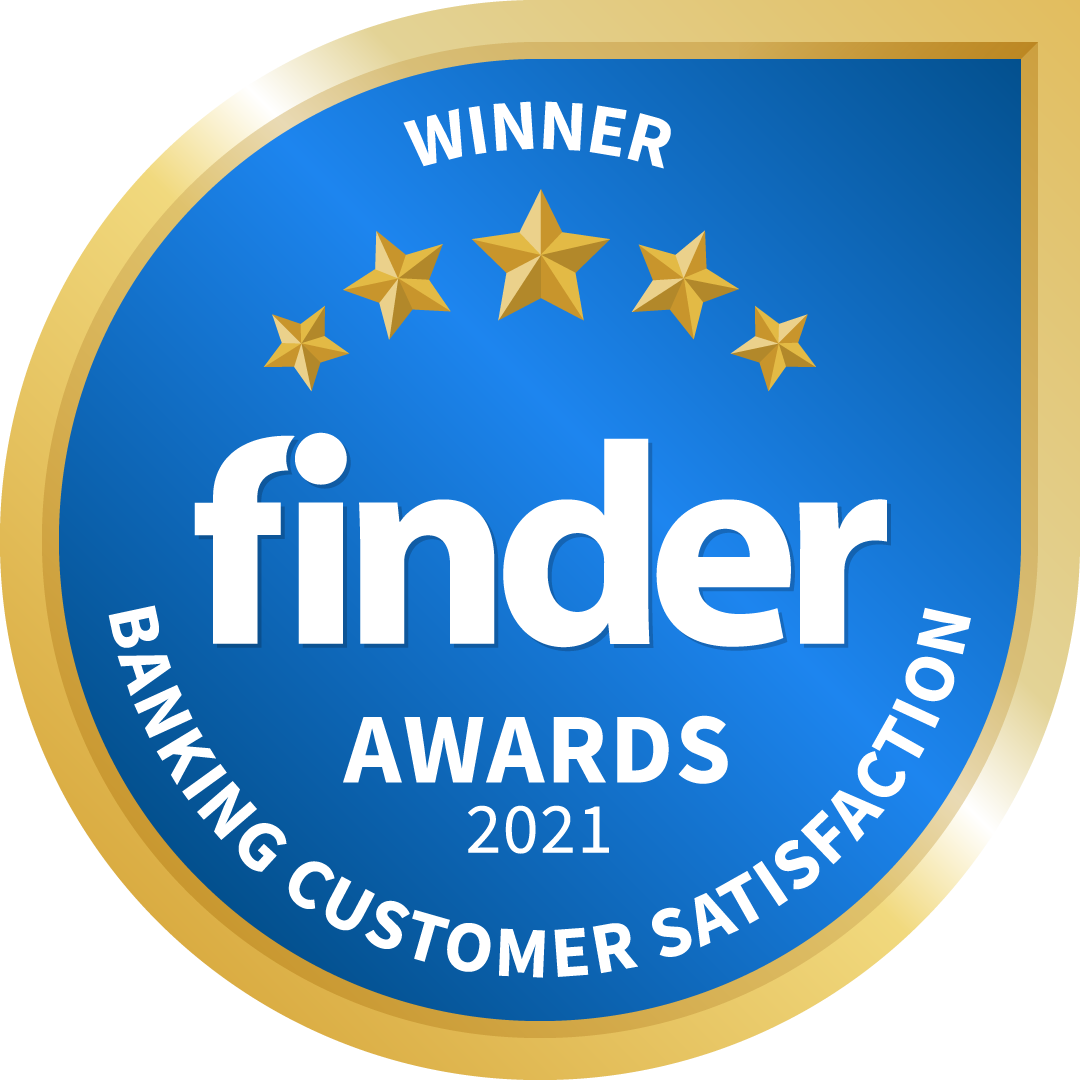 Beautifully designed app and experience
Foreign ATM withdrawals limited to £200 a month
Monzo is a challenger bank that operates without branches, offers a full current account, integrated savings accounts (accounts with other banks but managed from your Monzo app), and personal loans. Monzo customers love the service – it topped our 2021 survey of current account customers. And of course it comes with the signature hot coral Mastercard that's been blinding you at bars and supermarkets.
How does Monzo work?
Monzo works in a similar way to any normal current account. When you apply for an account, you'll be issued with a bright coral contactless Mastercard.
However, the account is entirely managed through the Monzo app, which is jam-packed with cool features and much slicker than your average banking app. The card is even controlled via the app: you can freeze it if it gets lost or stolen (and unfreeze it if you find it again).
Here are some of Monzo's main features:
Get paid a day early. Does what it says on the tin! Our article explains in more detail.
Salary sorter. Divvy up your salary into spending, savings and bills.
Spending budgets. Set budgets by category (e.g. Eating out, Entertainment, Transport).
Savings pots. Split money into interest earning savings pots. You can also round up "spare change" into a pot.
Bills pots. Get direct debits or standing orders paid out of a bills pot.
Instant spending notifications. See what you're spending in real time.
Free cash withdrawals abroad. Currently up to £200, after that it's a 3% charge.
No transaction fees. Contactless payments and spending overseas is free.
Energy switching. If you switch energy provider using the app then you can get cashback.
Joint accounts. Open a joint account with another Monzo customer.
Overdrafts. Apply in the app for an overdraft of up to £3,000.
Apple Pay. Monzo works with Apple Pay.
Loans. Apply for a Monzo loan of up to £15,000.
How do I apply for a Monzo account?
UK residents aged 16 or over can apply for a Monzo bank account through the app, available to download at both the Apple App Store and Google Play Store. You'll need to provide your personal details and verify your identity by taking a video of yourself and a picture of your ID, but no proof of address will be required.
You can now also open a joint account with Monzo, as long as you both have a regular Monzo account already. You will both receive a new separate joint account card.
If you are 16 or 17 and want to open a Monzo account, you can access all of the same benefits that full UK current account users receive. The only difference is that certain actions are blocked, such as spending on activities that are illegal to under 18 year olds, e.g. gambling.
Signing up for an account does not involve a full credit check and therefore won't affect your credit score.
Is Monzo good to use abroad?
You can use a Monzo card abroad really easily. You don't have to do anything! Just travel anywhere in the world and there are no charges for card transactions at all and no charges for ATM withdrawals up to £200 a month – then there's a 3% fee. The monthly limit for cash withdrawals in European countries is slightly higher at £250, but be aware that is a combined threshold for ATM withdrawals made in the EEA and the UK (then the 3% fee applies).
If spending abroad is what is most important to you, we recommend using Starling Bank. Starling's account is very similar to Monzo's, but there are no charges for withdrawing cash abroad and the maximum amount you can withdraw at an ATM each day is £300.
Also be aware that individual foreign ATMs may charge a fee too – that's to do with the ATM network itself and nothing to do with Monzo though. All transactions on your Monzo card in a foreign currency are made at the current day's Mastercard exchange rate, offering a competitive rate that responds to the live market.
Then, when you get back from your trip, Monzo will send you a little summary of how much you spent.
Saving with Monzo
Monzo doesn't offer savings accounts itself, but it's got a shiny new savings marketplace, which means that you can open a savings account with another provider directly from the Monzo app (Monzo refers to those as "Saving Pots"). We've got a full review of Monzo's savings feature if you want to read more.
Also, if you don't want to open a separate savings account you can just set money aside in a Monzo "pot" – but this won't pay interest.
Monzo's pots are a great way to use a budgeting technique known as "piggy banking". Our guide to piggy banking. gives you the lowdown on how to budget better using this popular technique. Monzo's not the only app using a "pots" type feature. Check out other
As we mentioned above, you can also simply round up your savings (e.g. £2.57 at Sainsbury's = 43p into a savings pot.) If you like the sound of this, maybe you should check out Moneybox. It's the same principle but your spare change is invested to boost growth.
Monzo personal loans
You can now apply for a personal loan from the Monzo app. You'll be able to borrow between £200 and £15,000, but approval will depend on your credit history and score.
Unlike with many high street lenders, Monzo offers you a personalised quote before you actually apply. This way, you'll know exactly how much the loan will cost you from the start. Monzo does check your credit score but won't proceed with a "hard" credit check unless you decide to actually take out the loan. If you don't, nothing will show on your credit record.
We also have a dedicated review of Monzo's personal loans if you want to learn more.
Monzo's energy switching service
Monzo now also offers an energy switching service. It's similar to its savings marketplace – Monzo doesn't offer the service in-house, but partners up with providers that do. If you want to give it a go, you can go on your Profile on the app and complete a short form about your house and energy use. Monzo will then offer you a quote from its partner providers.
These currently are OVO Energy and Octopus Energy. They're not the very cheapest you can find, but they're competitive. Octopus is a 100% green energy provider, while OVO's tariffs are 33% green by default and you can upgrade to a 100% green option for £5 a month. If you do decide to go through with the switch, they'll handle it for you.
Monzo fees and limits
Card payments. Free in the UK and abroad.
UK ATM withdrawals. There is a 3% charge on withdrawals of more than £250 in a 30-day period across the UK and EEA. The maximum cash withdrawal limits are £400 a day and £5,500 a month.
Foreign ATM withdrawals. ATM withdrawals in Europe will fall within your combined £250 UK and EEA limit, with a 3% charge on amounts taken out above that. Elsewhere in the world, cash withdrawals are free up to £200 a month, with a 3% fee after that.
Cash deposits. You can load cash into your account at all PayPoints. It will cost £1 a transaction. You can deposit up to £300 a day and up to £1,000 every six months.
Card replacements. You'll need to pay £5 for each replacement you order – unless you're a victim of fraud, card theft or your card has reached its expiry date.
Monzo Plus
Digital challenger bank Monzo has launched its upgraded current account Monzo Plus, but at a cost of £5 per month.
Monzo Plus comes with all the features of the regular Monzo account, but with some noticeable differences that the brand hopes will entice fee-paying customers. Two of the more striking features include the Open Banking-powered ability to see all of your bank accounts in one place, and the introduction of "virtual cards", which are designed to help you shop more safely online.
Speaking of cards, the physical one accompanying this account is "holographic" and comes in blue, rather than Monzo's customary hot coral shade. You can use this card to withdraw more money for free at overseas ATMs – up to £400 a month, compared to the current £200 limit on standard Monzo.
The Plus account also comes with a more advanced version of the "roundup" feature – which many Monzo account holders already use to siphon off spare change into savings "pots". And you can drill down more into your spending categories, even splitting out one bill into separate spending brackets.
You can also check your TransUnion credit score every month through the Plus account, and earn interest of 1.00% AER/Gross (variable) on balances of up to £2,000.
These new account features will certainly appeal to banking customers who are after more enhanced money management options, but you'll need to weigh up whether at £5 a month (or £60 a year) these options are a definite must have. Learn more about Monzo Plus here. Monzo also has a premium account which we have reviewed here.
The differences between Monzo and Monzo Plus
| | | |
| --- | --- | --- |
| | | |
| Account name | Monzo | Monzo Plus |
| Card colour | Hot coral | You can choose from 'midnight sky' or 'blue lagoon' as well as the distinctive 'hot coral' design |
| Fees | No monthly fee | £5 a month |
| UK ATMs | UK cash withdrawals are free of charge up to £250 every 30 days, then there's a 3% fee | All UK cash withdrawals are free of charge and the daily ATM withdrawal limit is £400 in the UK |
| Foreign ATMs | Free cash withdrawals in the EEA up to £250 a month (this is a combined EEA and UK limit); elsewhere abroad £200 fee-free cash withdrawals every 30 days (then a 3% charge) | Free cash withdrawals in the EEA; £400 fee-free cash withdrawals elsewhere abroad every 30 days (then a 3% charge) |
| Savings interest rate | No interest paid on account balance | Earn 1.00% AER/Gross (variable) interest on your account balance and money in Regular Pots (not including Savings Pots) up to £2,000 – you will be paid the interest at the end of each month |
| Virtual cards | No | Yes |
| Free cash deposits at PayPoints across the UK | No – £1 charge for every cash deposit | Free once a month, then £1 for each deposit |
| Other accounts in Monzo | No | Add other bank accounts and credit cards to Monzo to see your balances and transactions, and move money around with easy bank transfers |
| Spending categories | Yes – 12 set categories for your spending | Yes – and you can create custom categories for all your spending |
| FSCS protection | Your eligible deposits in Monzo are protected by the Financial Services Compensation Scheme (FSCS) up to a value of £85,000 per person | Your eligible deposits in Monzo are protected by the Financial Services Compensation Scheme (FSCS) up to a value of £85,000 per person |
| Credit score | No | In-built credit tracker to see your TransUnion credit score and track how it changes each month; also has helpful info about what a credit score is and how to improve yours |
| Rewards program | No | Offers such as 15% off Patch plant and plant pot orders over £50, 25% off a Fiit home workout membership and 20% off an annual subscription to Babylon Health |
Monzo overdraft fees
Monzo offers an optional overdraft to its customers that you can activate in the app. Enter you address, previous addresses, salary, and Monzo will run a soft credit check on you (this won't affect your credit score).
If you're accepted, Monzo will instantly set up an overdraft for you. The limit will depend on your salary and credit history and can be up to £3,000. You'll then be presented with an agreement – unlike the initial soft credit check, accepting the terms will leave a record on your credit history.
Monzo is currently in the process of changing its overdraft pricing structure, going from charging a flat fee of 50p a day to an interest rate of 19%, 29% or 39% AER depending on your credit score. For most people, this new deal should be cheaper. You can find out more about it on this article.
The vast majority of payments which exceed an arranged overdraft will simply be rejected. Some payments, like those to Tfl, can't be rejected because they are "offline" – in which case, you'll get an unarranged overdraft, which Monzo will price just like the arranged one.
Is Monzo a bank?
Yes! Monzo is a bank. "Monzo Bank Ltd" is authorised in the UK by the Prudential Regulation Authority (PRA) and is regulated by the Financial Conduct Authority (FCA).
Is Monzo safe?
It's as safe as any bank. Your money in Monzo is protected by the Financial Services Compensation Scheme (FSCS) up to £85,000. The FSCS is an independent statutory fund set up to safeguard consumer finances in the event of a bank being unable to meet its payment demands. Monzo has full FSCS protection, covering up to £85,000 of your money – as is the standard for UK
bank accounts.
| | |
| --- | --- |
| Live chat support | 24/7 live chat support available in the app |
| Telephone support | In the UK dial: 0800 802 1281 and from abroad dial: +44 20 3872 062 |
| Email support | Email: help@monzo.com |
| Touch login | |
| Face ID | |
| Voice ID | |
| Closing your account | Email: help@monzo.com to close your account |
| Order replacement card | Order in the app, card should arrive within 5 working days |
| Freeze/unfreeze card | Yes, through the app |
| Report card lost or stolen | Yes, through the app |
| Cancel direct debits | Cancel direct debits in the app |
Monzo customer reviews
In our independent 2021 customer satisfaction awards, Monzo won Best Overall Bank with 5 out of 5 stars and 89% of users saying they would recommend the service. The brand's well designed and user-friendly app, plus the overall experience, were favourites with customers.
It's a similar story on other online customer review forums. On Trustpilot, Monzo has 4.5 out of 5 stars and a rating of Excellent, based on more than 6,000 reviews (updated 30 March 2020).
What is a Monzo Golden Ticket?
These days anyone can join Monzo in a matter of minutes. Monzo introduced Golden Tickets when it had a waiting list to join, so existing customers could help their friends jump the queue.
A 'Golden Ticket' is Monzo's name for its "refer a friend" system. Basically, it's a link an existing customer can send to a friend inviting them to sign up for a Monzo bank account.
Existing users get the Golden Ticket in their app, then copy and send the link by email, text, or messaging services like Whatsapp or Facebook Messenger.
Golden Tickets are supposed to make joining Monzo quick and easy. However, they're not as essential as they used to be.
Pros and cons of Monzo
Pros
Full UK current account – you can do all the stuff you can do with a normal bank and more.
Apply quickly from the app without proof of address – you won't be credit-checked unless you apply for an overdraft.
Slick, fun app that is packed with cool features.
Spend abroad with no fees at the Mastercard exchange rate.
Open a savings account directly from the app with one of the providers Monzo works with.
Deposit cash into the account at any store which shows the

PayPoint logo

.
Fully FCA-licensed and FSCS-protected.
Cons
No bank branches isn't great for those who prefer face-to-face customer service.
3% charge for overseas ATM withdrawals over £200 – other digital bank accounts (e.g. Starling Bank) have no such charges.
The verdict
Monzo is by far the most popular challenger bank in the UK, and for a good reason. It's super easy to use, set up and manage, and the app is colourful and fun (as long as you can live with the loud, judgemental sound it makes every time you spend money!).
The only real drawback is the limit on free ATM withdrawals abroad, which is quite low compared to Starling's. For most people this won't really be an issue, but if you are a bit of a globetrotter and often travel to countries where cash is still king, you might want to consider the alternatives. Also, while Monzo is working to expand its range of features and products, don't expect the level of choice of a traditional current account (no credit cards or insurance, for example).
All in all, Monzo is great if you're looking for a mobile-first current account with almost no fees, a slick user experience and a young and fresh vibe. Whether you're planning on using it as a primary current account for your day-to-day finances or as a secondary account when you travel, it does the job quickly, efficiently and with a degree of cheerfulness.
Frequently asked questions
Back to top
Banking app ratings
★★★★★ — Excellent
★★★★★ — Good
★★★★★ — Average
★★★★★ — Subpar
★★★★★ — Poor
The customer satisfaction score ("You say") is based on a survey of 1,941 customers carried out in December 2020.
We show offers we can track - that's not every product on the market...yet. Unless we've said otherwise, products are in no particular order. The terms "best", "top", "cheap" (and variations of these) aren't ratings, though we always explain what's great about a product when we highlight it. This is subject to our terms of use. When you make major financial decisions, consider getting independent financial advice. Always consider your own circumstances when you compare products so you get what's right for you.
More guides on Finder