Get Going travel insurance review
A specialist in medical travel insurance, Get Going will cover a range of conditions. Here's our analysis.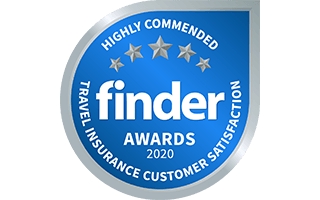 Discounted premiums for families and couples.

No cover for air miles used to pay for a cancelled trip.
Who is Get Going?
Get Going is a travel insurance provider that specialises in covering people with a range of medical conditions. You can get different types of cover and there are three levels, from Basic to Premier.
Get Going is the trading name of Travel Insurance Facilities Plc (tifgroup).
What are my policy options?
Get Going offers a few types of travel insurance, as well as extensions to policies. Below we've briefly summarised each policy:
Get Going single trip travel insurance is perfect for a one-off holiday or a short getaway.
Features of the policy include:
Doctor-led 24/7 emergency assistance
More than 80 activities covered
Available for UK trips longer than 3 days
Caters for groups of all sizes and shapes
Get Going Multi Trip is typically a policy for 12 months for travellers between the ages of 17 and 79, which covers an unlimited number of trips in that time.
Features of the policy include:
31 days cover per trip
Kids go free on family policies
Worldwide cover available
Discounts for families, couples and single parents
The Longstay policy is intended for trips longer than 94 days, and is available to anyone under the age of 55.
Features of the policy include:
Travel for up to a maximum of 558 days
Cover for multiple destinations across the globe
Cover is available for working abroad
All medical conditions considered
Get Going's backpacker policies are intended for travellers between the ages of 17 and 35, and offer cover for up to 18 months of continuous travel.
Features of the policy include:
Travel for up to 18 months
Cover for multiple destinations across the globe
Cover for lost or stolen cash
Cover for lost, stolen or damaged personal possessions
Get Going offer a range of extensions to their policies, so you can cater your cover for your needs. Some of the extensions are:
Wintersports extension
Cruise extension
Gadget extension
Carer's travel insurance
What level of cover should I get?
Get Going offers three levels of cover on single trip and multi trip policies. As you would expect, the policy payout amount generally increases and your excess decreases as you move from Basic to Premier cover.
Basic. Get Going's Basic level of cover is intended for travellers on a budget or looking for minimal, but sufficient, coverage. Although the more affordable option, those that go for a Basic level of cover sacrifice cover for things such as if your passport is lost or stolen on your trip.
Standard. Get Going's Standard policies offer slightly more coverage than the Basic level of cover and as a result is slightly more expensive although cheaper than Premier. Whilst it provides cover for losing your passport, Get Going's Standard policy levels still offer limited coverage.
Premier. Get Going's Premier policies offer the most comprehensive level of cover for travellers and the lowest excess costs. As it is the most comprehensive it is also the most expensive coverage you can get. If you're someone you would rather have total peace of mind when it came to travelling abroad then a Premier policy is probably what you're after.
What is my excess?
An excess is the amount of money you contribute to each claim you make before Get Going will pay out.
The amount of your excess will depend on which policy level you have and the nature of your claim. Check your policy schedule to see the full details.
What is the Get Going claims process?
To make a claim with Get Going, the first thing you will need to do is send in a fully completed claims form. Get Going aims for a turnaround time of 10-15 working days from the receipt of the completed claims form.
If you have any queries, call Get Going on +44(0)203 824 0705 and press 3 to contact Travel Claims Facilities (TCF).
If you need emergency medical assistance, call the 24/7 doctor-led helpline on +44(0)2038 296 745.
Get Going pros and cons
Pros
Specialists in medical travel insurance – covers thousands of medical conditions.
Optional extras including winter sports, cruise, carers and gadgets.
Discounted premiums for families and couples.
Choose from a number of policies and cover levels.
Kids go free on family policies.
Highly commended in our 2020

Finder Customer Satisfaction Awards with a score of 4.5 stars out of 5.
Cons
Limited cover with Basic policies.
---
Our verdict
Get Going scored 4.5 stars out of 5 in our 2020 Finder Customer Satisfaction Awards. We've also given it a highly commended badge as customers find Get Going easy to use, with insurance policies coming at an affordable price.
Don't forget to do a little research around the travel insurance that best suits your needs and then compare the deals on offer.
Travel insurance ratings
★★★★★ — Excellent
★★★★★ — Good
★★★★★ — Average
★★★★★ — Subpar
★★★★★ — Poor
Our customer satisfaction scores ("Customers say") are based on a survey of 750 customers carried out in December 2019.
The offers compared on this page are chosen from a range of products we can track; we don't cover every product on the market...yet. Unless we've indicated otherwise, products are shown in no particular order or ranking. The terms "best", "top", "cheap" (and variations), aren't product ratings, although we always explain what's great about a product when we highlight it; this is
subject to our terms of use
. When making a big financial decision, it's wise to consider getting independent financial advice, and always consider your own financial circumstances when comparing products so you get what's right for you.