Starling vs Monzo
We take a closer look at two challenger banks making waves in digital finance: Starling and Monzo.
Digital banking deals
In recent years the rise of "challenger banks" have changed the face of banking. These mobile-only banks, with no physical branches, have lured in increasing numbers of customers by making online banking far slicker and easier.
There are a number of reasons people are turning away from high street banks and towards mobile ones like Monzo and Starling. Both apps act more as personal finance assistants than as old-fashioned banks, giving you intelligent reports and insights into your spending habits.
On top of that, both of these digital banks offer fee-free spending abroad, visually appealing graphics and real-time spending notifications. So, there's no waiting about for contactless payments to show up in your account.
Compare Starling and Monzo side by side
Name
Starling Bank
Monzo
Fees and charges
Free
Free
Delivery speed
Between 3-5 working days
Between 2-7 working days
Payments
Pay via bank transfer or using PayPal or Google Nearby
Pay via bank transfer or send instantly to other Monzo account
UK ATM withdrawals
Free
Free
Spending insights
Insights lets you compare spending between different merchants
Spending tracker provides a breakown of how much you've spent and where
Categories
10+ categories
10+ categories, regularly updated
Direct debits
Yes - future Direct Debits shown as alerts
Yes - future payments shown in homefeed
Top up
Via bank transfer, standing order, or have salary paid in
Via bank transfer, standing order, or have salary paid in
Freeze your card
Yes: touch of a button in app
Yes: touch of a button in app
Alerts
Real time notifications about any account activity. Starling alerts you if you have insufficient funds to cover direct debits.
Monzo's Targets sends notifications to warn you if you're spending too fast. Dashboard changes from green to orange to red to indicate overspending.
Interest
0.05% on up to £85,000
Marketplace with 8 savings accounts both fixed rate and easy access, £500 minimum deposit.
Savings goals
Create different spending goals and protect money from daily spending
Monzo pots let you put money aside, protected from your daily spending
Visualisation
The Pulse circle graph shows you how much you have spent each day in real time and on what.
Monzo uses a monthly graph and a pie chart to show the trajectory of your money, and how it is broken down
Foreign ATM withdrawals
Free
£200 free monthly

Foreign transactions fee
No fees
No fees
Go to site
More Info
More Info
Starling vs Monzo: opening an account
For both, the application process takes less than 5 minutes and doesn't require any paperwork.
Download the app on your phone.
Take a photo of some ID, and enter a name and address, and record a short verification video to prove your identity.
With Starling, you can start paying for things straight away through Apple Pay and Google Pay. Or, wait 2 or 3 three business days before the card arrives. When it does, you can set up Samsung Pay, Garmin Pay and Fitbit pay too.
Monzo: you'll normally have to wait 2-7 days for the card to arrive. Lots of people get their card the next day. You can start tinkering with your account straight away. You can link Monzo to Apple Pay or Google Pay before your card arrives.
Which is the best for going abroad?
They're very similar and great for travelling fee-free, but with one key difference: with Monzo, there's a £200 limit on free cash withdrawals abroad – after which 3% is charged.
Starling's ATM withdrawal limit is £300 a day, and this applies both at home or abroad. So, Starling might just be better for those looking for a bit of extra cash.
Other than this, they both offer the MasterCard exchange rate, and their options to temporarily freeze your card in your app could just be a life saver abroad.
Getting an overdraft
Starling and Monzo both offer overdrafts. With both, you can apply through the app and, after a "soft" credit check, you'll be offered an overdraft limit. Taking out an overdraft is cheaper with Starling than with Monzo though.
Monzo's new overdraft rates depend on your credit score and can be 19%, 29% or 39% EAR (Equivalent Annual Rate). Being £200 overdrawn for 14 days will cost you £1.34, £1.97 or £2.56 respectively.
Starling applies a percentage charge of 15% EAR instead, regardless of your credit score. If you are £200 overdrawn for 14 days, you will pay £1.08 in overdraft charges.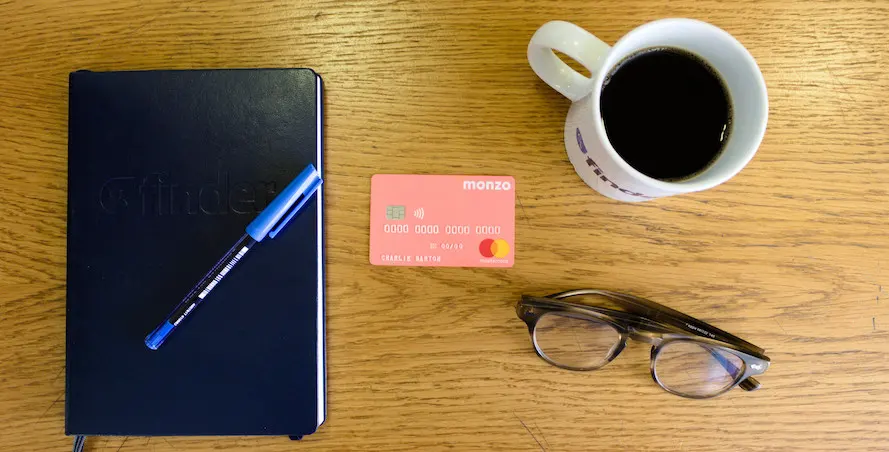 App features
In terms of their app features, there's not a whole lot to separate them. What you can do on their apps is largely the same:
Budgeting categories.Starling and Monzo automatically place your transactions into categories like groceries or eating out, which you set budgets for. The app reminds you if you're close to overspending.
Spending insights.Their apps will give you weekly or monthly reports about which shops or categories you're spending most on. Spending too much of Pret sandwiches? The app will feed you the numbers.
Saving. Monzo 'Pots' and Starling 'Goals' let you stash money away for particular goals. A holiday or Christmas present perhaps. Keeping the money out of sight but within reach could help you save.
Starling and Monzo interest rates
Unlike Monzo, Starling pays an interest on current account balances (0.05% on up to £85,000).
You can get a higher interest rate with Monzo if you open a separate savings account with one of its partners through the marketplace.
Check out Monzo's savings accounts if this sounds like the option for you.
Money held in both banks are covered by the FSCS up to £85,000.
Other app integrations and products
Integrating your bank account with other apps and services is another major plus point of digital banking. Starling and Monzo offer good levels of integration through their "marketplaces".
Both let you connect your card with Apple Pay and Google Pay, for instance. Both apps are now integrated with Yolt and Money Dashboard too, so you can access all of your bank and credit accounts in one place.
They're both constantly developing their "marketplace". Monzo's focuses mainly on savings account and also offers an energy switching service; Starling's features a few investment and insurance products.
Finally, Starling and Monzo offer personal loans, while Starling edges ahead offering euro accounts and fully-developed business accounts, all in-house.
The verdict
Both Monzo and Starling are great options if you want to open an account with a challenger bank. They offer streamlined apps with loads of cool features, can be set up quickly, let you spend fee-free overseas and are constantly expanding their feature range.
The Monzo app is more colourful and fun, but if you often travel abroad, Starling gets the upper hand because of its higher foreign ATM limit. All in all, it's a really, really close call and you'll probably have an excellent banking experience with either of them – so you could always try both and get a feel for both apps!