Starling Bank review
This easy-to-use app and current account is the perfect way to track your spending habits, and it travels well, too.
Zero fees on spending abroad
Lose your card abroad and it might cost £60
Open a free current account
No monthly fees or fees overseas
Apply in minutes, direct from the app
Award-winning current account
What is Starling Bank?
Starling Bank offers a full UK current account that can be opened and managed directly from the app. It aims to make banking easier and more customer-centric and make your finances accessible to you wherever you are.
When you sign up, you get a current account, a debit card and an app that's all about helping you understand where your money goes, budget and save.
How to start using Starling
Download the app
Create an account by providing your name, date of birth, email address and home address
Verify your identity through the app using a selfie video and photo of your ID
Wait to be approved (this usually only takes a few minutes)
Once approved you can link the account to Apple Pay or your Google Wallet, to start spending immediately
Receive your physical Mastercard debit card in the post within 3-5 days
Link this card to the app and start spending with it
How does Starling Bank work?
The app focuses on the necessities, with a minimalist design covering key information. Tabs allow you to access other features including:
Payments. Just as with any payment system, there's a feature for transferring your current standing orders from your old bank.
Add money. For anyone who joined after August 2018, there is no limit to how much you can pay in. You can add as much as you like using "Faster Payments" and online banking.
Spending. Get a record of your transactions, categorised to let you know what you're spending your money on, which gives you an idea on where you can save.
Other key features include:
Spaces. This is basically a digital piggy bank. You set your goal and then squirrel cash away either manually or automatically, encouraging you to save more.
Card. Starling sends you a physical bank card (a Mastercard debit card) when you sign up. From the app, you can activate the card, let Starling know if you're travelling abroad and manually deactivate it if it gets lost or stolen. The debit card itself does all you would expect, from making payments to allowing you to withdraw cash from ATMs. The Starling debit card is also the first Mastercard in the UK to be made from recycled plastic (rPVC).
Overdraft facility. Eligible account holders can be given an overdraft facility.
Marketplace. Starling's partnerships with third-party financial technology companies offer ways to compare insurance, pensions and mortgages.
Physical cash loads. Although there are no Starling bank branches, you can load cash into your account for free up to £1,000 at Post Office branches in the UK.
Starling's personal account customers can manage their accounts through online banking, in addition to their Starling mobile app.
What are Starling Savings Spaces?
Starling operates a system of "Savings Spaces", which are essentially virtual piggy banks where you can keep savings separate from your main balance. The Savings Space sits within the app and you can easily top it up from your primary account. There is also the option to use Starling's Round Ups feature to automatically add to your chosen Space.
You can also spend directly from a Saving Space using Starling's virtual cards. Cards can be assigned to a dedicated Saving Space instead of linking to your main account balance. As a result, payments can be made from a personalised space instead of your primary account, making it easier to stick to a budget.
What is Starling's Bills Manager feature?
As part of its Savings Spaces, Starling has a Bills Manager feature which allows you to pay direct debits and standing orders straight from your personalised space. It's a way to ring-fence money for bills and keep those funds separate from your main balance. You can set up automatic transfers to set money aside, and bills will be paid automatically on their scheduled date.
Is Starling any good compared to other challenger banks?
Starling is definitely one of the best challenger banks out there. The app is quite elegant and streamlined, the lack of fees makes it great for travelling and it's a fully licensed bank, so your money is as safe as with a traditional high-street bank.
However, the most popular banking challengers – Starling, Revolut, Monzo – are quite similar to each other and all offer a solid service. Compared to Starling, the Monzo app is a bit more fun, while Revolut is more about using different currencies at the same time. Learn more about alternatives to Starling.
If you're undecided between two of them, applying for an account is really quick and easy, so you could even try both out for a while and then pick the one that works best for you.
In a boost to its green credentials, in October 2020 Starling announced that it would be planting a tree for every successful new personal or business customer referral. The bank followed this up in March 2021 with the introduction of the UK's first recycled Mastercard debit card. Made from 75% recycled plastic (rPVC), the material is sourced from EU industrial waste from the printing and packaging industries. Only 25% of the card is made up of unavoidable non-recycled elements, including the card's chip and magstripe. Existing customers will receive the recycled debit card when their current one expires and new customers will be issued the card upon joining the bank.
Starling is also a founding member of TechZero, a climate action group of UK tech companies. It plans to become a net zero company, with a target of reducing the carbon emissions from its own operations and supply chain by one third by 2030.
Can I travel with the card?
Yes, you can, and using your Starling debit card abroad should be a much less painful experience than with a traditional bank.
Thanks to Starling's mobile nature, it is much easier to keep track of your budget while on the road. Also, charges for spending abroad or withdrawing cash at an ATM aren't an issue since using your Starling Bank card overseas doesn't incur extra fees.
When you pay in a foreign currency with your Starling, money will be converted at the Mastercard exchange rate. And when you withdraw money from an ATM abroad, Starling won't charge you for doing so.
What does the Starling app look like?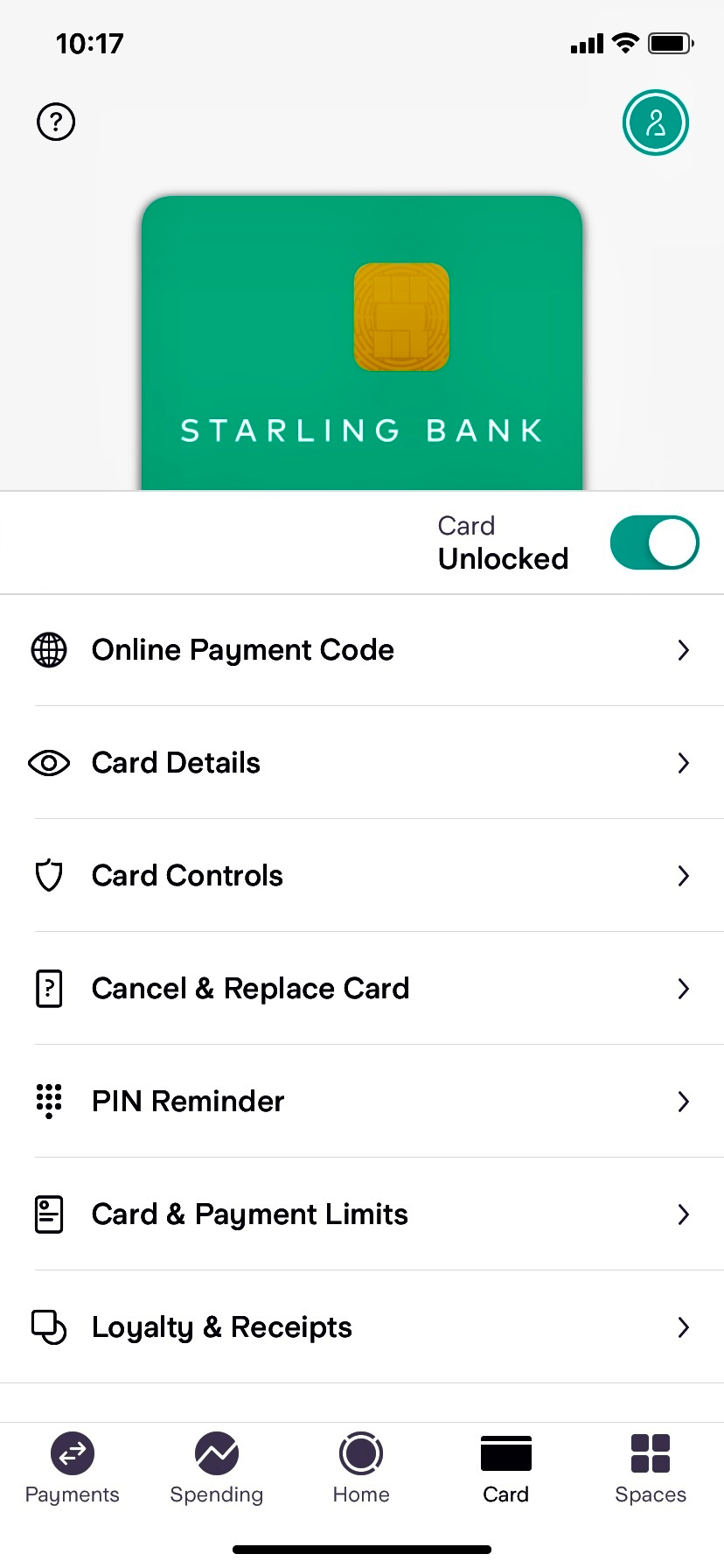 Can you get cashback with Starling?
Starling doesn't offer cashback as standard. Instead, it has partned with cashback app Tail. Part of its Starling Marketplace, Tail gives you access to cashback offers at retailers like FatFace, Ocado and Homebase.
You will need to activate Tail within your Starling app. Once you have activated the service, your Tail and Starling accounts will be linked.
Simply pay using your linked Starling bank card and cashback will be paid directly into your bank account.
Starling Bank overdraft, fees and limits
Starling offers an arranged overdraft option. Interest is calculated daily and charged at 15%, 25% or 35% EAR (variable) based on the customer's credit score. There are no additional charges for unarranged overdrafts.
Starling's fees are competitive:
Current account and transactions. Starling doesn't charge you for basic transactions and banking services. There's no monthly account fee, and card payments and ATM withdrawals come for free both in the UK and abroad.
International money transfers. Starling charges a fee for sending money abroad, which depends on the receiver's country and the amount of money transferred.
Cash loads. Depositing and withdrawing cash for personal current account holders is free at your local Post Office.
Starling Bank's interest rate
Starling Bank pays 0.05% on up to £85,000.
This is relatively uncommon among banking challengers. Revolut, for example, pays no interest at all; and with Monzo, you only get interest if you open a savings account with one of Monzo's partners.
However, if a considerable interest rate on your balance is what you're looking for, you may be better off with a traditional bank – some traditional current accounts offer up to 2% on balances up to a set amount.
Starling Bank's euro accounts
If you have a Starling personal account, you can also open a euro account alongside it for free. If you want to convert your euros into pounds, or vice versa, you'll receive the current exchange rate with a 0.4% conversion fee on top.
What is the Starling Kite debit card for kids?
Starling Kite is a kids' debit card and account for 6-16 year olds. It costs £2 per month and is linked to the parent's personal (or joint) Starling account.
The card has the child's name printed on it, and they can use it to spend online, in-store and to withdraw cash from ATMs (up to a maximum of £100). If the Kite debit card is lost or stolen, it can be locked from the adult's Starling account.
Parents can also use their Starling banking app to allocate funds (such as pocket money) to their kid's account and then monitor their spending. Parents receive notifications whenever their child spends money, and parental controls within the app mean that they can limit specific functions such as online payments and ATM withdrawals, or set a daily transaction limit.
There are no fees for using the card abroad, which is a big plus. There is also a dedicated app for your child to use as well.
Learn more about this new kids' debit card in our Starling Kite review.
Is Starling safe to use?
With a relatively new bank like Starling, it's natural to worry if your money will be safe. One major question is: what if the bank goes bust? Would you be covered?As Starling is covered by the Financial Services Compensation Scheme (FSCS), you would be protected up to £85,000.
If you fall victim to fraud, Starling is regulated by the Financial Conduct Authority and has adhered to a new voluntary industry code called Contingent Reimbursement Model (CRM) code. This not only means that in most cases it has to refund any unauthorised payments made from your account, but that it will also refund you if you're tricked into sending money to a scammer voluntarily (for example because they pretend to be part of your bank's security team). The exception is if you're negligent.
Starling's app and card also have several security features to protect your account:
Your finances are secured behind a passcode and password and completing your registration requires video and photo ID.
If you ever lose your bank card, you can immediately deactivate it with a push of a button in the app, and Starling's customer service team is there whenever you need it.
A live record of your transactions and home screen notifications means you are alerted to any strange payments immediately.
| | |
| --- | --- |
| Live chat support | 24/7 live chat support available in the app and on the website |
| Telephone support | In the UK dial: 0800 0234 617 and from abroad dial: +44 20 7930 4450 |
| Email support | Email: help@starlingbank.com |
| Touch login | |
| Face ID | |
| Voice ID | |
| Closing your account | Go through the app to contact the customer service team to close your account |
| Order replacement card | Order in the app, card can be re-added to Apple Pay or Google Pay as soon as order is confirmed |
| Freeze card from app or online banking | |
| Report card lost or stolen | Yes, through the app |
| Cancel direct debits | Cancel direct debits in the app |
Starling reported its first full year of profitability in the financial year ending 31 March 2022. It recorded a pre-tax profit of £32.1 million, compared to a pre-tax loss of £31.5 million in the period leading up to 31 March 2021. Starling CEO Anne Boden said "With our first full year of profitability, we've placed ourselves firmly in a category of one. As an innovative digital bank with a sustainable business model and a strong balance sheet we are generating our own capital and we stand apart from both the old banks and other challengers."
Starling customer reviews
Starling was the winner in our 2023 Banking Customer Satisfaction Awards, receiving 5 out of 5 stars from customers in our survey, with 94% of its users saying they would recommend the brand. Its current account holders particularly praised the app's tools and ease of use. Here's what some of those Starling customers had to say in our survey:
"They treat customers with the highest respect"
"Love this bank so far, love the updates and the notifications"
"They treat customers with the highest respect"
"Keeps my money safe and secure and ensures my account runs smoothly"
Starling Bank also has an average score of 4.9 out of 5 stars in the App Store, from more than 380,000 reviews. Over on the Google Play Store, it has a rating of 4.8 out of 5 stars, based on reviews from 94,000 Android app users (January 2023).
Case study: Jon found it fast to set up his account via Starling's app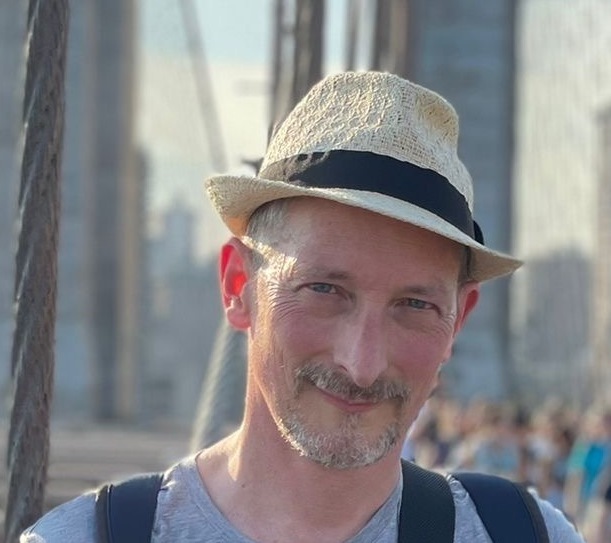 Jon Duffy
London

I chose this account because my wife told me it was really slick to use (she has Starling as well). I wanted a debit card I could use abroad without fees, and I wanted to be able to collect donations from work colleagues for a leaving present for someone in the team. The app allowed me to do that really easily.

If there's one thing you'd tell a friend who's thinking of getting this, what would it be?
There aren't any branches, but how many times do you really need to go into a bank branch? It was fast and easy to set up the account just on the phone.
Pros and cons of Starling Bank
Pros
Free UK current account, usually up and running in a matter of minutes. Card delivered within a week.
Slick mobile app packed with budgeting and saving features, including spending categorisation and saving spaces.
Interest rate paid on current account balances.
Easily split the bill with the Starling Bank 'settle up' feature.
Fee-free spending abroad, plus fee ATM withdrawals overseas.
Starling's "Marketplace" offers pensions, mortgages and insurance from other financial companies.
Overdraft are available and fees are easy to understand.
Safe and secure, fully licensed by the FCA and PRA.
Cons
While Starling offers a wide range of services, it's still a fairly new bank, so does not yet offer more complex services such as mortgages, but some products are available through the Starling Bank Marketplace.
There aren't any bank branches, but you can use the Post Office to deposit and withdraw cash. You won't get face-to-face communication with a Starling Bank staff member, though.
Our verdict
Some of us at Finder have had Starling for a while and we're all quite impressed. The app looks a bit more serious than Revolut's or Monzo's, but is user-friendly and efficient. Starling is also constantly expanding its range of features.
Starling is especially competitive for travelling abroad – as well as not charging any fees for foreign card payments, there are also no charges for taking money out of ATMs. And you can withdraw up to £300 worth of foreign currency a day.
All in all, Starling a great bank for people who want a solid current account that comes with practically no fees and an excellent mobile experience. Get started by downloading the app.
Frequently asked questions
Banking ratings
The customer satisfaction score ("Customers say") is based on a survey of 2,944 customers carried out in December 2022.
We show offers we can track - that's not every product on the market...yet. Unless we've said otherwise, products are in no particular order. The terms "best", "top", "cheap" (and variations of these) aren't ratings, though we always explain what's great about a product when we highlight it. This is subject to our
terms of use
. When you make major financial decisions, consider getting independent financial advice. Always consider your own circumstances when you compare products so you get what's right for you.