Finder is committed to editorial independence. While we receive compensation when you click links to partners, they do not influence our content.
What are blue chip stocks?
Investing in well-known and well-established companies can be a good strategy for long-term performance and regular dividends.
Blue chip stocks can offer steady returns even in volatile markets. You can find blue chip stocks across various sectors including technology, banking and oil.
What are blue chip stocks?
Blue chip stocks are stocks of well-established companies with reliable track records. They're considered valuable and capable of thriving in both strong and weak economies. While there's no standard definition for blue chip stocks, they tend to share certain characteristics.
Pays dividends. Dividends are regular payments made to shareholders from a company's revenue. Because they're well established, blue chip companies pass some profits to shareholders instead of reinvesting it into their business.
Large market capitalization: Many blue chip stocks come from large-cap companies. These are companies with market valuations of $10 billion or more.
Part of a major index: You can find blue chip stocks in major market indexes like the S&P 500 and the Dow Jones Industrial Average. To diversify your portfolio, you can invest in ETFs and index funds that track these indexes.
How to buy blue chip stocks
Choose a stock trading platform. The right platform will depend on your needs and investing experience.
Open your account. You'll need an ID, bank details and Social Security number.
Confirm your payment details. You'll need to fund your account with a bank transfer.
Find the stock you want to buy. Search the platform and buy your shares.
Our top pick for
Beginners
Our top pick for
Building a portfolio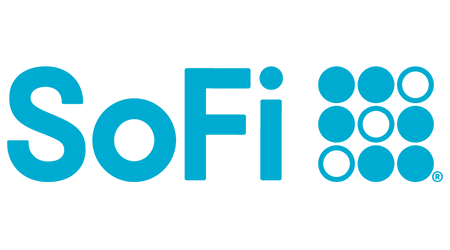 Our top pick for
Social investors
What are America's blue chip stocks?
There's no official list of blue chip stocks, but the Dow Jones Industrial Average, which lists 30 companies, is a good place to start. These are often regarded as some of the most valuable and reliable heavyweight companies in the country. However, many others listed on the New York Stock Exchange or the NASDAQ would also qualify as blue chips. They're all companies with a history of providing steady returns and minimal volatility to investors, and they're spread across a range of market sectors.
Technology companies
The FAANG tech stocks have earned a reputation for driving much of the success of the big bull run throughout the 2010s; FAANG stands for:
Other top blue chip tech stocks include:
Banking and financial services
Companies in the financial sector make up a portion of the blue chip classification. These companies tend to have a history of providing large dividends and include the major banks and credit card companies, including:
Manufacturing
The products and brands that many Americans across generations have grown up knowing sustained growth and success, including:
Oil, gas and mining
As drilling and mining is a cyclical industry, natural resource companies have the potential to provide high capital growth. But these can have a reputation for underperforming when the mining industry experiences a downturn. Having said that, companies that have diversified businesses firmly established across the nation include:
Retail and restaurants
Retailers tend to offer medium-sized dividends to shareholders, and are popular choices among investors. Also, popular restaurant chains have loyal followings that provide consistent profits. Blue chip stocks in this sector include:
One-click blue chip investments
For instant diversification, you can buy a basket of blue chip stocks in a single transaction through an index fund or exchange-traded fund (ETF). Here are some popular examples.
DIA: An ETF that tracks the 30 blue chip companies in the Dow Jones
SPY: An ETF that tracks the S&P 500 index, which includes stocks from the 500 largest publicly-traded companies in the country.
QQQ: An ETF that tracks the NASDAQ 100, a tech-leaning index holding stocks from 100 of the biggest NASDAQ-listed companies.
NOBL: An ETF of 50 companies that have increased their dividends every year for more than 25 years
Why are blue chip stocks popular?
Many successful long-term investors like Warren Buffett have advocated for investing in companies that you believe will be around for a generation or two. The kind of stocks that tend to fit that description are the blue chips that continue to show steady returns. This may translate to consistently higher stock prices and consistent dividend payouts.
It's a versatile combination that allows you to either reinvest those dividends and compound the earnings over time or take the dividends as a stream of passive income. On top of that, holding investments for the long term also has some significant tax advantages.
As for intangible benefits, investing in a company you can rely on for the long haul takes away much of the anxiety or worry an investor feels about a volatile stock market.
Should you invest in blue chips or small caps?
It depends on your investment goals. Blue chips tend to be long-term investments or ongoing income streams of dividends. While many blue chip stocks can be safe investments, their value doesn't usually rise much over a short time unless you can scoop them up at a discount during a downturn.
Investing in potentially riskier businesses, or small caps, may earn you higher returns with a faster turnaround. When you invest in a small company, you're betting that it will become the next big thing and multiply your investment as it quickly grows and scales up its revenues.
Blue chip stocks vs. penny stocks
Blue chip stocks. A blue chip stock is usually an older, well-established company that has a reliable history of weathering against tough times and of growing profits.
Penny stocks. Penny stocks tend to trade for less than $5 and are also called micro-cap stocks or small-cap stocks. The idea is to buy them for a low price with the potential for big profits later. They're generally riskier, speculative stocks.
The benefits of dividends
Dividends are most commonly paid quarterly, though some companies pay them twice a year, annually or irregularly.
There's a class of blue chips known as the dividend aristocrats that have not only consistently paid dividends, but often rose the percentage dividend payouts. To meet the ranks, companies must deliver at least 25 consecutive years of dividend hikes. As of December 2020, the dividend aristocrats include 3M, Coca-Cola and Colgate-Polamlive.
Compare stock trading platforms to buy blue chip stocks
*Signup bonus information updated weekly.
Tips when choosing stocks
Consider your investment goals
Are you looking for stocks to provide capital growth or to generate income? Smaller companies tend to focus more on growth and therefore reinvest profits into their business, while larger companies tend to pay dividends to their shareholders.
Make a plan
Before you start buying or selling stocks, consider exactly what you want to achieve with your portfolio and in what timeframe. Once you have a plan in place, you can then choose your investments accordingly.
Research before you buy
Looking at a company's annual reports, earnings and historical performance helps you form a clear picture of whether it's a sound investment. If you're using an online trading platform, you could access research reports and buy or sell recommendations for various companies.
Diversify your portfolio
Demographics, trends and events affect businesses in different ways, so a portfolio that covers a wide range of business types, industries and locations provides a better balance of risk and return than a portfolio that's concentrated in just a few areas.
Don't panic
Stock markets fluctuate all the time — look at historical graphs charting the performance of the S&P 500 for proof of this — so don't panic at the first sign of stock prices heading south. Stick to your plan and ride out any dips or down periods.
Consider other investment options
Depending on your investment goals and appetite for risk, consider other options, such as real estate, bonds, options, precious metals, life insurance, mutual funds and exchange-traded funds (ETFs). ETFs are bought and sold in brokerage accounts just like stocks, but they allow you to gain exposure to an index or other group of underlying assets.
Disclaimer: The value of any investment can go up or down depending on news, trends and market conditions. We are not investment advisers, so do your own due diligence to understand the risks before you invest.
Bottom line
Investing in the stock market is never risk-free, but blue chip stocks are historically less volatile. If you're interested in buying stocks, compare investing platforms to find one with fees and minimums that match your investing goals.