How do I transfer money overseas from my bank account?
Secure options to send money across borders.
Differences in exchange rates and transaction fees between companies can have a huge impact on how much you pay to transfer money overseas, especially for large transfers.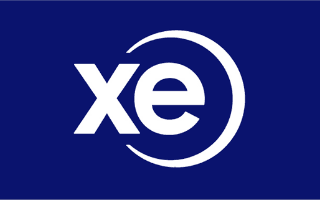 XE Money Transfer
XE specialises in a wide range of foreign currency solutions and offers an affordable solution when you need to send money overseas.
Send money to 60+ countries.
Competitive exchange rates that are often better than banks.
Transfer up to US$500,000 online.
See exchange rates in real-time.
Compare your bank account money transfer options below
Table: sorted by a combination of service offering and the amount your recipient will receive
Disclaimer: Exchange rates change often. Confirm the total cost with the provider before transferring money.
How can I transfer money overseas from my bank account?
There are several ways you can use your bank account to fund an overseas money transfer, including:
Bank transfers. Visit your bank or use its online or mobile banking portal to send an international transfer. You need your recipient's name and bank account details.
Online money transfer companies. Send money overseas using an online money transfer company like Azimo or TransferWise that lets you fund transactions through your bank account.
PayPal. Use your PayPal account to fund your transfer to more than 100 destinations around the world.
Which transfer option could I choose?
The right transfer option for you will depend on your circumstances and other factors, including where you're sending the money and the urgency of the transfer.
Bank transfers. Convenience is the main benefit. You don't have to register for any new accounts and you can send from your mobile banking site. However, banks charge higher fees and offer lower exchange rates.
International bank draft. An alternative for sending a cheque, a bank draft converts your money to the currency you want and sends it to the recipient. However, you'll pay a transfer fee. And since this is done through the mail, it can take four to six weeks to complete the transaction.
Online money transfer companies. You'll find competitive exchange rates and lower fees than banks and quicker transfer times. However, some companies impose minimum and maximum transfer amounts. And some limit the countries they send to.
MoneyGram. MoneyGram's online bank-to-bank transfer service offers fast and secure transfers to overseas bank accounts. The downside is its exchange rates are not as good as online transfer companies.
PayPal. This online transfer service provides access to more than 100 destinations worldwide. However, the more money you send, the more you'll pay.
How do I send an international transfer straight from my bank account?
Sending money straight from your bank account to an overseas bank account is easy through online banking. The exact process varies depending on the financial institution you're sending the money from, but generally you'll complete the following steps:
Step-by-step guide
Log in to your Internet banking account.
Click on the link to make a payment.
Click the relevant link to create a new payee/recipient.
Enter the country where you want to send the transfer.
Enter the details of your recipient's bank. Depending on the country you're transferring money to, you may have to enter an IBAN (International Bank Account Number) or SWIFT code/BIC.
Enter your beneficiary's account name and number.
Select the account you will be transferring the funds from.
Provide full details of your transaction, including the amount and currency you're sending. You can also specify whether this is a one-off transfer or whether you're scheduling a recurring transfer.
Review the transfer details and submit your transaction request.
Once you've submitted your transfer request, it usually takes between two and five business days for the transaction to be completed.
What is the cheapest way to send money overseas from my bank account?
Sending money online is usually cheapest with an online transfer specialist. These foreign exchange providers trade in large volumes of foreign currency and because they're online businesses they have fewer overhead costs than banks and other bricks-and-mortar businesses. As a result, online transfer companies can offer better exchange rates than banks and other transfer providers. Compare providers to see just how much more value for money you can get.
How do I compare international money transfer providers?
There are several factors to consider when choosing a company to handle your next international money transfer, including:
Exchange rate and fees. Make sure you compare both. While one company might offer a great rate, it might charge higher fees. On the other hand, a company offering a poorer rate may have low or zero fees. Equally, some providers will waive fees if you're transferring a larger amount.
A range of transfer destinations. Check to see whether the country you want to transfer your money to is supported by the transfer provider you select, as well as whether you can send money in the currency you want.
Transfer time. If the recipient needs money in a hurry, your best bet is to look for a service that allows cash pick-ups because this method normally takes no more than a day. Bank account transfers can take between one and five business days.
Transfer options. Some providers offer one-off transfers only, while others allow you to place forward contracts and limit orders to lock in the exchange rate you want and get better value for money.
Reliable customer support. If you ever have a problem with a transfer or need help with your transfer, look for a service that offers customer support that works for you, either through its FAQs, phone, email or online chat.
---
Bottom line
It's easy to transfer money overseas from a bank account, but it's important to compare your options first to ensure you get the best value for your money.