Finder is committed to editorial independence. While we receive compensation when you click links to partners, they do not influence our opinions or reviews. Learn how we make money.
Pay Overseas Tuition Fees with an Overseas Transfer
Take care of your overseas school tuition fees with secure and cost-effective international money transfers.
It's often said that travel is the best education you can get, and for many Americans, combining a year or more of overseas with their university studies offers a fascinating and exciting way to see the world and learn more at the same time. From Canada and the U.K. to Asia, Australia and countless destinations around the world, studying abroad gives American students access to some of the world's best educational institutions.
But studying overseas means that you'll also need to contend with paying tuition fees, whether you're covering them for yourself or for your children. In the past, sending money overseas was quite a costly procedure and you needed to be willing to take a financial hit to get your funds to where they needed to go. But thanks to the emergence of specialist online money transfer services, paying overseas tuition fees is more affordable than it's ever been.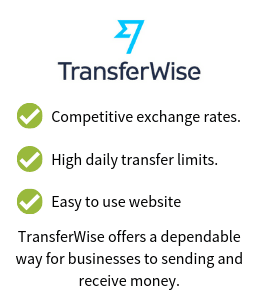 Why we like: TransferWise
When you need to send money, benefit from competitive mid-market exchange rates and straightforward fees with TransferWise.
Transparent fees and very low exchange rates.
Next-day delivery to your loved ones or businesses.
Trusted the world over, with five-star ratings on Trustpilot.
Compare international money transfer providers
What are my options for paying overseas tuition fees?
Bank transfers. Bank-to-bank transfers may cost more than other options, but they are a secure way to send money.
Online money transfer providers. A reliable online money transfer company can offer fast and cost-effective transactions.
Money transfer companies with cash pickup options. MoneyGram and Western Union are the world's two largest providers of this service.
Checks. International checks can be obtained from U.S. banks and then sent overseas.
How do international money transfers work?
An international money transfer allows you to send money to a recipient overseas. Generally, a transfer involves you providing funds to a bank or an independent transfer provider, which then sends the money to your recipient in another country. This can be done in person, over the phone, through a mobile app or online. You can use cash, a credit or debit card, or transfer funds from your bank account, which will then either be deposited into your recipient's bank account or mobile wallet, or made available as cash for them to pick up at a location in their country.
Case study: Gerry finds the best deal to pay for his tuition
Gerry has a $1,900 bill to pay at his son's prestigious U.K. university. After discussions with Michael, his son, Gerry has decided to send the necessary funds to Michael in the U.K., and Michael will then take care of paying his university tuition fees. At first Gerry considers sending the funds through his bank — he's already got a checking account set up with all the money — but when he sees the exchange rate they're willing to offer him he decides to shop around for a better deal. He compares two well-known money transfer companies to see which one will get his business.
| | Money transfer company 1 | Money transfer company 2 |
| --- | --- | --- |
| Exchange rate | 1 USD = 0.65459 GBP | 1 USD = 0.6523 GBP |
| Transfer fee | $4 | $10 |
| Transfer method | Online bank account transfer | Online bank account transfer |
| Processing time | 1-3 days | 3 days |
| Amount received (in GBP) | £1,243.72 | £1,239.37 |
As you can see, not only does using the first company save Gerry $6 in transfer fees, it will also ensure that Michael receives more than £4 extra.
Back to top
How do I choose the best international money transfer service?
If you're eager to find the best value for your money when you send funds overseas, keep the following features in mind when weighing the merits of money transfer providers:
Transfer fees. Compare the transaction fees charged by each company to see how much extra you'll have to pay to send funds overseas. Keep in mind that some providers will waive their fees if you transfer a large amount.
Exchange rates. What might sound like a minor difference in exchange rates can have a big impact on the amount of money your beneficiary receives. Shop around for a provider that consistently offers better rates than the competition.
Available currencies. Some companies will only allow you to transfer a few select currencies to a handful of countries; others will offer coverage to a much larger list of destinations.
Transfer times. How quickly will your recipient be able to access the money you send?
Convenient options. If you need to make a number of payments, does the provider allow you to schedule them all in advance? Can you save money by using limit orders or forward contracts to access the best exchange rate?
Transfer methods. Can you place transfers online, over the phone, via a mobile app, and/or by popping into a branch?
Receiving methods. Will the funds be sent to an overseas bank account or will your beneficiary need to visit a transfer branch to pick up the cash?
Customer support. If you ever need help with a transaction, will you be able to access the assistance you need? When will it be available and is it offered online, over the phone, or via email?
Frequently asked questions