Finder is committed to editorial independence. While we receive compensation when you click links to partners, they do not influence our opinions or reviews. Learn how we make money.
Same currency international money transfers
Exchange rates are not a factor when sending a same currency international money transfer, but be aware of fees.
When you're sending money overseas, in many cases you'll need to convert the funds you send into another currency, such as U.S. dollars into Indian rupees. But there are also plenty of times when you need to send funds in the same currency, such as if you're transferring money to a country where the U.S. dollar is accepted as legal tender — for example, Panama or Ecuador — or sending funds between Eurozone countries. Alternatively, you might simply be looking to send money to friends or family within the United States.
Whatever the reason for your transfer, there are plenty of options to choose from to help get your funds where they need to be. But be sure to compare your choices before deciding on the right money transfer provider for your needs.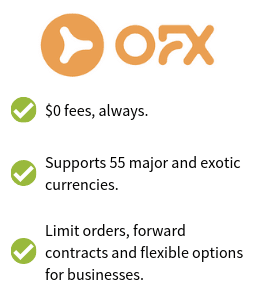 Our pick: OFX
OFX offers flexible transfer options, 24/7 customer support and no maximum limit. Send a minimum of $1,000 per year.
$0 transfer fees. Send fee-free transfers to over 195 countries worldwide.
Flexible options. Choose from forward contracts to scheduled transfers for convenience and flexibility.
Great customer support. Larger transfers get personalized service over the phone.

Compare services to send a same-currency transfer
How does a same currency transfer work?
The process of sending a same currency transfer is quite simple, regardless of whether you're sending money to friends or family or buying something from an overseas seller. The best feature about sending funds in the same currency is that you don't have to worry about finding the best exchange rate, or contending with the extra expense of currency conversion fees. But you will likely incur a transfer fee.
There are plenty of choices available when you need to send a same currency transfer, including banks, specialist money transfer providers, cash pickup transfers and even PayPal. All you have to do is transfer the necessary funds along with a transaction fee to the provider of your choice, and that company can then take care of distributing the money to your beneficiary's bank account or mobile wallet, or making the cash available for collection from a transfer company branch.
Banks across the U.S., including Bank of America and Wells Fargo, can offer secure and reliable international transfers. However, you might be able to find cheaper fees if you use a specialist online money transfer provider, such as OFX or Xoom, which allow you to send funds to your recipient's overseas bank account.
If you'd like to send cash that can be picked up from a transfer branch, Western Union, MoneyGram or Ria can help.
Back to top
How do I compare money transfer providers?
Make sure to consider the following features when you start comparing the merits of transfer companies:
Transfer fees. How much will each company charge you per transfer? Will you need to pay more for special transfer types, such as urgent transfers, and will you be able to minimize fees by sending a larger amount?
Methods available. What options does the company offer in terms of sending your transfer? Are the funds sent via bank account deposit, mobile wallet deposit or cash transfer? How do you actually place a transfer request – is it done online, over the phone or in person?
Transfer processing times. If time is a factor, how long will it take until your beneficiary is able to access the money you send?
Transfer options. Do you have the ability to schedule repeat payments in advance?
Pickup options. How will your beneficiary be able to access the funds? If you're sending the money through a cash pickup transfer provider, how many branches do they have that are conveniently located for you and for your recipient?
Customer support. If you have a question or experience a problem with a transfer, how will you be able to access customer help? In addition to an online help center, does the provider offer phone, email and/or live chat support?
Back to top
What are the pros and cons of same currency transfers?
Pros
Forget exchange rates. When you send the same currency overseas you don't have to worry about hunting for the best exchange rate and how much money you will "lose" in the currency conversion process.
Lots of choices. There are heaps of trusted and reputable money transfer providers who can send a same currency transfer for you. Start comparing them at finder.com today.
Hassle-free. While sending money overseas might sound like a complicated prospect, it's actually quite quick and easy to do online, without having to leave your home.
Cons
Fees apply. You'll need to pay a fee in the vast majority of cases when sending money overseas, so searching for a provider with an affordable fee structure is a good idea.
Back to top
Are there any risks to be aware of?
Not checking the fees. One common mistake people make when sending funds overseas is neglecting to read the fine print of a transfer to discover all the fees and charges that may be attached. Take a few moments to make sure you're aware of all the fees that apply before you hand over any cash.
Unscrupulous providers. Although the risk of fraud is small, there are some questionable providers out there who cannot be trusted. Make sure you choose a reputable provider that can safely and securely transfer your funds.
Sending money to a particular state in the U.S.?
Frequently asked questions
Read more on this topic