Xoom money transfer review
Learn how this PayPal-owned company can help you move money around the world.
Finder rating
★★★★★
Expert analysis
Money-back guarantee
Doesn't use mid-market rate
Our Verdict
Xoom is PayPal's answer to global money transfers and an easy next step if you already have a PayPal account. Depending on the country, you can even choose how your funds reach your recipient, be it bank account, debit card, cash pick up or even straight to their home. This is what makes Xoom hugely convenient.
However, what you gain in ease is lost on costs as you'll be saddled with Xoom's poor exchange rates and additional transfer fees. And these costs vary widely between currencies and where you're based. All in all, Xoom seems much less appealing when compared to other specialist transfer services.
Xoom fee calculator
Please note: You should always refer to quotes you receive from transfer services themselves directly for exact amounts as they may vary from our estimates.
Why should I use Xoom?
Transfer tracking. You'll receive a text message when your money arrives. Xoom will also email you and your recipient to keep you both informed of the transfer's progress. You can log in to your account any time and track the transaction or call customer service and receive an update from a live representative.
Money-back guarantee. Xoom offers a money-back guarantee to refund your transaction in full if the money you send doesn't arrive at your recipient.
24/7 support. Phone and email support are available 24 hours a day, 7 days a week if you need help with a transaction.
What to be aware of with Xoom
Requires government-issued ID. To send money, you'll need to upload a government-issued ID, such as a driving licence or a passport, plus a recent bank statement.
No live chat option. However, you can call or email Xoom for 24/7 customer support.
Exchange rate markup and fees. Xoom adds a markup on the mid-market rate and charges additional fees.
Xoom's exchange rates and fees
The total cost of a Xoom transfer varies between online and agent locations. But for online money transfers made from the UK, fees depend on the following:
Payment. Paying by bank transfer is the cheapest option while paying by credit card will have higher fees. Additional cash advance fees may also be charged to your credit card.
Recipient's location. Fees depend on where you're sending the money.
Amount. Different fees are charged based on how much you're sending.
Delivery. To send cash, fees are generally higher, while receiving money to a bank account is often less expensive.
You can send money from the UK to over 150 countries using Xoom. Here's an example of the different fees you might see if you sent a £1,000 bank transfer to a recipient in the following countries:
| Destination | Fee |
| --- | --- |
| Bangladesh, India, Pakistan, Philippines, Sri Lanka, Jamaica, Kenya | £0 |
| Australia, Germany, Poland, Spain, USA | £1.99 |
| China, Ghana, UAE, Uganda | £2.99 |
Fees are accurate as of 6 July 2022.
Xoom's exchange rate changes depending on the amount of money you're sending. Use Xoom's fees and exchange rate calculator to see the fees that apply to your transfer destination and amount.
How long does a Xoom transfer take?
Turnaround time on your Xoom transfer depends on how you pay and how the money is received:
Fastest option – nearly instant

Pay for your transfer with a credit card, debit card or PayPal balance. You'll pay more in fees, but your money arrives in as little as 15 minutes, if not instantly. Your credit card might charge you an additional cash advance fee, increasing the cost of your total transfer. Some destinations may take longer to receive money from the UK even when paying by credit or debit card.

Cheapest option – up to 4 business days

Using a bank account to pay for your transfer is often the cheapest way to send money, but it's the slowest. Sending money to your recipient's bank account may also delay the transfer time.
What currencies can I send with Xoom?
Xoom can send to more than 150 countries and territories worldwide. Xoom can be sent from residents in the UK, Canada, the United States and select countries in Europe. Some of the popular currencies that Xoom supports include the following:
Euro (EUR)
Australian dollar (AUD)
US dollar (USD)
Chinese yuan (CNY)
Pakistani rupee (PKR)
Indian rupee (INR)
Kenyan shilling (KSH)
New Zealand dollar (NZD)
What are Xoom's sending limits?
Xoom separates accounts into 3 levels based on how much verification you've given. For UK residents, it looks like this:
Level
24-hour limit
30-day limit
180-day limit
Required information and documents
1
1,000 EUR
3,000 EUR
6,000 EUR
2
10,000 EUR
20,000 EUR
30,000 EUR

Driving licence or passport to verify your identity
Utility bill to verify your address

3
25,000 EUR
50,000 EUR
100,000 EUR

Driving licence or passport to verify your identity
Utility bill or another proof of address and a bank statement
Plus additional information at Xoom's request
Is PayPal Xoom?
Xoom is owned and operated by PayPal. Users in the UK who already have and use PayPal accounts can integrate their existing accounts into Xoom to send money around the world. Recipients of Xoom transfers do not need to create a PayPal account to receive money.
Review of PayPal's fees and how it works
Is Xoom safe?
Xoom's parent company, PayPal, is one of the most well-known payment systems. Xoom has additional measures to protect your money while using the service:
Encryption: Xoom uses 128-bit data security encryption for its entire website.
Regulation: Xoom shares all the same regulations and licences held by PayPal.
Money-back guarantee: Xoom guarantees that your money will be received by your recipient and if it isn't, the transaction will be refunded in full.
Xoom reviews
| | |
| --- | --- |
| Trustpilot | 3.5 out of 5 – based on 22,359 customer reviews |
| Monito | 6.4 out of 10 – based on staff reviews |
Reviews accurate as of 6 July 2022.
Our experience transferring money with Xoom
Here's what we found when we sent live transfers to Mexico and France through Xoom:
We paid low fees and received competitive rates within 2.4% of the mid-market rate on average, with rates updated multiple times a day.
Our transfer to France arrived ahead of schedule and our funds were deposited into our recipient's Mexican bank account within 24 hours.
Xoom's easy-to-use website allowed us to sign up and initiate a transfer in 3.5 minutes.
What payment methods does Xoom accept?
Xoom transfers can be paid for in a few different ways when sent from the UK, including:
Bank account transfer
Credit or debit card
PayPal balance
Each payment method may have different fees depending on your sending destination, but overall paying with a bank account or PayPal balance is the cheapest option.
How do I send money through Xoom?
Before you can send funds with Xoom, you must register for a free account with your personal contact information. You'll need to upload a recent bank statement and a government-issued ID, like a driving licence or passport, if you want to send higher amounts.
Steps to send a money transfer with Xoom
What do you need to send money through Xoom?
Amount to be sent and currency it will be converted to
A valid payment method – credit card, debit card or bank account
The recipient's name, address and bank name and account number
Your phone number and address
Is there a Xoom app?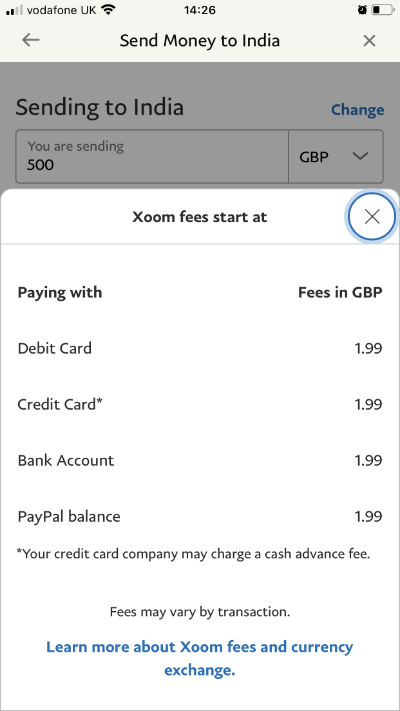 Xoom has an app on both Google Play and App Store. The app makes it possible to:
Quick send. Use existing contacts to quickly send money with a few swipes and taps.
Track orders. The status of your transfer is quickly accessible through the app.
See fees and exchange rates. An in-app fee and exchange rate calculator helps you determine the cost of your next transfer through Xoom.
| Platform | Rating |
| --- | --- |
| Google Play Store | 4.7 out of 5 – based on 243,571 customer ratings |
| Apple App Store | 4.8 out of 5 – based on 945,900 customer ratings |
Ratings accurate as of 6 July 2022
More on the best money transfer apps
Bottom line
Xoom's money transfer options are worth considering when you need to send money overseas from the UK. Just make sure you compare its services with those of a number of other providers before deciding on the right money transfer company to handle your transactions.
How does Xoom compare to other services?
Table: sorted by promoted deals first
Our table below lets you compare services you can use to send money abroad. Compare fees, exchange rates and discounts from different money transfer services, and when you have made your choice, click Go to site.
Frequently asked questions