Time wasted on commercials
How much time do we save by online streaming?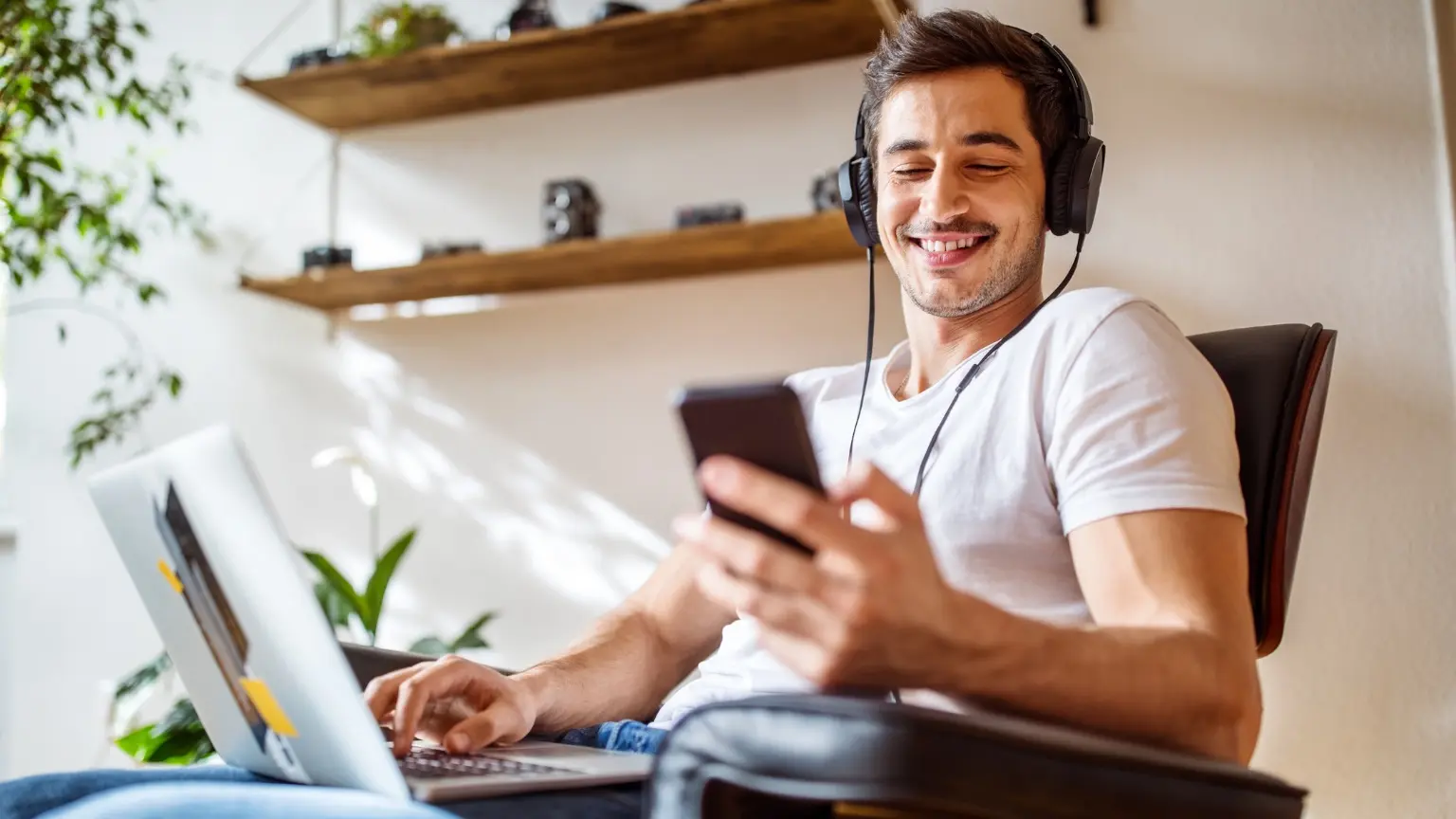 Once you've got your snacks and drinks at the ready, you can park yourself in front of the TV for hours of entertainment. However, commercials and trailers for other movies that you're not interested in can really be a mood killer.
On average, an episode of a TV show is 20–22 minutes long, leaving 8–10 minutes free for adverts. The average Brit watches 19 hours of TV per week, which means 43 minutes is spent watching commercials and trailers for other content. It's no surprise that ad-free streaming services are such a hit! We've dived into the numbers to see exactly how much time we're saving ourselves by watching series and films online.
Quick stats
Ofcom is a government-owned body that controls public broadcasting advertising.
The set limit for TV commercials on non-public-service channels is 12 minutes per hour, excluding trailers for other programmes.
Public service channels (such as such as ITV and Channel 4) are limited to an average of seven minutes per hour.
More than 28 million homes in the UK have a television.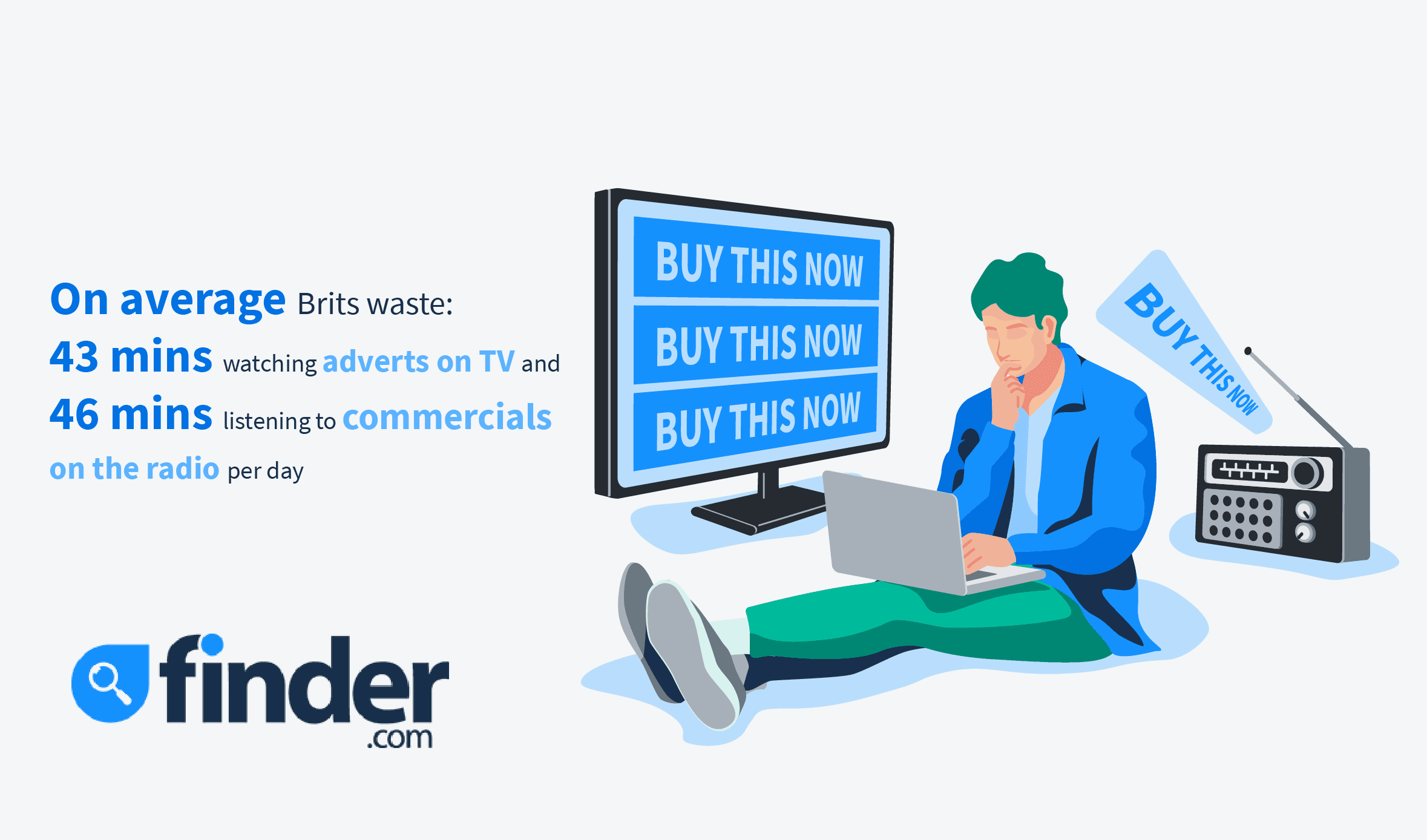 Advertisements on TV
Are you considering joining the 13.3 million homes that have subscribed to an on-demand service where you can watch content without any kind of interruption? Maybe it's about time.
The average Brit spends about 2 hours and 42 minutes in front of the TV per day and spends 43 minutes watching ads and other things that are not the show or film you intended to see. If you're watching TV every day, you're viewing 304 minutes (or just above 5 hours) of commercials and trailers per week, which equals a staggering 263 hours (11 days) per year.
| | Minutes per hour | Percent per hour |
| --- | --- | --- |
| Content | 44 | 26.67% |
| Commercials and trailers | 16 | 73.33% |
Streaming stats
Over 46% of homes in the UK now have access to one of Amazon, Netflix or Now TV streaming services.
More than 13.3 million homes in the UK have at least 1 streaming subscription in 2019.
Netflix is the most popular streaming service in the UK, with 11.47 million subscribers.
Advertisements on radio
While listening to the radio not only do you not get to chose the songs, but you also get a load of talking and commercials. During 1 hour of radio you get on average 16 minutes of non-music. Instead of spending your precious car ride on listening to where to get a windshield replacement, maybe it's worth investing £9.99 in a premium music subscription service.
Brits who listen to radio spend an average of 2 hours and 46 minutes per day doing so, which equals to 46 minutes of commercials and the host talking per day. If you're an avid listener who enjoys the station every day, you get 319 minutes (5 hours and 19 minutes) of non-music per week or 277 hours per year.
Spotify
As of March 2020, Spotify had 286 million users around the world, where 45% of those (130 million) pay for the premium service. The company's user behaviour analysis shows that the average user listens to 1 of the 50 million tracks available on the platform for 3.6 hours per day (25 hours per week) and 44% of all users are using the platform daily.
Spotify's annual revenue in 2019 was £6 billion ($7.3 billion), taking home £1.5 billion ($1.8 billion) in gross profit. It's estimated that each stream is worth £0.0048–£0.0068. This means that Ed Sheeran, who's song "Shape of You" currently holds the record for the most-played song, made approximately £14,548,962.11 from the 2.5 billion listens.
For all media enquiries, please contact
Methodology
Business of Apps
Ofcom
Spotify