Currencies Direct review
Send money in more than 60 currencies and avoid transaction fees.
Finder rating
★★★★★
Expert analysis
Access to forward contracts and other forex tools
No cash-pickup facility
Currencies Direct
has years of experience in the
international money transfers
game, having been established in 1996. It promises to beat the banks and has serviced more than 325,000 personal and business customers to date. Not only is it an online money transfer provider, but it also has a branch presence with 22 branches worldwide. Most of its transfers are fee-free but there is no option for any type of cash transaction.
Currencies Direct calculator
Enter the amount you want to send and the currency you want to send to, then click Calculate to see up-to-date Currencies Direct rates.
Please note: You should always refer to quotes you receive from transfer services themselves directly for exact amounts as they may vary from our estimates.
Currencies Direct pros and cons
Pros
No hidden fees. 90% of Currencies Direct's transactions are free, and those that aren't have terms that are clearly spelled out ahead of time.
FX tools. All users have access to forward contracts, limit orders and similar advanced features.
Rate alerts.You can set an alert to notify you when the market reaches your ideal transfer rate.
Exchange rates. Transparent exchange rates will clearly show you how close the rate you've locked in is to the wholesale rate.
Cons
Not suitable for fast transfers. If time is critical and you want to get funds to your recipient within minutes, you'll need to consider other transfer services.
No cash. Cash transactions are not supported, so there is no option for cash pick-up.
Verification required. Supporting documents like an ID may be required when you sign up for an account.
How much are Currencies Direct's transfer fees?
Creating a personal account with Currencies Direct is free and you won't pay any account maintenance or transfer fees down the line. Currencies Direct will notify you if it's going to charge you a fee.
Occasionally, you may face a third-party fee, but you can sometimes avoid this by picking a different third party for your transfer.
How are Currencies Direct's exchange rates?
Currencies Direct provides live exchange rates 24/7. When you exchange funds through it, the rate will be slightly different from the mid-market rate.
As a result of not charging fees for the majority of its transfers, Currencies Direct has to make its money another way. In this case, it adds a mark-up to its exchange rate – which is fairly typical of an online money transfer service. This means you won't get exactly the mid-market rate, but it's still competitive when compared to other transfer services.
Best exchange rate guarantee for online seller customers
Currencies Direct will match any competitor's rate to make sure you get the most competitive rate in the market. You just need to:
Register with Currencies Direct.
Show Currencies Direct a screenshot or written quote of the better rate, including the date and time you received it.
…a couple of conditions do apply though:
This offer is not available to personal or a corporate account holder.
You have to have an account with the provider you get the other quote from.
Currencies Direct can't beat the rate if it's better than the mid-market rate.
This guarantee doesn't apply to transactions you've already agreed upon with Currencies Direct.
How do I send money through Currencies Direct?
To make an international money transfer with Currencies Direct you will first need to register via its online form. You'll need to supply identifying documents when you apply, such as your passport or driving licence and bank statements.
How to make an international money transfer with Currencies Direct
Once you have created your account, you make a transfer by completing the following steps:
What types of transfers can you make with Currencies Direct?
Currencies Direct offers personal and business transfers.
Personal transfers
Spot contracts. Spot contracts allow you to make an immediate, one-off transfer.
Forward contracts. If you're willing to pay a small deposit, you can lock in an exchange rate now for a transaction that will take place in up to 1 year's time.
Limit order. You can use a limit order to specify the exchange rate you want and Currencies Direct will automatically execute the transaction when that rate becomes available.
Business transfers
Incoming payments. Manage your payments in a multi-currency account that accepts GBP, EUR, USD and JPY.
Outgoing payments. Business customers can make international payments in more than 120 currencies.
Risk management solutions. Currencies Direct offers a range of risk management tools to help businesses protect themselves against market volatility and lock in a better exchange rate.
Online sellers. Currencies Direct multi-currency accounts allow sellers to receive payments from and send money to international suppliers.
What are Currencies Direct's payment options?
Payments can be made to Currencies Direct in 2 ways:
Bank-to-bank transfer
Debit card
These payments can be made over the phone, online or if you live close to a physical branch, in person. Unfortunately, Currencies Direct does not accept credit card or cash payments at this time.
How long does an international transfer with Currencies Direct take?
Currencies Direct transfers typically take 1-2 days.
Delivery times are dependent on where you are sending the funds and how quickly you make the payment for your transfer. For European destinations, Currencies Direct will send the money on the day you book the deal, but it can take between 24–48 hours to arrive.
Is Currencies Direct safe to use?
Security and regulation: Regulated in more than 5 countries
Established: 1996
Number of customers: 325,000
Reviews: TrustScore of 4.9/5* based on 7,000+ reviews on Trustpilot (as at 27 June 2022)
Locations: More than 20 branches worldwide
Currencies Direct is based in the UK and regulated by the Financial Conduct Authority. Established in 1996, it claims to have helped more than 325,000 people and businesses send international money transfers.
Currencies Direct also has a level 1 credit rating with Dun & Bradstreet, and it keeps all of its customers' funds in a segregated client account.
Does Currencies Direct have a mobile app?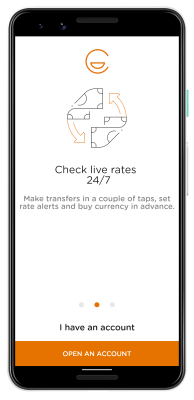 Yes, Currencies Direct has an app available on both the App Store and through Google Play. Through the app, you can do the following:
Set rate alerts. Create and monitor rate alerts to stay on top of your transfers wherever you are.
Send money. Create transfers and send them directly through your mobile phone.
Manage transfers. See a history of your transfers and track transfers currently in progress.
Access customer support. Find phone numbers and customer service emails if you have any issues.
| Platform | Rating |
| --- | --- |
| Google Play Store | 3.5 out of 5 – based on 426 customer reviews |
| Apple App Store | 3.6 out of 5 – based on 82 customer reviews |
Reviews accurate as of 27 June 2022
How does Currencies Direct compare to other services?
Table: sorted by promoted deals first
Our table below lets you compare services you can use to send money abroad. Compare fees, exchange rates and discounts from different money transfer services, and when you have made your choice, click Go to site.
Frequently asked questions