Finder is committed to editorial independence. While we receive compensation when you click links to partners, they do not influence our opinions or reviews. Learn how we make money.
Transferencias internacionales de dinero con Xoom: un servicio de PayPal
Xoom ofrece una forma rápida, fácil y segura de enviar fondos, recargar teléfonos y pagar facturas.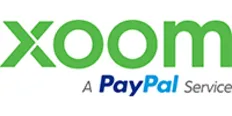 Xoom ofrece una variedad de servicios de transferencias internacionales de dinero en línea a los clientes en los Estados Unidos y alrededor del mundo. Con la capacidad de enviar fondos a 56 países y completar tus transacciones en línea, Xoom hace las transferencias internacionales de dinero simples y convenientes. Aprovecha los otros servicios de Xoom y paga facturas de servicios públicos en 10 países diferentes. O recarga el teléfono móvil de un amigo o un ser querido en el extranjero.
¿Qué servicios ofrece Xoom?
Envía dinero. Con Xoom puedes enviar dinero en segundos a 56 países de todo el mundo en cualquier momento y lugar. Ofrecen comisiones mínimas y tipos de cambio competitivos.
Recarga teléfonos. Xoom te permite recargar teléfonos de amigos y familiares en más de 29 países alrededor del mundo.
Paga facturas. El servicio de pago de facturas de Xoom facilita el pago de facturas en el extranjero desde los Estados Unidos.
Compara Xoom con otros servicios
Pros y contras de usar Xoom
Pros
Servicio al cliente. Xoom ofrece servicio al cliente 24/7. Llama gratis a cualquier hora del día y habla con un representante en vivo.
Seguimiento de tus transferencias. Recibe un mensaje de texto cuando llegue tu dinero. Xoom también te enviará un correo electrónico y a tu destinatario para mantenerlos informados del progreso de la transferencia. También puedes iniciar sesión en tu cuenta en cualquier momento y realizar un seguimiento de la transacción allí. O llama al servicio de atención al cliente y recibe una actualización de un representante en vivo.
Garantía de devolución del dinero. Xoom ofrece una garantía de devolución de dinero para reembolsar tu transacción en su totalidad si el dinero que envías no llega a su destinatario.
Contras
No tiene servicio en todo el mundo. Hay otros proveedores de transferencias de dinero que prestan servicios a redes internacionales más grandes que Xoom.
¿Quién es Xoom?
Xoom es un proveedor líder de servicios de transferencias internacionales de dinero digital. Si necesitas pagar una factura o enviar dinero a familiares o amigos en el extranjero, Xoom puede ayudar. Cuenta con 1.2 millones de clientes en todo el mundo que colectivamente enviaron $6.9 mil millones con Xoom en 2014. Con sede en San Francisco, Xoom ofrece transferencias a 56 países.
Los destinos de transferencia más populares para los fondos enviados desde los Estados Unidos son:
México

América Latina (excluyendo México)

China

India

Pakistán
Preguntas frecuentes
Read more on this topic