Finder is committed to editorial independence. While we receive compensation when you click links to partners, they do not influence our opinions or reviews. Learn how we make money.
Capital One loans
Loan options if you're interested in buying a new vehicle or expanding your business.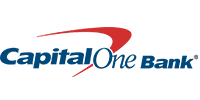 Although Capital One has a limited number of loan options, the low rates and variable terms make them competitive. But if you need more flexibility in your spending, you're likely better off opting for a credit card.
What types of loans does Capital One offer?
Capital One only has two loan options: business loans and auto loans.
Business loans. You can build your business by taking out a line of credit or opting for an equipment, vehicle, real estate or installment loan from Capital One. Amounts typically start at $10,000.
Auto loans. Capital One funds auto loans between $4,000 and $40,000. You can use an auto loan to purchase a new or used car or to refinance a previous auto loan.
What about other types of loans?
Unfortunately, you won't be able to finance other loans through Capital One. It doesn't offer personal loans or student loans, and as of November 2017, Capital One no longer offers home loans.
Why should I consider taking out a loan with Capital One?
Simple daily interest. There are a few ways interest can be calculated for auto loans, but Capital One chooses to use simple interest — meaning you'll be paying less in interest as you pay off the loan principal.
Car finding service. Capital One has over 12,000 dealers in its network to help you find a car and view a potential monthly payment and APR based on your prequalification offer.
Mobile app. Capital One has a mobile app to set up recurring payments and manage your accounts.
Multiple payment methods. You can choose to make payments to your loan account online, through MoneyGram or Western Union, through the Capital One mobile app, over the phone or by mailing a cashier's check, personal check or money order.
No prepayment penalties. Capital One doesn't charge a fee when you choose to make additional payments. To pay your next monthly payment, you must send in your payment within 30 days of the due date. Otherwise, the additional payment go toward your principal.
Variety of business loans. From financing equipment to buying real estate, Capital One has a variety of loan options for business owners looking to expand their operations. It even has options for SBA 504 and SBA 7(a) loans.
Where does Capital One fall short?
No personal loan options. Like many other banks, Capital One doesn't lend personal loans. If you're interested in funding a big event like a wedding or consolidating your debt, view our list of Capital One alternatives.
No student loan options. If you were planning on borrowing a student loan through this well-known bank, you're out of luck. Fortunately, we have a list of top student loan alternatives.
No home loan options. Although Capital One previously financed buying your home or drawing from its equity, this service isn't available as of November 2017. Like other types of loans, you're better off searching for a different option.
More credit card options. Capital One is known for its credit cards. Unless you need an auto loan or have a specific business loan in mind, you'll likely be better off applying for a credit card from Capital One or browsing your loan options elsewhere.
Negative reviews for customer service. Although the majority of its reviews focus on bad customer service for credit cards, it still has a reputation for bad customer service. Carefully read over previous borrowers' reviews before you apply.
How much will it cost me to borrow from Capital One?
The fee schedule for a business loan from Capital One depends on the type of loan you choose to borrow and the terms outlined in your loan contract. Term loans typically have APRs from 5.9% to 18.65%. You'll need to apply and read your personalized offer to estimate how much you'll end up paying for your business loan.
The cost of an auto loan depends on your APR and the amount you need financed. For example, if you take out an auto loan for $30,000 and have an APR of 8.25% for a term of 60 months, your monthly payment will be $612 and you'll end up paying $36,713 over the course of your loan. Your prequalification offer should outline this information, but it may change depending on your credit when you submit a complete application.
What do borrowers say about Capital One?
Although Capital One has an A+ rating and is accredited by the Better Business Bureau (BBB), it has nearly 200 customer reviews that rate it at just over one star and over 5,000 complaints.
The details of the complaints are hidden. The focus of the negative reviews is mainly on Capital One's credit card options, but many reference a bad experience with customer service.
One person who had borrowed an auto loan complained about issues with payments not being processed correctly and receiving no notification for a failed payment. Another person stated that payments were posted incorrectly, resulting in a negative mark on their credit report — although Capital One acknowledged it was at fault, it wouldn't remove the negative mark.
The overall negativity of previous borrowers toward customer service is a red flag, but it still pays to look into it yourself. After all, many people only post when they have problems and don't send in positive reviews. Call or chat with Capital One when you're thinking of borrowing a loan to see how you fare with its team.
Are Capital One loans safe?
Yes. Capital One has a secure encryption service to protect your information on its website. In addition, there is an entire page on security you can read to learn how Capital One works to protect you. It's also easy to contact Capital One: Simply click Contact on the website's top navigation bar, and you can find specific information for each of Capital One's services.
How to apply for a loan from Capital One
Because auto loans and business loans serve different purposes, the application processes are quite different for each. If you're applying for a business loan, visit your nearest Capital One location to discuss your loan options — you won't be able to apply online.
Eligibility requirements for business loans:
Your business must
Be a for-profit business
Have been in business for at least two years
Have a business checking account with Capital One
Have no current tax liens
Be in an eligible state
Eligibility requirements for auto loans:
Have a minimum monthly income of $1,500 to $1,800
Your existing Capital One accounts are in good standing
Be at least 18 years old
Be a US citizen or permanent resident
Compare more auto and business loan providers
Bottom line
Capital One has a a select number of loan options to cover basic business needs and personal car purchases. While you won't be able to take out a personal loan, student loan or mortgage through Capital One, the low interest rates and fixed terms available for its other loan options still make it a competitive lender.
To learn more about your loan options for your business or buying a new or used car, check out our guide to business loans or our page on auto loans.
Frequently asked questions
Read more on this topic