Finder is committed to editorial independence. While we receive compensation when you click links to partners, they do not influence our opinions or reviews. Learn how we make money.
Toyota C-HR car insurance rates
Expect a standard premium with this car's safety ratings and low price tag.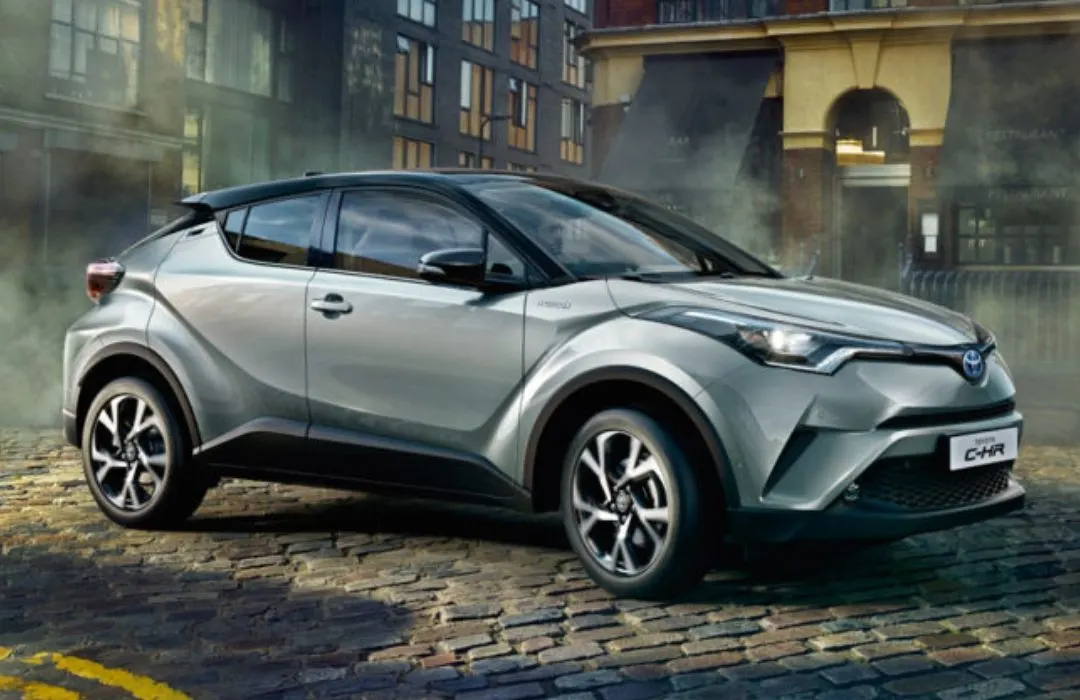 Compare car insurance quotes
Enter your ZIP code below and click Compare to see the cheapest rates in your area.
While there's not enough C-HR data to know the new model's rates, the pricier Toyota Land Cruiser keeps a moderate annual rate of $1,944, which is $644 above average. The C-HR may lend itself to a lower premium due to standard ticket price and coverage needs, plus potential safety discounts from the insurer of your choice.
Discover coverage that's broader than competitors, valuable discounts up to 30% off and perks like shrinking deductibles that reward no claims.
Broad coverage, including for custom car parts or ridesharing
Transparent pricing tools that help you buy within budget
Accident forgiveness on small claims or for staying claim-free
Stack a variety of discounts for multiple cars, autopay or homeownership
Compare car insurance for your Toyota C-HR
How much does Toyota C-HR car insurance cost?
| Model | Monthly insurance rate | Base car price |
| --- | --- | --- |
| 4runner | $227.00 | $34,210 |
| Avalon | $170.00 | $33,300 |
| Camry | $175.00 | $23,070 |
| Corolla | $179.00 | $18,500 |
| Highlander | $227.00 | $30,630 |
| Land Cruiser | $162.00 | $84,775 |
| Mirai | $220.00 | $57,500 |
| Prius | $177.00 | $23,475 |
| Prius C | $220.00 | $20,150 |
| Prius Prime | $220.00 | $27,100 |
| Prius V | $167.00 | $26,675 |
| RAV4 | $167.00 | $24,410 |
| RAV4 Hybrid | $220.00 | $29,030 |
| Sequoia | $157.00 | $45,560 |
| Sienna | $149.00 | $29,750 |
| Tacoma | $142.00 | $29,750 |
| Tundra | $135.00 | $30,120 |
| Yaris | $181.00 | $15,250 |
| Yaris iA | $220.00 | $15,950 |
How do I compare insurance for the Toyota C-HR?
This car's standard price tag, small CUV body and minimal coverage needs could keep your rates low.
Body type. This vehicle is Toyota's smallest crossover, which may keep insurance rates down.
Sale price. C-HR owners receive a standard price tag of $22,000 to $27,000, making it a cheaper vehicle to repair after an accident.
Fuel. The CUV includes a fair fuel economy rated at 27 mpg for city and 31 for highway. Reviewers say the vehicle surpasses its rating on the road.
Maintenance. This car comes with Toyota's helpful two-year, 25,000-mile maintenance plan for free to keep it in good condition.
Theft. Despite other Toyota models having high theft rates, the C-HR isn't yet included in that lot.
Coverage. Because of this CUV's low ticket price and theft rates, you could opt for standard coverage. However, comprehensive may help if the C-HR becomes a theft target as more C-HRs hit the road.
Insurer options. You'll find plenty of providers willing to cover this standard car, giving you a competitive edge on rates.
Warranty. Toyota offers a basic three-year, 36,000-mile warranty along with a five-year, 50,000-mile warranty for the powertrain. You'll also get towing assistance to the nearest Toyota dealership if your C-HR breaks down due to failure of a warranty-covered part.
Does the Toyota C-HR qualify for discounts?
Along with expected low insurance rates, you could qualify for discounts with several C-HR safety features:
Airbags
Antilock brakes
Antitheft device
Automated emergency braking
Backup camera
Driveline traction control
Electronic stability control
Lane keeping assistance
Lane departure warning
Tire pressure warning
How reliable is the Toyota C-HR?
This new Toyota model includes high safety ratings and expected reliability. However, it comes with a few caveats: two recalls and poor headlight visibility.
Safety. The C-HR doesn't disappoint with safety, receiving high marks from both the IIHS and NHTSA. The only feature rated Poor by the IIHS was the car's headlights, which provided inadequate visibility around curves during testing.
Reliability. This new model has little long-term information about reliability. However, recent car owners rate the car highly on review sites, and the C-HR has a 4 out of 5 stars for predicted reliability by J.D. Power.
Recalls. The car does have several recalls involving insufficiently tightened rear wheel bolts and a malfunctioning parking brake.
Bottom line
The Toyota C-HR gives multiple reasons to get standard or below average insurance rates, including its small size and standard MSRP. Shop for multiple providers to get the best deal, or learn about insurance for another make or model.
Get the cheapest quotes
Compare car insurance companies near you.
Your information is secure.
Frequently asked questions about the Toyota C-HR