Finder is committed to editorial independence. While we receive compensation when you click links to partners, they do not influence our opinions or reviews. Learn how we make money.
Motorcycle Insurance Finder
Compare the top motorcycle insurance deals and save a bundle.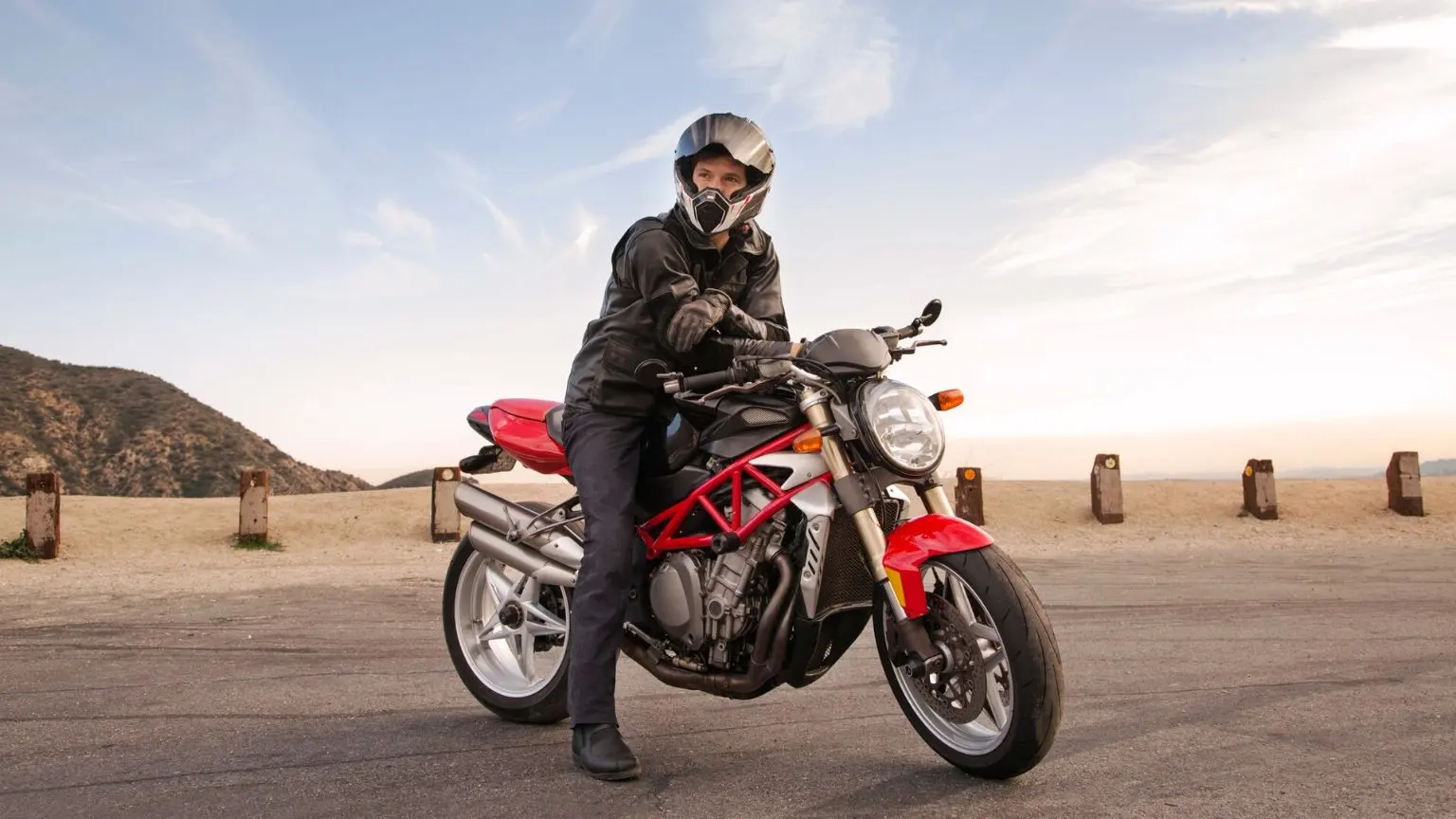 You can protect more than just you and your bike with motorcycle insurance. Hit the road in style and safety with coverage for custom parts, towing, glass damage and more. How much you'll pay for that protection depends on a number of factors — but typically ranges from $200 to $500 a year.
Some of the top companies we compare
How much does motorcycle insurance cost?
Motorcycle insurance costs depend on several driver and vehicle factors. For example, new bikes in the $15,000 range could start around $200 annually for liability-only policies and extend up to $500 or more for full coverage policies with higher maximums. A bike that's twice the price could see double the annual premiums.
You'll also see premium increases if you're considered a high-risk driver, such as if you have multiple accidents or claims on your driving record or you live in an area with high theft rates.
How much motorcycle insurance do I need?
Motorcycle insurance is required in most states, though each state has different motorcycle insurance laws based on the engine size and other factors. If your vehicle has an engine smaller than 50cc or top speeds below 30 mph, it's likely classified as a moped or scooter and may have different insurance requirements.
To build your policy, start with your state's minimum liability coverage, which is typically around $25,000 bodily injury liability per person, $50,000 bodily injury per accident and $25,000 property damage liability. It's a good idea to increase your maximums to cover at least the full cost to replace your bike.
Compare motorcycle insurance companies
What motorcycle insurance coverage do I need?
Liability insurance is typically the only type of coverage required for motorcycles. Many states don't require insurers to offer personal injury protection for bikes, unlike car insurance.
Want wider coverage on a new, classic or expensive bike? Look for a full coverage motorcycle policy, which includes liability, collision and comprehensive coverage.
What does motorcycle insurance cover?
Depending on the types of coverage you choose, motorcycle insurance can cover situations like:
You're involved in a collision with another vehicle.
You accidentally swipe a mailbox and scratch your paint.
Your bike is stolen while it's parked.
Your windshield is cracked by a rock.
You lose your keys and don't have your spare.
Your tire pops on a nail.
Your side mirror is broken in the parking lot.
What else should I look for in a bike policy?
Consider the extras available in a policy. These additional benefits may be available to you based on the specific policy and level of coverage you have. For example, accessory coverage for motorcycles or custom parts and equipment (CPE) coverage includes coverage for helmets, sidecars, antennas, trailers, custom paint or exhaust and trike conversion kits.
Some extras may include:
Loan & lease gap insurance
Windshield and glass damage
Rental reimbursement & trip interruption
Passenger coverage
Bike trailer
Find the best motorcycle insurance
Which motorcycle insurance discounts can I get?
Like with car insurance, you might qualify for discounts to help you save on your premiums, such as:
Riding safety course discount
Multi-vehicle discount
Motorcycle club discount
Storage,layup or seasonal discount
Safe driver or claims-free discount
Paid in full discount
Anti-theft device discount
How does a layup policy work?
Only ride your bike in the summer? A seasonal, temporary or laid-up policy will cover your bike only when you regularly ride it. Usually you'll still have comprehensive coverage on your bike during winter or when you don't ride it, but liability and collision will drop off. You'll have lower premiums overall due to the lower use and lower risk.
How can I get cheap motorcycle insurance premiums?
As a young or inexperienced driver, it's an unfortunate reality that you'll have to pay more on your premiums. And if you've already purchased your bike, you might not have a choice in how much you'll pay for that model. However, there are some ways to help reduce your premiums.
Choose the right bike. Larger and more powerful engines are more expensive to insure.
Keep your bike safe. Keeping your bike in a garage reduces the likelihood of your bike getting damaged.
Drive safely. Do your best to avoid accidents to build up a no-claims history.
Reassess the value of your bike. For example, if you've insured a brand new motorcycle, then it might be over-insured just a few years later after it depreciates, and you may be paying too much for coverage.
Choose your payment options. Many motorcycle insurers will charge less overall for premiums paid annually rather than monthly, or for setting up auto-pay.
Get discounts. You may be entitled to a range of discounts, including loyalty bonuses, no claims bonuses, discounts for signing up online, multi-policy discounts and others.
Adjust your coverage. You could be paying extra for policy options that you don't need or won't use. On the other hand, you might be able to get helpful perks included from a specialist motorcycle policy.
Compare cheap motorcycle insurance
Ask an expert: What's the best type of motorcycle coverage to buy?

Brad Larson
If you've put money into an upgraded engine or exhaust, or if you've invested in chrome accessories or any other specialty parts, the best policy for you is one that will cover replacement costs of those upgrades.


If you've put money into an upgraded engine or exhaust, or if you've invested in chrome accessories or any other specialty parts, the best policy for you is one that will cover replacement costs of those upgrades.


If you have an expensive brand of motorcycle, there are some insurance companies that base their rates on engine size rather than the brand of motorcycle. A quote comparison will help you identify those companies because the price difference will be obvious.

Liability-only coverage is the cheapest option and a good one when your motorcycle isn't worth much money.


Is a seasonal policy worth it?
Depending on your lifestyle, a seasonal policy can be a good option. If you're okay with putting down the keys and not riding over the winter — even when it's an unseasonably warm and sunny day — then a seasonal policy can help you save a little money.

It may not help you save as much as you expect though, because continuous coverage tends to be less expensive per month than seasonal coverage.

If you have full coverage and want to make it seasonal coverage, you should make sure your motorcycle can be garaged. If left on the street or driveway, there's too much risk of damage — which outweighs your savings.

How is motorcycle different from car insurance?
While nearly every state requires liability insurance for cars, there are a few states that don't require any type of coverage for motorcycles. That lack of requirement doesn't equate to a lack of need, though. A motorcycle can cause a lot of damage, and without liability insurance, you'll be responsible for that damage out of pocket.

Often with full coverage (i.e. comprehensive and collision coverage), a motorcyclist chooses a policy that covers upgrades and accessories. While it is possible to get similar coverage for a car, it's much more common to purchase that specialty coverage for a motorcycle.

Besides that requirement difference, motorcycle insurance is essentially the same as car insurance. You have the option of purchasing comprehensive and collision coverages unless you have a loan, in which case the lender will almost always require full coverage.
What factors can raise my motorcycle insurance premiums?
In addition to your age, level of coverage, riding history and how high or low your deductible is, these factors can affect what you'll pay for motorcycle insurance:
The type of bike you ride. Newer, more expensive and more powerful bikes will usually cost more to insure than older, cheaper and less powerful models. Expect a premium increase if you add performance enhancements to make your bike faster or more powerful, or if you swap to a sport bike or a new Harley.
Your claims history. You could get a discount on your premiums by not making insurance claims. If you've made a claim on your motorcycle insurance in the past, insurers will classify you as posing an increased likelihood of making a future claim.
How much you ride. Weekend warriors could save money on usage-based or mileage-based insurance, so you only pay for coverage for the miles you ride. Or save with a seasonal or lay-up policy if you only ride in the summer.
Who rides your bike. If you're an experienced rider with an unblemished claims history and you're the only person riding your bike, the cost of your coverage should stay low. But if you want your policy to also cover a 22-year-old rider with a speeding conviction and several previous insurance claims, expect your premiums to skyrocket.
Where you live. Theft is more likely if you live in an urban or high crime area, which could increase your rate.
Where you keep your bike. For example, securing your bike in a garage when it isn't being ridden should lower your premiums. Bikes with alarm systems are less likely to be stolen, so you could get an anti-theft discount.
Frequently asked questions about motorcycle insurance
Read more on this topic