Finder is committed to editorial independence. While we receive compensation when you click links to partners, they do not influence our opinions or reviews. Learn how we make money.
Ally vs. Simple
Two digital banking options with low fees and convenient features, but which is right for you?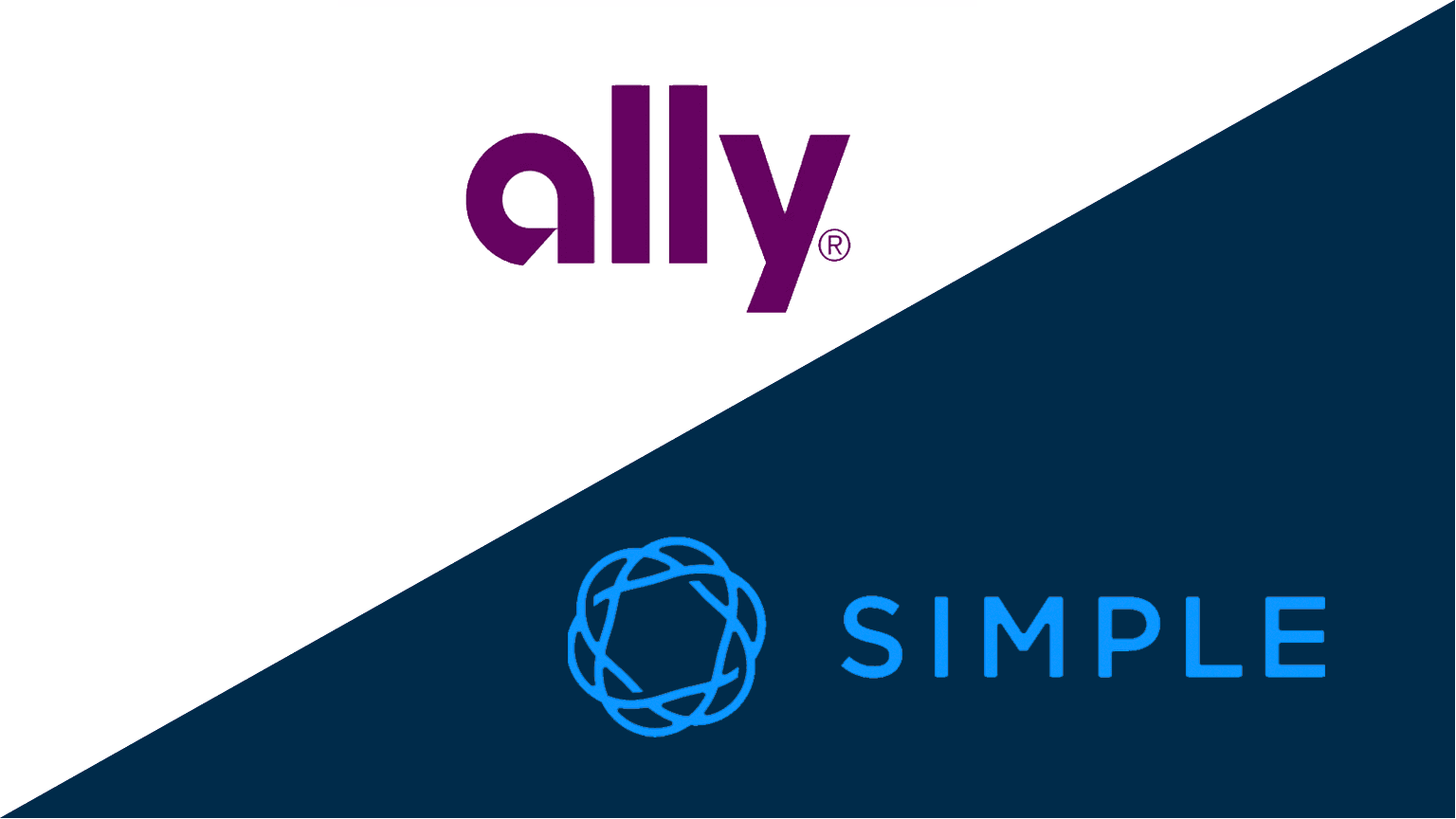 Ally and Simple both operate entirely online, allowing them to offer competitive rates and low fees. And while Ally offers a wide range of financial products, Simple takes a straightforward approach with just a checking and savings account plus innovative tools. Compare the two to find out which is better for you.
Quick comparison of Ally vs. Simple
Ally offers a much wider selection of bank accounts and other financial products. While Simple has more saving, budgeting and money management tools than Ally. Let's see how these two banks stack up against each other:
Who is best in terms of…
Fees
Simple charges almost no fees on its accounts compared to Ally.
Opening deposits
Ally lets you open any account with $0, while Simple requires a $250 minimum for CDs.
Interest rates
You'll earn more interest in Ally's deposit accounts.
Domestic ATMs
Ally has slightly more domestic ATMs than Simple.
International ATMs
Simple won't charge you any fees for using your debit card abroad, unlike Ally.
Third-party ATM fees
Simple won't charge you for using out-of-network ATMs, while Ally will.
Checking accounts
Ally's checking accounts have higher APYs, but Simple offers more money management tools.
Savings accounts
Simple's savings account has a slightly higher APY and more tools to help you manage your money.
CDs
Ally offers high yield, raise your rate and no-penalty CDs, while Simple only offers no-penalty CDs.
Customer service
Ally has 24/7 customer service while Simple's hours are more limited.
Branch locations
Neither bank has branch locations.
Ally vs. Simple savings accounts
Both banks are neck and neck when it comes to APYs. Ally's savings account pays 0.6% interest compared to Simple's 0.6%, Simple's goal-oriented approach could make it easier to save. Because of this, Simple has the upper hand in this category.


Winner: Simple
Click the tabs on the table to view savings accounts from Ally and Simple. Sort each list by APY, fees and minimum opening deposit depending on what you're looking for.
Ally vs. Simple checking accounts
Ally's checking account pays interest, but it also has overdraft fees and foreign transaction fees. On the other hand, Simple doesn't charge for overdrafts, foreign transactions, insufficient funds or out-of-network ATMs. Plus, it has robust money management tools to help you track your spending. Because of this, Simple comes out on top.


Winner: Simple
The table breaks down top details for Ally and Simple's checking accounts. To view even more information — such as overdraft fees, foreign transaction fees and deposit methods — click the "Compare" box next to each account.
Ally vs. Simple CDs
Ally offers high yield, raise your rate and no-penalty CD options. Each has high APYs, $0 opening deposits and flexible terms. Simple only offers one CD — a no-penalty option with a 12-month term and a $250 opening deposit. If you want the ultimate flexibility when it comes to locking your money away for an extended period of time, Ally is the clear choice.


Winner: Ally
Looking for a CD with the highest APY? Use the table to view and sort APYs across various CD terms.
Ally vs. Simple branches and ATMs
Digital banking is convenient, but with a lack of branches, access to customer service is even more important. Here's how these two online institutions compare:
Ally
Simple
Branches
0
0
ATMs
43,000
40,000
Customer service

Phone 24/7
Social media
Live chat
Email

Phone weekdays from 9 a.m. to 7 p.m., Saturdays from 10 a.m. to 5 p.m. ET
Social media
No live chat
No email
Ally vs. Simple special features
Both institutions have special features that separate them from their competition:
Ally
No penalty and Raise your Rate CDs
24/7 customer service
Simple
Management and savings tools
Almost no fees


Winner: Tie
Ally vs. Simple: Which one is best for me?
Wondering whether you should go with Ally or Simple? Here's how to decide:
Choose Ally if…if you want the highest APYs and access to a broader range of financial products.
Choose Simple if… you want access to savings and money management tools that help you stay in control of your finances.
Ally vs. Simple other products
Ally has a much more extensive product lineup, so it's the better choice if you're looking to do all of your banking in one place:
Ally
Credit cards
IRAs
IRA CDs
Home loans and refinancing
Brokerage accounts
Portfolio management
Money market account
Bottom line
Ally and Simple are two innovative financial institutions that aim to make it easier to manage and save your money. Choose Ally if you're looking for higher rates or a wider range of products, or go with Simple if you value mobile banking and want tools to help you reach your goals. Either way, you can
compare other accounts
to find one that's right for you.
Frequently asked questions
More guides on Finder