Travel Money Guide: USA
Explore the land of stars and stripes and discover how you can access your bucks in the USA.
The US Dollar goes by a number of names: greenback, buck, dead president and clam, to name a few. Whatever you call it, the United States Dollar is one of the world's most stable currencies and is the only currency accepted in the United States of America. The United States of America is a society of credit. If you're travelling to the States, you can use your Visa, Mastercard and American Express cards everywhere. Banks are common and ATMs are inside most corner stores as well. Read on to find out which cards will work cheapest in the United States of America.
However, while the traditional way of getting travel money is all well and good, there's a range of digital apps that can make the process even simpler. These include Starling, Revolut and N26. If these new age solutions float your boat, you can read our guide to learn more about them. For the best way to get travel money for a trip to the US, though, stay right here for all the info.
Compare the best banking apps for going abroad
How much sterling do I need to bring to the US?
There's an old saying first coined in the Reader's Digest, once you're finished packing your suitcase, take out half the clothes and take double the money. Ultimately, how you take your money is up to you. Someone couch-surfing in San Francisco will have a different budget to someone on a New York shopping holiday.
New York
Budget
Mid
Top
Hostel
$30 – $60 per night
Hotel / Motel
$150 per night
5 star hotel / Superior suite
$350 per night
Food truck
$5 – $10
Restaurant
$20 – $40
5 Michelin Star Restaurant
$50 a plate
Free festivals year round in American cities
Guggenheim Museum
$25
Broadway Musical
$200 – $300
*Prices are approximate and subject to change
Exchange rate history
Pounds and US Dollars have changed significantly over time. In recent times, the Pound has devalued to the dollar.
| Year | Average annual exchange British Pound (GBP) to US Dollar (USD) |
| --- | --- |
| 2012 | 1.559832 |
| 2013 | 1.506777 |
| 2014 | 1.716658 |
| 2015 | 1.557150 |
| 2016 | 1.330345 |
Back to top
Travel card, debit card, or credit card?
You'll find most Americans rely on their credit card or debit card to make purchases as much as cash. There are times when you'll need to pay cash. For example paying for a drink at a small bar or buying a hotdog from a food truck might require cash. However, you will see that most merchants in American cities are set up with the infrastructure for card, contactless and mobile payments. Visa, Mastercard, American Express and Diners Club cards are widely accepted.
Travel money options for USA at a glance
Travel money option
Pros
Considerations
Debit cards for travel

No currency conversion, international ATM, account keeping fees
Assistance in opening an account if you're travelling through the US for an extended period

There can be fees attached to using a debit card – make sure to check the small print!

Prepaid travel money cards

Locked-in exchange rates
No currency conversion fee
International ATM withdrawal fee waiver on some cards

Fees to consider such as local ATM, initial load, reload and inactivity fees

Credit cards for travel

Accepted everywhere
Contactless payment terminals are common

Overseas ATM fees and Currency conversion fees

Traveller's cheques

Can be costly with initial purchase charges
Not all merchants accept traveller's cheques

Cash

Greater payment flexibility
Convenience

More difficult to manage expenses
Higher risk of theft
This table is a general summary of the travel money products in the market. Features and benefits can vary between cards.
How travel money products work in the United States
Using prepaid travel cards
All UK travel money card issuers allow you to load and spend in United States Dollars. The main advantage of these cards is you can lock in an exchange rate when you convert GBP to USD and spend without paying the extra 3% for currency conversion. Although Visa, Mastercard and American Express are accepted everywhere (if the merchant can accept a credit card they can also accept a travel card), not all of them have your name printed on the front, which may cause the merchant to reject them. These instances may be limited to smaller shops. Compare these cards by the fees. For example, some travel cards waive the international ATM withdrawal fee. The local ATM fee is unavoidable unless your travel money provider has a pre-arranged deal with a US bank. There's also the initial load fee, the reload fee and inactivity fees to think about too.
Using debit cards
You can use any Mastercard or Visa branded debit card in the United States, though you should be weary of using it abroad as there may be fees attached. Barclays will charge a 2.75% non-sterling transaction fee, Lloyd's will charge a 2.99% non-sterling fee on cash withdrawals and purchases, and NatWest/RBS will charge a fee of 3% (minimum £3). In the case that you find yourself needing to use a debit card abroad, it's worth checking if your bank is part of the Global Alliance, a group of banks with an agreement to give customers a cheaper way to withdraw money abroad.
Using credit cards
The US is a society of credit, and credit cards, there are no issues with Visa, Mastercard, American Express and Diners Club card acceptance. Contactless payment terminals are common at places like Walmart, Target, Kmart and other major retailers. The currency conversion fee is the main charge to avoid when you're looking at travel friendly credit cards. The international ATM fee is the other main fee; however, due to the extra charges which come with a cash advance, you should avoid using your credit card to make cash withdrawals. Depending on your card provider, you can avoid some cash advance fees by loading your credit card with your own money (keeping a positive balance), but you forego anti-fraud guarantees when you spend your own money on your credit card.
Using traveller's cheques
Traveller's cheques were once a staple for any overseas trip. In recent times, card acceptance and security have made these travel money products a burden.
Paying with cash in the USA and tipping etiquette
Dollar bills can give you the impression your wallet is fatter than it actually is. And although you can get by using your card for most purchases, there are times when you're going to need cash. The USA has a culture of tipping, it's a substitute for low wages. You'll need cash to tip, especially if you're at a bar, restaurant, club or hotel.
| Where? | How much should I tip? |
| --- | --- |
| At a restaurant | Waiters should get anywhere between 10% – 20% of you bill. Some restaurants will add tips onto the final bill (more common in tourist areas), if this is the case, you don't need to leave a tip. |
| At a bar | Drinks are pretty cheap. It's good form to tip $1 per drink. You may even get a free one from the bartender if you tip a $5. |
| At the hotel | Tip the porter $2 – $5 for a big bag and an extra $1 for every other bag. Tip housekeepers anywhere from $5 – $10 a day. |
| Taxis | 10% – 20% of the fare |
| Cafe | The barista making your coffee doesn't necessarily need a tip unless he or she has done something special. |
Back to top
A guide to deciphering American banknotes – The Greenback
Have you ever found yourself in the country with a wad of foreign cash? It can be all too easy to give a fifty instead of a five. Don't get ripped off. Familiarise yourself with American banknotes before you leave.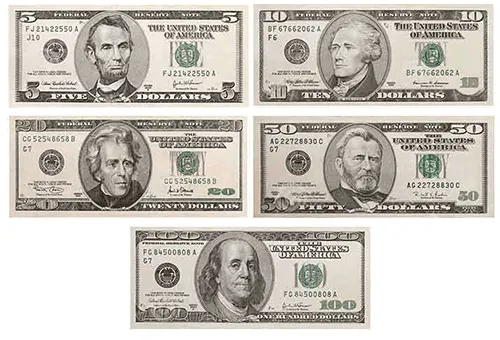 Did you know?
In addition to the standard $1 – $100 banknotes, America also has notes to cover larger denominations.
Grover Cleveland, the 22nd and 24th U.S president had a $1,000 note named after him.
James Madison, the 4th U.S President had a $5,000 note named after him.
Salmon P Chase, the 6th U.S Chief Justice had a $10,000 note named after him.
Woodrow Wilson, the 28th U.S President had a $100,000 note named after him.
Buying currency in the UK
If you'd like to have American dollars when you arrive, you have a number of choices for getting cash changed in the UK. Look at your bank and look at foreign exchange providers such as Travelex or No1 Currency.
Tip: Make sure you've applied for your United States ESTA (Electronic System for Travel Authorisation) before you leave for the USA. This will cost you $14 and you can pay by a Visa, Mastercard, American Express, Diners or Discover credit card.
Why you'll need a combination of travel money options
Use a combination of travel money products which don't charge for currency conversion and have low or no international ATM withdrawal fees. A travel card or debit card used in conjunction with a travel-friendly credit card will give you a cost-effective way to make both over the counter purchases and ATM withdrawals in the USA.
It's important to have more than one way to access your money when you're abroad. Travel to the United States is exciting, don't make it stressful by limiting your options. By doing a little research before you go, you can save on fees which can easily add up to the cost of a night out or souvenir for a loved one.
You'll find card payments are the norm in the USA, the currency conversion fee may not seem like much, but giving almost £10 for every $300 you spend or withdraw to your bank isn't just unnecessary, it's criminal. Compare travel money options and apply for a card you can use to spend for less in America to avoid throwing money at your bank while you're visiting the United States of America.
Back to top
Get travel insurance quotes for your holiday in USA
Travel and the USA are synonymous. Whether it be Route 66 or coastal highways of California, it is hard to think of a US holiday and not picture a car (probably a convertible red Mustang) tearing down the highway. While the USA is a pretty safe travel destination, accidents can happen anywhere. Worse still, medical care in the US can be prohibitively expensive. Don't leave yourself holding the bag for out of pocket medical expenses. Protect yourself financially with travel insurance. Travel insurance can cover you for:
Repatriation
Emergency medical and dental
Evacuation
Lost luggage
Stolen travel documents
Personal liability
More guides on Finder