Travelex Travel Money
Find out more about Travelex's travel money options with our useful guide.
Travelex Group is a foreign exchange company based in London. Its main businesses are international payments, but it also issues prepaid credit cards for use by travellers. It's the biggest foreign exchange bureau in the world.
If you're looking for information about Travelex's international money transfer service, check out our guide.
Read on to find out more about what Travelex has to offer, and whether you should get your travel money through them before you go abroad.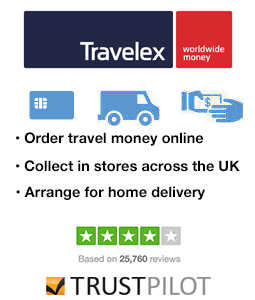 Travelex Travel Money Card
Travelex has grown to become a leading specialist provider of foreign exchange, operating in 30 countries.
0% commission on all orders
For orders over £1,500 you'll get free insured next day delivery
Order money for store pickup or delivery
Collect your euros, US dollars and Travelex Money Cards in just 4 hours
Wide range of currencies to choose from
What travel money services does the Travelex offer?
Travelex Money Card. This prepaid card is available in 10 currencies. You'll be able to use it in shops, bars and restaurants wherever you see the MasterCard sign. The main benefit of using this card means you're able to lock in exchange rates.

Travelex Wire. This is an international money transfer service. By signing up you can securely send money to locations around the world.
How does the Travelex Money Card work?
Travelex's Money Card is a prepaid card that you can use abroad. Here's a step by step guide to how the process works:
Get your card. Order your card online, over the phone, or in store. You can choose to pick up the card in store or have it delivered to your home.

Activate card. If purchased in store you'll immediately receive a PIN number to activate your card. If it was delivered to your home, you need to ring Travelex's card services number 0800 260 0355.

Register. You can do this easily online.
Download the app. This allows you to top up your card on the go, wherever you are in the world.
Spend! You'll be able to use your card at millions of locations worldwide.
Compare Travelex to other travel money providers
What currencies can I order through the Travelex?
Here's a list of some of the main currencies that are and aren't available with Travelex:
How much can I load onto my card with Travelex?
For your security as well as Travelex's, there are some limits on how much you can load onto your Travelex Money Card – and how much you can carry on your card at once.
Minimum you can load: £50 in store £100 online, or equivalent in other currencies.
Maximum you can load in one year: £30,000 or equivalent in other currencies. This means that you cannot load more than £30,000 during any given year.
Maximum you can carry at one time: £5,000.
Remember, it's free to load your Travelex Money card.
How soon can I get my money?
Perhaps the biggest downfall of Travelex is the fact that you have to wait for your card to arrive. This takes 3-5 days.
Travelex can be a great option if you're planning a trip in advance, but less convenient for those who forget their travel money and need a quick solution just before they jet off.
How safe is my money?
Money is uploaded securely through your bank's online payment services – so this aspect of the transfer is totally secure.
Are there any fees I might have to pay?
Here's a table of the fees you can expect to pay in certain situations with the Travelex Money Card.
| | Fee Charged |
| --- | --- |
| Card Fee | FREE |
| Additional Card Fee | £5 |
| Loading Money | Free for FX loads, 2% for GBP |
| Using your card: UK | £1.50 |
| Using your card: International | FREE |
| Replacement Card | FREE |
| Inactivity Fee | £2 per month after a year of inactivity |
| Foreign Exchange Fee | 5.75% |
| Currency Transfer Fee | Foreign exchange rate applies, varies |
| Shortfall Fee | £10 |
| Cash over the counter fee | £4 |
| ATM withdrawals: UK | £1.50 |
| ATM withdrawals: International | FREE |
| Cash out via Card Services | £6 |
| Cash out at the purchase location | Check with the purchase location |
More guides on Finder