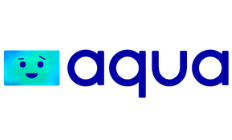 Compare Aqua credit cards for July 2022
Aqua's range of credit cards is designed specifically to help those with a low credit score, or those with little or no credit history, to build up their credit records.
Customer rating
★★★★★
Satisfaction survey
Committed to helping people improve their credit
Better options for those with good credit
Compare Aqua credit cards
Please note: Aqua's interest rates (other than promotional rates) are linked to the Bank of England Base Rate.
Approval for any credit card will depend on your status. The representative APRs shown represent the interest rate offered to most successful applicants. Depending on your personal circumstances the APR you're offered may be higher, or you may not be offered credit at all. Fees and rates are subject to change without notice. It's always wise to check the terms of any deal before you borrow.
Aqua is part of the London-based NewDay group of companies, which was the credit card provider for retail giants past and present, including Debenhams, Topshop, Laura Ashley and Amazon. Aqua credit cards are also on the Mastercard network, which means they can be used in more than 35 million places worldwide.
Aqua offers customers a range of tools designed to help borrowers run their card accounts. The company is open about the fact that it aims to help people move to other finance products as their needs evolve, with the intention to "help all customers be better with credit".
What benefits can I expect from an Aqua credit card?
Customer support. Aqua operates a local call rate customer helpline with staff available between 8am and 8pm daily.
Online account management. You can register online to make payments, check the available balance on your card, update your details and carry out a range of other tasks involved in servicing your account.
Free unlimited credit report access. The Aqua credit checker gives you a monthly-updated picture of the state of your credit record, which you can access through your online account, or by calling the Aqua customer services hotline.
Access to a range of credit-building tools and advice. Aqua's "road to good credit" is all about helping consumers on their journey to accessing more competitive rates and services.
Applying for an Aqua credit card
The easiest and most convenient way to apply for an Aqua credit card is online – you can get an instant indication of the likelihood of your application being successful by using Aqua's "FastCheck", and it won't leave a "footprint" on your credit file so you don't have to worry about your credit score.
Eligibility requirements
To qualify for an Aqua credit card, you must:
Be 18 or over
Have a permanent UK address
Not have been registered bankrupt in the past 18 months or have bankruptcy proceedings against you
Have a current UK bank or building society account
Not have received a county court judgement in the past 12 months
Not have an existing Aqua card or have taken out another card issued by NewDay in the past 12 months
Why might your application not be approved?
If you meet the broad criteria outlined above, but have a history of bad debt, you could be rejected. Also, if you have been made the subject of a CCJ you may not be accepted, and you are unlikely to be given a card if you have ever declared bankruptcy.
Aqua customer reviews
Customers in Finder's 2021 customer satisfaction survey were mostly positive about Aqua, with many praising its customer service and easy-to-use app. One customer said Aqua was "very helpful and good with building credit."
Aqua also scored a rating of 3.5 out of 5 in our 2021 customer satisfaction awards, and 78% of Aqua customers said they would be happy to recommend the brand to a friend.
Frequently asked questions
Finder credit card ratings
Our customer satisfaction scores ("Customers say") are based on a survey of 2,155 customers carried out in December 2021.
To find out more, read our full methodology.
We show offers we can track - that's not every product on the market...yet. Unless we've said otherwise, products are in no particular order. The terms "best", "top", "cheap" (and variations of these) aren't ratings, though we always explain what's great about a product when we highlight it. This is subject to our
terms of use
. When you make major financial decisions, consider getting independent financial advice. Always consider your own circumstances when you compare products so you get what's right for you.