Best ways to spend travel money in New Zealand: Debit and prepaid cards
Learn more about the best card to use, if you should use a UK debit card and other ways to take spending money to New Zealand.
Since The Lord of the Rings, the land of the long white cloud has been growing in popularity as a destination for tourists and expats alike. Whether you're heading to see the Redwoods of Whakarewarewa Forest or to hit the slopes near Queenstown, find out the best way to access New Zealand dollars when you're there.
Travel money options for New Zealand
Promoted for
No overseas fees
Promoted for
Low overseas fees
Promoted for
No fees travel card

Promoted for
Low overseas fees
Using a debit card
As in the UK, you can use a debit card to make ATM withdrawals, purchases over the counter and get cash out using EFTPOS in New Zealand. Most of the debit cards available to British people will charge an additional fee for currency conversion when you transact in New Zealand dollars. There's also the international ATM withdrawal fee to think about too.
Using a credit card
If you want to apply for a credit card to use overseas, start by looking at the credit cards we've listed in the comparison table. Look out for cards that don't charge a currency conversion fee when you're transacting in a currency other than British pounds. Some cards also offer up to a number of interest-free days when you pay your balance in full before the end of the statement period, which could help you save on interest costs. Some credit cards also offer complimentary travel insurance, which could save you the time and money you'd need to organise your own.
Don't use your credit card to withdraw money from an ATM, though. Credit card withdrawals are considered cash advances and will usually incur high interest and a fee. You can avoid some of these fees by loading your own money onto a credit card. Note that the card scheme anti-fraud guarantees don't apply if you're using a credit card with a positive balance.
Using a travel prepaid card
You can hold New Zealand dollars on every prepaid travel on the market. The benefits of a travel card include that you can load British pounds and convert the funds to New Zealand dollars at a fixed rate of exchange. This means that you can spend in New Zealand without paying extra for currency conversion. You also get a backup travel card, which could come in handy if you lose your card.
There are drawbacks too, however. There are a number of fees on the front and back end, such as international ATM withdrawal fees, card issue fees, initial load fees and reload fees. Some travel cards even charge for inactivity.
Using traveller's cheques
Traveller's cheques have been replaced by other travel money products such as debit cards, credit cards and travel money cards. A cheaper way to get cash in New Zealand is to make an ATM withdrawal. This is especially so if your card provider has a relationship with the bank that owns the ATM. The main advantage of traveller's cheques is they can be replaced if they're lost or stolen, and only you can cash them. The card schemes (Mastercard, for example) give you a money back guarantee if you're the victim of card fraud. This means traveller's cheques are often more hassle than they're worth.
Paying with cash in New Zealand
Save on foreign currency exchange fees by using a product which lets you make cheap ATM withdrawals. Currency exchange offices charge a commission to exchange British pounds as well as making money off a margin applied to the exchange rate.
How many dollars do I need to bring to New Zealand?
Auckland
Budget
Midrange
Expensive

Hostel dorm

£10–£15 per night

2-star hotel

£20 – £75 per night

5-star hotel

£120 – £500

Vegan and vegetarian diner

£5–£6

Dinner at a mid-range restaurant

£25 per person

5-star restaurant

£60 per person

Escape room games
£15–£20 per person
Waitomo Caves and
Rotorua day trip
£160
Skydive from
16,500ft tour
£250
*Prices are approximate and are subject to change.
Which should I opt for: travel card, debit card or credit card?
If you're wondering about card acceptance, it works in New Zealand the same as the UK. ATMs are everywhere and nearly all businesses accept EFTPOS payments, which you can use for contactless purchases and to get cash out over the counter when you use your debit card. To give you an idea, 75% of all transactions in New Zealand go through the Paymark system (Paymark provide EFTPOS terminals to businesses), so there's no issue using your Visa and Mastercard credit card or debit card. American Express cards are accepted in fewer places than Visa and Mastercard. ATMs are available in most towns with the major banks represented: ANZ, ASB, Bank of New Zealand (BNZ) and Westpac.
Travel money options for New Zealand at a glance
Travel money option
Pros
Considerations
Debit cards for travel

Ability to use your ATM card in most places while in New Zealand
Protected by PIN & chip
Debit cards will not incur an interest rate as it uses your own money from your transaction account

International ATM withdrawal fees may apply
Most of the debit cards will charge an additional currency conversion fees
Not a credit product. No emergency funds available though a cash advance facility.

Prepaid travel money cards

Ability to hold New Zealand dollars on almost every prepaid travel on the market
Ability to lock in the exchange rate for the funds that you 'load' on to the card before you go
Secured by PIN & chip technology
Emergency card replacement and backup cards
Easily reloadable via a secure online platform

International ATM withdrawal fees, card issue fees and initial load fees may apply
Reload fees could be high
Some travel cards charge for inactivity fee

Credit cards for travel

Protected by PIN & chip
Accepted worldwide
Some credit cards offer complimentary travel insurance
Interest-free days when you pay your account in full
Emergency card replacement

Withdrawing cash can be considered a "cash advance" and can charge you fees and high interests
Card scheme anti-fraud guarantees don't apply in a credit card with a positive balance
Higher spending limit (depends on your approved credit limit)
Attracts an annual fee

Traveller's cheques

Have the added security of needing ID to be cashed
Availability to cash at banks
Secure and can be easily replaced if lost or stolen
Card schemes such as Mastercard give you a money back guarantee if you're a victim of card fraud

Expect to be charged a commission when cashing your cheques
Fees for purchasing and cashing traveller's cheques may apply
Currency exchange rate varies over time

Cash

Greater payment flexibility
Convenience

More difficult to manage expenses
Higher risk of theft
This table is a general summary of the travel money products in the market. Features and benefits can vary between cards.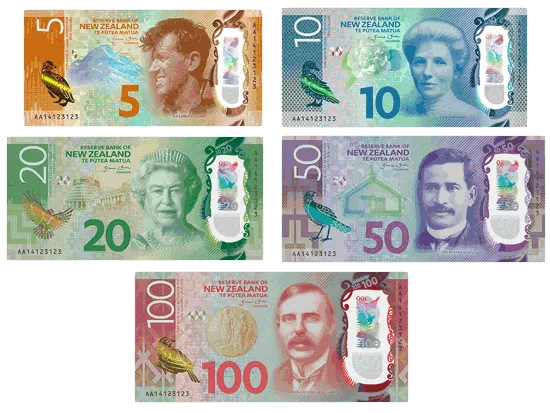 Back to top
Example: Skiing in Queenstown, the adventure capital of the world
Mike was travelling in New Zealand and wanted to spend some time in Queenstown, a town in the South Island that is recognised as providing the best overall skiing experience in New Zealand. The snow, the nightlife, the food and the atmosphere are all top notch.
Where did he go?
Mike visited the Coronet Peak resort, which is about 20 minutes away from Queenstown. He stayed in town for a couple of weeks and did the commute each day. He also skied at The Remarkables and Cardrona peaks.
Where could he use his cards?
Mike discovered he could use his debit and credit card almost everywhere, including on the mountain to pay for his ski pass, rental and drinks at the end of the day. However, small purchases like coffee and hot chocolate were mostly cash only. In Queenstown he used his card at restaurants, bars and clubs. He took the shuttle to the mountain and back every day and used his card to purchase 10 tickets at a time from the Queenstown Snow Centre.
What about ATM withdrawals?
Mike used an ATM a couple of times, but was mostly able to pay with his travel Visa debit card. He got cash out when he made purchases with the travel Visa a couple of times. He was able to get up to a hundred dollars on each occasion, but this depends on the merchant and how much cash they have in the till. When he did use the ATM, he had to pay the local ATM operator fee. There were no issues with card acceptance at New Zealand ATMs.
Travel money tips?
If you're travelling by shuttle bus to the peaks around Queenstown, purchase the tickets in bulk. A single ticket costs NZ$20, but there's a discount if you purchase packs of 10 or 15 tickets at a time.
* This is a fictional, but realistic, example.
Back to top
Buying currency in the UK
You can bring the British pound equivalent of $10,000 New Zealand dollars with you from the UK. If you take any more than this, you have to declare your cash when you pass through customs. You will get a better deal if you wait to get your money changed in New Zealand, and even better still if you make a withdrawal from an ATM rather than use a money changer. If you want to get your money changed in the UK, have a look at these companies – they can sell your foreign cash.
Travel Money Delivered
Covent Garden FX
The bottom line
As a flourishing modern economy New Zealand offers visitors the ability to withdraw cash from a wide range of ATMs across the country. Visa and Mastercard are widely accepted, while American Express can be used but is not as widely accepted by merchants.
New Zealand dollars can be held on pretty much every prepaid travel money card on the market today, leaving you with plenty of choice when it comes to buying currency at a decent, fixed rate. So whether you use cash, prepaid travel money cards or credit and debit cards, you'll be well accommodated.
We show offers we can track - that's not every product on the market...yet. Unless we've said otherwise, products are in no particular order. The terms "best", "top", "cheap" (and variations of these) aren't ratings, though we always explain what's great about a product when we highlight it. This is subject to our
terms of use
. When you make major financial decisions, consider getting independent financial advice. Always consider your own circumstances when you compare products so you get what's right for you.