How You Can Use Peer-to-Peer Money Transfer Services to Your Advantage
Save money and enjoy fast processing times when you send money overseas using a peer-to-peer money transfer service.
Although international money transfers were traditionally conducted via banks, it's now possible to use peer-to-peer (P2P) banking services for transfers. These services provide networks where people can share access to currencies without the need of a central server, allowing you to cut out the middle man. As a result, the money transfer process is simplified and helps you save money.
You can use the table below to compare P2P money transfer services based on fees, minimum transfer amounts and transfer speed. If you're interested in finding out more about a transfer service click 'More', or if you'd like to open an account click 'Go to Site'.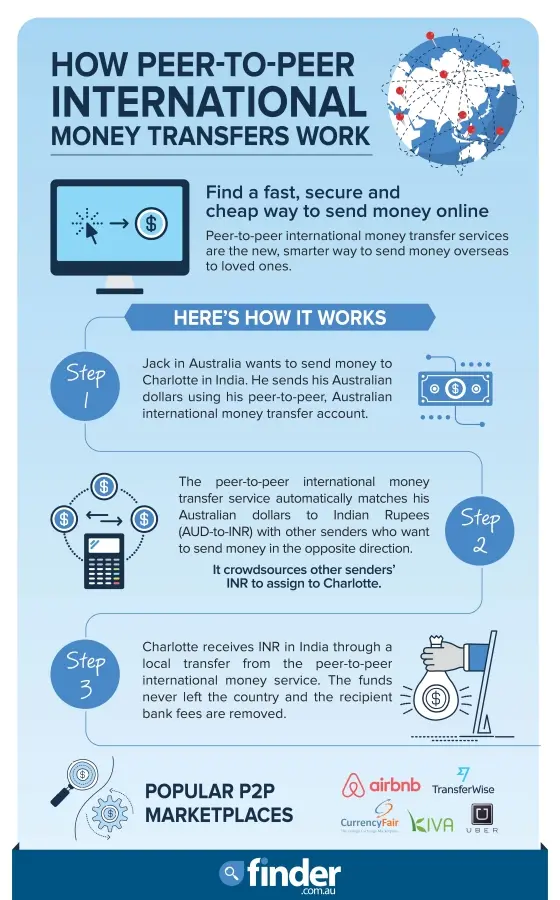 How do peer-to-peer money transfers work?
The process of a peer-to-peer money transfers (also known as a P2P money transfer) is simple. First, you need to select how much money you wish to transfer and where you're sending it. You can then upload your funds to your money transfer provider, which will then convert your money at the mid-market rate and match you up with a person sending funds in the opposite direction. So if you're sending money from the UK to the United States, you'll be matched with someone sending funds from the United States to the UK.
This allows customers to cut out the middlemen in the transaction—the banks—and enjoy better exchange rates and lower transaction fees.
Peer-to-Peer vs Bank
Lauren wants to send £1000 to her mother in the New York, US. In order to find the best possible money transfer deal, she compares the services offered by her 'big four' banks with a P2P money transfer service like TransferWise or CurrencyFair. The results can be seen in the table below.
| Cost to send a £1,000 | Bank (Natwest) | P2P money transfer service (TransferWise) |
| --- | --- | --- |
| Amount transferred | £1,000 | £1,000 |
| Exchange rate | 1.17 | 1.21 |
| Fee charged | £5* | £5 |
| TOTAL RECEIVED (in USD) | $1,170.30* | $1,206.41 |
As can be seen in the example above, if Lauren sent her funds using a P2P service she would be sending an extra £36.11 (*It is also important to note that when exchanging money from one bank to another, the receiving bank may also charge a transaction fee – meaning your savings could be even greater!).
How do I compare peer to P2P money transfer services?
You'll need to take the following features into account when comparing peer-to-peer money transfer services.
Exchange rates. The exchange rate is a very important factor when determining how much money you can save, so look for the company that offers the best rates. However, keep an eye out for companies that suck you in with great rates but then slug you with high fees.
Fees. Make sure you're aware of all the fees attached to your transaction. Does the company charge a flat fee or is it a percentage based on the amount you're transferring? Is the fee waived entirely if you transfer more than a certain amount?
Minimum and maximum transfer amounts. You'll need to check how much a company will allow you to transfer, as minimum limits might be too high for some and maximum limits may be too little for others.
Transfer methods. Compare whether your transfer can be lodged only online, or whether there are phone and in-person options available as well.
Other extras. Compare whether providers allow you to lodge forward contracts—where you lock in an exchange rate for a transaction that will occur at a later date— or limit orders, which is where you lock in a minimum exchange rate and the transaction is not completed until the market fluctuates and your chosen rate is available.
Customer service. Is the company known for providing excellent customer assistance? Is there an online help centre and live chat available? Can you email or phone for support, and during what hours is each provider's support centre open?
What currencies are available? You'll need to compare which currencies each provider offers and which destinations you can send money to.
Phone apps make it easy to pay (and collect) among friends
What are the pros and cons of using a peer-to-peer money transfer service over a regular service?
Pros
Better rates. Peer-to-peer money transfer services usually offer better exchange rates than banks.
Lower fees. You'll typically pay less to transfer money via one of these providers than you would through a bank.
Fast. Peer-to-peer money transfer services regularly offer faster processing times than banks, with transfers often able to be completed within one business day.
Cons
Supported currencies. While more supported currencies are added all the time, as peer-to-peer money transfer providers are relatively new, they do not yet offer the same number of exotic currencies and transfer destinations as major money transfer services.
Are there any risks?
When you're making an international money transfer, it's important to keep an eye out for exchange rates and fees. Poor exchange rates can eat up a big chunk of your money if you're not careful, while hidden fees can be a nasty surprise if you don't read the fine print before lodging a transfer.
It's also essential that you ensure you are dealing with a reputable company. Do your research before you commit yourself so that you don't end up the victim of a dishonest provider.

Compare International Money Transfer Services
Table: sorted by a combination of service offering and the amount your recipient will receive
Disclaimer: Exchange rates change often. Confirm the total cost with the provider before transferring money.
Frequently asked questions