How to send money to Vietnam
Send money to Vietnam using an international money transfer service and you could beat the bank's rates.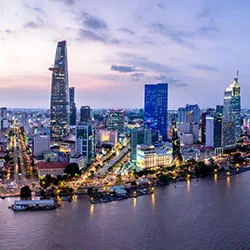 When you need to get money to a loved one overseas, the last thing you want to have to deal with is navigating a potentially complicated and expensive process. Sending money from the United Kingdom to Vietnam doesn't have to be expensive. Compare the transfer fees and exchange rates of the many options available to you to get the most Vietnamese dongs for your pounds.If you need to send money to Vietnam from the UK, you have plenty of options to choose from. All you have to do is shop around for a safe, secure and affordable transfer method.
Compare services that send money to Vietnam from the UK
Table: sorted by a combination of service offering and the amount your recipient will receive
Disclaimer: Exchange rates change often. Confirm the total cost with the provider before transferring money.
How do international money transfers work?
An international money transfer allows you to send money to a recipient overseas. Generally, a transfer involves you providing funds to a bank or an independent transfer provider, which then sends the money to your recipient in another country — in this case, Vietnam. This can be done in person, over the phone, through a mobile app or online. You can use cash, a credit or debit card, or transfer funds from your bank account, which will then either be deposited into your recipient's bank account or mobile wallet, or made available as cash for them to pick up at a location in their country.
Banks versus money transfer companies
We use our banks to take care of all our other financial needs, so surely we should use them when we need to send an international money transfer, right? Not necessarily. While major UK banks offer money transfer services, they usually present less competitive exchange rates coupled with high transfer fees.
Another option you should explore is to send money to Vietnam with a money transfer company. These providers, such as OFX and Xoom, specialise in handling overseas money transfers, combining competitive exchange rates and lower fee structures. Some providers will waive the fee altogether if you transfer more than a set amount, making it more affordable to send funds overseas.
Case Study: Henry Sends Money to Vietnam
Henry needs to send £1,000 to his parents in Hanoi, Vietnam, but when he asks his bank to send the funds he is disappointed by the exchange rate it offers. He decides to compare the services of two money transfer providers. The details of his comparison are shown in the table below.
| | Money transfer company 1 | Money transfer company 2 |
| --- | --- | --- |
| Exchange rate | £1 GBP = $28,030.72 VND | £1 GBP = $28,345.68 VND |
| Transfer fee | £5 | £3 |
| Transfer method | Bank account deposit | Bank account deposit |
| Processing time | 4 business days | 4 business days |
| Amount received (in VND) | $28,030,720 VND | $28,345,680 VND |
As you can see, Henry's parents will receive $314,960 dongs more if he sends his funds with the second transfer company.
How to compare transfer companies when transferring money to Vietnam
Exchange rates. The higher the exchange rate you can get, the more money will make it into your recipient's pocket. Just be aware that some companies that offer high exchange rates also charge high transfer fees.
Fees. You'll need to fork over cash in order to get your funds transferred, but some companies will let you avoid a transfer fee if you send a large amount.
Transfer methods. Online, over the phone, at a branch and through a mobile app are some of the transfer methods available from different companies.
Transfer options. While some companies only offer one-time transfers, others will allow you to set up recurring payments and make forward contracts, which allow you to lock in an ideal exchange rate now and transfer the money later.
Turnaround time. Processing times can be as quick as a few minutes or as long as several business days, so this may be important if you want your funds to arrive as soon as possible.
Minimum amount. Check the fine print provided by each provider to see if they set a minimum transfer limit. A high minimum limit can restrict your options if you just need to transfer a small sum.
Pickup methods. Services range from bank account deposits to cash pickup and even home delivery.
Customer service. Will assistance be easily accessible if you require help with a transaction?
Back to top
Foreign exchange rates explained
The exchange rate determines how much one country's currency is worth in another currency. When a country's currency is strong, it will yield more money when exchanging it in a country with a weak currency. For example, in December 2016, the pound was worth approximately 26 Mexican pesos. However, most countries' exchange rates are flexible, which means it can change from moment to moment. Factors that influence the exchange rate include interest rates, economic stability and inflation.
How to send money to Vietnam from the UK
Bank transfers. Approach your bank for details on how to send a secure wire transfer to a bank account in Vietnam.
Online money transfer providers. Online transfer companies offer a cheap, convenient and safe way to send funds to Vietnamese bank accounts.
Money transfer companies with cash pickup options. Companies like Western Union allow your recipient to collect the cash you send from agents across Vietnam.
PayPal. PayPal offers a simple and convenient online money transfer solution.
Checks. You may also wish to obtain an international check from your bank to send overseas.
Back to top
Emergency cash transfers in Vietnam
Urgent transfers typically attract poor exchange rates and higher fees than normal transfers, so make sure you're fully aware of how much the transfer will cost you before you send it. Not only will it mean more money makes it to your recipient, but you can also increase your cost savings.Back to top
Tips for picking up cash in Vietnam
If you need to pick up a cash transfer from an agent in Vietnam, take note of these simple safety tips.
Take a friend along for protection.
Don't advertise your money to strangers.
Be aware of your personal security at all times.
Deposit the money into your bank account as soon as possible.
Back to top
How to send money to Vietnam
Depending on the money transfer provider you choose, you may need to register for an account before you can send your funds overseas. This will usually mean having to provide:
Your name
Your email address and phone number
Your address
Photo ID (for example, a driver's license)
Most companies will give you a transaction reference number or receipt, which you can use to monitor the progress of your funds as they make their way to your recipient.