Which airlines have free Wi-Fi?
The complete list of airlines offering free Wi-Fi in 2019.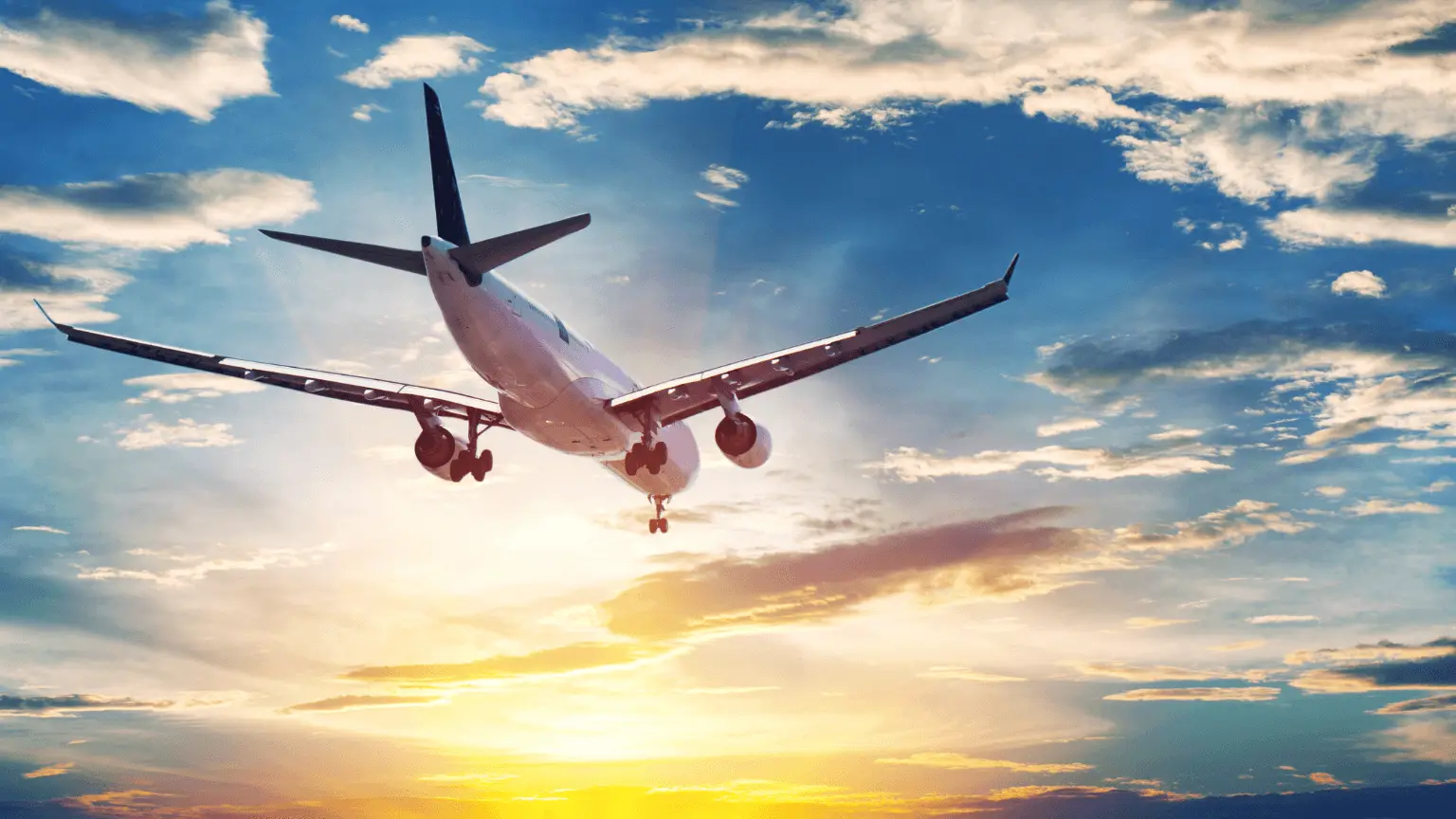 For some of us, flying gives us a well-earned break from Facebook, Instagram and various instant messaging apps. For others, being connected to the world wide web at all times can make all the difference when choosing which airline to fly with.
But with inflight Wi-Fi (or "Fly-Fi") getting more and more common, travellers won't have to worry about not being able to answer messages while flying for long. We've looked at the commercial airlines that service the UK's 10 biggest airports to see how many of them offer free Wi-Fi on their aircraft.
Quick facts
15 airlines that fly from the UK offer some form of free Wi-Fi access.
This means that 12.93% of airlines that fly from the UK offer free Wi-Fi.
JetBlue intends to start flying to the UK in 2021, and would be the first arline to offer unlimited Wi-Fi on every plane.
In 2018, Brits took to the skies over 77 million times.
75% of all Europeans
report that they would use Wi-Fi if it was available to them on their next flight.
Of the 96 carriers that fly in and out of the UK, 15 offer free Wi-Fi to some extent. The best service appears to be from Air New Zealand, which allows limitless web access on most of its planes. Norwegian offers passengers unlimited web browsing when flying to Europe, Qatar Airways provides free Wi-Fi on selected routes and El Al allows unlimited "light browsing". Interestingly, Xiamen Air operates a system that allocates free Wi-Fi to the first 50 passengers who apply for it.
Many of the airlines on our list offer unlimited use of messaging apps throughout the flight, while some allocate a certain amount of time or megabytes (MB) for free Internet access, before offering paid options for any amount more than that.
Airlines with free Wi-Fi
1. El Al
While flying the skies above with Israeli airline El Al, you can enjoy complimentary access to messaging apps, email and light browsing. If you want to watch videos, you must fork out around £7.75 when flying in Europe or £11.63 when heading to North America.
2. Norwegian
This Scandinavian airline offers free Wi-Fi as soon as you get on the plane for all its Boeing 737-800 and Dreamliner 787-9 aircraft. This Wi-Fi will get you unlimited web browsing, email and text-based messaging. If you want to do anything heavier such streaming, you must buy an upgrade for £11.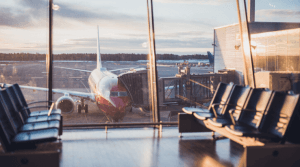 3. Qatar Airways
On selected aircraft, you can now browse the web as you please while flying. Not only does Qatar offer Wi-Fi access, but it even offers "Super Wi-Fi access". To get Super Wi-Fi access, you need to look out for a unique access code either on your confirmation page or your confirmation email after booking.
4. Emirates Airline
On Dubai-based airline Emirates, you get 2 hours or 20MB of free messaging over the web – whichever ends first. If you want to do more than just messaging, you'll have to put it on the plastic: £8 for 150MB or £12.50 for 500MB.
5. Philippine Airlines
Philippine Airlines offers their myPAL Wi-Fi to all customers. Every passenger gets 30MB of free data, which is about 5 minutes of video streaming. After that, you can get 100MB for £3.90.
6. Air New Zealand
While flying internationally, Air New Zealand offers free Wi-Fi without any restrictions on its 777-300, 777-200, A321neo and A320neo aircraft. Air New Zealand's Wi-Fi seems to be able to handle the most intense scroller, but the airline does ask customers to stay off real-time multiplayer games.
7. Xiamen Air
China's Xiamen Air operates a bit differently to other airlines. Once you've bought your ticket, you have from 30 days to 24 hours prior to departure to apply for one of the airline's 50 free Wi-Fi spots. This runs on a strictly first-come-first-serve basis, so you've got to get in quick.
8. KLM
This Dutch airline offers free Wi-Fi for messaging apps such as WhatsApp and iMessage on all its Boeing 787-9 Dreamliners. For more data consuming browsing, there are paid options available from £6.90.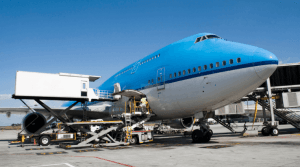 9. TAP Portugal
TAP, like many other airlines, offers free Wi-Fi for messaging on its Airbus A330 fleet on routes between Europe and North and South America. For £12 you can get 14MB of data, or for £35 you can get 50MB.
10. Air France
Instant messaging services are available to all passengers, but if you want to browse the web or stream videos, you must purchase the "Surf Pass". Right now this is available only on Air France's Boeing 787 aircraft, but the airline is aiming to have Wi-Fi available on all its aircraft by the end of 2020.
11. Delta Airlines
Famous American airline Delta gives its customers enough free Wi-Fi to be able to keep in contact with their loved ones via messaging apps while flying. If you want to do more than just text, you can purchase Wi-Fi for a whole year for the steep price of £465 ($599.99). If you're okay with just 24 hours of video streaming, £22 is the price for a full flight.
12. Air China
Air China offers free Wi-Fi for laptops and tablets, but phones are not allowed on their planes and must be turned off. China also has its own "Great Firewall", meaning that what you can do online is limited. If there's anything outside of Facebook, Instagram, Twitter, Pinterest, Tumblr or Snapchat that has your interest, Air China has the Wi-Fi for you.
13. Vietnam Airlines
This Vietnamese airline has one of the most affordable price plans for its Wi-Fi, which is available on all Airbus A350-900 aircraft (VN-A886, VN-A887, VN-A888, VN-A889). You get 30 minutes of free messaging, but it's £2.50 for two hours extra on domestic flights and £2.95 for international flights.
14. RwandAir
Rwandan national airline RwandAir operates over the African, Asian and European continents and offers all passengers 15 minutes of free Wi-Fi when travelling on its A330 and 737 aircraft. After that, it will cost you £7.70 for an hour, £15.44 for two hours and £23 for the whole journey.
15. Hainan Airlines
Hainan offers free Wi-Fi on its Boeings 787-9 aircraft. However, as the airline is Chinese, the apps and websites that you can access will be limited.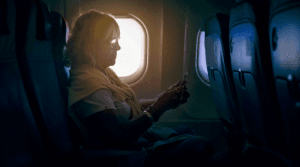 JetBlue*
JetBlue offers free Wi-Fi for all its passengers. You can message, stream and browse the web without any limitations, but as of 2019, *this airline does not fly to or from the UK. The airline is aiming to deliver its services to the UK by 2021.
Qantas*
If you're taking a domestic flight from Australia with Qantas, you're in luck! Chances are that you'll get 100% free full-access Wi-Fi. The airline says that two-thirds of its 737-800 fleet and half of its A330 fleet now are equipped with Wi-Fi.
All airlines
To find out if your next flight has Wi-Fi access, see the full list of airlines that fly to and from the UK below.
Airline
Wi-fi
If applicable, how long do we get free wifi?
Price after free time
ANA
Wifi available on B777-300ER or B767-300ER
Free for first class.
30min/15MB: $4.95 (£5) 1hr/30MB: $8.95 (£7) Full Flight/100MB: $19.95 (£15)
Malaysia Airlines
Wifi available
Messaging: 10 MB, 2 USD (£1.50) Light use and messages via apps: 50MB, 10 USD, £7.80 Business, streaming not encouraged: 200MB, 25 USD, £19.45
Level
Wifi available
Price start at €8.99 (£8)
Aeroflot
Wifi available, on the A330 and B777 fleets.
15 min, 10MB. $5 (£3.88) 1 hour, 30 MB, $15. (£11.64) 3 hours, 100 MB, $40. (£31) Entire flight, 150 MB, $50 (£38.79)
Ethiopian Airlines
Wifi available only on A350-900XWB aircraft.
Platinum Sheba Miles members gets 100MB free.
£7.74 for 100MB £15.49 for 200MB
Iberia Express
Wifi available on their Airbus 330 and A340 planes.
22MB: £15.50 50 MB: £23.30 With any use thereafter charged at 13p for every 100 KBs used.
Garuda Indonesia
Wifi available on the Airbus A330-200/300 and Boeing 777-300 ER.
Different tariffs between Airbuses and Boeings. Boeing: 1 hour 11.95 USD (£9.29) 3 hours: 16.95 USD (£13,17) 24 hours: 21.95 USD (£17) text/chat: 5 USD (£3.90) Airbus: 30 mins/15 MB: USD 5 (£3.90) 1 hour/30 MB: 11.95 USD (£9.29) 3 hours/50MB: 16.95 USD (£13,17) Whole flight/100 MB: 21.95 USD (£17)
Air Canada
Wifi available on selected North American, Caribbean and international flights.
1-Hour: $6.50 CAD (£4) Full flight: $21.00 CAD (£12.50) Air Canada Plan (1 month): $65.95 CAD (£39.40)
Virgin Australia
Wifi available on selected international flights.
£4.78 for one hour £10.63 for the whole flight
Qatar Airways
Wifi available on selected domestic flights.
Full flight
Free
Qantas
Wifi available on selected domestic crafts.
Full flight
Free (domestic)
British Airways
Wifi available on selected aircrafts.
Basic: 1 hour: £4.99 4 hours: £10.99 Full flight: £14.99 Fast: 1 hour: £7.99 4 hours: £17.99 Full flight: £23.99
United Airlines
Wifi available on selected aircrafts.
1 hour: $7 - $14 (£6-11) Full day: $19 - $29 (£15-23)
Turkish Airlines
Wifi available on selected aircrafts: B777, B787, A330, B737 MAX and A321 NEO aircraft.
Free of charge for customers flying in Business Class and Miles & Smiles Elite and Elite Plus members.
1 hour: $9.99 (£7.70) 24 hours: $14.99 (£11.60)
Eurowings
Wifi available on selected aircrafts: A330-300 and A330-2002.
Small: €3.90 (£3.50) Medium: €6.90 (£6) Large: €11.90 (£10)
Eva Air
Wifi available on selected aircrafts: 787, 777-300ER and A330-300.
Lite Messaging Plan 30MB, USD 4.95 (£3.85) Standard Plan 100MB, USD 14.95 (£11.63) Business Plan 300MB, USD 29.95 (£23.30)
Rwand Air
Wifi available on RwandAir A330 and 737 aircraft.
15 minutes for free.
1 hour: $10 (£8) 2 hours: $20 (£15) Full flight: $30 (£23)
Swiss International Airlines
Wifi available on Boeing 777-300ER and the Airbus A330-300.
9 for 20 MB (£7) 19 for 50 MB (£14.85) 120 MB for 39 CHF (£30.50)
Finnair
Wifi available on all intercontinental flights.
Finnair Plus Gold members can enjoy complimentary internet access for one hour. For Finnair Plus Platinum members, the service is complimentary for the whole flight.
3 hours: £2.58 Full flight: £17.22
Aer Lingus
Wifi available on aircrafts A330 and A321neoLR.
£6 for 50 MB £12 for 120 MB £26 for 270 MB
Air Astana
Wifi available on aircraft Boeing-767.
Light, 15MB, £4 Business, 50MB, £12 Super, 100MB, £20
Egypt Air
Wifi available on aircraft A330-300, you can message and do some light internet browsing.
There are packages available based on time and usage, prices unknown.
Hainan Airlines
Wifi available on aircraft 787-9
Full flight
Free
Vietnam Airlines
Wifi available on Airbus A350-900 (VN-A886, VN-A887, VN-A888, VN-A889) operated on selected routes.
30 minutes free messaging
2 Hours messaging on domestic flights: £0,0025 international: £2.95 Light internet browsing full flight or 25MB: £0,0085 on domestic. £7.74 for international flights. Streaming full flight or 80MB: Domestic: £0,025. International flights: £23.30
Thai Airways
Wifi available on Airbus 380-800, 350-900, selected 330-300 and Boeing 787.
10MB: $4.99 (£4) 20MB: $8.99 (£7) 30MB: $9.99-12.99 (£8-10) 50MB: $14.99 (£12) 100MB: $19.99-34.99 (£15-27) 500MB: $34.99 (£27) Unlimited: $59.99 (£47)
Asiana South Korea
Wifi available on A350.
1 hour: $11.95 (£9) 3 hours: $16.95 (£13) Unlimited use - $21.95 (£17)
Sri Lankan Airlines
Wifi available on A330-300 and A320/321 Neo fleet.
4USD for 20 minutes/9MB of data (£3) 25USD for the full flight/240MB of data (£19)
Norwegian Air Shuttle
Wifi available on 737-800 and Dreamliner 787-9.
Free basic wi-fi (only messaging, no streaming)
$14.95 (£11.70) for three hours of premium wifi.
Air New Zealand
Wifi available for international hauls, on aircrafts: 777-300, 777-200, A321neos, A320neos.
Full flight
Free
Uzbekistan Airlines
Wifi available Airbus A320neo.
LITE - 20 Mb for messages MEDIUM - 50 Mb for communicating on social networks, STREAM - 120 Mb for online work or easy Internet surfing BUSINESS - 220 MB From £4.62 and onwards. For business class passengers, a 50 Mb Internet package is provided at no extra charge.
Jetblue Airways*
Wifi available
Full flight
Free (in 2021)
Emirates Airline
Wifi available
Free 20MB/2 hours
£8 for 150 MB, £12.50 for 500MB
Japan Airlines
Wifi available
1 hour: £7.90 2 hours: £11.20 24 hours: £14.40
Xiamen Air
Wifi available
50 free wi-fi spots on each flight. You must apply for a spot from 30 days to 24 hours prior to flight departure.
Etihad Airways
Wifi available
90MB of free Wi-Fi for first class.
Lite, 50MB, £4.63 Flex, 150MB, £12.41 Premium, 300MB, £23.30
KLM
Wifi available
Free messaging apps (on selected aircrafts).
1 hour: €8 (£6.90) Whole flight: €18 (£15.50)
Tarom
Limited access to internet via their entertainment system
Free for business class.
Delta Air Lines
Wifi available
Free messaging apps.
24 hours access in North America: $16 (£12) 24 hours globally: $28 (£22) 1 month in North America: $49.95 (£39) 1 year of wifi in North America: $599.99 (£465)
Virgin Atlantic
Wifi available
Wifi Light from £4.99 for 40MB of data, to £14.99 for 150MB of data (on 787s) or unlimited data (on A330s, A340s and 747s). On the latter aircraft, a messaging pass of £2.99 is available.
Air China
Wifi available
Free on laptops and tablets.
Only for laptops and tablets, mobile phones are still banned. Limited on what you can visit on their wifi.
Air Serbia
Wifi available
10 MB of wifi €2.90 (£2.50) 20MB of wifi for €4.90 (£4) 50MB of wifi for €8.90 (£7.70) 90MB of wifi for €13.90 (£12) 120 MB of wifi €18.90 (£16)
Avianca
Wifi available
Social media and email plan, Browsing plan and an All inclusive plan. Prices unknown.
American Airlines
Wifi available
From $10 (£8)
SAS – Scandinavian Airlines
Wifi available
Travelers in SAS Plus, SAS Business and EuroBonus Diamond, Gold and Silver members enjoy free WiFi all the way.
£4 per flight
Lufthansa
Wifi available
FlyNet Message: €3, (£2.50) for messages only Surfing the internet without streaming: €7 (£6) Surf + stream: €12 (£10.40)
China Southern
Wifi available
First class and business class free
You can apply for a spot on their wifi via their app. First come, first served policy.
TAP Portugal
Wifi available
Free messaging apps for routes between Europe and North and South America, on board its A330 fleet.
14 MB - $14,99 (£11.66) 50 MB - $45,00 (£35)
Philippine Airlines
Wifi available
30 MB for free in economy class, 50 MB for free in business class
5 USD, £3.89 up to 100 MB
Air Mauritius
Wifi available
Chat, 15 MB (Full Flight), USD 4.95, £3.85 Start, 75 MB (1-hour), USD 9.95, £7.74 Classic, 150 MB (3-hour), USD 14.95, £11.62 Premium, 300 MB (Full Flight),USD 19.95, £15.51
Alitalia
Wifi available
Lite 10 MB: 2 USD (£1.55) Flexi 50 MB: 6 USD (£4.66) Flexi Plus 90 MB: 12 USD (£9.31) Business 200 MB: 20 USD (£15.52)
Oman Air
Wifi available
First Class free
From £7.70
Air France
Wifi available
The free Message Pass: WhatsApp, iMessage and WeChat.
Surf pass: Emails and stuff that doesn't require much data. €3 short-haul flight (£2.59). €5 medium-haul flight (£4.31), and €18 per long-haul flight (£15.51) Stream pass: €30 per flight (£25.86)
Icelandair
Wifi available
Complimentary for Economy Flex for flights within Europe. Free for premium and premium flex
Wi-Fi on flights within Europe: €6 EUR (£5) Wi-Fi on flights between Iceland and North America: €12 (£10)
Saudia
Wifi available
1 Hour, up to 50 MB: $9.49 (£7) 3 Hours (up to 100 MB) $14.49 (£11) Flight Plan (up to 300 MB) $24.49 (£19)
El Al
Wifi available
Instant messaging applications such as WhatsApp, access to email and browsing free portal sites.
Browsing websites and short videos (up to 3 minutes): Europe: $9.99 (£8) North America: $14.99 (£12)
Austrian
Wifi available
Messaging, €3 (£2.59) Surfing, €7 (£6) Streaming, €12 (£10)
Air Europa
Wifi available
From £8 per flight
China airlines
Wifi available
1 hour: A$15.90 if paid on board or A$15.60 if pre-paid. (£8.34-8.50) 3 hour: A$22.55 on board or A$22.20 if pre-paid. (£11.87-12) 24 hour: A$29.20 when paid on board or A$28.90 if pre-paid. (£15.45-15.60)
Vueling
Wifi available
From £3
Cathay Pacific Airways
Wi-Fi services can be used on all Airbus A350 and selected Boeing 777.
1 hour: $10 (£7.77) Full flight: $20 (£15.55)
China Eastern
Wifi available
Only for laptops and tablets, mobile phones are still banned. Limited on what you can visit on their wifi.
Nok Air
No wifi
Air India
No wifi
Air Algerie
No wifi
Royal Jordanian
No wifi
Turkmenistan Airlines
No wifi
Gulf Air
No wifi
Azerbaijan Airlines
No wifi
Royal Brunei
No wifi
MEA
No wifi
Brussels Airlines
No wifi
Royal Air Maroc
No wifi
Jet Airways
No wifi
Biman Bangladesh Airlines
No wifi
South African Airways
No wifi
Arik Air
No wifi
Aegan Airlines
No wifi
Aeromexico
No wifi
Kenya Airways
No wifi
Croatia Airlines
No wifi
LATAM Airlines
No wifi
Bulgaria Air
No wifi
Iran Air
No wifi
Tunisair
No wifi
Air Malta
No wifi
LOT Polish Airlines
No wifi
Ryan air
No wifi
Aegean Airlines
No wifi
Air Arabia
No wifi
Air Baltic
No wifi
EasyJet
No wifi
Enter Air
No wifi
Georgian Airways
No wifi
Iraqi Airways
No wifi
Jazeera
No wifi
Montenegro airlines
No wifi
Smartwings
No wifi
Titan Airways
No wifi
Uia
No wifi
Westjet
No wifi
Wizz
No wifi
Air Transat
No wifi
Flybe
No wifi
Loganair
No wifi
Pakistan International Airlines
No wifi
Pegasus airlines
No wifi
Air corsica
No wifi
Air moldova
No wifi
Arkia
No wifi
Transun
No wifi
Wideroe
No wifi
Air Seychelles
No wifi
BH Air
No wifi
Edelweiss Air
No wifi
Transavia France
No wifi
Czech Airlines
No wifi
Which is the best airport in the UK?
Speaking of flying from the UK, we wanted to find out which airport in the UK is the best. In the table below, we've looked at important factors from sockets to parking to decipher which airport rules the roost. And the good news? They all offer free Wi-Fi for at least one hour.
In 2018, Heathrow hosted over 80 million travellers, which makes it the most visited airport in the UK. It also hosts more airlines than any other airport in the UK, with 84 airlines docking at its gates every year.
| Features | |
| --- | --- |
| Runways | 2 |
| Airlines | 84 |
| Gates | 231 |
| Most popular destination | New York (JFK) |
| Fast track | £12.50 |
| Lounges | 12: One free, the rest £24.99-£50.00 |
| Number of sockets available | 3,050 power plugs |
| Seats and rest zones | Plenty |
| Wi-Fi | Free, unlimited |
| Shops | 79 |
| Restaurants/cafés | 37 |
| Hotels | 6 |
| Features | |
| --- | --- |
| Runways | 2 |
| Airlines | 50 |
| Gates | 115 |
| Most popular destination | Barcelona |
| Fast track | Passport control: £9.99. Security: £5 |
| Lounges | 7, £21-£38 |
| Number of sockets available | Plenty |
| Seats and rest zones | Plenty |
| Wi-Fi | 90 minutes free |
| Shops | 39 |
| Restaurants/cafés | 32 |
| Hotels | 6 |
| Features | |
| --- | --- |
| Runways | 2 |
| Airlines | 56 |
| Most popular destination | Amsterdam |
| Fast track | Passport control: £7 Security: £6 |
| Lounges | 2, £21-£30 |
| Number of sockets available | Few |
| Seats and rest zones | Plenty |
| Wi-Fi | 4 hours free |
| Shops | 26 |
| Restaurants/cafés | 27 |
| Hotels | 16 |
| Features | |
| --- | --- |
| Runways | 1 |
| Airlines | 22 |
| Gates | 88 |
| Most popular destination | Dublin |
| Fast track | From £8 |
| Lounges | 1, from £25 |
| Number of sockets available | Few |
| Seats and rest zones | Poor |
| Wi-Fi | 4 hours free |
| Shops | 22 |
| Restaurants/cafés | 20 |
| Hotels | 10 |
| Features | |
| --- | --- |
| Runways | 1 |
| Airlines | 11 |
| Gates | 28 |
| Most popular destination | Amsterdam |
| Fast track | Security: £6 |
| Lounges | 1, £22.49-£50 |
| Number of sockets available | 440 |
| Seats and rest zones | Limited |
| Wi-Fi | 4 hours free |
| Shops | 23 |
| Restaurants/cafés | 16 |
| Hotels | 4 |
| Features | |
| --- | --- |
| Runways | 2 |
| Airlines | 37 |
| Destinations | 157 |
| Most popular destination | Amsterdam |
| Fast track | From £5 |
| Lounges | 2, from £25.99 |
| Number of sockets available | Plenty |
| Seats and rest zones | Limited |
| Wi-Fi | 2 hours for free |
| Shops | 23 |
| Restaurants/cafés | 15 |
| Hotels | 5 |
| Features | |
| --- | --- |
| Runways | 1 |
| Airlines | 50 |
| Destinations | 143 |
| Most popular destination | Dublin |
| Fast track | Passport control £5, Security £3.75 |
| Lounges | 4, £24.99-£34 |
| Number of sockets available | Limited |
| Seats and rest zones | Limited |
| Wi-Fi | Free |
| Shops | 23 |
| Restaurants/cafés | 13 |
| Hotels | 6 |
| Features | |
| --- | --- |
| Runways | 1 |
| Airlines | 30 |
| Destinations | 101 |
| Most popular destination | Amsterdam |
| Fast track | Security: £4.99 |
| Lounges | 2, £23-£40 |
| Number of sockets available | Plenty |
| Seats and rest zones | Plenty, frowned upon passengers sleeping |
| Wi-Fi | 1 hour free |
| Shops | 18 |
| Restaurants/cafés | 14 |
| Hotels | 5 |
| Features | |
| --- | --- |
| Runways | 1 |
| Airlines | 13 |
| Destinations | 125 |
| Most popular destination | Palma |
| Fast track | Security: £3.95 |
| Lounges | 2, £22.99-£34.99 |
| Number of sockets available | Limited |
| Seats and rest zones | Limited |
| Wi-Fi | 2 hours free |
| Shops | 9 |
| Restaurants/cafés | 8 |
| Hotels | 12 |
| Features | |
| --- | --- |
| Runways | 2 |
| Airlines | 7 |
| Most popular destination | Alicante |
| Fast track | Priority security £4 |
| Lounges | 1, £27.50 |
| Number of sockets available | Limited |
| Seats and rest zones | Poor, none |
| Wi-Fi | 2 hours free |
| Shops | 6 |
| Restaurants/cafés | 10 |
| Hotels | 1 |
Sources
All airlines own websites
Heathrow Airport
Gatwick Airport
Manchester Airport
Stansted Airport
Luton Airport
Edinburgh Airport
Birmingham Airport
Glasgow Airport
Bristol Airport
Belfast Airport
CAA
Click here for more research. For all media enquiries, please contact:
Related articles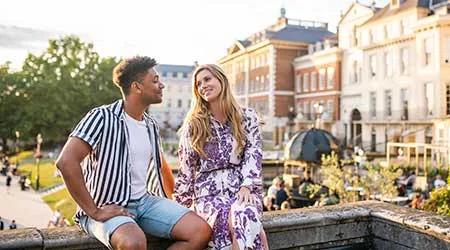 Just the inspiration you need to decide what to do over Easter weekend. Read more…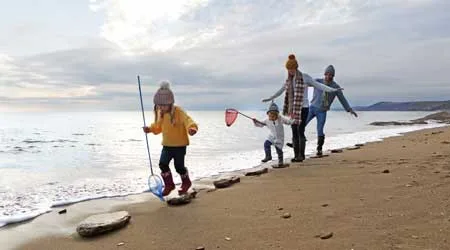 Make this Easter egg-stra special when you book a low-cost, family-friendly getaway. Read more…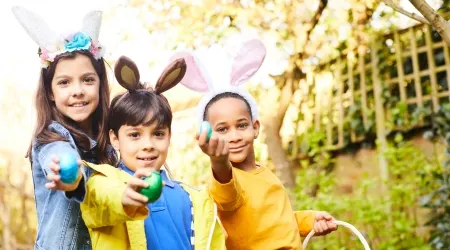 A guide to keeping the kids entertained over the Easter holidays. Read more…