Finder is committed to editorial independence. While we receive compensation when you click links to partners, they do not influence our opinions or reviews. Learn how we make money.
RV loan finder
Compare financing options for your motorhome.
Traveling in a house on wheels can save you money — if you can get the money to buy one. If you don't, there financing available to buy RVs of all sizes. But be prepared for the extra costs that come with RV ownership.
4 providers that offer RV financing
| Lender | Loan amounts | Starting APR | Terms | |
| --- | --- | --- | --- | --- |
| LendingTree | Starting at $1,000 | Varies by lender | Varies by lender | |
| Alliant Credit Union | Up to $300,000 | 4.47% | Up to 120 months | Read review |
| US Bank | $5,000 to $150,000 | 6.24% | Starting at 12 months | Read review |
| Wells Fargo | Varies | Varies | Varies | Read review |
How can I finance an RV?
When it comes to financing your RV, you have a few options to choose from.
Compare more RV financing options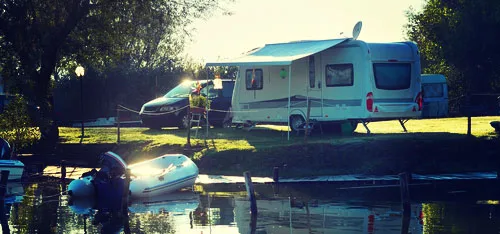 How should I compare my RV loan options?
Look to the APR. Your loan's APR is an expression of your loan's interest and fees as a percentage. It's the easiest way to compare costs on loans with the same term.
Compare secured vs. unsecured RV loans can either be secured or unsecured. Unsecured loans can have less risk but they often have higher rates to make up for it.
Are there flexible payment options? Most RV loans have flexible loan payments, offering anywhere from weekly to monthly payments.
See what loan terms are offered. The amount of money you borrow will influence the term length. But have an idea of how long it'll take you to repay the loan before agreeing to anything.
4 tips to qualify for a competitive deal
Compare lenders and dealers. Comparing lenders can help you get the best rate, and comparing offers from dealerships can help you lower the price. Some offers can differ as much as $30,000.
Check your credit report. Mistakes happen. Having an error on your credit report can cause your score to drop and limit your financing options. Make sure everything checks out before applying for an RV loan.
Know your credit score. Knowing your score allows you to focus on lenders that specialize in financing for your rating. Don't know yours? You can get an estimate online or through budgeting apps like Mint.
Negotiate. Be prepared to negotiate both the price as well as the rates and terms of your financing. Pro tip: Consider getting preapproved with a lender and use those rates and terms to get a better deal at the dealership.
Avoid impulse buys. You might be excited to get out on the road but buying impulsively likely means you won't take the time to compare all of hour financing options.
Consider used. New RVs can depreciate even more than new cars during first three years. Getting a used RV can help you avoid going upside down on your loan while also costing less.
RV loan calculator: Compare monthly costs
What to avoid with a RV loan
Long loan terms. An extra long term might give you lower monthly repayments but you'll pay more in interest and could end up owing more than your RV's resale value.
Not budgeting for the whole cost. Make sure to have room in your budget to cover maintenance, taxes, registration and other fees associated with buying an RV.
High loan amount. Make sure you're not borrowing more than you can afford. If you're in a lot debt or if your credit is poor, it may be a better idea to pay other debt down before taking on more.
No down payments. The less you pay upfront the more you pay in interest — and the more likely you are to go upside down on your loan. Especially with a new RV.
Hidden surprises in your contract. Be sure to read the loan contract in full before you sign anything. Look out for hidden fees and terms.
How to apply for an RV loan
If a RV loan sounds like it's right for you, applying for one is very easy.
Typically, to be eligible for RV finance you must be at least 18 years of age and a US citizen. You must also have a good credit rating and be able to provide the lender with your financial details — bank statements, pay stubs and any other documents relating to your personal income.
What documents will I need for my RV loan?
Your application will run much smoother if you have all your documents ready and available when you apply for your RV finance. You'll need:
Valid form of ID and Social Security number
Employment information and proof of income
Personal details
Are there any other costs I should expect with my RV?
Owning an RV is more than just paying the purchase price and driving away. When you commit to an RV, you need to make room in your budget for a number of related expenses.
Maintenance. RVs need yearly maintenance. The cost will vary on the age of your RV and how often its in use. If you tow a trailer, you should also factor your primary vehicle's maintenance into this cost as well.
Fuel costs. It doesn't matter whether you've opted for a diesel or gas engine — you're going to be paying quite a bit in fuel. Before you start on a trip, look up average gas or diesel prices at regular points along your route and start saving.
Park fees. Some parks and campgrounds charge per night. Depending on how long you want to stay, you might quickly find that just having your RV parked on a slip can be a pricey expenditure.
Hookup fees. In a similar vein, you'll likely have to pay to hook your RV up to electricity and plumbing. While it might not be as expensive as a hotel, you should still factor basic amenities into your budget when planning to buy an RV.
Storage. Unless you plan on living in your RV year-round or you have a space to keep it, you'll have to pay for storage in the off-season. This can range from a few hundred dollars to a few thousand depending on where you live and the storage unit's facilities.
What types of RVs can I buy?
No matter which road you chose to travel, there's an RV out there for you. Make memories in a towable RV or a full-sized motorhome, or anything in between.
Checklist for buying a camper trailer
Different strokes for different folk holds true when it comes to camper trailer shopping. But keep an eye out for a few things that can affect your travels if they're overlooked:
Chassis. This is the base frame> a trailer and plays a crucial role in holding it together. For more durability, look for a chassis made of high-quality materials — especially if you're planing to carry heavy loads of drive off-road.
Suspension. Suspension springs should be strong enough to take the weight of the trailer as well as the load that it carries. Make sure you pay attention to their condition and find out if they're suitable for off-road driving.
Tailgate and doors. Remember to check all seals, not just on the doors and the tailgate but also on all compartments and even the tool box to avoid damage from water and rust.
Towing. The towing coupling should be strong enough to take the camper trailer's weight as well as all that it carries. For off-road driving, getting a coupling that turns 360 degrees is ideal. In addition, consider getting snatch points at the trailer's rear section.
Protection. Camper trailers tend to flick up stones from time to time — even on paved roads. Some trailers deflect these stones by using built-in stone guards or shade cloth attachments to bridge the gap between the trailer and the car.
Tires. If you can manage to get the same set of tires on your trailer as on your main vehicle you can look forward to a smoother drive.
Trim. The canvas on your camper trailer should be durable, given that it provides shelter. But remember that lightweight canvas is quicker and simpler to set up. Check for water proof and mildew proof materials with no holes.
Bedding. Make sure there's enough bedding for all your travelers — even measure the beds if they look small.
Possible add-ons. While the list of add-ons can be very long, most camper trailers tend to include water tanks, jockey wheels and awnings.
Frequently asked questions
Image source: Shutterstock
Read more on this topic