Finder is committed to editorial independence. While we receive compensation when you click links to partners, they do not influence our opinions or reviews. Learn how we make money.
Compare FNBO Direct banking products: Savings and Checking
Competitive APYs with no minimum initial deposit required.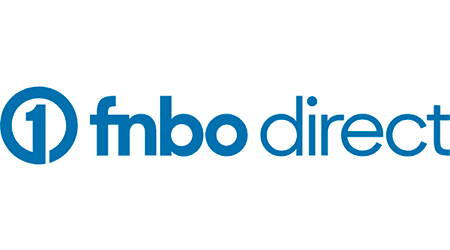 Clients can earn significant interest on stowed-away cash, but it only offers three accounts, and doesn't have a brick-and-mortar presence.
What banking products does FNBO Direct offer?
All of its accounts are capable of direct deposit, digital payments and custom alert setups. It partners with Popmoney for nearly instant person-to-person transfers. Specific features include:
Online checking account. Get an APY of 0.65%, with no monthly service fees. You'll get a Visa debit card to make purchases, and because it's a part of the AllPoint network, you can withdraw cash at over two million ATMs worldwide for free. Though FNBO Direct won't reimburse you for any extraneous ATM charges.
Online savings account. Start earning an interest of 0.9% APY by depositing just a dollar, and it's unnecessary to maintain a minimum balance to waive fees, because there aren't any.
CDs. It offers term length from six to 60 months with APYs starting at 0.16% and maxing out at 1.15%. When the account reaches maturity, you can either withdraw funds or renew the CD. To get started, deposit at least $500.
How does it compare to other banks or services?
FNBO Direct was digitally launched by First National Bank of Omaha in 2006 and still exists entirely on the Interweb today. Its product selection is much smaller than big-box banks like Wells Fargo and Bank of America, though offering no fees is common with other new online operations.
It doesn't rank on the FDIC's list of Top 50 Bank Holding Companies by Total Domestic Deposits — and neither does its parent company — but it's a member of the Allpoint ATM network which gives users access to over 55,000 surcharge-free ATMs in the US.
Checking accounts
Pros
Competitive APY. Earn 0.65% APY on your total account balance.
No fees and hardly any small print. Don't worry about getting dinged for not stashing enough cash away — FNBO Direct's checking account is free to open and maintain.
No minimum deposits for checking and savings. Get started right away with the cash you've got on hand now.
Free PopMoney transfers. Most banks charge $0.95 for PopMoney transactions, but FNBO Direct waives this fee.
Cons
No checkwriting capabilities. If you like the flexibility of checkwriting — whether to pay the babysitter or for a new Craigslist find — you'll need to find a different bank, since FNBO Direct doesn't offer them.
No tiers mean you're locked in to one account. While other banks have different levels of financial management that you can grow into, FNBO Direct's products plateau.
No international wire transfers. Although you can send and receive domestic wire transfers, FNBO Direct doesn't support international wire transfers of any kind.
Savings accounts
Pros
Competitive savings APYs. The 0.9% for savings is high, a worthy opponent to industry leaders like Ally and Marcus by Goldman Sachs.
No fees or minimum balance requirements. This account is free to open and maintain. Plus, you can get started with as little as $1.
Compatible with digital pay. Connect your savings account to Apple Pay, Samsung Pay and Visa Checkout to pay for purchases digitally.
Cons
Only one account option. FNBO Direct only offers one savings account, so you can't upgrade or switch accounts if you outgrow your current one.
Hold on deposits. Check deposits may be held for up to 10 business days and electronic transfers can take up to three days to post to your account.
Withdrawal limits. You typically can't make more than six outgoing transactions a month. But many banks are suspending this policy due to COVID-19. Contact the provider for more information.
CDs
Pros
Flexible terms. Lock in a CD rate for as short as six months or as long as five years. The longer the term, the more you'll earn.
Low opening deposits. You only need $500 to open an FNBO Direct CD, which is low considering some banks require as much as $10,000.
Convenient applications. Open this CD from the comfort of your home without having to visit a local branch.
Cons
Low CD APYs. The APYs on its CDs aren't anything to write home about. Rates start out at 0.16% for a six-month CD and max out at 1.15% for a five-year CD.
Early withdrawal penalties. If you need to withdraw your money before maturity, you'll pay a penalty equal to three months' interest on CDs up to one year and six months' interest on CDs over one year.
Maximum deposit limit. You can't hold more than $1 million in any FNBO Direct CD.
Overall banking
Pros
Seamless online and mobile experience. FNBO Direct tells customers to think of it as an online checkbook. It's easy to make payments and transfer money online or through the app, whether you're settling bills or splitting the tab for supper.
Large in-network ATM. FNBO Direct is part of the Allpoint ATM network, which gives you free access to over 36,000 ATMs nationwide.
Cons
No physical locations. You'll have to be comfortable calling customer service, because you can't walk into a bank when you need help. And the only way to deposit cash is through an Allpoint ATM.
Slim product offering. FNBO Direct only offers one checking and savings account and one type of CD. Plus, you won't find any business products here.
Compare FNBO Direct to the competition
FNBO Direct reviews and complaints
It isn't listed on the BBB but its parent company, First National Bank of Omaha, has an A+ rating and has been accredited since 1985. So far, there's only one complaint lodged against FNBO Direct on the CFPB, though the company responded in a timely manner and closed the complaint quickly.
It could take time for a more thorough reputation to emerge, but for now FNBO Direct seems to be relatively well-esteemed throughout the industry. FNBO itself was named one of the Best Banks in America by Forbes in 2019.
FNBO Direct customer service
You've got three options to get in touch:
Phone: For general banking questions, call 877-370-3707.
Email: Send an online message through the Secure Online Message Center by logging into your account.
Mail: Address snail mail to:
FNBO Direct
PO Box 3707
Omaha, NE 68103-0707
Bottom line
FNBO Direct has a no-frills product selection with great APYs. But if you want a different banking experience,
browse around to see what other providers have to offer.
Frequently asked questions.
Read more on this topic