Finder is committed to editorial independence. While we receive compensation when you click links to partners, they do not influence our opinions or reviews. Learn how we make money.
Using a credit card in France
Planning a trip to France? Get your credit cards ready!
In France, credit cards and debit cards are typically referred to jointly as "carte de crédit" or just "carte." When a distinction is drawn, it's between domestic credit cards ("Carte Bleue," or blue card) versus international ones ("Carte Bleue Visa" or "Carte Bleue Mastercard"). All you need to care about is seeing a CB logo outside a French shop window, which means the shop should take an international Visa or Mastercard credit card. American Express cards are not nearly as commonly accepted in France.
The fact you can use your card most anywhere is great news — but there are a few things you should know before you use your credit card in France.
Our pick for use in France
Compare credit cards for use in France
Getting a card that doesn't charge foreign transaction fees should be at the top of your list while planning a trip to France. Although these fees aren't large, they can add up quickly if you use your card frequently while traveling. Look for a strong travel card and you might even be able to get to France using credit card rewards.
A few credit card fees to avoid
International travelers often uncover a nasty surprise: Using a card overseas can be expensive. The main culprits are foreign transaction fees and currency conversion fees.
Foreign transaction fees
A foreign transaction fee is assessed when you use your card abroad, and it's usually 3% of each transaction (though can be more, depending on your card).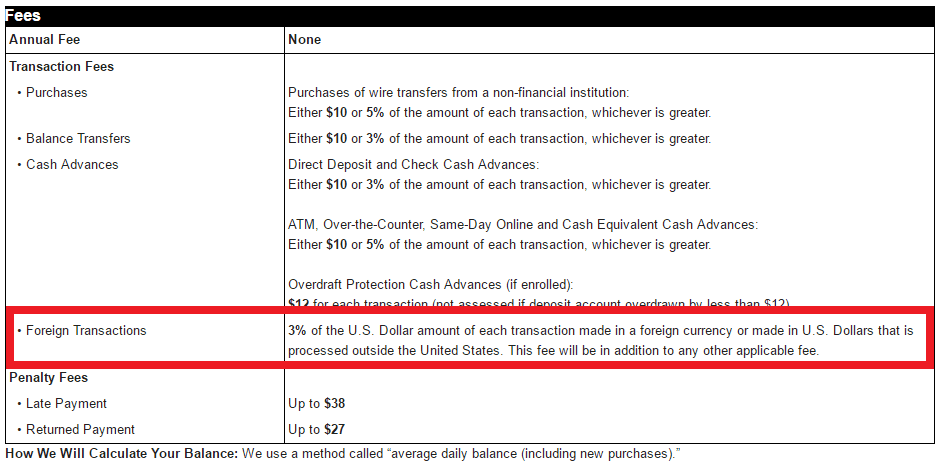 Most credit cards have foreign transaction fees. However, all good travel cards come with no foreign transaction fees. For a few excellent cards, look into the Chase Sapphire Preferred, Barclaycard Arrival Plus and Bank of America® Travel Rewards credit card.

Currency conversion fees
A merchant may offer to convert your bill into US dollars instead of charging you in euros. This is called dynamic currency conversion, and it's expensive because you'll pay a currency conversion fee for it. Whether you're in France or any other country, if a merchant offers it, take a hard pass.
Which credit card issuers are accepted in France?
You'll find Visa and Mastercard to be widely accepted in France. American Express cardholders may also find higher acceptance than Discover cardholders who will likely struggle to find merchants that accept their card.
| | Merchant acceptance | ATM acceptance |
| --- | --- | --- |
| Visa | High | High |
| Mastercard | High | High |
| American Express | Medium | High |
| Discover | Low | Medium |
First of all: Don't forget about cash
Most places you go — restaurants, hotels, tourist attractions — will accept cards. But some merchants like patisseries, glaciers and outdoor markets take only cash.
That said, it's always a good idea to carry cash. One of the best ways to obtain cash is from one of the numerous ATMs in France. Avoid exchanging money at the airport: Currency-exchange kiosks are notorious for offering terrible exchange rates.
Did you know?
The French currency is the euro. This is the same currency used by almost 20 countries in the European Union, including Germany, Italy, the Netherlands and Spain.
How much is a US dollar worth in euros?
Should I use my credit card to get cash?
It's tempting to use your credit card at an ATM, but avoid doing so at all costs. Your card provider will charge you a cash advance fee as well as a higher interest rate for cash advances.
Check out this card's pricing information table. As you can see, the cash advance APR is 25.74%, which is higher than the APR you'll get for purchases or balance transfers.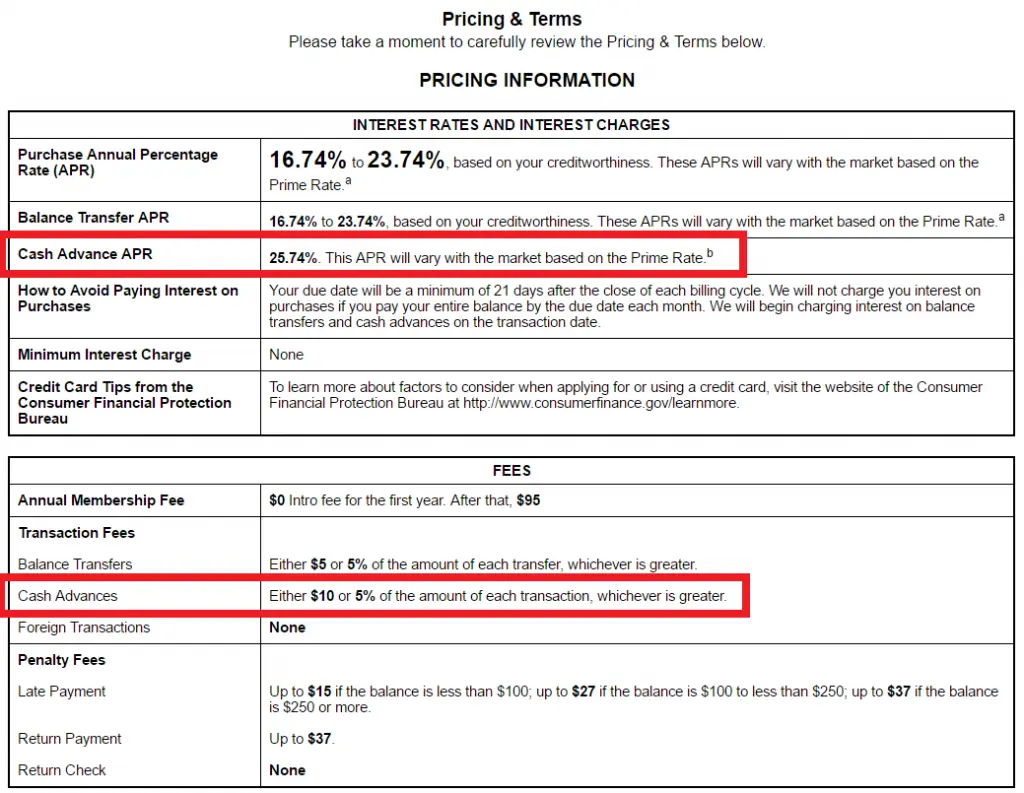 Not only that, but you'll see that a cash advance comes with a high fee. At a minimum, you'll pay $10. But you might pay more, because the fee is the greater of $10 or 5% of your transaction. If you take out a $300 cash advance, for example, you'll pay the 5% fee — that's $15.
Of course, credit card ATM withdrawals may also be subject to foreign transaction fees. The implication is clear: Don't use your credit card at ATMs.
Pick up a no-fee debit or ATM card instead
Instead of relying on your credit card to get cash, look for a low-fee debit or ATM card.
The debit card from the Schwab Bank High Yield Investor Checking Account is one excellent pick. It reimburses you for any fees you may incur at ATMs. And because it's not a credit card, you won't have to worry about cash advance interest.
Even better, the card doesn't charge foreign transaction fees. That means you can avoid the 1% to 3% fee that credit and debit cards often charge.
Magnetic stripe and chip credit cards
Over the past few years, your card provider has probably sent you a credit card with a chip inside. These cards are called, unsurprisingly, chip cards.
In the United States, we mostly have chip-and-signature cards — you must provide a signature during a transaction to verify your identity. Meanwhile, in France chip-and-PIN cards are standard. With this type of card, you enter a four-digit personal identification number to verify your identity.
Can I use my chip-and-signature card in France?
You're not out of luck if you only have a chip-and-signature card. If you don't have a PIN, an attendant will collect a signature from you during each transaction.
However, you may run into situations where your chip-and-signature card won't work. For example, you might be in a pickle at an unmanned train station kiosk.
To avoid this conundrum, carry cash: You may be able to use it at the kiosk or simply buy a ticket from an attendant. Additionally, ask your card provider if you can get a PIN for your card. A PIN could let you complete PIN transactions if a signature doesn't suffice.
To cover your options more completely, consider picking up an actual chip-and-PIN card. Two such cards often recommended by travelers are the State Department Federal Credit Union Visa Platinum and the Andrews Federal Credit Union Visa.
What if I don't have a chip card?
You can use a magstripe card in France at most locations if you're stuck with one. However, you may encounter some merchants who won't accept magstripe cards.
Overall, the best course of action is to call your provider and have them send you a chip card.
Is it safe to use my credit card in France?
For the most part, you're quite safe from credit card fraud in France. You'll rarely be on the hook for fraudulent transactions. Even if you owe money, US law states you can only be charged a maximum of $50.
As with all destinations, however, there's the possibility your credit card information could be stolen. Here are a few ways to avoid it.
Keep your PIN safe. Whenever you enter your PIN, use your other hand to cover your inputs. This helps cut down on spying — both from hidden cameras and people looking over your shoulder.
Be careful about which ATMs you use. Avoid decrepit ATMs and those in isolated locations. Instead, use ATMs attached to banks.
Cancel your ATM transaction if anything seems awry. Don't use an ATM if your card doesn't slide smoothly into the card slot or if the keypad is difficult to press. The machine may be compromised by a credit card skimmer — a device that steals credit card information.
Avoid letting your credit card out of your sight. Out of view, someone can easily take a photo of your credit card. At restaurants, consider paying for your meals in cash so servers won't have to take your credit card elsewhere. (French restaurants often use portable card readers that servers bring directly to you, but you can simply use cash as a precaution.)
Credit card fraud, skimmers and keeping card information safe
Keeping your credit card (physically) safe
Thieves don't just steal credit card information by recording your card number — they can also steal the card itself.
Pickpockets in many European cities — like Paris and Nice — heavily target tourists. The bigger the tourist destination, the more pickpockets there tend to be.
To decrease the chances your credit card will be stolen, consider keeping it in a money belt. This is a fabric pouch that you wear around your waist and hide under your shirt or in your pants. Also, consider neck pouches, hidden pockets or a belt with hidden pockets.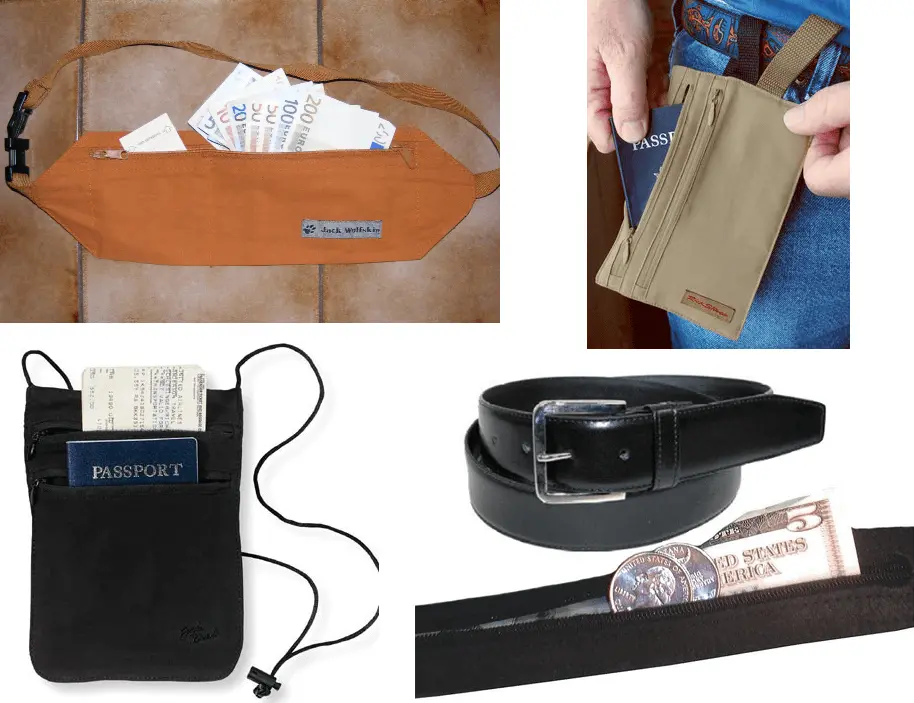 How should I prepare before my trip?
Before heading to France, ensure you can use your credit card with no problems.
1. Get a credit card with no foreign transaction fees. Foreign transaction fees can be a downer on vacation, but they're easy to avoid if you pick the right card.
2. Highly consider getting a Visa or Mastercard. In France, these brands are almost universally accepted. Fewer locations accept American Express credit cards or Discover cards.
3. Give your card provider a heads-up. Your card company hates fraud because it loses them money. If they see a foreign transaction on your card, they may put a hold on your account for suspicious activity. To avoid declined charges, let your provider know you'll be traveling to France.
4. Know who to call if you have a problem with your card while traveling. Your card might be stolen while you're traveling, or you could lose it. In both cases, you'll need the right number to call for a replacement card. Make sure the number is local to France.
5. Know where you'll get cash once you arrive. So you don't waste time, plan out beforehand where you'll get cash. See if your bank has international partnerships that allow you to use some ATMs for free.
Next steps
Before you head out to France, answer these questions:
Which credit cards will I take? Consider taking at least two. Make sure they're chip cards and they don't have foreign transaction fees.
Do I understand the fees I might encounter? Knowledge is power — and it can save you a lot of money on your travels.
Have I called my card provider? Keep your card provider in the loop, and know what number you'll call if you run into trouble abroad.
What's my plan for cash? Have a debit card ready, and know which ATMs you'll get cash from.
Once you've made these arrangements, you're all set to use your credit card on your next trip to France. Safe travels!
See more guides on using a credit card in other countries.
Bottom line
Visa and Mastercard are widely accepted in France. You could find establishments that accept Discover and American Express, but this is rare. Whichever card you decide to use, make sure it has no foreign transaction fees.
To save the most money on your purchases in France, consider carrying multiple travel money options.
FAQs