Best ways to spend travel money in Singapore: Debit & prepaid cards
Learn more about the best card to use, if you should use a UK debit card and other ways to take spending money to Singapore.
Singapore is a truly unique destination. Full of eye-catching architecture, lush greenery and the world's first night safari, there is plenty to indulge on in the world's only island city state. Before heading to this top destination make sure you use our guide to discover the best ways to spend your money without racking up the travel money fees.
Singapore is an incredibly well developed country. It has one of the lowest crime rates in the world, so carrying cash on you shouldn't be a concern. ATMs are also readily available and many mid-high end shops, restaurants and hotels will accept over the counter card payments.
Even better, ATMs owned by banks don't charge operator fees. To avoid paying any unnecessary fees choose a travel money product that waives the currency conversion fee as well as the international ATM withdrawal charge to help make your trip as cheap as possible.
Travel money options for Singapore
Promoted for
No overseas fees
Promoted for
Low overseas fees
Promoted for
No fees travel card

Promoted for
Low overseas fees
Travel prepaid cards
Prepaid travel money cards allow you to load and exchange the money to a foreign currency via a convenient online portal. Singapore Dollars are a supported currency on almost all travel money cards. You can pre-load your card at times when the exchange rates look favourable, rather than having to use the live rates when withdrawing cash.
Compare these cards by the front and back end fees such as the international ATM withdrawal fee, initial load fee, reload fee and inactivity fee. The international ATM fee is the main one to avoid because you're going to need cash at various points throughout your trip. Singaporean ATMs don't charge a local operator fee, so you can withdraw money for free using a prepaid travel card which waives the international ATM fee loaded with Singapore Dollars.
Tip: Prepaid travel cards are dual card accounts, meaning you'll receive an additional card. The second card acts as a backup for the first.
Debit cards in Singapore
Most debit cards will charge a currency conversion fee when you carry out a transaction in a currency other than British Pounds as well as an international ATM withdrawal fee when you use an ATM. The Starling Bank personal account doesn't charge any of these fees. It also comes with the benefit of low-fee (0.4%) international money transfers to a number of countries. ATMs are evenly distributed throughout the islands of Singapore, so you shouldn't have to look too far to find one.
Other providers' rates will vary, so it's worth comparing your existing bank's rates with others to ensure you get the best bank for your buck. Don't forget to let your bank know in advance that you're leaving the country. If you don't you might find your card gets frozen when trying to withdraw or spend money in Singapore.
Tip: Singapore bank ATMs do not charge an ATM operator fee.
Credit cards in Singapore
Credit cards can be a good way to access a line of credit overseas, which could come in handy for large or emergency purchases. However, using a credit card can come with many fees to consider. Look out for a card that waives the currency conversion fee (of usually 3%) that you'll have to pay when you spend in Singaporean Dollars. A decent choice for fee-free spending overseas is the Halifax Clarity card.
Also, keep an eye out for cards with 0% purchase offers that won't charge you interest when you pay your account in full by the monthly statement due date. Unlike a debit or prepaid card, you shouldn't use your credit card for ATM withdrawals in Singapore. Withdrawals are considered cash advances, and you're likely to incur a costly fee and high rate when doing so.
It's worth noting that, unlike in the UK, merchants in Singapore can charge a fee to customers wishing to pay for purchases using credit cards. This controversial practice comes from that fact that retailers and service providers can be required to pay fees to a range of organisations involved in processing these card transactions. Some choose to pass some of these costs on to their customers.
Thankfully, as credit card use has grown in Singapore, as in many other developed economies, credit card surcharges are slowly being phased out. For example, as of February 2022, Singapore-based Amazon customers will no longer need to pay a 0.5% fee to pay using their Visa cards.
Tip: Some financial institutions give you free travel insurance when you pay for your return travel ticket to your credit card.
Using traveller's cheques in Singapore
Traveller's cheques have been replaced by modern forms of travel money such as debit, credit and prepaid travel cards. Traveller's cheques can be cashed at Changi Airport and major money changes throughout Singapore. A commission may apply to the transaction and the rate is less favourable than the Visa, Mastercard and American Express foreign exchange rate applied to ATM withdrawals and over the counter purchases.
Exchanging cash in Singapore
Licensed money changers are easy to spot and are located at Changi International and Seletar airports as well as in shopping centres.
Official currency
The official currency of Singapore is the Singapore Dollar (SGD). Coins are denominated in 5 cents, 10 cents, 20 cents, 50 cents and $1. Paper notes come in $2, $5, $10, $50 and $100 denominations. Be sure to familiarise yourself with the banknotes and their value to ensure you're always paying the right amount. It's always worth carrying enough cash on you for the day, just in case you experience any problems. You'll need cash if you want to shop in the market areas of Haji Lane, Sim Lim and Burgis, otherwise you'll find that you can use your card for the majority of purchases in Singapore.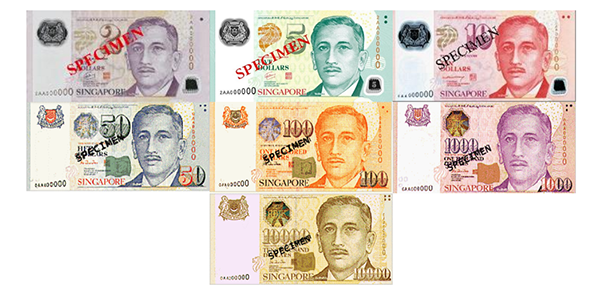 How many Dollars do I need to bring to Singapore?
Unlike many of its south-east Asian neighbours, Singapore is one of the most expensive cities in the world. However, there are still food, accommodation and activity options to cater for all budgets.
Singapore
Budget
Midrange
Expensive
Hostel
£10-£35 per night
3 star hotel
£50-£80
5 star hotel
£110+ per night
Chicken and fish dumpling noodles (street stall)
£4-£5
Lunch or dinner at a mid-range restaurant
£15-£25 per person
4 course dinner at the Singapore Flyer
£100 a head
Visit the Singapore Botanic Gardens
free
Visit the Changi war museum
£5 per person
VIP tour of Universal Studios Singapore
£175 per person
*Prices are approximate and based on summer seasonality and are subject to change.
Travel cards, debit cards and credit cards in Singapore?
Major card brands are widely accepted in Singapore. If a merchant insists on applying a credit card surcharge to your purchases, you should consider looking for other alternatives. The majority of travel money cards support SGD, which makes these products a viable option for this destination, but they don't have your name on the front. This can be an issue if the merchant wants to see your I.D. when you make a purchase over the counter. ATMs in Singapore will accept the major brands (Visa, Mastercard and American Express). Compared to other countries, you're spoilt for travel money choice in Singapore.
Singapore travel money options at a glance
Travel money option
Pros
Considerations
Debit cards for travel

Singapore bank ATMs do not charge an ATM operator fee
ATMs are located all over the city-state – every bank, MRT station, or shopping centre has its own

Most debit cards will charge a currency conversion fee
An international ATM withdrawal fee applies

Prepaid travel money cards

Can be pre-loaded with foreign currency and cancelled at any time
Singapore Dollars are a supported currency on almost all travel money cards

International ATM withdrawal fee, initial load fee, reload fee and inactivity fee applies

Credit cards for travel

Credit cards are widely accepted, especially Visa and Mastercard
Some cards have no annual fees, no foreign exchange fees and they perform currency exchanges at the best possible interchange rate

Credit cards usually charge currency conversion fee
Cash withdrawals using your credit card are considered cash advances which will incur a costly fee and high rate

Traveller's cheques

Security
Can be cashed at Changi Airport and major money changes throughout Singapore

Traveller's cheques are an old technology in Singapore making it difficult to get them cashed
A commission may apply to transactions
Exchange rate is less favourable than the Visa, Mastercard and American Express

Cash

Greater payment flexibility
Convenience
There's no set limit as to how much money you can take into Singapore, but if you're entering the country with more than S$20,000 (roughly £14,700) you'll need to fill in a customs declaration form.

More difficult to manage expenses
Although Singapore is considered safer than the other countries, please note that there is a pickpocket syndicate operating in the country
This table is a general summary of the travel money products in the market. Features and benefits can vary between cards.
ATM withdrawals
Singapore bank ATMs do not charge a local operator fee for ATM withdrawals. Provided that your card doesn't charge for currency conversion and international ATM fees, you can make free ATM withdrawals in Singapore. Due to the city's popularity with foreign tourists, it can be relatively easy to find ATMs which don't charge a foreign transaction fee. Larger Singaporean banks such as the DBS Bank, United Overseas Bank typically charge less than smaller banks.
When withdrawing cash watch out for a practice called Dynamic Currency Conversion (DCC). You'll see this when the ATM asks if you want to pay in your home currency or Singapore Dollars. Make sure you always choose to pay in Singapore Dollars as otherwise the bank will give you a poor exchange rate when processing the conversion.
The bottom line
Using a mixture of the travel money products, cards and cash can be the best way to ensure you get the most value out of your trip to Singapore. Depending on the card you use, you could take advantage of interest-free days, complimentary insurance and an emergency line of credit with a credit card.
However, as its best to avoid using credit cards for ATM withdrawals, you'll need to consider a travel-friendly debit card or prepaid card. As a popular travel destination with a well-developed banking infrastructure, Singapore is a great place to take advantage of low-fee prepaid travel money cards. Singapore Dollars can be held on the vast majority of prepaid travel money cards available to UK customers.
Once you've found the best approach to avoiding unnecessary fees, spread your travel budget across a couple of different travel money types. This way, a lost or stolen card won't derail your trip.
We show offers we can track - that's not every product on the market...yet. Unless we've said otherwise, products are in no particular order. The terms "best", "top", "cheap" (and variations of these) aren't ratings, though we always explain what's great about a product when we highlight it. This is subject to our
terms of use
. When you make major financial decisions, consider getting independent financial advice. Always consider your own circumstances when you compare products so you get what's right for you.